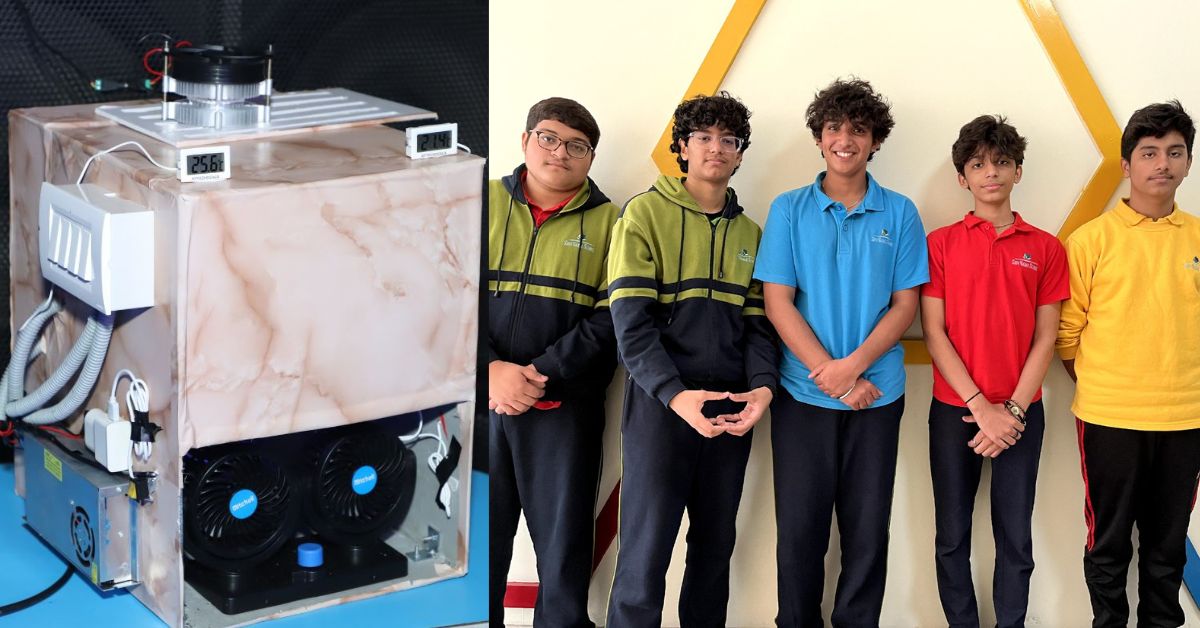 Five Class 10 students from Gurugram have innovated Zephyrus, an eco-friendly, 2-in-1 cooling device that tackles the challenges of a conventional cooler and can save water.
Last summer, five students from Gurugram's Shiv Nadar school sat down to identify and address real-world problems as part of their school curriculum in Class 10.
For this, V Sahil Seshadri (15), Lakshya Goswami (16), Uday Singh (16), Sourish Grover (16), and Armaan Sharma (15) decided to zero in on the severe heatwaves generated by climate change and its effects.
India has been battling unprecedented heatwaves that have massively affected its population's health and resulted in loss of working hours, productivity, and economic well-being — especially farmers and daily wage labourers, who are forced to work in the open spaces. Only 4.9 percent of households in the country enjoy the comforts of air conditioners, and 14.1 percent of households possess air coolers.
Use of Air coolers is more dominant in western states . ~Half the households in Haryana, Punjab, Rajasthan have air-coolers. Followed by neighbours – Chhattisgarh, Telangana and MP. https://t.co/sahma6ztix pic.twitter.com/IuGVeqmUfE— Stats of India (@Stats_of_India) March 8, 2023
The students thus zeroed in on a simple, yet brilliant solution: an eco-friendly, portable, and cost-effective device named Zephyrus, which dually functions as a cooler and a heater.
We sat down with these students to understand their innovation.
What led to Zephyrus
"Currently, there are only two forms of cooling devices in the market — coolers and ACs," explains Sourish. "We found that the weather was so hot that even with centralised air conditioning, one would not feel comfortable during the transition to and from open spaces."
"This made us wonder how difficult it would be for those who can barely afford a cooling device, let alone such a high-end cooling system," he adds.
In a bid to understand the cooling comforts available in regular Indian households, the students approached school staff who use coolers.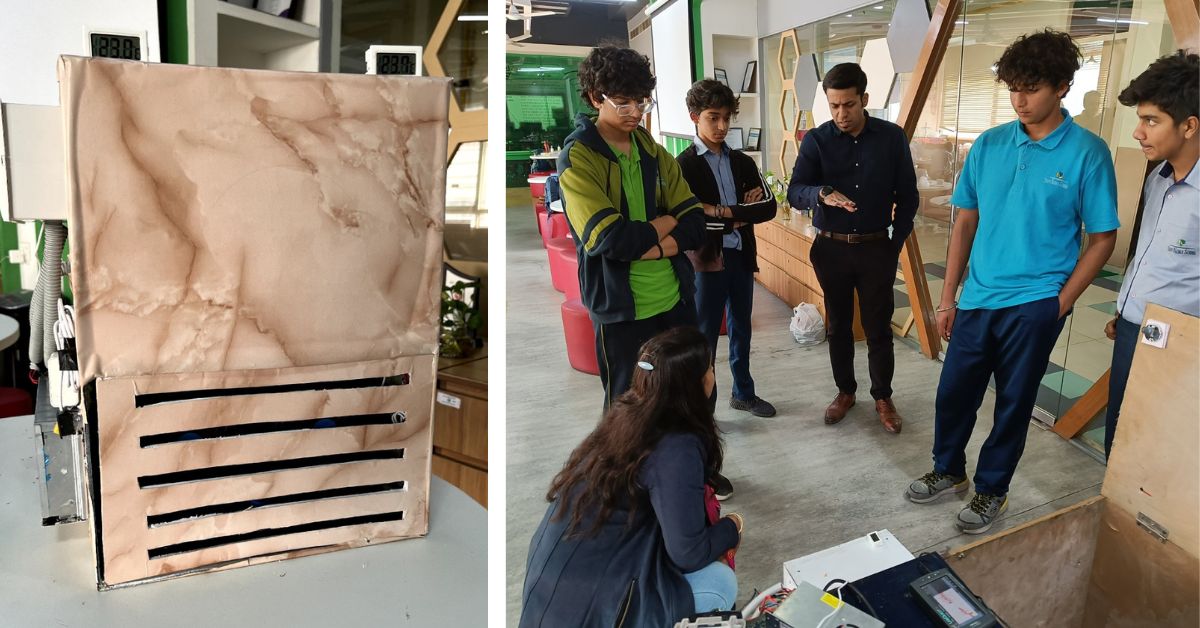 "We found out that they face multiple challenges. They have to refill the water tanks constantly, and prolonged use leads to a humid atmosphere. Coolers are inefficient during the monsoon season. We wanted to make a device which would benefit these users," Sourish says.
This was the inception of Zephyrus, which derived its name from the eponymous ancient Greek god of wind. This, they say, resonates with the device's functions of both modes of air conditioning — cooling and heating.
How does the device work?
Lakshya explains: "Zephyrus is a two-in-one cooling and heating system powered by four cooling modules built at the centre, each of which is driven by a Peltier module, which is a small thermoelectric device sandwiched between two fin-shaped aluminium blocks."
"When electric current flows through this device, one side gets extremely hot, and the other side gets freezing cold. This creates a necessary temperature difference required to create the dual effect of cooling," he adds.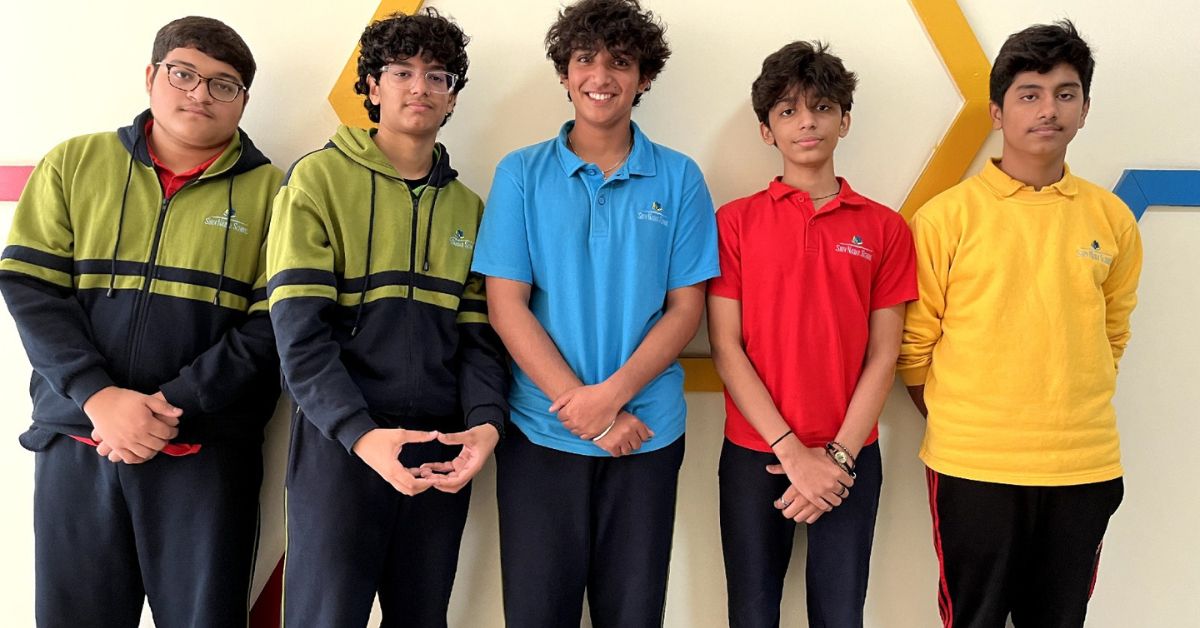 The students have used aluminium blocks, an exhaust and CPU fans to build the 24*12 inch device, and have designed its main body with aluminium sheets. Financially supported by the school, the device cost them Rs 5,500. "Its cost is roughly 10 percent lower than an average cooler. Currently, we are in the testing phase to make it market ready. Once we start mass producing, we will reduce the cost further," says Armaan.
'The device could save gallons of water'
The students have developed the device keeping sustainability in mind. Armaan says, "Zephyrus works on the principle of the Peltier effect and doesn't require any cooling agent to create the cooling effect." The Peltier effect is a phenomenon in which heat is given out or absorbed when an electric current passes across a junction between two materials.
"Besides, on average, a single cooler requires 3,000 litres of water per month, but our device requires only 300 ml of water. Thus, it could help save gallons of water consumed by traditional coolers and reduce the negative environmental impact of refrigerants used in air conditioners."
The students are also working towards reducing their dependency on power and using solar panels to meet the power requirements in a self-sufficient way, thereby reducing the overall carbon footprint.
Highlighting the challenges in developing the device, Sahil says, "We needed to find out a certain pattern to arrange our components. Before coming to the final version, we tried multiple arrangements of our components, but a lot of them did not work as it was taking time to reduce the temperature."
The students claimed that on testing the cooling of their device, Zephyrus surpassed the cooling capabilities of other products by 2-3 degrees. "For testing, we measured the temperature difference between ambient air and air blowing out of the cooler fans. We tested our device in a small size room (10ft * 10ft) and noticed a relative temperature difference of seven degree celsius between the ambient air and the cool air released by our device," he says.
For these children, contributing to protecting the environment while developing a solution for a real-world problem, has proven to be a big boost. "It feels great to receive appreciation for the project. If along with our academics, especially during our boards, we could work on a project like this, then it brings a huge impact on us. We feel like we are working towards something which has value," says Sourish.
"A lot of us forget about our contribution to society. We are just focused on ourselves. I feel that if I am able to contribute towards the betterment of society as a child, I will be able to do a lot more when I am an adult," adds Sahil.
Edited by Divya Sethu
Source:
We bring stories straight from the heart of India, to inspire millions and create a wave of impact. Our positive movement is growing bigger everyday, and we would love for you to join it.
Please contribute whatever you can, every little penny helps our team in bringing you more stories that support dreams and spread hope.