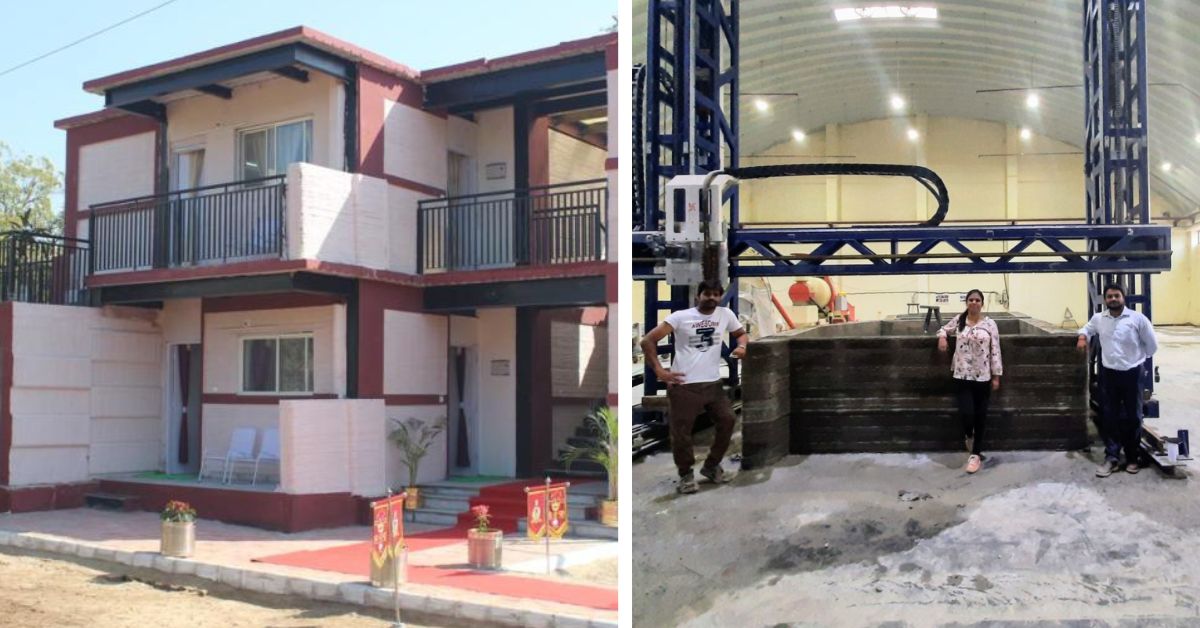 IIT Gandhinagar graduates Shashank Shekhar, Ankita Sinha and Rishabh Mathur founded MiCoB in Ahmedabad to work towards merging art, automation, and construction through 3D concrete printing technology.
Last December, the Indian Army inaugurated its first ever three-dimensional (3D) printed house dwelling unit for soldiers in Ahmedabad. The highly appreciated two-storey structure is claimed to be disaster-resilient and complies with zone-3 earthquake specifications. The structure was erected in roughly 12 weeks by utilising the 3D-printed foundation, walls, and slabs.
Behind this project is Ahmedabad-based startup MiCoB, which has incorporated the latest 3D rapid construction technology to construct the structure.
#IndianArmy constructed its first 3D Printed House Dwelling Unit for soldiers at #Ahmedabad in 12 weeks time, incorporating the latest 3D Rapid Construction Technology. The building is earthquake resilient and follows green building norms.#InStrideWithTheFuture pic.twitter.com/awiMA5PjOK— ADG PI – INDIAN ARMY (@adgpi) December 29, 2022
"We did it in a pre-fabricated 3D printing model. Columns were made of steel, and we placed foundation pedestals and 3D-printed wall panels. We kept the wall cavity hollow for better insulation," Shashank Shekhar, the CEO, tells The Better India.
"Construction has evolved in the past 100 years, but 3D printing is going to change the way construction is done," adds the 31-year-old.
Apart from the Ahmedabad unit, his startup has 3D printed and delivered 30 bunkers and three building structures for the defence across Ahmedabad, Visakhapatnam, Sikkim, Maharashtra, and Arunachal Pradesh.
What is 3D printing
While working at Jindal Steel, the engineer realised the need for 3D printing in India. "I observed that there is a lot of dependency on labourers and formwork (shuttering) for construction in the country. At the same time, I read how China had been using 3D printing technology to construct 10 houses in a day," he says.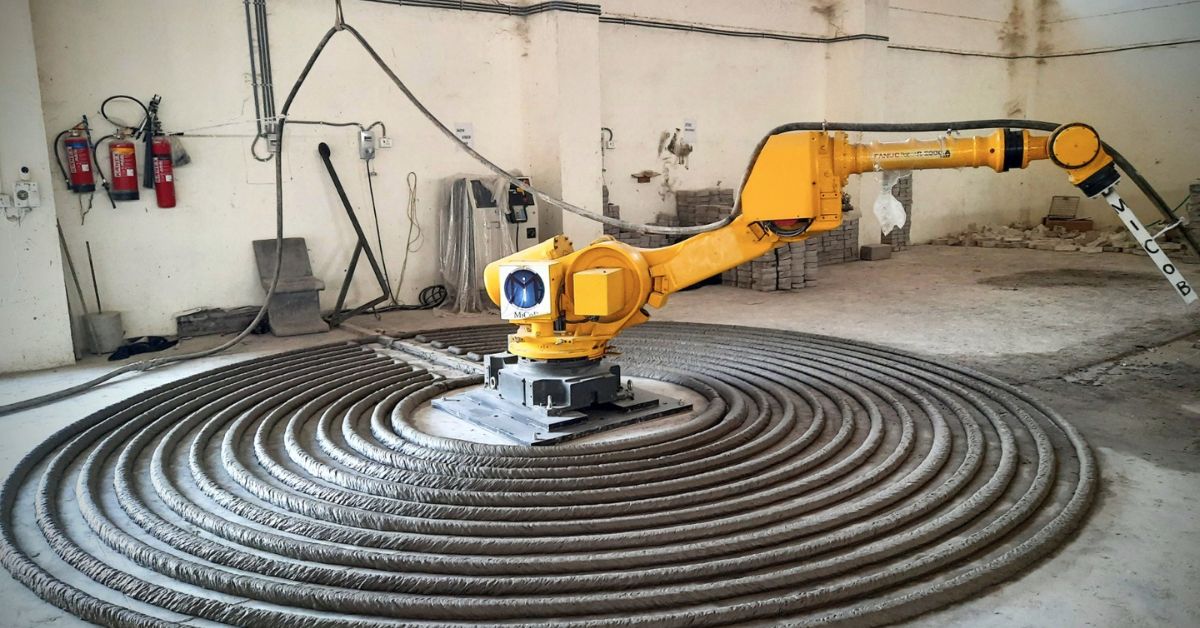 After working for nearly three years, he quit his job to do research on 3D printing at IIT Gandhinagar, where he met Ankita Sinha and Rishabh Mathur. In 2018, the trio co-founded MiCoB to work towards merging art, automation, and construction through 3D concrete printing technology.
In 3D printing, construction material is deposited, assembled, and solidified under computer control, with the material being added subsequently layer by layer.
Explaining how the structures are made using 3D printing, he says, "Firstly, we freeze a 3D architectural layout of the building. Secondly, we consider structural configuration — keeping earthquake regions and zones, wind load, and snow load in mind. Thirdly, we look at the structural design part."
"While columns are made using steel and reinforced cement concrete (RCC), all the walls are 3D printed by laying sequential layers of the material. With these materials, we ensure structural stability and durability in the long run. We provide a cover to the steel columns using concrete so that it does not get corroded, and the durability of the building is ensured. With this, we can ensure longevity for up to 200 years," he adds.
Shashank mentions that 3D printing does 30 percent of the construction work. The remaining work including the installation of electrical systems, plumbing, tiling, and painting is done in a conventional way. On average, it takes about three months to construct a 4BHK house spread over 2,000 square feet of area, he says.
Complex designs without added costs
The engineer points out that 3D printing has unique advantages over traditional construction. He highlights that conventional methods use time-consuming and labourer-dependent shuttering procedures in order to give stability to the concrete before it becomes solid.
"While in 3D printing, you do not waste time setting up and removing shuttering, all you need to do is create a digital file which prints walls. It also reduces the weight [of the walls] compared to brick masonry walls, for instance, from 1,800 kg per cubic square metre to 1,100 kg per cubic metre. This is a more sustainable way of construction," he says.
Besides, the innovative technique gives architectural freedom to design in a customised way. For example, customising bunkers in remote locations, residential houses, schools, and government offices in small plots of land.
"3D printing allows us to make curved walls and various parametric designs without paying extra. We are also providing better thermally insulated walls using cavities and columns, which would reduce the requirement for AC in the long run," he adds.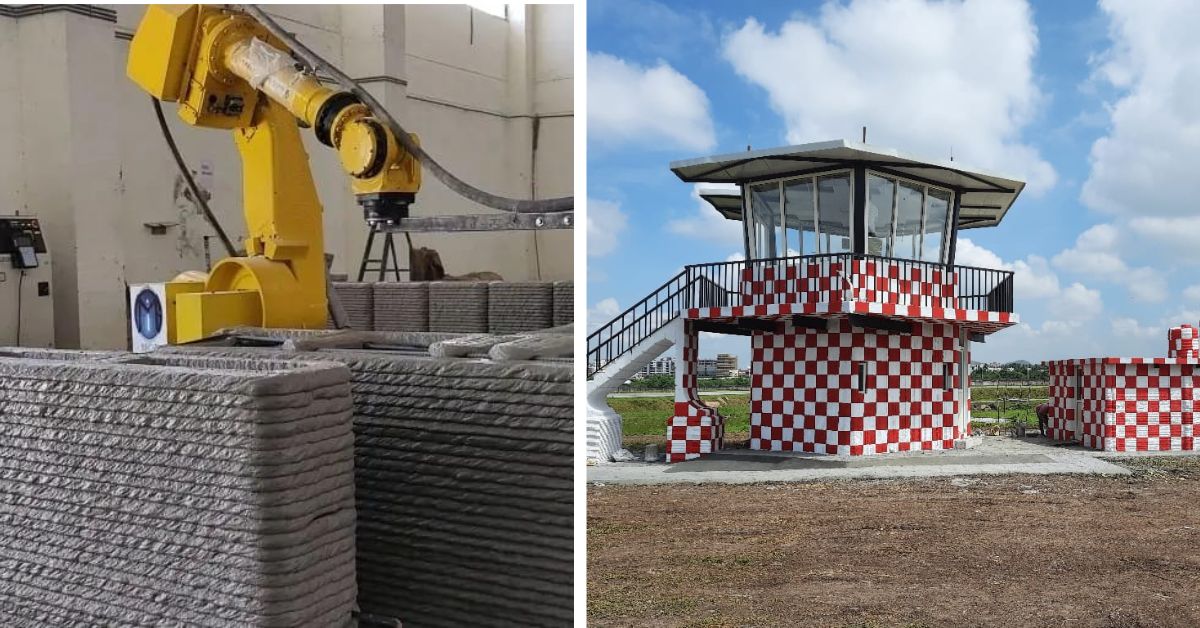 Research also shows that 3D-printed construction is 10–25 percent cheaper than the cost of building with concrete masonry units. "These cost savings are essential in low-income, underdeveloped, or post-disaster remote environments where economical methods of construction could transform communities. This rapid construction capability can be vital in remote environments where meeting a housing need quickly, responding to a natural disaster, or establishing a military base is required," notes a paper published in ScienceDirect.
Talking about the project they undertook for the Indian Army in Ahmedabad, Ankita says, "Our first interaction with Indian defence happened when the senior personnel from Army Design Bureau visited our facility at IIT Gandhinagar. While we were relatively in an early stage at that time, they realised the potential that 3DCP holds for high-performance construction as well as that in extreme climatic and terrain conditions."
"Our projects with the defence have been done in a co-development mode, and their willingness to offer their time and efforts in the process have helped us to come up with some of the best solutions so far," she adds.
But 3D printing also comes with a set of challenges.
For example, dependency on the transportation and logistics of pre-fabricated 3D printed structures like panels; getting good quality material in remote locations; dependency on crane machines for erecting the structures; and performing in congested spaces. However, Shashank believes these will be further eliminated with more research and development and 3D printing would prove to be a game-changer.
He says, "3D printing has provided a tool to further improvise the way we are building structures, which are better economically and are time-efficient. It is a hybrid model which is being adopted across the globe, and in a span of the next 2-3 years, this will become part of mainstream construction. I feel that the construction of infrastructure bridges will also happen in the near future, and this will revolutionise our current building practices."
Edited by Pranita Bhat
Sources:
Tell Us More
We bring stories straight from the heart of India, to inspire millions and create a wave of impact. Our positive movement is growing bigger everyday, and we would love for you to join it.
Please contribute whatever you can, every little penny helps our team in bringing you more stories that support dreams and spread hope.