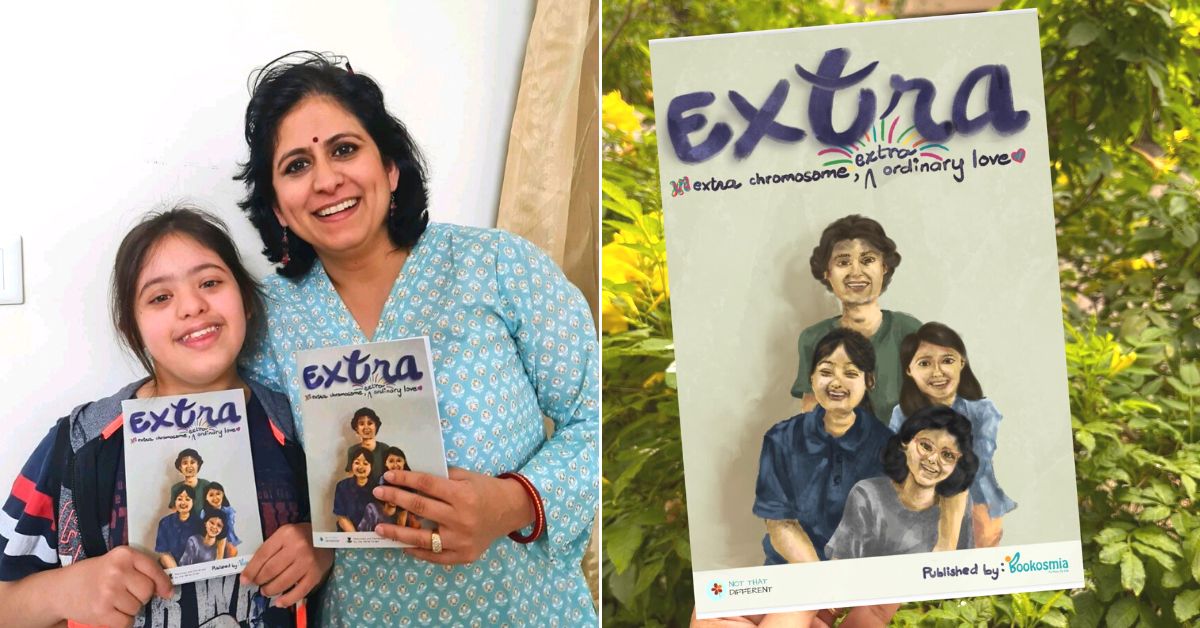 Written by author Archana Mohan, the children's book 'Extra: Extra Love, Extra Chromosome' is mother Shivani Dhillon's attempt to create empathetic allies for neurodiversity, and to encourage children to embrace their peers with Down Syndrome.
Anjor, a sleepy fishing village, is the site of the popular Mahalasa festival. The festival is happening on the last leg of 10-year-old Sara's trip to Anjor, where she has gone to visit her cousins Avi (15), Noor (8) and Shreya (12). One of the events during this festival is the 'Lemon and Spoon' race, and the organiser is calling out for participants.
The race involves a participant holding a spoon in their mouth with a piece of lemon on it and till the finish line they aren't allowed to let it fall off. When Ajay (father to Avi, Noor and Shreya) goes to register Sara, Noor and Shreya for the race, the first two reject the idea entirely.
Shreya, however, raises her hand to participate in the race much to everyone's surprise.
After all, Shreya has Down Syndrome, a condition in which a person is born with an extra chromosome, resulting in significant developmental challenges. Her condition, however, doesn't stop her from attempting new challenges. Participating in the race with 24 other neurotypical children, Shreya doesn't get off to a good start. Despite repeated attempts, she is unable to place the lemon on her spoon as the other participants have marched ahead.
Take one step, and the piece of lemon would come tumbling down. This happens multiple times and soon the cousins watching from the sidelines hear jeers and muffled laughter from the audience. Sara and Noor, meanwhile, fear what those jeers may do to Shreya's confidence. But Shreya doesn't wilt under pressure. After her 100th attempt, she finally makes the walk towards the finish line with Sara, Noor, Avi, their parents and the crowd egging her on.
Shreya refuses to bow down before the notion that those born with an extra chromosome like her are any less than others. She didn't join the race to win, but participate and be a part of something new. As she crosses the finish line much to the delight of everyone present, a six-year-old boy called Neil asks her how she did it. After this conversation, Neil then invites Shreya to a housewarming party his parents are hosting for the neighbourhood children.
Mind you, just a few days earlier, Shreya wasn't invited to the party, while her sibling Noor did receive one. Shreya's mother Shivani receives this news with much happiness and surprise.
This is only one example of Shreya's fortitude. But the incident, fishing village, festival and cousin Sara are fictitious creations in the book Extra: Extra Chromosome, Extra Love by award-winning children's author Archana Mohan and illustrator Prarthana Merchant. However, there is nothing imaginary about Shreya, her siblings Noor and Avi, their mother Shivani Dhillon, an award winning social entrepreneur and India Inclusion Summit Fellow for 2022, and father Ajay.
Narrated through the character of Sara, it's a heart-warming tale of how these siblings solve the mystery of 'The Moon's Third Eye' in Anjor with the indomitable Shreya leading the way, combining elements of love, compassion, courage, fortitude and acceptance of persons with conditions like Down Syndrome. This children's book was published earlier this month by Bengaluru-based Bookosmia, a leading Indian publisher "for kids, by kids", spread across 150 locations. It's part of their 'Not That Different' imprint (initiative), which the publisher argues is led by children to understand and embrace neurodiversity, as well as drive inclusion.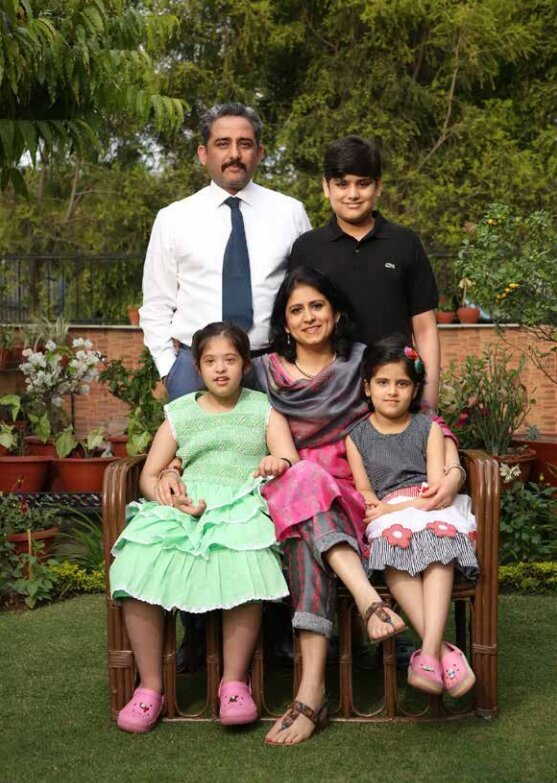 Understanding Down Syndrome
According to the Centers for Disease Control and Prevention, "Down syndrome is a condition in which a person has an extra chromosome. Chromosomes are small 'packages' of genes in the body. They determine how a baby's body forms and functions as it grows during pregnancy and after birth. Typically, a baby is born with 46 chromosomes. Babies with Down Syndrome have an extra copy of one of these chromosomes, chromosome 21."
The organisation goes on to add, "This extra copy changes how the baby's body and brain develop, which can cause both mental and physical challenges for the baby."
Speaking to The Better India, author Archana Mohan says right off the bat, "We must recognise that Down Syndrome is a condition, a diagnosis, and it does not define the person who has it."
Before social entrepreneur Shivani Dhillon had Shreya, she had never thought about what a child with different abilities faces in this world — the myths, misconceptions, ignorance of people about conditions like Down Syndrome and how they interact with people who have it.
As Shivani Dhillon notes about her own experience of raising Shreya, "The biggest challenge has been perception and stigma around Down Syndrome. The narrative is always about despair and hopelessness. It starts when the news is broken to you by the doctor, followed by the struggle to convince a mainstream school for admission and it goes on till our child is an adult."
"We always find ourselves trying to convince a neurotypical society to at least give our children a chance. We want society to understand that fundamentally people with conditions like Down Syndrome are just like anyone else with the same desire to be loved and appreciated. As we traversed this new journey with Shreya, we learnt to be tenacious, strong and a bit thick skinned, but also learnt to appreciate the small joys of life," she adds.
Despite developing some thick skin in how society perceives her child, it's hard not to believe that there are times when things get a bit overwhelming. But Shivani has remained steadfast.
"I strongly believe that love begets love, so I never feel anger if someone is inconsiderate. I often ask myself this question, if I did not have a child with Down Syndrome, would I have known about it? Neurotypicals are ignorant or ill-informed, hence they pass judgement. I take it upon myself to share Shreya's strengths and abilities in order to educate the people who may think of her to be any lesser than a neurotypical. If we parents don't do anything to bring about change then we don't have the right to complain either," says a defiant Shivani.
Archana, meanwhile, elaborates, "We all have different brains, different ways of working and different abilities. You and I probably learned to cycle at different times."
"You will learn to read at a different time from another person. And that is how we should approach a child with different abilities. Some of them take more time to learn a skill. Some of them may not learn a skill, but they cope in their own ways and they learn how to be the best version of themselves. That is how the idea of the book came about," she adds.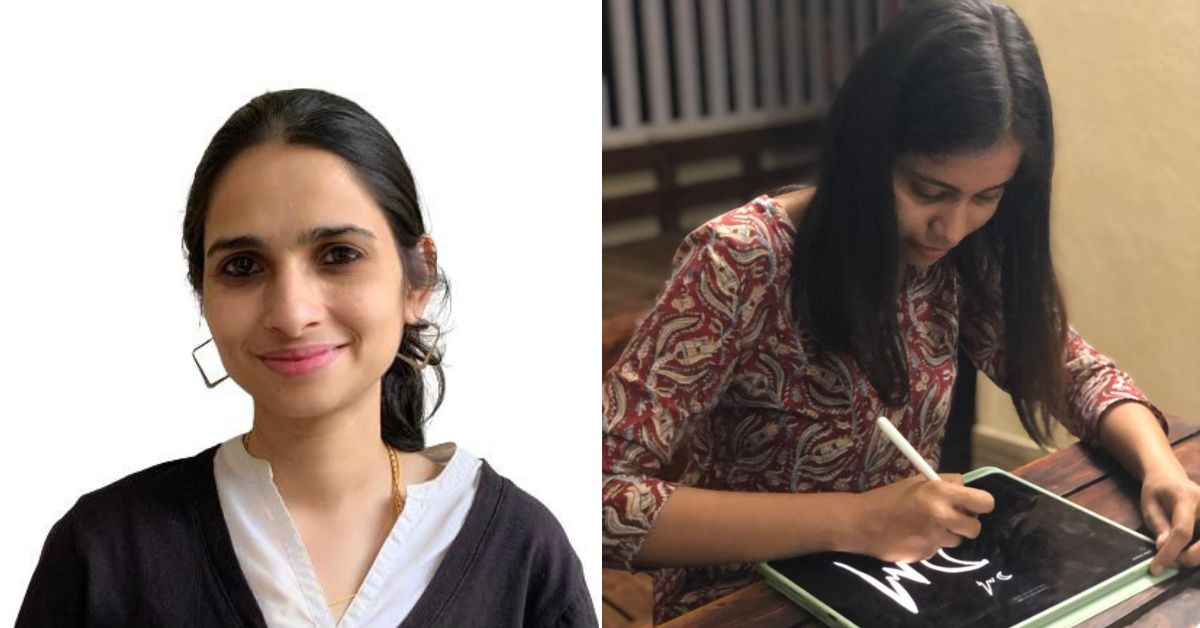 Finding inspiration for 'Extra' 
Last year, Bookosmia had embarked on their flagship programme Not That Different — a child-led movement to understand, embrace neurodiversity and drive inclusion. Last year, they published a comic book called 'Not That Different' inspired by Mugdha Kalra, a prominent voice in autism and a well known journalist, whose son Madhav lives with autism.
"We saw how other neurotypical children in Madhav's circle reacted to our comic book. Children immediately began to understand why Madhav doesn't look at them directly or for instance why he shakes his hands suddenly and makes a few strange noises," explains Archana.
A couple of months down the line, Archana met Shivani in Bengaluru, who had come to attend the India Inclusion Summit 2022. They met through a common friend and immediately hit it off once Shivani narrated an incident of when she took her family to a Chinese restaurant.
"They were all given chopsticks at the restaurant, but none of them picked them up except Shreya, the one who's least likely expected to pick up something new. But as Shivani told me, Shreya always tries something new. In fact, this chopsticks incident finds a mention in the book. That gave us a new insight into who Shreya is as a person. She is so much more than just her condition. She has this amazing sense of humour and is always willing to engage in a dialogue. After meeting Shivani, the seeds for this book were sowed," explains Archana.
Remembering the reaction of other neurotypical children to the comic book on autism, and her conversations with Shivani helped Archana realise that children are innately inclusive.
"When given a chance and opportunity to understand their friends better, you will see that the seeds of neurodiversity are sowed from the beginning. As you know, the first 5 to 10 years of childhood are where the child learns the maximum. Instead of waiting till the child grows to 30-40 years of age and attends neurodiversity and inclusion seminars at the office, why don't we start early? This book is reflective of that belief," she adds.
Later on, Archana met Shivani's children Shreya, Noor and Avi. She met all three of them on Zoom calls. "On one call, they showed us their toys, house and discussed their days. We really got an incredible look into their hearts and their homes. What struck us was that this could be any home. For example, this bond between the brothers and sisters is just like anybody else. So why are we discriminating against this child, when clearly the way my neurotypical children fight and make up isn't any different to how these three children fight and make up," says Archana.
"So why label a child, push them to a corner and say 'she's special or different', when really these are the things that every child goes through? Many of the incidents discussed in these calls have been highlighted in the book to reflect those commonalities," she adds.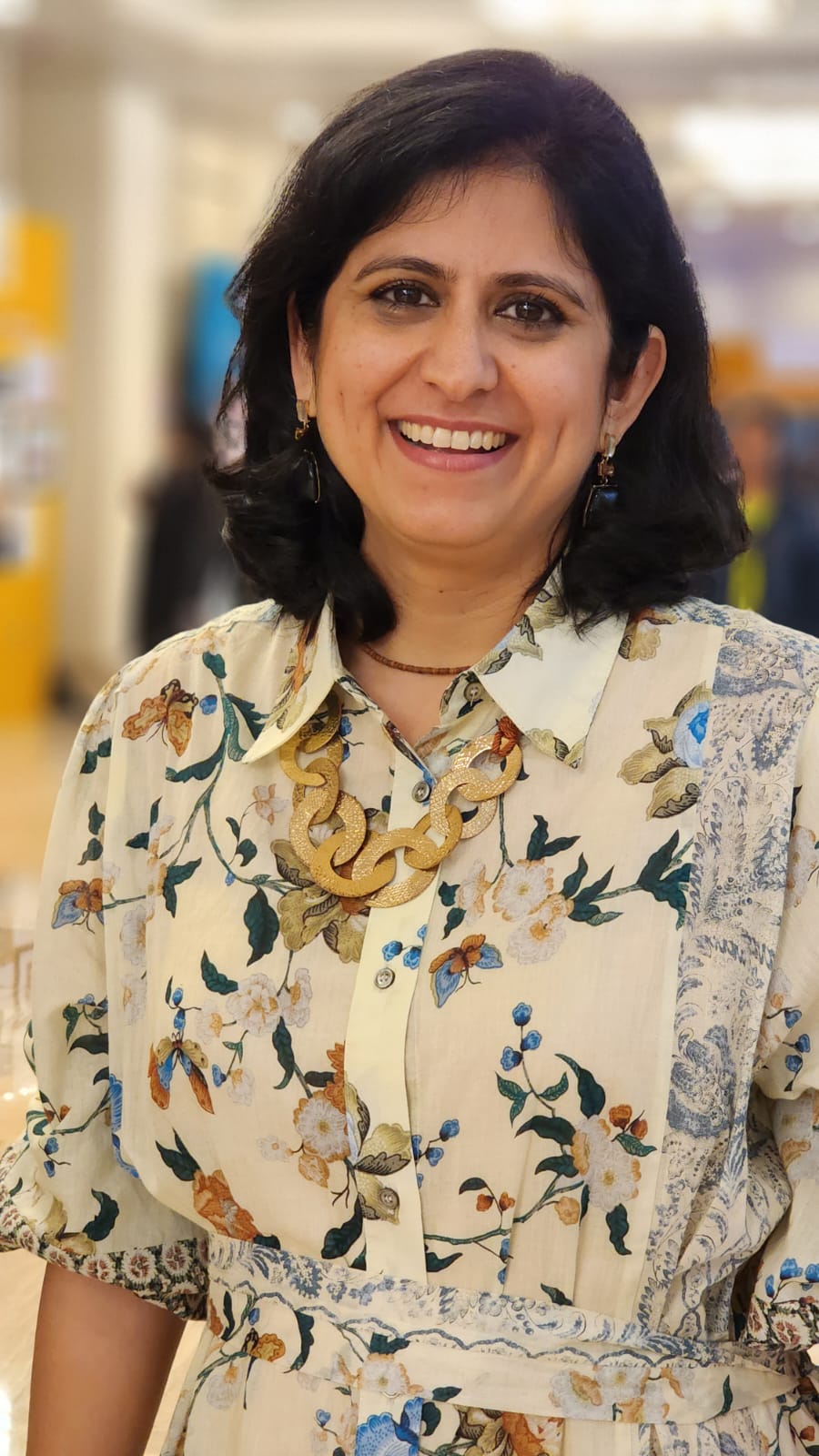 Developing the narrative
For this book, interacting with Shivani's children was a very key aspect of learning about Down Syndrome for both Archana and illustrator Prarthana. They also did their own research a lot on the condition, and the myths and misconceptions surrounding it.
"The one that stood out for me, and confirmed to me by Shivani, is that in a house if one child has a condition like Down Syndrome and another child is neurotypical, there comes a time when the latter child gets an invitation to a birthday party. But the parent of the invitee doesn't invite the neurodiverse child because they're not sure of how to deal with them," says Archana.
As stated earlier, one such incident finds a mention in the book.
"That was a very striking thing that happens to a lot of these families. Instead of blaming the invitee parent, the best thing the parent of a neurodiverse child can do is to have a conversation. When you have a conversation, things become easier, awkward silences reduce and it creates better understanding and space to ask questions," she explains.
"This is especially the case with children. Unlike adults, they don't come with unnecessary baggage. They don't come with labels. They don't think of other children as 'Oh, this person has that condition'. 'You're a child and I'm a child, let's play' is what they believe. Children are the most natural ambassadors for neurodiversity," adds Archana.
Writing this book and collaborating with Prarthana, who Archana believes was "really fantastic with the illustrations she came up with", has been a very rewarding experience for her.
"Backed by research and a lot of interviews, we've tried to be as authentic as possible. We didn't want this book about a child with Down Syndrome to be preachy. We don't want to go and tell other children this is what you have to do when meeting a peer with Down Syndrome. We just show them their world and let them infer. Let them come back and talk and let's begin the conversation about Down Syndrome. That is the point of the book," she argues.
For Prarthana, meanwhile, the process of illustrating the book started with reading the manuscript. "When I first started reading it, Archana had just written a few chapters. I got to see how the story evolved. Shivani shared pictures of her family and pictures of all the characters that we will use in the book. I had those references to base my illustration," says Prarthana.
"I researched on the internet about how to draw the features of a character with Down Syndrome. The first sketch that I made, I tried to exaggerate it a little. So, Shivani really helped me bring that exaggerated element down and make Shreya look more authentic. Shivani really guided me through the process of sketching Shreya. Her feedback was valuable," she adds.
Since this was supposed to be a children's book, Prarthana also wanted some element of fun. "Initially, I made my illustrations digitally and the brush that I used allowed me to be quick with my strokes to bring out that feeling of playfulness, make it a little messy and something that I thought children would enjoy. That's how I rendered my illustrations," she says.
Misconceptions surrounding Down Syndrome  
"I think the number one misconception about those with Down Syndrome is that they're always happy. They seem to others to not have any problems. Hence, there is this misconception that since they don't react the way another neurotypical child reacts, people think that they don't understand anything. But that cannot be farther from the truth," says Archana.
"A child with Down Syndrome is like any other child. They go through the whole range of emotions — happiness, sadness, feeling left out, and when someone says something mean or rude to them they understand. Perhaps, they do not have the language to counter what is being said to them. But the fact is that they understand everything," she adds.
Another misconception is how a lot of persons with Down Syndrome seem "overweight". "But that is just the way their body grows. Since a child with Down Syndrome has an extra chromosome, the plan for how their body grows is different. When we explain this to other neurotypical children in simpler terms, they find it easy to understand and empathise," she says.
Another misconception is that children with Down Syndrome can't play, share or speak with other children. "Yes, when some children with Down Syndrome speak, their speech may not be clear. Having said that, you know, there are so many ways of interacting with people without speech. I think we can learn and figure that out in our own way," she adds.
Nidhi Mishra, founder and CEO of Bookosmia, also has her take on the same. "The biggest misconception around all of neurodiversity is that the person is incapable of basic understanding, cognition and communication and hence is in many ways inferior to the rest of us. Those with Down Syndrome, in addition, also struggle with common stereotypes on physical appearance like their weight, eyes, slurred speech etc."
"I am delighted that Shivani Dhillon comes from a place of great positivity. In the book launched last week, we have highlighted her approach that if people understand a condition better, they would perhaps not behave with the lack of empathy that is so common. Hence the book and our soon to be launched video campaign attempts to answer the questions on those stereotypes around Down Syndrome are not to be silenced but answered," she says.
(Edited by Divya Sethu; Images courtesy Bookosmia)
We bring stories straight from the heart of India, to inspire millions and create a wave of impact. Our positive movement is growing bigger everyday, and we would love for you to join it.
Please contribute whatever you can, every little penny helps our team in bringing you more stories that support dreams and spread hope.
Tell Us More