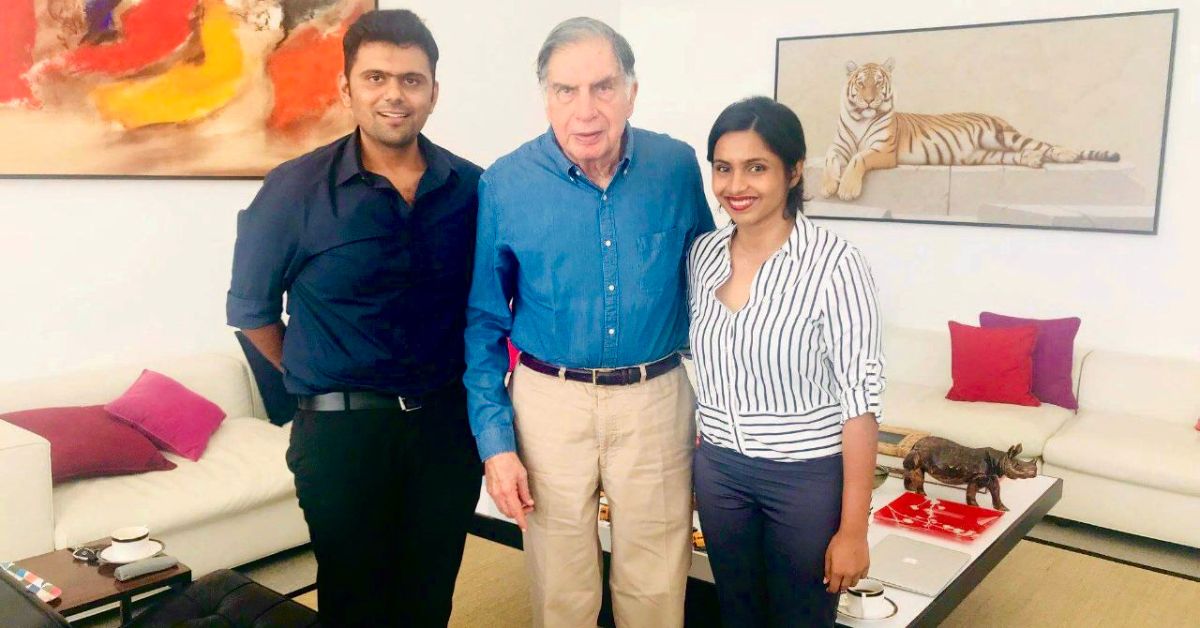 With Repos Energy, founders Aditi Bhosale and Chetan Walunj are looking to stabilise the gap between the demand and supply of fuel with doorstep delivery. Their transformative idea found its first fan in Ratan Tata.
Through our conversation, it becomes evident that Aditi Bhosale's unwavering faith in destiny is so strong that it has gone to shape everything in her life. "If you believe hard enough in something, it will be yours," says the 30-year-old from Pune, now the co-founder of Repos Energy.
She recalls how her entrepreneurial journey started with a very normal occurrence in desi households.
"My parents tried setting me up for marriage. The boy was a mechanical engineer, whose name was Chetan," says Aditi, adding that at the time, she was in the process of applying for further studies in the United States, but agreed to meet Chetan before she left.
As fate would have it, Aditi never ended up going to the US, and instead stayed back and married Chetan. The two are now co-founders of Repos Energy.
"Chetan and I instantly clicked," she recalls. "Though we both came from families that had well-settled businesses in the space of petrol pumps, construction and hospitality, we wanted to take unique paths, change the world, and impact as many people as we could."
'The idea struck us one day during a power cut'
One day in 2017, Pune was struck with a power cut, leaving the entire area without electricity for several hours. Whilst busy coordinating between tankers that were arriving at their family petrol pump in Chakan to refuel, a book that had been ordered by Aditi on Amazon was delivered.
"My phone was constantly buzzing with the usual updates of the book being out for delivery and that got me thinking if a similar system was applied for the energy space, it would be pretty wonderful," she adds.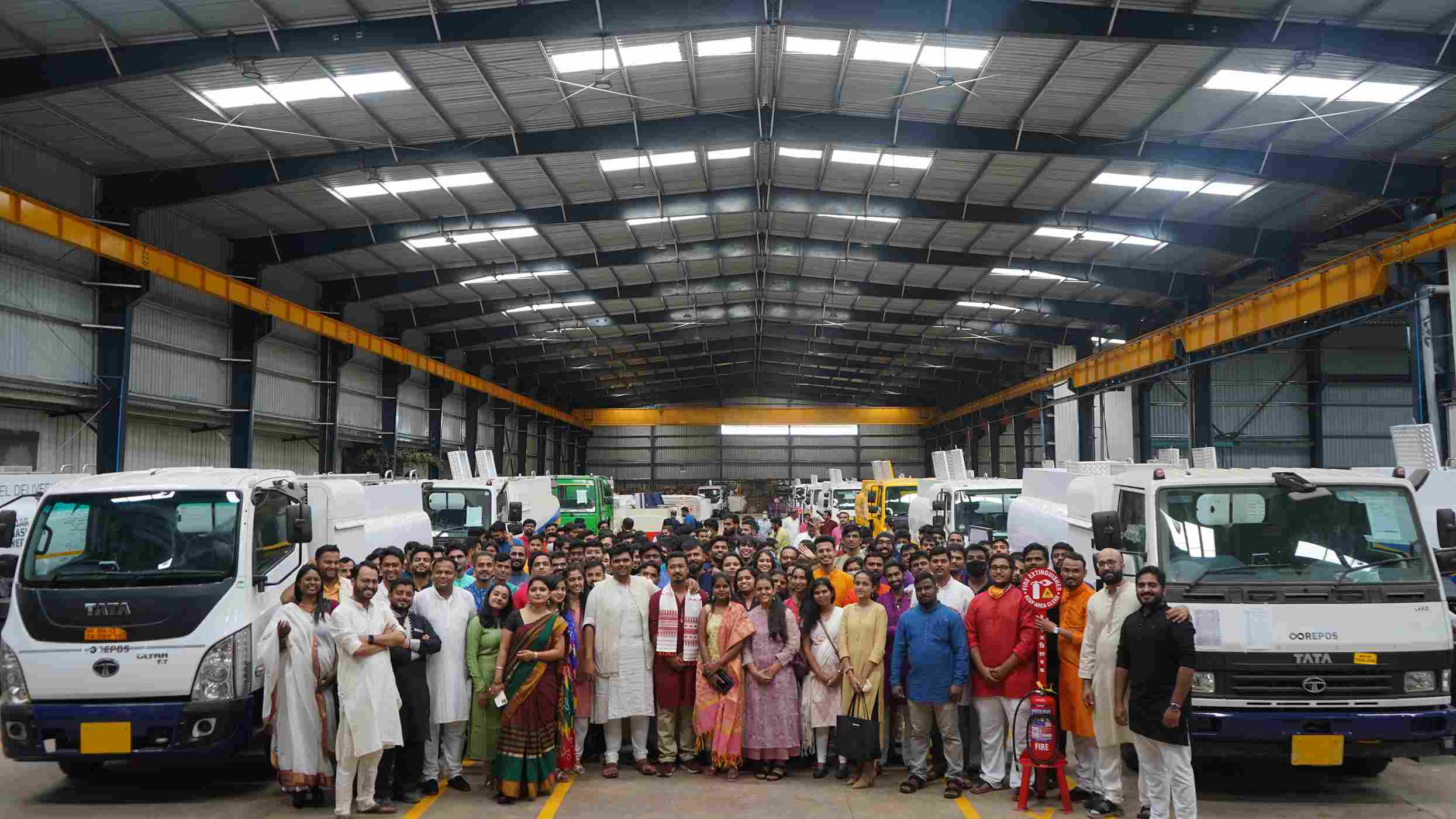 With the number of industries scaling up in India, the demand for fuel is ever-increasing. According to the data from the Petroleum Planning and Analysis Cell (PPAC), India's diesel demand in March 2022 was 7.71 million tonnes, going to show the massive industry requirement.
However, land unavailability renders it tough to construct petrol pumps to meet this demand. The couple notes that at present, there are around 55,000 fuel stations in India, which is insufficient to meet industry energy demands.
"We wanted to come up with a solution wherein energy distribution would be simplified and fuel could be delivered to doorsteps, just like any other commodity," says Aditi.
With this thought in mind, Aditi and Chetan planned the launch of their startup Repos Energy in 2017. This venture, they hoped, would transform the energy space by bringing all the fuels — be they liquid, gas, or electric — under one roof, and making them available with just a click on the phone.
'It was almost like bringing change to existing policies.'
Recounting the journey of setting up the platform, the duo say it was no easy task, as 85 percent of diesel (the fuel which they focus on) is used in B2B.
"We intended to work towards a solution wherein diesel could be delivered to the doorstep of the industry that required it. But here was the problem. In India, delivering fuels outside of a petrol pump is not allowed. So, we spent the next several months running from pillar to post, getting gazettes in order, emailing ministers, speaking to people at events and essentially trying to bring a change in the very core of the policy," says Aditi adding that finally, in 2019, after talks with the Ministry of Petroleum and Commerce, a successful pilot project was launched, and they received their final approvals.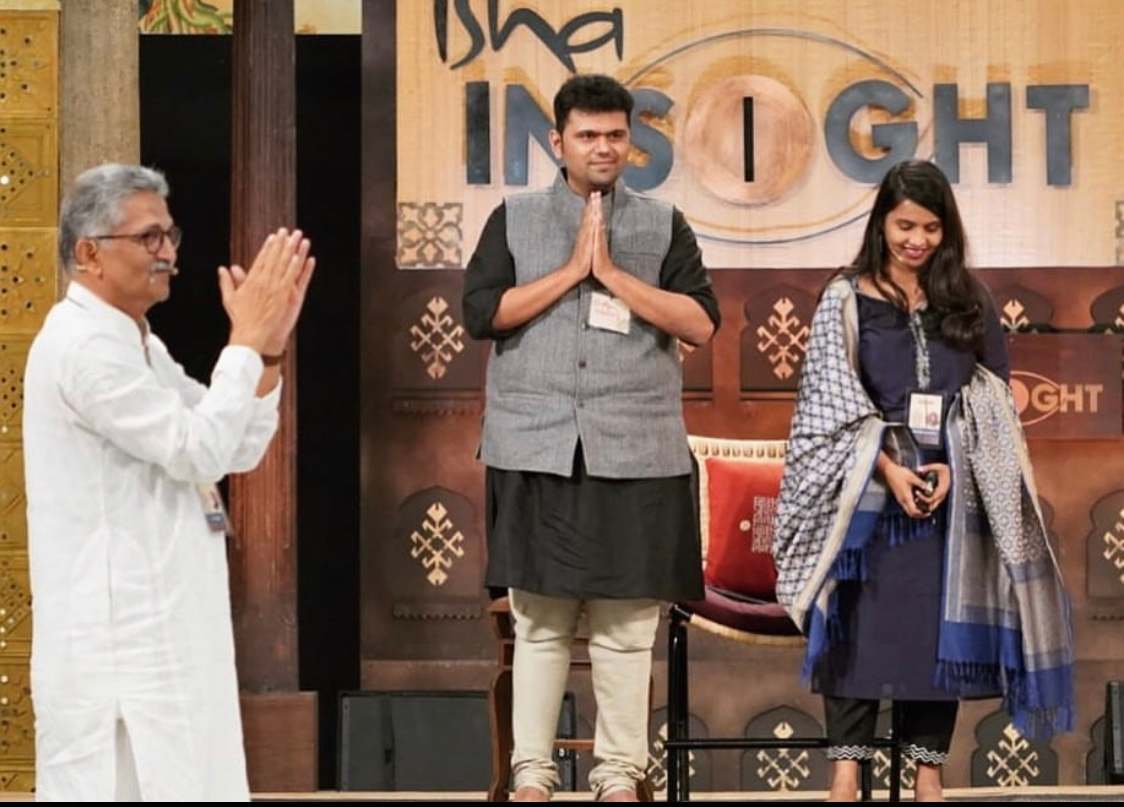 This would now allow Repos Energy to create an infrastructure for mobile energy distribution. But despite the win, the couple felt overwhelmed stepping into new territory.
"We needed a mentor; someone who could guide us and give us that validation that we were on the right track. As crazy as it sounds, we wanted to discuss our project with Mr Ratan Tata," says Aditi.
So, they took a trip to Mumbai and waited outside the business magnate's house for over 13 hours, hoping he would let them in.
"We had also sent sir letters explaining how we wanted to make energy available to the last mile through tech," says Aditi adding that when they were not given a response after all this time, they went back to their room.
But the couple continued to believe that they would hear back. And to their complete surprise, they did.
'We got a call from Mr Tata.'
Recounting the life-changing moment, Aditi says, "The phone rang that night, flashing a landline number from Mumbai. When I answered it, the voice on the other end said he wanted to speak to Aditi and Chetan. He introduced himself as Ratan Tata and said he'd got our letters and wanted to know how our idea would benefit people. He invited us over to his house for coffee that Sunday for a 20-minute discussion on the idea."
The conversation lasted four hours.
"He spoke of how the world is moving towards tech and even offered to invest in our startup. He said if people knew that our idea was backed by him, they would trust it more," says Aditi adding that till today, he continues to be the "backbone of Repos, as it is his value system that helped build the venture".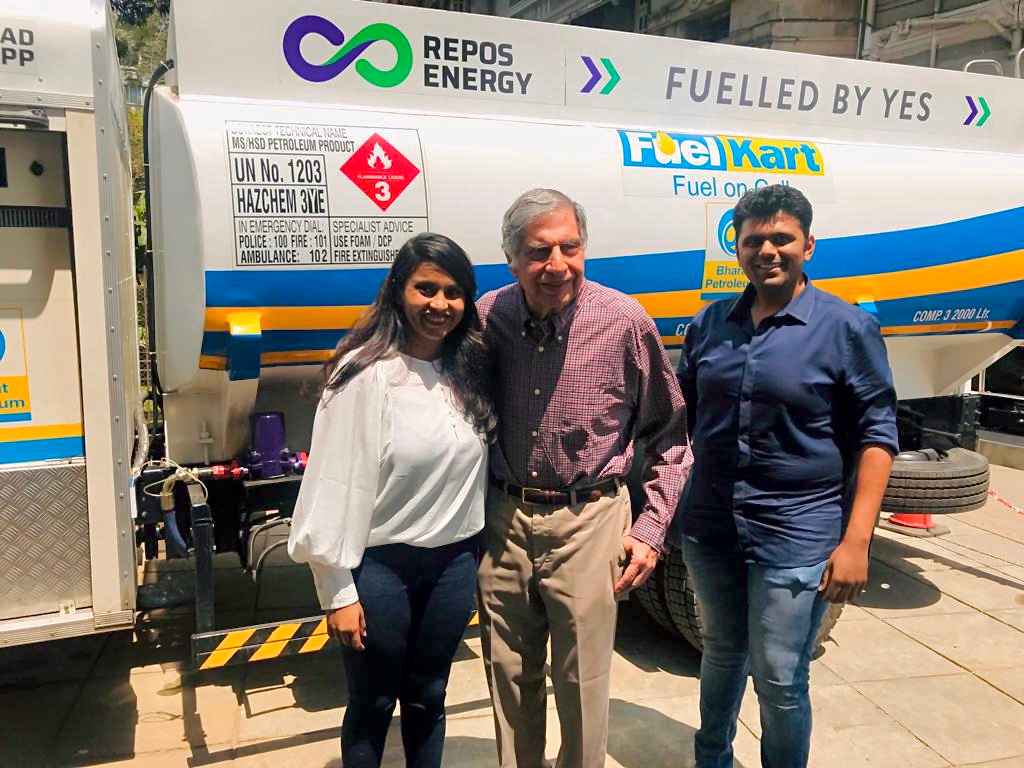 300 cities, 2,000 mobile pumps
Speaking about the doorstep diesel distribution process Aditi says it establishes a connect between the sellers and buyers of diesel. On the seller side, Repos customers are those who already have petrol pumps, as they did not want to disrupt the existing infrastructure in the attempt of bringing in something new.
"We provide them with the mobile petrol pump and then they seek permission from their energy distributor such as Reliance, etc, and take doorstep diesel delivery permission. We then put them in touch with customers who are looking for doorstep delivery of diesel," she says.
She adds that their Datum system functions like a diesel ATM, wherein the innovative tool is installed at the site where diesel is required. The Repos partner then delivers diesel at the site into the Datum.
The couple adds that their venture is helping create fuel entrepreneurs, which are essentially those who do not own a petrol pump but are looking to get into the fuel distribution business.
"People interested in starting their own diesel distribution ventures can go to the oil marketing company, and sign an agreement with them. Repos then provides them with a vehicle through which they can take diesel from the depot and sell it to the end customer. We have managed to create around 600 fuel startups," she adds.
One fuel entrepreneur, A Taranath from Auro Fuels, Bengaluru, says this has been a great opportunity.
"Repos has helped us with the necessary technology and we are grateful to them. Now we have our own fuel delivery business and we see the impact this service is bringing on the ground. We are helping businesses with seamless fuel delivery service," he says.
Today, Repos Energy is present in 300 cities and has managed to create over 2,000 mobile petrol pumps, along with also launching mobile EV charging stations.
While the head office is in Pune, the couple has their 2 lakh acre sqft manufacturing unit in Chakan where they manufacture around "900 petrol pumps every month" with all safety certifications.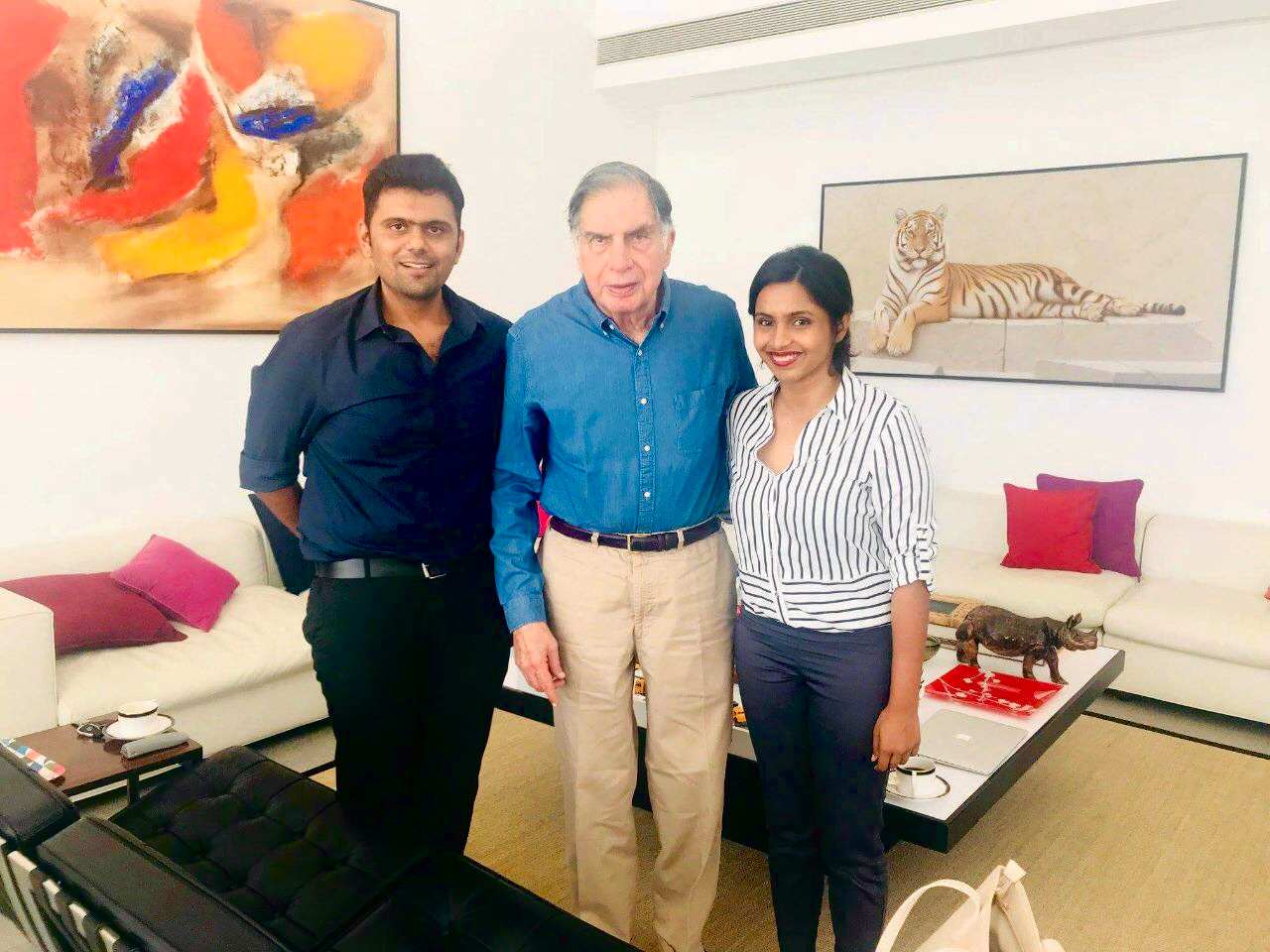 Revolutionising the energy space
With a turnover of Rs 65 crore in the last financial year, the couple says they have come a long way.
Chetan says, "We knew that there was no policy in place, which made the start extremely risky, but we decided to move ahead with belief. The Government of India, the Petroleum Ministry, stepped in and encouraged our belief in this idea by changing some important policies and rules around the distribution of fuel in the country. That was a huge boost for us. Today, we see that this doorstep fuel delivery service is ubiquitous across India so it was risky in the beginning but now we see the risk was well worth it."
He adds that after the success of Doorstep Diesel Delivery, now it is expected Repos will bring the same kind of solution for all forms of energy.
"We want to do this one fuel at a time, so as diesel is done, the next thing is electric energy distribution," he adds.
As for Aditi, she says "I totally believe you are a result of what you think. Ever since I was a child I would say I wanted to do great things and the Universe worked for us. Doors open when you believe and things fall into place. Our belief is what led us to have a magical journey," she says.
Edited by Divya Sethu
We bring stories straight from the heart of India, to inspire millions and create a wave of impact. Our positive movement is growing bigger everyday, and we would love for you to join it.
Please contribute whatever you can, every little penny helps our team in bringing you more stories that support dreams and spread hope.
Tell Us More