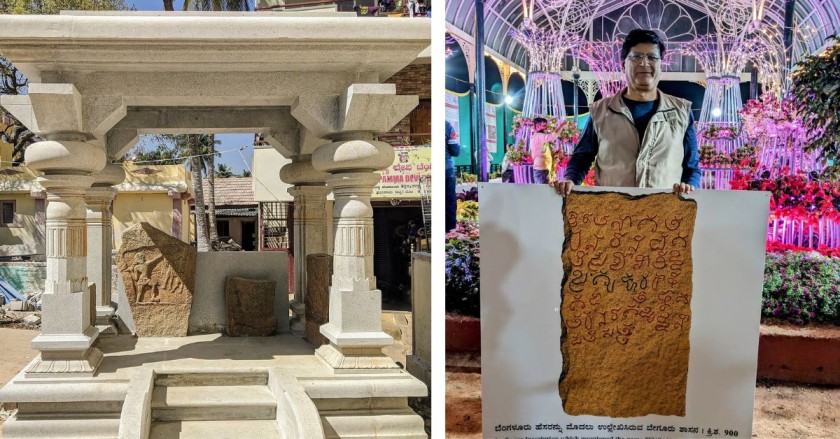 A mention of his village in a 13th-century inscription stone led P L Udaya Kumar on a fascinating journey of finding and preserving the ultra-local history of the present Bengaluru localities.
Sitting in front of a uniquely colour-coded map of Bengaluru, the first thing that P L Udaya Kumar asked me was, "Who is the most important person in the world for you?" I hesitantly answered, "My father."
To this, he said, "Your father is no Gandhi, Obama or Akbar, but you still think he is the most important person. He is not a historical figure; all you have is a personal connection and a brief history with him. Yet you think he's important. This is the same with history. We have been gazing at the Taj Mahal and the Red Fort for too long. In doing so, we are forgetting that every piece of land has a lot of history to offer — I am talking about the locality you live or grew up in."
Kumar, a 55-year-old ex-techie, locates and preserves millennia-old inscription stones from across Bengaluru city, converting them into books enriched with the area's history. Most of these stones are unknown and forgotten, fading away with time, and taking along with them, their rich history.
"These books do not tell you stories of kings and queens of the city, but the local people and the ultra-local area," Kumar tells The Better India.
Under the Mythic Society Bengaluru Inscription Project, he has saved more than 300 inscription stones from withering away by digitally imprinting and recording them in a book series called Bengaluru Itihaasa Vaibhava (The Historical Glory of Bengaluru).
The story behind an accidental historian
"In 2018, a friend told me about an inscription that has Kethamaranahalli's name. Kethamaranahalli is a village around which Rajajinagar, where I reside, was built. Many areas in Bengaluru are built around small villages which no one knows about. Take J P Nagar for example, it is built around a village called Sarakki. These villages are very small, two-lane neighbourhoods," he says.
"So when I heard that there is an inscription with my village's name, supposedly from the 13th century, I was surprised. You don't expect a small village like that to have such an important piece of history. There are no palaces or big temples in that place, just an important stone which was probably neglected as time passed," he shares.
So, Kumar decided to find the stone. He eventually found a book called 'Epigraphy of Karnataka' which mentions the stone's location.
"It was supposed to be by a lake, but there is no lake in the village. It took me a while to realise that the stone must have been misplaced. I was sad and disturbed that the only proof of the village being so old is probably gone forever," he recalls.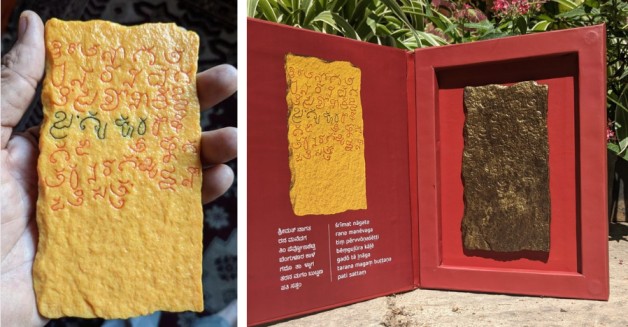 But, the seeds of curiosity were sown that day. It led him on a journey of finding other inscription stones and preserving them from meeting the same fate.
"I did not even know what an inscription stone was before this. But now, they are all I run after," he laughs.
"The incident made me realise that Bengaluru, which is perceived today as a shiny tech city, is actually so old. The areas in the city go back to the 7th and 8th centuries. I realised how the only pieces of evidence that prove this are getting destroyed. I had to save them; I had to do something." he adds.
Teaming up with a few friends who were history enthusiasts like him, Kumar decided to make a plan of action. What started as a curiosity is now his full-time profession, for which he quit his job as an engineer at Schneider Electric.
"Most of the stones that we found were in bad shape — neglected and decaying. The first inscription stone that I laid my eyes on was found in a dumpster in T. Dasarahalli. Can you believe it? An important stone from hundreds of years ago just lying there. So, we decided that we not only want to preserve these but also educate people about their existence. If a person living in J P Nagar says that he comes from a locality that is a few decades old, it is undermining the place's history, which in reality is actually hundreds of years old. Sarakki Lake itself is 500 years old," he explains.
"Imagine reading your locality name or a place that you hail from on an inscription stone that is hundreds of years old. It is an incredible feeling," he adds.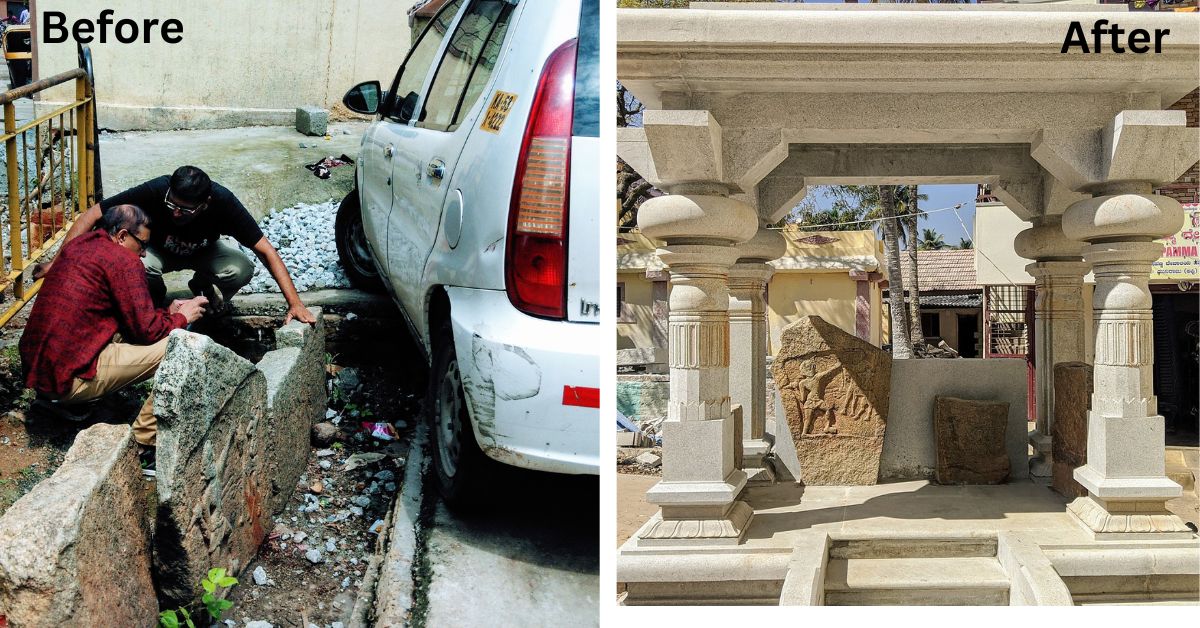 When a personal project received enthusiastic backing
Initially, Kumar would take time off from his job and use the weekends to locate these stones.
"But it was evident that preserving them in a shelter was not enough. The stones weather away, and who do we trust with keeping them safe? Coming from a tech background, it was clear to me that we had to make digital copies of these and preserve them. We came up with a technique to make high-resolution 3D digital replicas of the stones. But the equipment was extremely expensive, so I could not purchase it," he says.
It was in 2020, when Mythic Society, a nonprofit institution which focuses on history, culture and archaeology, discovered Kumar's work and invited him for a lecture.
"They liked my work and asked what it would take to do this on a larger scale. I jumped on the opportunity, and then they asked me, 'We can fund this project; are you interested in taking this up full-time?'. This was dream come true for me, so I quit my job in 2020 and dedicated myself to this work," he informs.
"We formed a team of four people. Unlike me, they are all doctorates of history and epigraphy, and we do this full-time," he adds.
Explaining his 3D inscription project, Kumar says, "What we do in the project is that we use a three-dimensional scanner which costs about Rs 40 lakh. We scan the stone inch by inch; the scanner takes high-resolution 3D impressions. Unlike a photograph, one can clearly see the inscription from the digital impression of the stone on a computer. We can even adjust the contrast and lighting to read and study the inscriptions more deeply."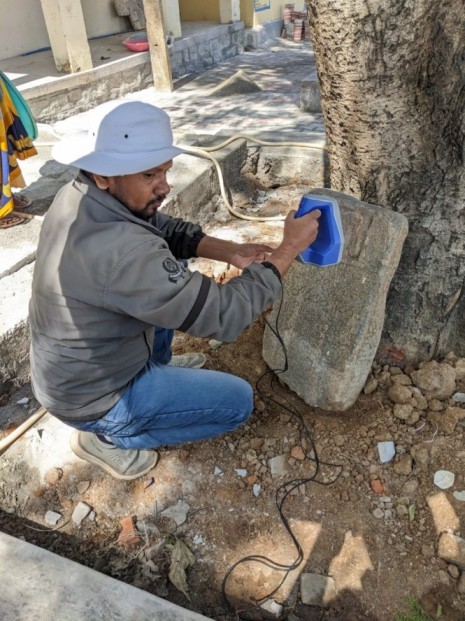 He further explains, "We also write books which are free for anyone to download. It is being compiled into a book series called Bengaluru Itihaasa Vaibhava. We write the story of a particular region of the city based on the inscription of the stone and other pieces of heritage around the area — a micro-history of a specific locality. The book is written in Kannada and English. We also conduct a lot of events where we introduce people to the history of their locality."
"As for the stones, when the people find out that the stones are so old, they have been voluntarily pitching in with money and constructing sheds to preserve them," he says, adding that it is heartwarming to see people supporting this project.
Future plans
The project has discovered a total of 1,500 stones around the city, out of which 300 are new discoveries. The team led by Kumar has made a systematic map of Bengaluru city and placed the stones in order of priority.
"We have marked the inscription stones on the map. The first circle that you see is a 15 km area around the heart of the city. The stones are most threatened in the heart of the city because of construction, development etc. We have covered most of the stones in this area. The red circle is the 30 km circle; this is our next priority as sooner or later the city will expand," he notes.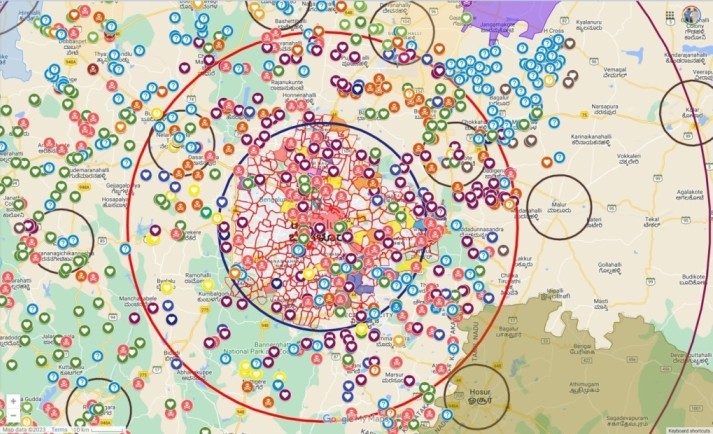 He continues, "Last Friday, we released a very unique book. The book contains the digital image of the Kannada alphabet which was used in the 13th century, discovered from the stones we found all these years. The target readers for the book are mostly children. They can use the book to read these inscriptions on their own. We want to break the notion that old scripts are hard to read," he informs.
About the future, Kumar proudly says that he wants to get his hands on all the stones in the Bengaluru region.
"The story is not any different for any other city in the country. Be it Agra, Delhi, or Assam, there are inscription stones that are getting destroyed everywhere. Any historical book is not going to tell you the history of ultra-local places like J P Nagar or Rajaji Nagar. But it is possible, and there ought to be books about them. I would like to replicate what I am doing in Bengaluru in cities across the country," he says.
"We have been made to think in a certain way when it comes to our history. Wherever there is a big mosque or a palace, we tagged the aspects around it as history and ignored the rest. I find it distasteful. We grew up only reading stories of kings and queens as part of history. I want to change this view among people by helping them to discover the history of the very land they reside on," says Kumar.
Edited by Pranita Bhat
We bring stories straight from the heart of India, to inspire millions and create a wave of impact. Our positive movement is growing bigger everyday, and we would love for you to join it.
Please contribute whatever you can, every little penny helps our team in bringing you more stories that support dreams and spread hope.