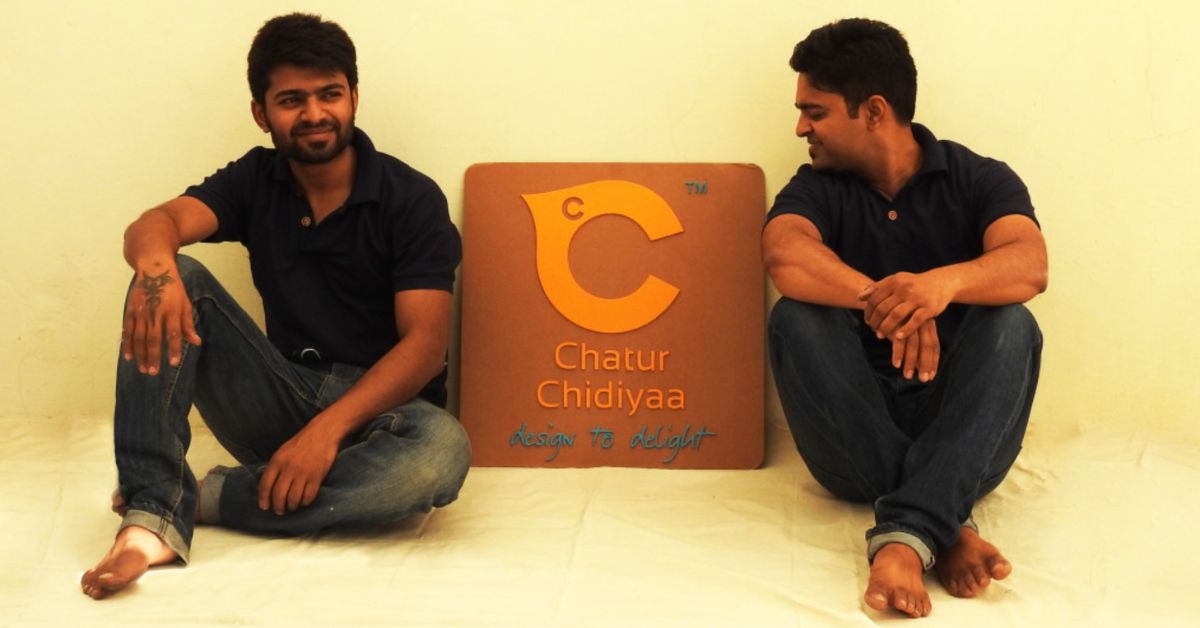 Chatur Chidiyaa, a sustainable startup co-founded by brothers Rutul Shah and Ronak Shah, shows off the beauty of the Nal Sarovar bird sanctuary while being a zero-carbon footprint business.
In a world where the environment is rapidly deteriorating, birds perched on a branch, and twittering sweetly are not a very common sight anymore.
But through their ceramic bird stands, Chatur Chidiyaa, a sustainable business co-founded by brothers Rutul Shah and Ronak Shah, is reminding users about nature's beauty and innocence.
The idea, born as a class project, has today grown into a business on track to reel in Rs 70 lakh in revenue this year.
Taking inspiration from Nal Sarovar
In his final year, when faced with the assignment of creating a product from scratch, Rutul designed the business model for Chatur Chidiyaa. He then shared the idea with Ronak, who was completing his Masters in Business Administration (MBA).
He recalls that as a first-year student at the National Institute of Design (NID), he had an assignment where officials at Nal Sarovar requested students to create souvenirs, developed with indigenous materials, for delegates and the visitors that frequent the wetland. "That was the very first project I did at NID," says Rutul. "I was amazed by the flora and fauna of Nal Sarovar. The place left a deep impression on my mind," he adds.
So, for two months, the brothers stayed at Nal Sarovar with the locals, understanding their lifestyle and the economic crisis they were going through. "The lack of knowledge about how they can do farming on salty land and the unavailability of industries close by where they could work, caused them to turn to poach birds from Nal Sarovar and sell them in nearby markets. There was patrolling by the forest department but the lake is vast and their activities continued," says Ronak. "We realised that the villagers are only risking their lives because they have no other source of income. So we thought about solving this problem."
They decided to come up with a few products that would be easy to manufacture and could be made mostly by hand, not requiring much use of machines or other capital investment and employed the locals to make these products. "We approached and employed local women, some who were the wives of poachers, to make the products," says Ronak, adding that they aimed to provide these families with a steady income.
"We simplified the process so they could easily replicate it," he adds.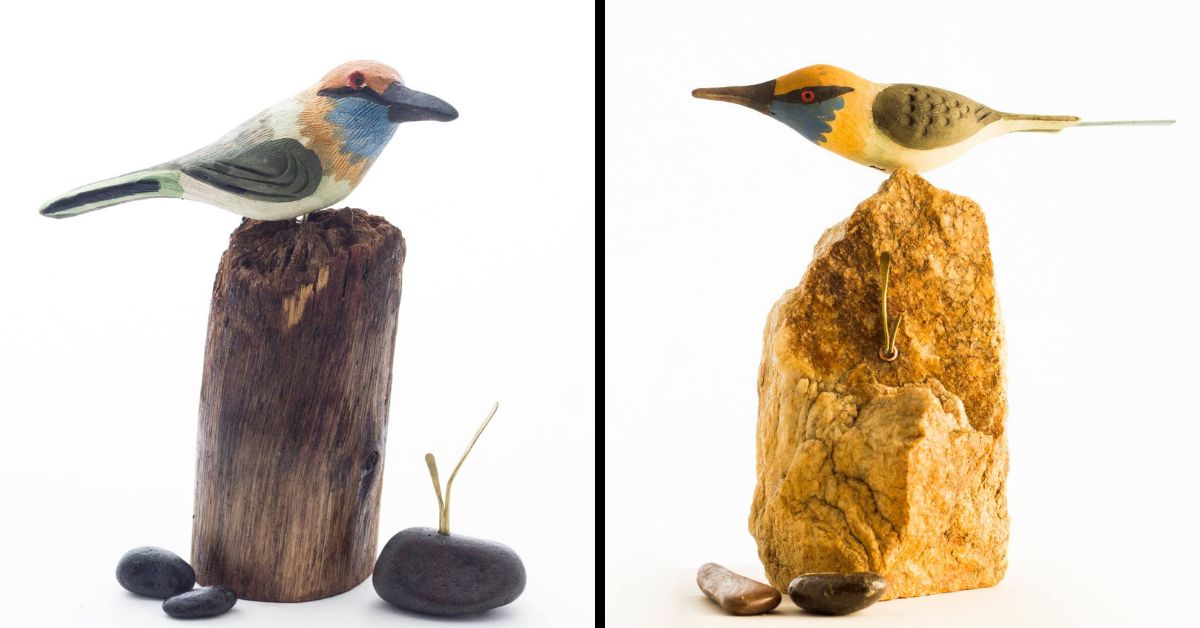 Their stay also proved to be a time when Nal Sarovar's flora and fauna were at their peak. They could observe how migratory birds and local birds engage with each other. They also understood the expectations of the tourists who visit Nal Sarovar. "Getting those insights helped us to create products that are direct replicas of nature, but in a very unusual and interesting way," says Rutul.
That is how, founded in 2014, Chatur Chidiyaa now sells notebooks, paperweights, hangings, and more, through their online shop across India. Their prices range from Rs 180 to Rs 550 for notebooks, Rs 900 for bird stands, Rs 300 for pebble paperweights, and more.
Their designs are inspired by nature, with the intent of reminding people of its beauty, in a world that's aggressively disconnecting from the natural world. "The other philosophy was to create something that inspires users to connect with nature," says Rutul.
Since their work is so heavily inspired by the wetland, they started the self-financed business by selling their products on the banks of the Nal Sarovar.
Soon they started doing exhibitions in major cities all over the country.
To run a green business
While generally market products are made with the intent of consumption, or to fill a gap or solve a problem, the brothers had a slightly different outlook. They built their product catalogue and business within the bounds of what materials and practices sustainability offered them.
"It's a beautiful box of limitations within which we have to perform. That inspired a high level of creativity from us, given the limited time, resources, and manpower, and only a few manufacturing processes that we could use," adds Ronak. "People, product, and process were very cohesively combined by us," he adds.
Chatur Chidiyaa's business model is guided by sustainability on all fronts – ecological, social, and economical.
While the end result has to be an attractive product, they ensure that the entire production process is also responsible and kind to the planet.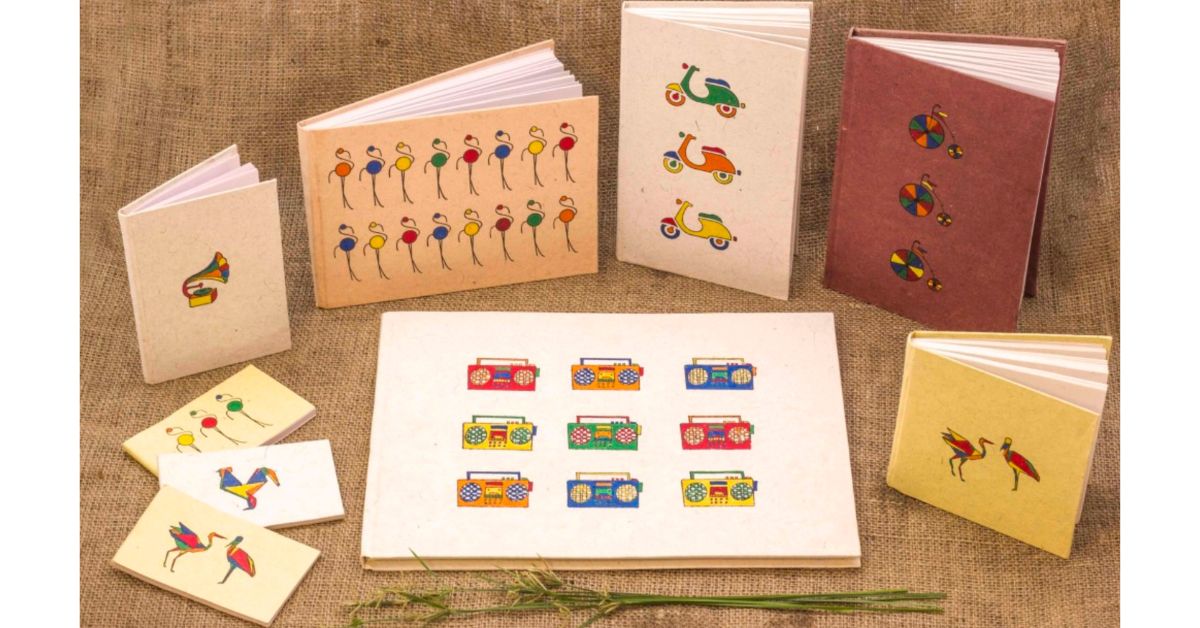 Their products are made using sustainable materials like clay, upcycled fabric, bamboo, and more. "Most of these don't require machinery which leads to less usage of fuel," says Rutul. "We also use ceramics, which requires a great deal of water but all that water goes back into watering the trees we've planted. The handmade paper we use comes from the waste of the printing industry, and wood is sourced from the strips and blocks discarded by the industry. Out of an entire trunk, for instance, only 60 per cent of the wood is used [in the furniture industry]. We use the other 40 per cent that is discarded," explains Ronak.
Rutul adds, "We always aim for local materials and focus on how much travelling is happening to source materials. We restrict it to 30 km."
He continues, "We don't just develop products and sell them. We are story designers who create genuine, sustainable stories and then our main job is to spread those stories."
Through these efforts, the business claims to be a "zero carbon footprint" model in the seven years they've been around.
Today, they're a team of 13, nine of whom are locals. They employ artists who paint billboards and number plates to paint the cover pages of the Chatur Chidiyaa diaries. For their ceramics, they work with potter families. "They already knew how to use the material but we were teaching them what else can be done with the ceramic," says Rutul.
Kaushik Patanwadia, from Virod, a small village near Baroda, Gujarat, has been working with Chatur Chidiyaa for five years now. He says, "I heard about the vacancy from a friend of mine. I didn't have any work experience before but I had an interest in design so I applied and they trained me in the entire design process."
Today, besides painting products, he also works with ceramics. "They have a very detail-oriented approach with a lot of trial and error. For instance, the eyes of the birds have to be exactly like the real eyes of that bird. Quality control is also very important here. When we had to fire the clay for ceramic products, first we did it at 1000 degrees. But that didn't work. Now we do 1125 degrees. It was important to find the right temperature and they don't compromise on quality at all. I have been working here for five years and I've seen the colour and quality of the product stay intact," he adds.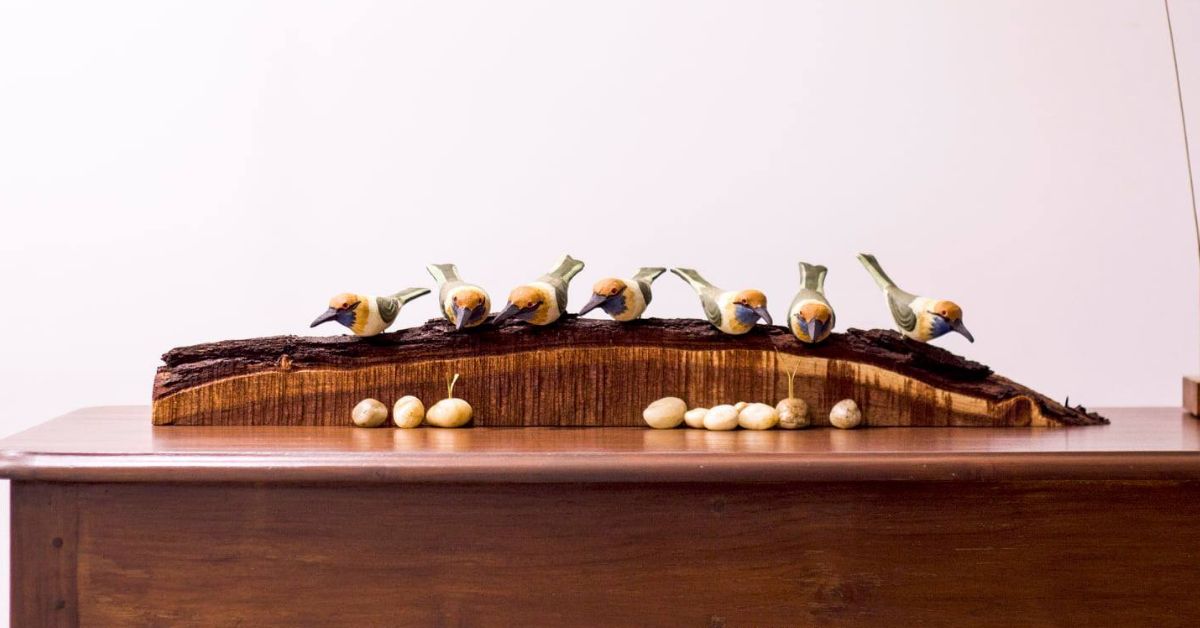 For his work, he earns between Rs 13,000 to Rs 15,000 per month, depending on the number of hours put in. "It's fun to work at Chatur Chidiyaa because we all sit together and do creative work. We help each other and teamwork is very important for Ronak and Rutul," says Kaushik.
While they're thinking about expansion, it's important for the brothers to make sure it's not at the cost of their core values. "What we do best is promoting nature. Such a business takes time to set up and flourish," says Ronak.
"Depending on the nature of the business, there are different levels of growth. In the handmade sector, one quality you require is patience. And we don't want to sacrifice the quality of our work while aiming for growth and higher numbers," adds Rutul.
Their customers include nature lovers, travellers, bird watchers and anyone with an appreciation for the work they're doing.
You can avail of their products here.
Edited by Yoshita Rao