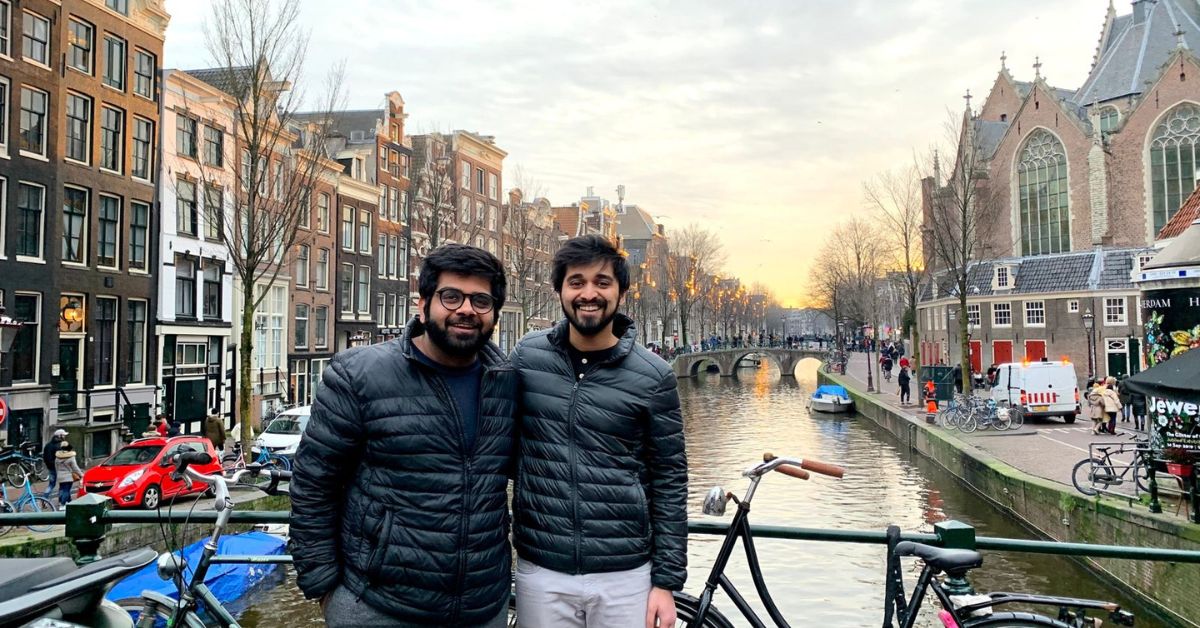 Akash Wadhwani and Rishabh Gupta founded vegan milk startup called OatMlk. Here's the story of how they found each other and built a solution to their problem.
One evening at the Black Sheep Coffee at King's Cross, London, two friends, Akash Wadhwani and Rishabh Gupta—both in their mid-twenties from Kanpur—were having one of their usual catchups over coffee.
It was only when they both simultaneously placed orders for oat milk lattes that they realised the other was lactose intolerant too. The duo had been friends since school and had bonded over their love for video games. But now, along with a shared hobby they also shared a common problem that would in time transform into a business idea.
Back in 2020, Akash was a data analyst at Rolls Royce while Rishabh was a manager at Barclays. Following the incident at the cafe, at their future catchups, they took their conversation of lactose intolerance forward and it hit them that while the UK had plenty of options for dairy, India did not.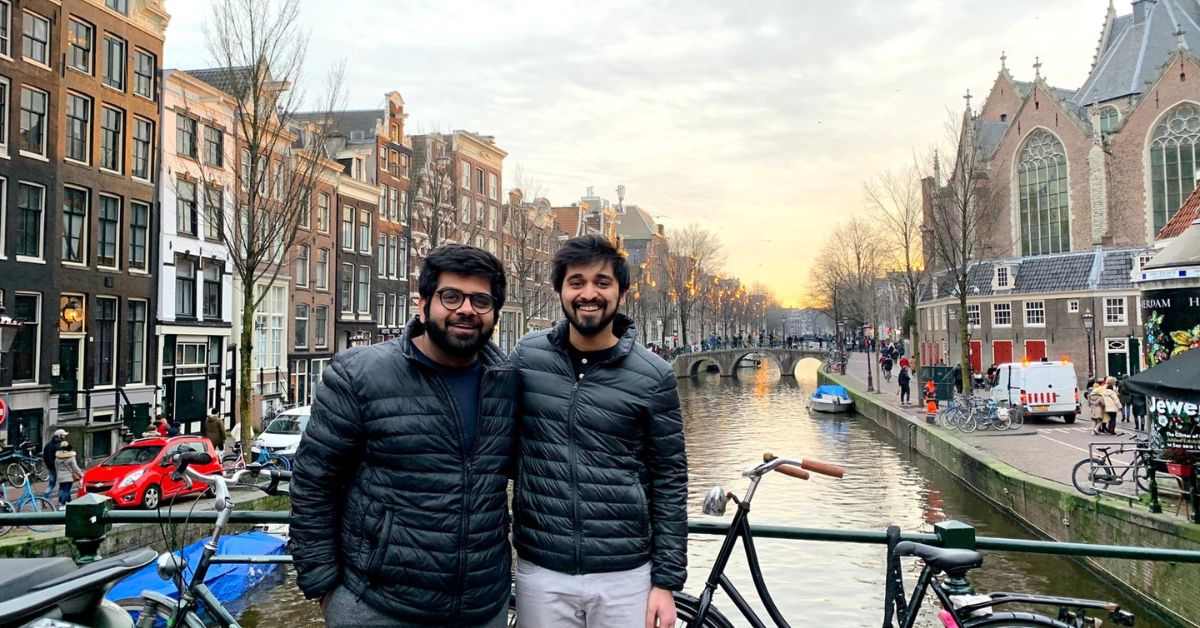 "Soon, our discussions took shape and instead of wondering why no one was exploring more options for dairy, we decided to do something about it ourselves," says Akash to The Better India over a call.
And so in 2020, the duo made up their minds that if they wanted to bring in a change they needed to have a solid plan backed by science.
Building a brand by bridging the gaps
Akash began studying the market in UK and India to judge how receptive the audience was to oat milk. His findings suggested a contrasting difference in attitudes.
"Oat milk had taken the UK by storm, as our market research showed, but India was still in the early stages and there were only a couple brands that had ventured into the space," he says.
However, leaving their lucrative jobs and building a brand in India which people may or may not have accepted seemed a huge risk at the time. So, the duo thought of doing the next best thing — importing the product into India, but the plan was stymied due to the high charges.
"It would cost us around Rs 500 for a litre and this was too much," says Akash.
So they decided to take it upon themselves and build a venture of their own. "We were alien to the concept of making oat milk and building a brand," says Rishabh. "We would often resort to Google searches in the initial stages to see how it was done."
When life closes one door, there's usually another that opens and likewise in this case, Akash and Rishabh found their window of opportunity.
They came across a Reddit post which led them to a person from the US who had done her Master's in Food Science and was majoring in oat research.
"We got in touch with her and hired her on a contractual basis to know the nuances of the product and how to produce oat milk," says Rishabh.
Armed with the belief that things would be fine this time, the duo quit their jobs in 2020 and returned to their hometown Kanpur.
Here, they started with experiments in Rishabh's kitchen. "Having started with a vessel and a blender, we soon brought in some more industrial standard equipment to perfect our process," says Rishabh. Three months and 162 experiments later the duo was ready to do their alpha testing with consumers and begin their commercial trials. But then, there was another crisis.
When all seemed great, the country locked down
The COVID pandemic hit India.
"It was a real ordeal to build a business during a nationwide lockdown," recounts Akash. "There was the pressure of finding manufacturers, good quality oats, transportation, and to add to this we were working on something so new to the people here." But they were not fazed.
True to their goal, they decided they didn't want to compromise on anything and worked hard to acquire FSSAI certifications.
In November 2021, OatMlk saw the light of day in Kanpur.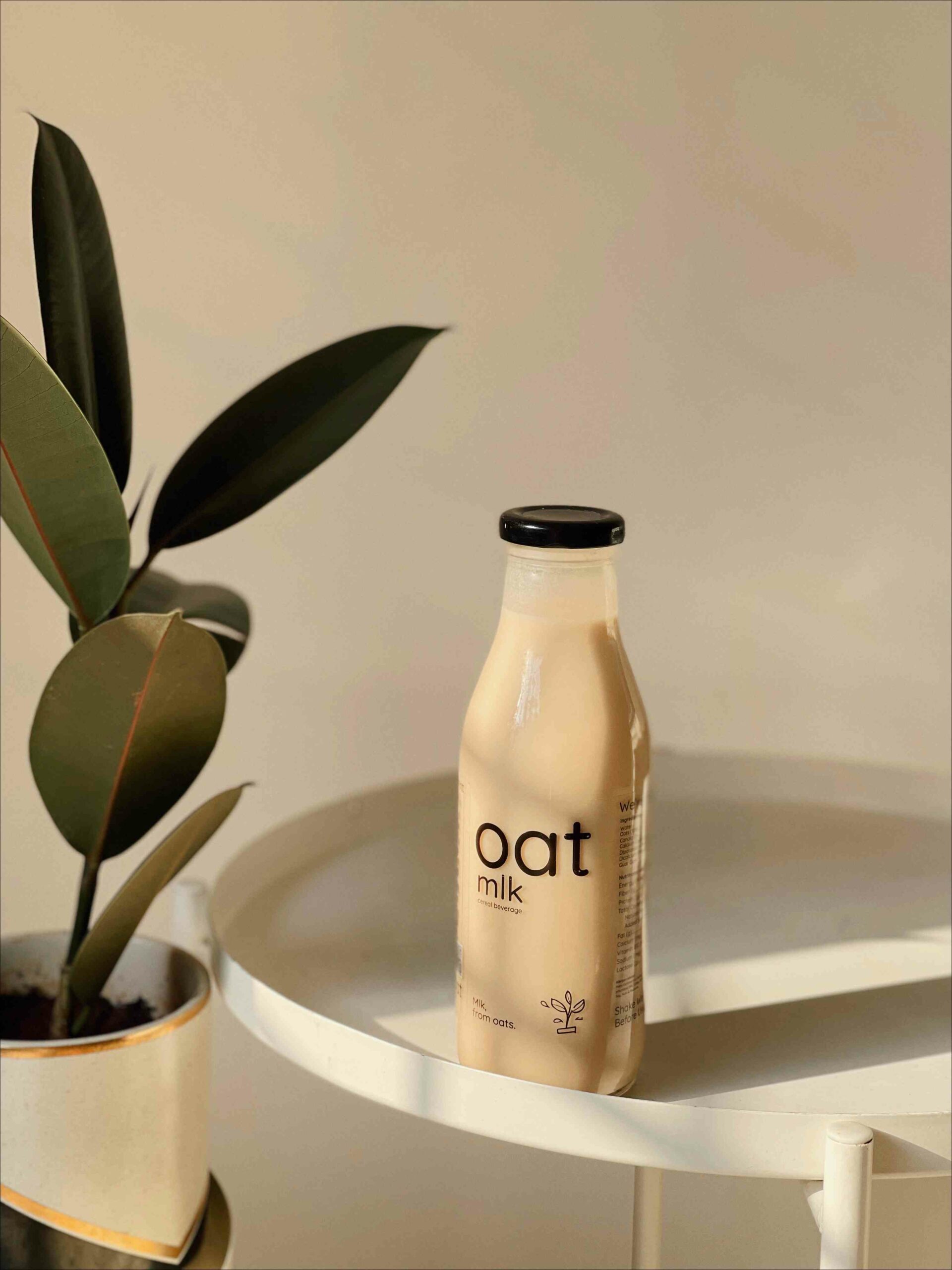 Speaking about how the process is done, Akash says, "The oats need to be strained and the mixture goes through a tedious process of starch breakdown. The complex carbohydrates need to be converted into simple sugars followed by post-filtration processes, homogenisation and pasteurisation."
All of this takes place in their manufacturing facility in Punjab and the final product is then packaged into sustainable glass bottles. The facility is FDA/BRC compliant and the duo ensures all SOPs, QCs and QAs are in place.
But tracing our roots back to the start, we ask why they have been on the quest to have India get a taste of oat milk.
"It is closest to dairy milk in taste and texture," says Akash, adding that as consumers of it in the UK, they always noticed how it never overpowered the drink into which it was added.
"Soy, almond and coconut milk are overpowering but oat milk stands out in how seamlessly it blends in." In addition to this, Akash says that their research at their NABL accredited lab has shown that a single bottle of OatMlk has about 32.95 g of protein, thus proving a healthy alternative.
While Akash and Rishabh had experienced the beauty of the drink, the challenge was to get Indians who were novices in this area to experience the same. The duo thus felt it effective to have people taste and see it before they bought it and began sending out samples to chefs, hotel owners, etc.
"We wanted people to taste and believe," says Akash, adding that Indians associate oats with health and that greatly helped them.
Today, OatMlk is a brand that caters to 25 cities in India and is loved across Delhi, Mumbai, Kochi, Pondicherry and more. As part of its clientele, the brand has 60 hotels and 200 cafes and even supplies the Google office in Gurugram.
"But what makes our day," says Akash, "is people telling us how they love the simplicity and transparency of the product and how they feel so much more comfortable with this alternative."
A chef at Hyatt Hotel who wishes to remain anonymous called the milk a "delicious and healthy" alternative and said, "it will be our go-to offering to all our consumers looking for alternatives."
Another customer, Varun Aaron says, "This has to be the most delicious oat milk I've had."
But the taste is just one side of the coin. A study by the University of Oxford suggests that oat milk requires less water to produce as compared to soy or almond or dairy milk, while also having a relatively low greenhouse footprint compared to soy and dairy milk. "Producing a glass of dairy milk every day for a year requires 650 sq m (7,000 sq ft) of land, the equivalent of two tennis courts and more than 10 times as much as the same amount of oat milk."
In addition to building a brand that is healthy and tasty, the duo also ventures to do this sustainably. The food-grade pulp generated at the filtration step at the facility in Punjab is sent to farmers to use as compost for growing their tomatoes, onions etc.
"Since inception, we have been able to provide manure to over 100 farmers and farmlands and contributed to over five acres of produce," says Akash.
Balbir, one of the farmers who has been a beneficiary of this says "Akash aur Rishabh ke karya, humare pragati ka saadhan hai (Akash and Rishabh's work is a tool for our progress)."
At present, the OatMlk team comprises three people, 25 distributors, and manufacturers. The brand presently retails the 500 ml bottle for Rs 150 but will soon be launching the 200 ml bottle that will be priced at Rs 65.
While their B2B arm sees the product being shipped to 25 cities across India, their B2C orders go up to 500 bottles per month.
"We had an initial investment of Rs 15 lakh and in our first round of funding raised Rs 1 crore," says Akash.
As far as their plans for the future year go, the brand aims to grow and capture more of the market and in time compete with milk directly, at the same price point and availability. Akash says in the next two years they aim to have their product retail for Rs 150 for a litre, the same as dairy milk.
"We want to create an India where people can avail healthier futures without compromising on taste," says Rishabh. "We want to broaden the vision of a dairy-obsessed country."
Sources
Edited by Yoshita Rao