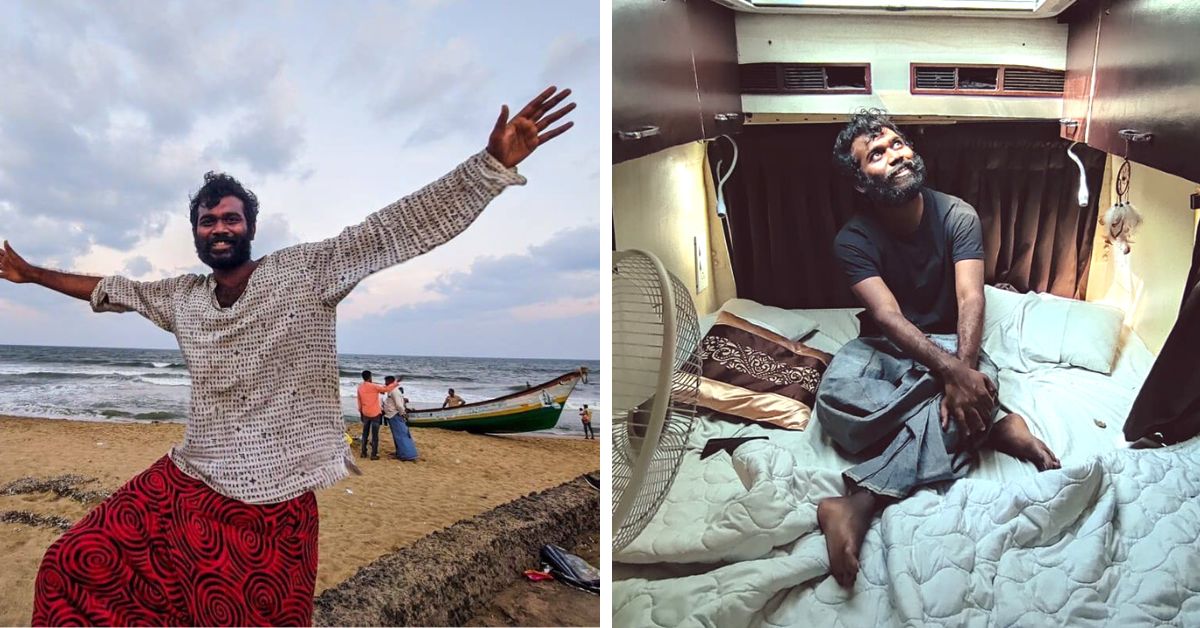 Vimal Geethanandan left his home in Andhra Pradesh in 2016 with a promise to return in a year and a half. Six years later, he shares his learnings with us.
Every year on 1 July, a Facebook memory pops up on Vimal Geethanandan's phone. The picture is a time capsule that reminds him of his 21-year-old self who left home with a backpack and posed on the open road that lay in front of him.
The 27-year-old now sees the picture as an ode to the moment he started his journey on the road, which lasted six years and changed him completely.
Recounting that particular day the shot was taken, Vimal says it wasn't on a whim that he left home.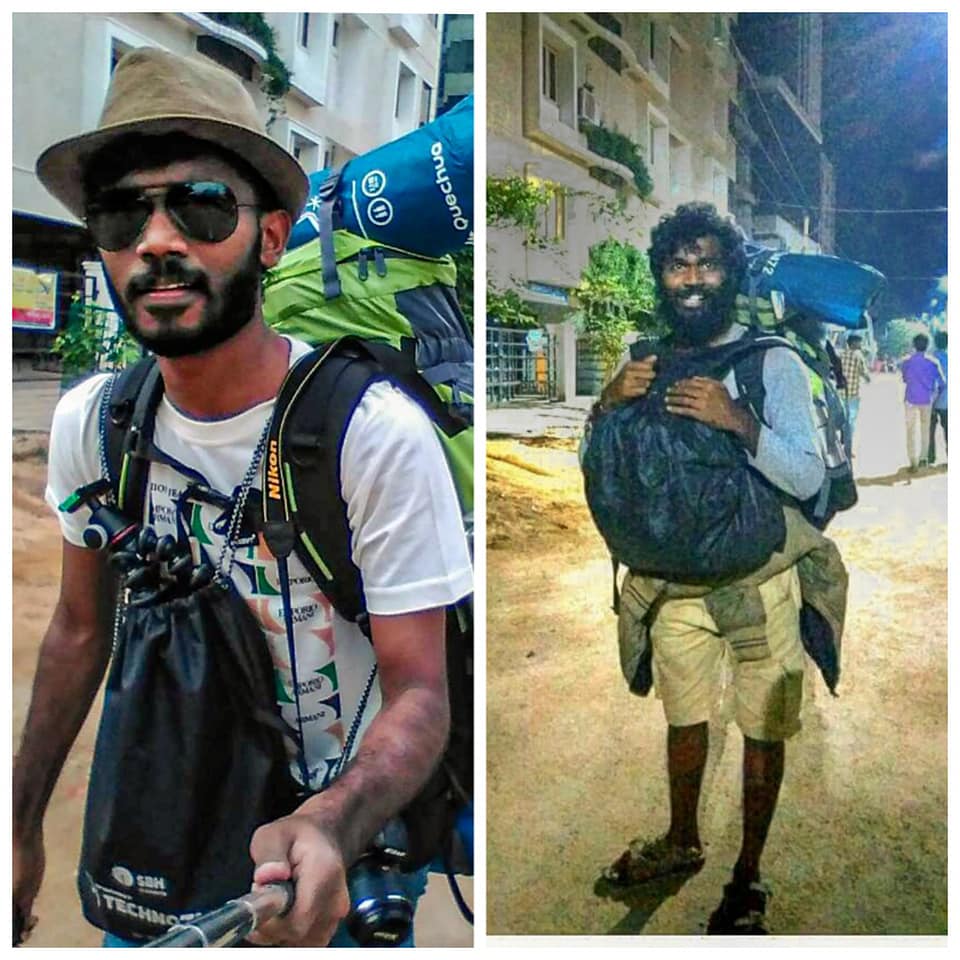 "As a child, I would read fairytales. And in these, a prince would have to undertake a dangerous mission or overcome a treacherous escapade to be worthy of being crowned king," says Vimal to The Better India.
In his young mind, the idea that travel was the path to something bigger, had taken shape.
As he grew older, the books on the shelves turned from fairytales to more mature stories. Biographies of Steve Jobs, Vivekanandan and other famous people had one thing in common, he notes — "Everyone who went on to start a revolution of some sort was inspired by ideas during their travels."
So, to him, travel started to mean inspiration.
And so, Vimal decided to take the road less travelled himself, and drop out of his third year of engineering.
Though he wouldn't attend classes anymore, he would continue to frequent the library where he would devour information on all subjects including literature, entrepreneurship, culture and of course, travel.
And so, on 1 July 2016, when he decided to leave his home in Anantpur, Andhra Pradesh, Vimal wasn't nervous at all.
Books had taught him that humans have a survival instinct and that he would survive and have a story to tell.
He waved goodbye to his family, with a promise that his trip would last for a year and a half. After six years on the road, he says, "There was so much learning and unlearning to do that I never wanted to stop travelling."
However, after two years of being on the road and backpacking with two pairs of clothes, a laptop, a camera, a sleeping bag, a tent and a first aid kit, he was hit with a realisation.
"While travelling, people from different backgrounds would welcome me into their homes. They would tell me their stories and give me both food and love. I wanted to give back to the world," he says, adding that he wanted to create a space where he could also welcome people as they had welcomed him into their homes.
However, the idea only began to take root when in 2018, his cousin asked him to apprentice at his food truck in Bengaluru as a chef.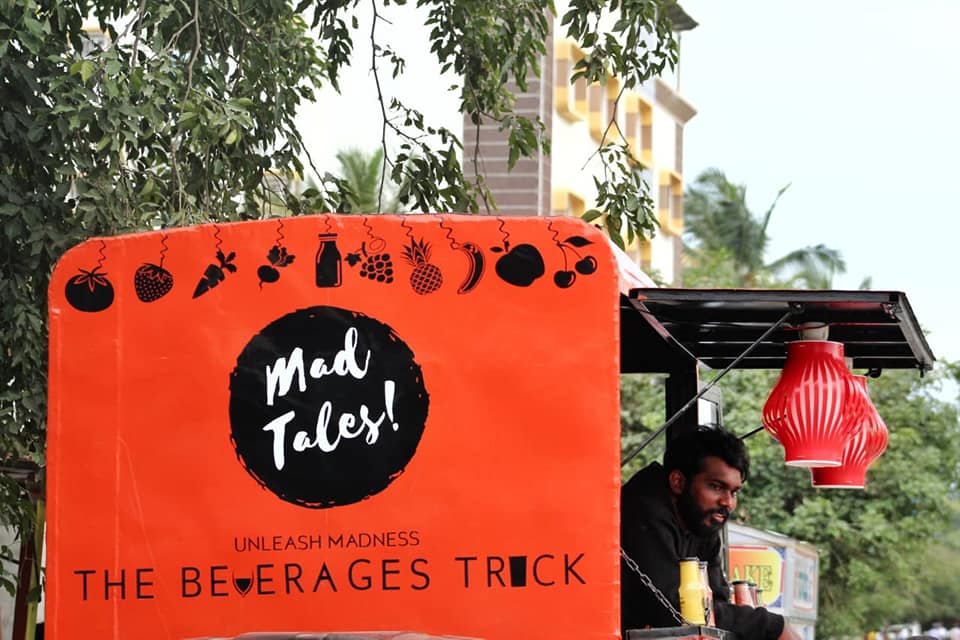 "This will give me a chance to experience life in a closed space and earn some money too," thought Vimal at the time. So, he worked as a chef at 'Mad Tales', prepping both sandwiches and the foundation for his dream of someday living in a caravan.
Following this stint as a chef, he resorted to crowdfunding on his social media platforms, sold tea on the road, worked as a content writer and finally in September 2019, he'd collected enough lakhs needed to purchase a second-hand van.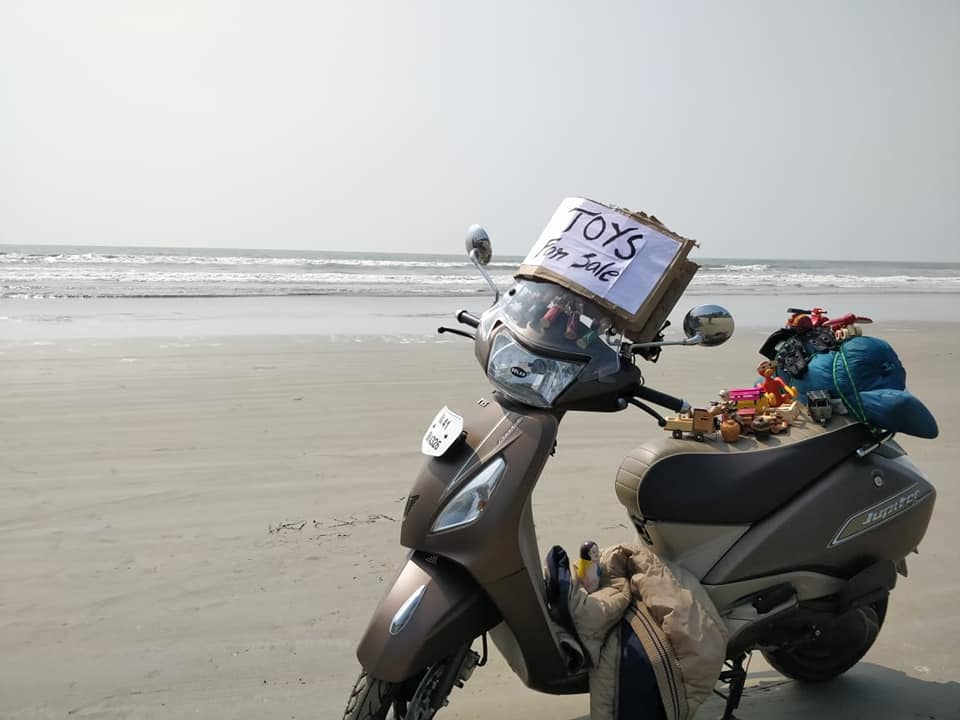 'Maaya', as he named her, was intended to be a place where people could stay, share stories without the fear of being judged, and would be Vimal's home on the road.
'I never keep a calendar nor do I look at the time.'
Recounting how he turned the second-hand commercial van into a mini home, Vimal says it was a tough task.
He recounts the ordeal it was to getting the vehicle registered. "I'd go to the RTO every day for this and would try explaining to them, that contrary to their belief that caravans are only owned by rich folk, I was just a simple guy trying to travel. After four months, they had my vehicle registered."
Despite the mammoth task it seemed to convert the van into a home-like space, he says the universe has funny ways of making things work.
"I would often share updates of my caravan on my Instagram, and one day, my friends from college got in touch with me saying they would love to help." So, in 2020, Maaya was ready to make her debut on the road.
Complete with a bed, a kitchen with a two-burner stove, a beanbag, a shower, and a 350 W solar panel with two batteries and inverters, she began her journey from Kanyakumari to Spiti, travelling through Karnataka, Andhra Pradesh, Odisha, Uttar Pradesh, Delhi, and Punjab.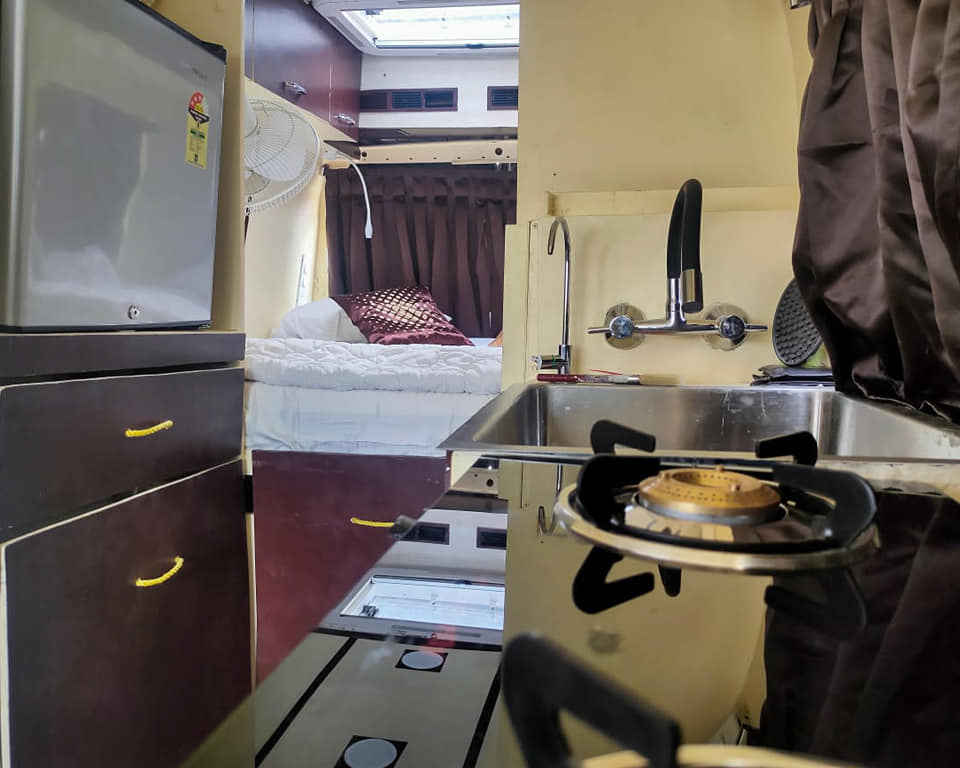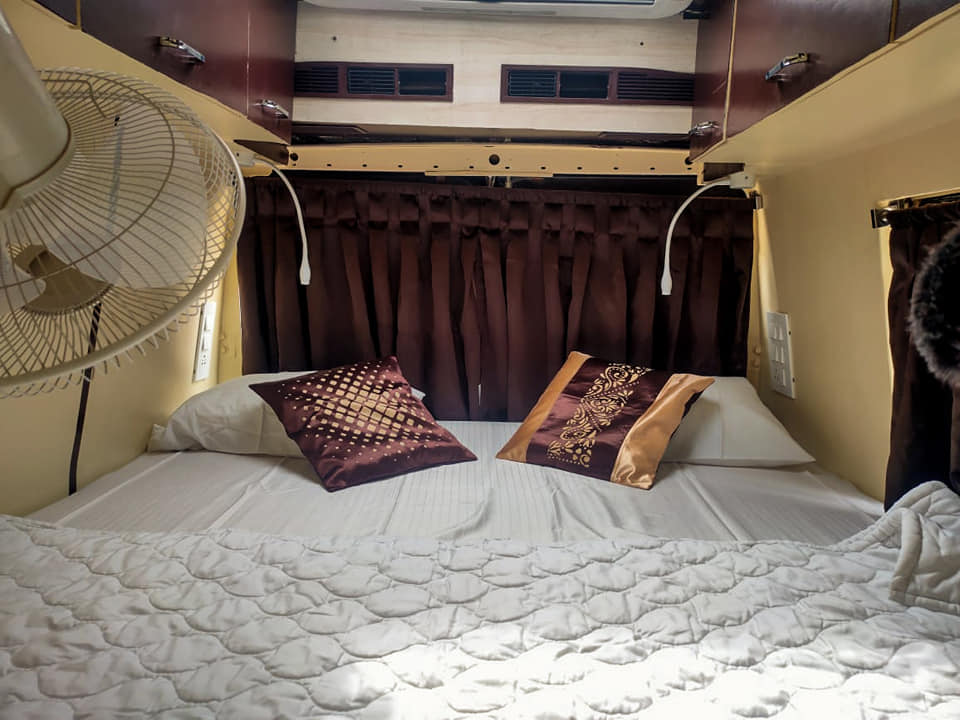 For Vimal, the path has been as exciting.
"Every day is an adventure," he says as he goes on to recount how in July last year when at Varanasi, he had an experience he will treasure forever.
"I was at the ghats, when a woman came to me begging for money. I told her I did not have any to lend her and she asked me where I was from. When I told her, she began speaking to me in Telugu."
While some days he sits with the homeless, other days he dines in bungalows.
"Before the Varanasi trip, I received a message on Facebook from a woman who asked me that if I was on the way to Jabalpur, her family would be more than happy to have me stay with them for a few days," he says.
When Vimal landed at the mentioned address, it was a heavily guarded home, one that was Government quarters for her husband, an IPS officer.
"They had a guest house where they welcomed me to stay. It was such a great experience," says Vimal as this was the first time he says he was seeing the police force from a different, more humane perspective.
To add to these instances, the young nomad recounts how his caravanning often takes him to lesser-known spots.
One such time was during his travels through Odisha. "I stopped near Koraput, Odisha, by a huge farmland. It was a serene vibe as I was the only vehicle there in the rain. People from the village nearby were coming to take water from the small pond there and the scene in front of me was simply gorgeous."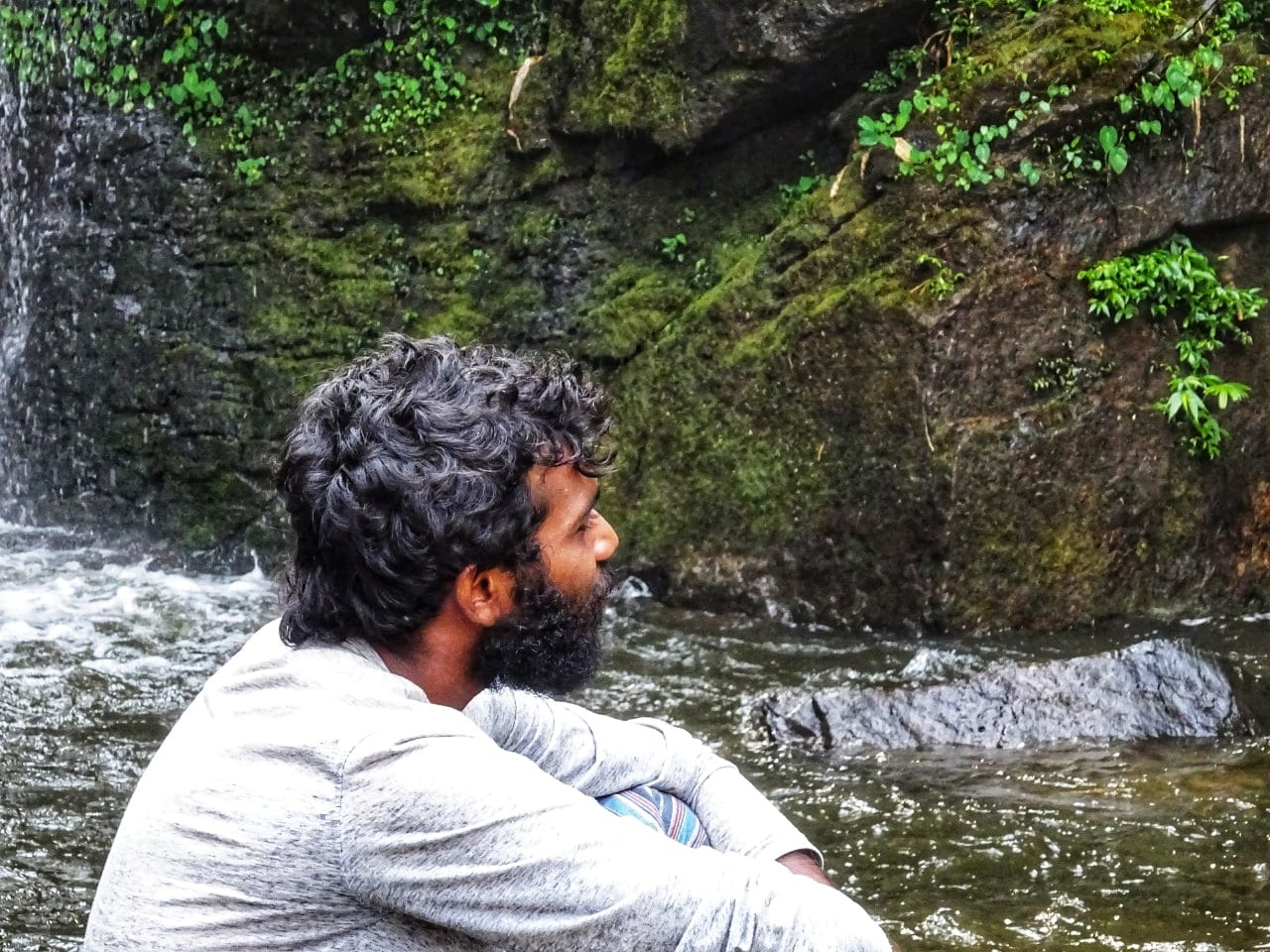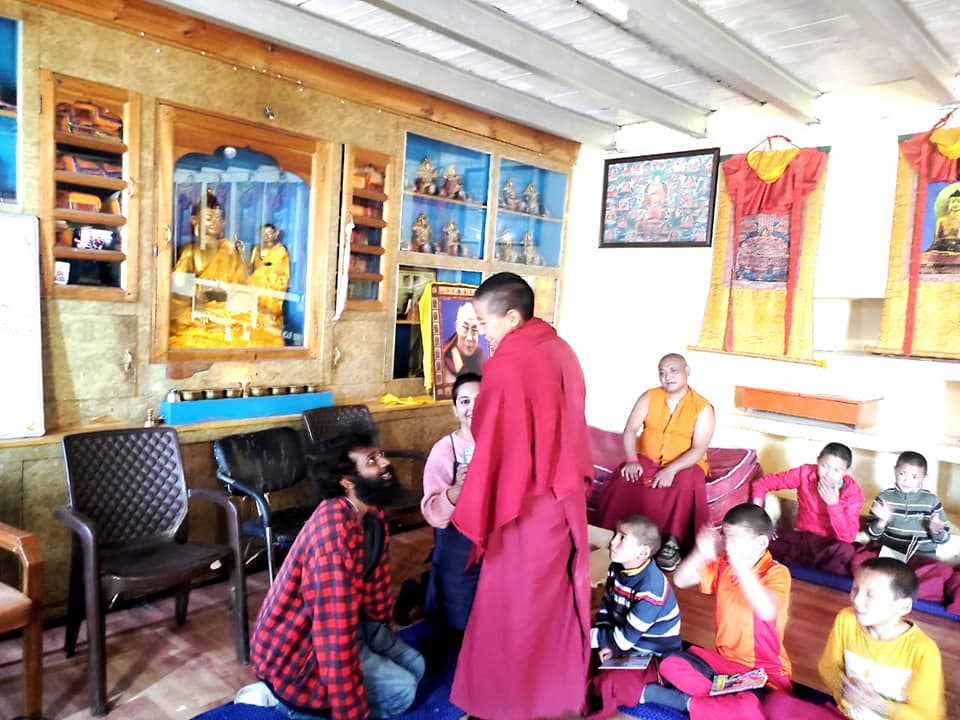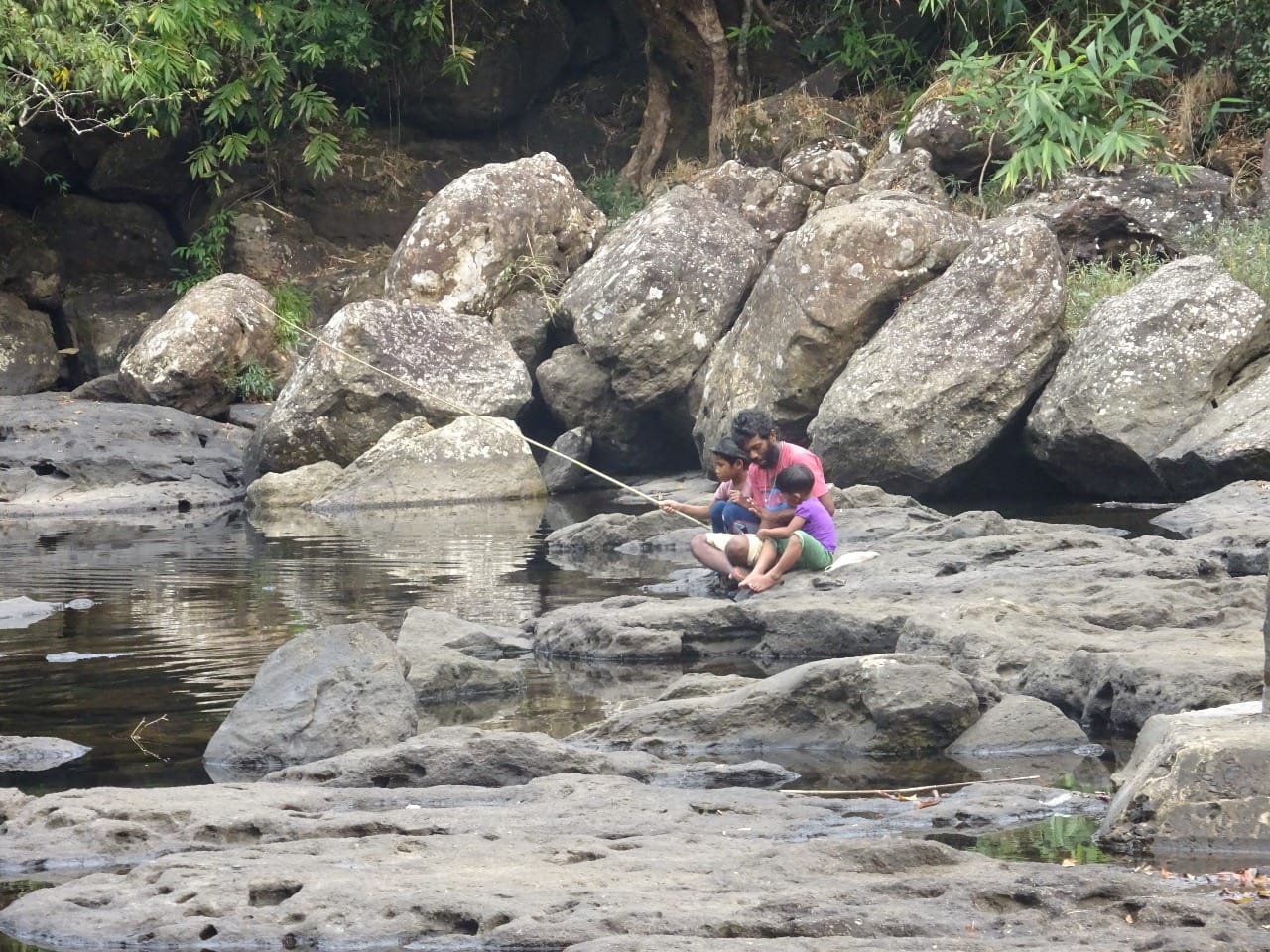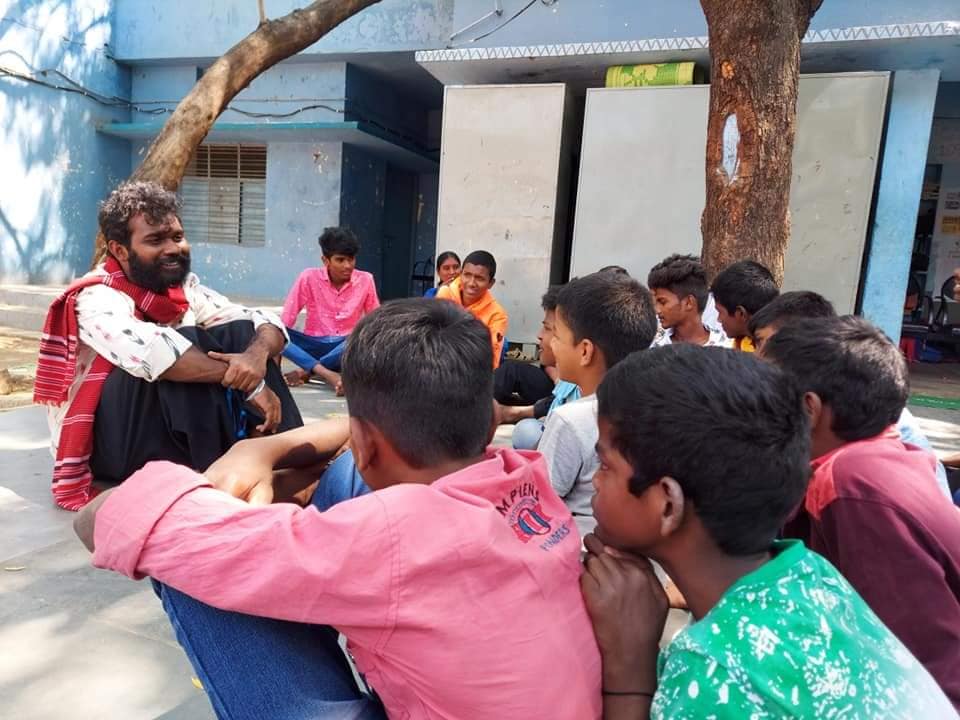 However, it's not just the beautiful sights but also the hardships that make up his caravanning experience. Having contracted COVID twice, once while building the caravan in 2020 and once while on the road in 2021, he says times were tough.
"I was in a forest area and did not have the energy to cook for myself. But even when you are unaware, the universe is always looking out for you," he adds.
A woman who follows Vimal on social media found him a doctor who consulted for free and another arranged his stay at a nearby temple.
But you might not always have the good fortune of people reaching out to you, he says.
"Sometimes, you are alone."
Recounting such incidents, he speaks of instances where the water supply ran out, the power cut off, and nights that were filled with mosquitoes or worse, rats.
As Vimal tells me of these nightmarish episodes, I am compelled to ask — why don't you go back to the comfort of city life?
He laughs.
"Travel is not leisure for me. Travel is my lifestyle. The lonely nights, the adversities are as much a part of travel as are beaches and sunsets."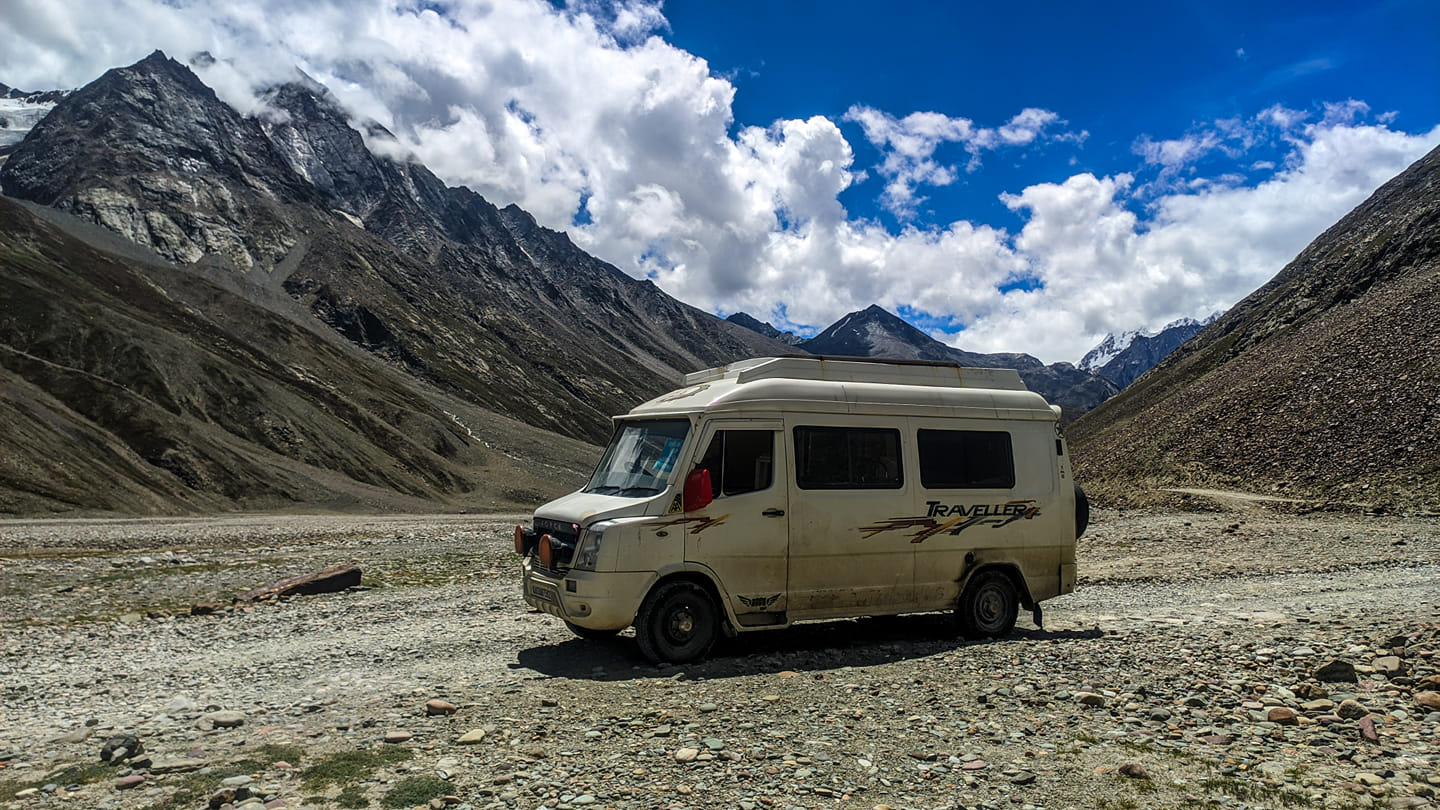 He then in turn gives me some food for thought — "If you are not happy with city life, you can't just quit. There are a lot of commitments. But in travel, if I am not happy, I can take my van and go somewhere different. I can make my next day better."
Feeling slightly remorseful with this reality check that Vimal has given me, I ask him one final question.
What have you learnt, after spending six years on the road?
"Everyone has a story to tell," he replies. "Whether it is someone in a bungalow with a gorgeous view or someone in a hut, we are all a bunch of stories," he adds before he drives off into the sunset.
Edited by Yoshita Rao
We bring stories straight from the heart of India, to inspire millions and create a wave of impact. Our positive movement is growing bigger everyday, and we would love for you to join it.
Please contribute whatever you can, every little penny helps our team in bringing you more stories that support dreams and spread hope.