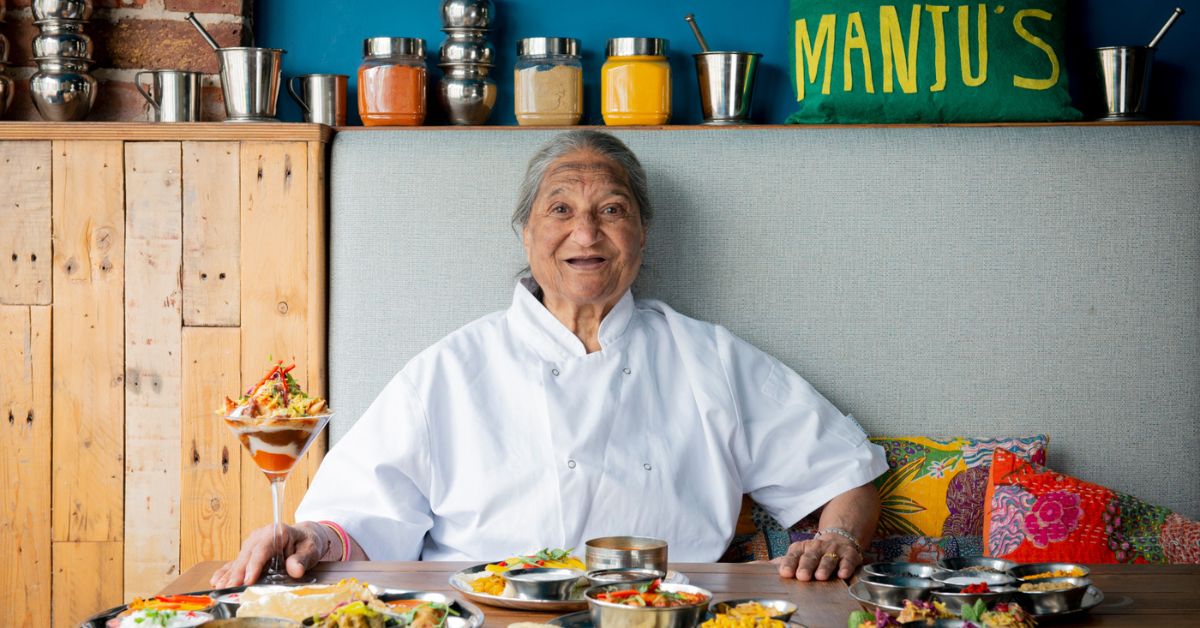 At Manju's in Brighton, United Kingdom, one can find Gujarati specials like daal dhokli, thepla and more. The eponymous restaurant owner shares her tale of finally becoming a chef at her age.
"Bhel puri, pani puri, paneer masala, khanda bhajiya," reads restaurant 'Manju's' menu. One may assume it is from one of the many Gujarati or Indian restaurants around the curb, but it isn't.
Behind this desi curation, is the eponymous 85-year-old's love for cooking that made a restaurant in Brighton, 50 miles south of London, a famous spot for anyone looking for their dose of desi tadka.
Inside, you will be treated to the UK's best Gujarati cuisine and a story of grit and determination that begins in 1936.
Manju comes in every morning at 7 am, dons her chef's hat and apron and gets to cooking up a feast.
But at this age when most people would want to put their feet up and relax, doesn't Manju feel like doing the same?
"Not really," she replies over a phone call with The Better India.
"Being busy is fantastic! It is our job to showcase how good authentic Indian food is. Being genuine, is what is important."
Cooking 35 tiffins a day at the age of 14
It was in 1936 that a young girl had come to her mother's home in Gujarat from Uganda, for the delivery of her baby. According to the Gujarati custom, Manju was born in India in her grandparents' home and returned to Uganda with her mother at a very early age.
Her playful nature and sweet innocence soon had to turn into a more responsible demeanour as she lost her father when she was only 12. The incident shook her.
With the onus of helping to run the home resting on her shoulders, she decided to do what she loved — cooking.
Her mother's advice and recipes alike guided her to churn out 35 tiffins every day at the age of 14. These would be relished by office workers in Uganda.
While they got a taste of chana daal, Manju fell deeper in love with the flavours of Gujarati cuisine.
Reminiscing those days, she says she has her mother to thank for this. "Along with traditional Gujarati recipes, my mother also passed on the values of discipline and an incredible work ethic, values I still uphold."
As the years went on, Manju went on to marry and have two sons, Naimesh and Jaymin. But in 1972, two years after the birth of her second son, tragedy struck as President Idi Amin took over Uganda. A dictator by nature, he passed a law wherein the family along with other Asians were expelled.
So, with very few options for a safe space, Manju arrived in the United Kingdom as they had a relative here who could help them.
With two young boys and only 12 pounds, the family knew tough times awaited them. In the coming months, Manju found work in a factory that made electric plug sockets, a job she would continue until she retired at the age of 65.
Somewhere the love for cooking still resided in her and she would treat the boys to these delicacies, namely her famous kadhi, aaloo ki sabzi, daal dhokli, undhyu, thepla, khandvi and more such delectable dishes.
Did her dream of having her own restaurant fade? "It did seem less and less likely," she says.
As the family began their tough life in the UK, they would constantly move homes. This is because Manju would rent rooms in people's houses.
In the year 1979, Naimesh says his mother bought a place of their own in London.
"She made our dreams come true. We now wanted to do the same for her," he adds. "We wanted a space that saw a confluence of cultures," he says.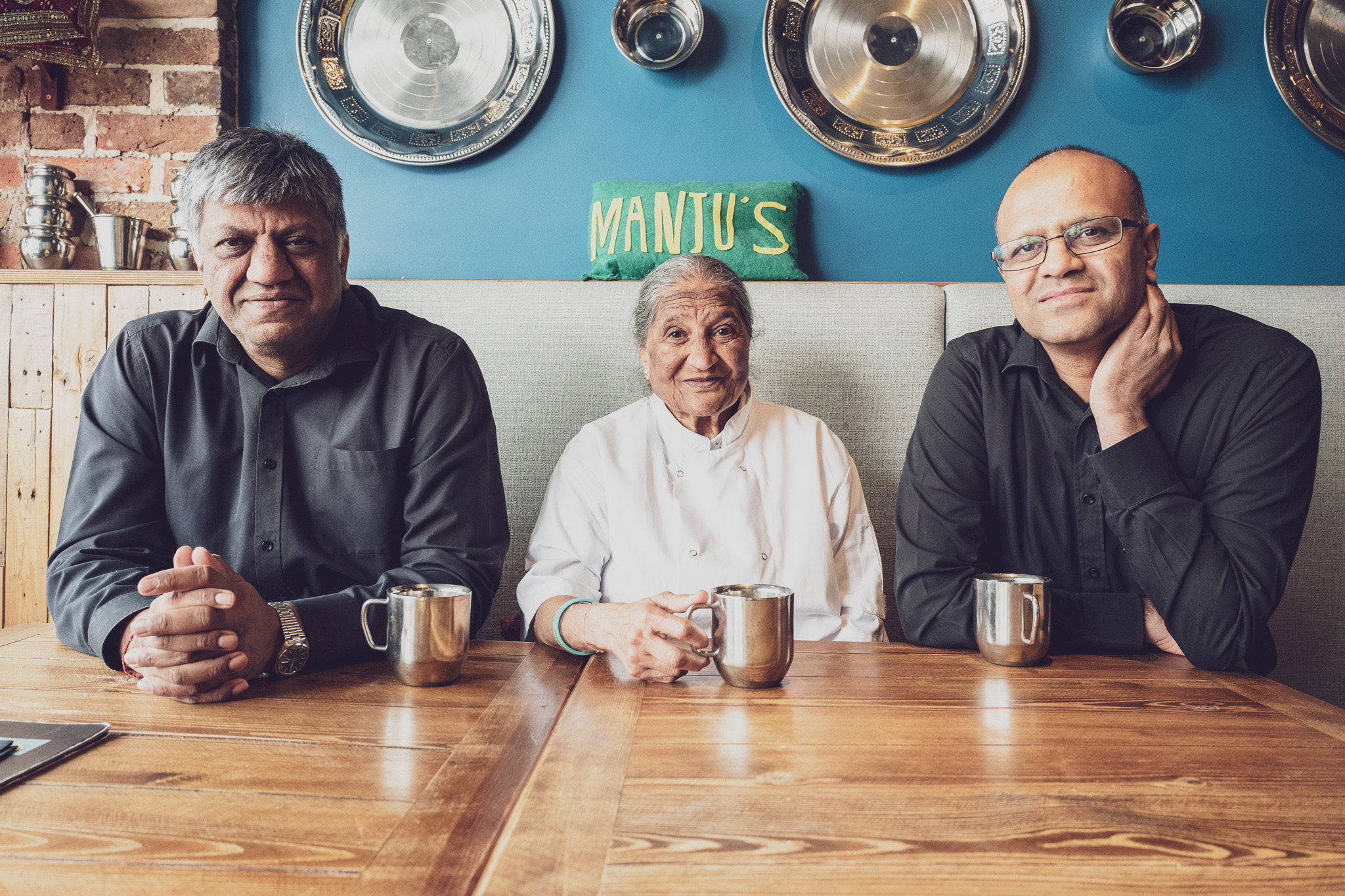 After three years of looking, in 2017, the duo finally found a space where they could envision their mother building her cooking venture. Putting their savings together from the business that they had ventured into they bought the space in Brighton.
Thinking back to the day when she received the surprise, Manju says it was one of the happiest days of her life.
"I had no idea what my boys were up to! They drove me to the restaurant once it was ready and I burst into tears when I realised what they had done!"
Manju was 80 But her dream of a lifetime had finally come true. She was ready to kick start the next chapter of her life.
Giving UK a taste of Gujarat
"It was a real journey converting the space from its previous English breakfast cafe vibe to the Indian restaurant we were building," says Naimesh. But in three months, they managed to turn it around.
Today, the restaurant sees the duo greeting their guests and taking orders, while their mother and her two daughters-in-law Dipali and Kitty help out in the kitchen.
Neither the COVID pandemic nor the rainy days, or lockdowns can deter this force of nature.
She never takes a day off. "I can't stand to see people who are hungry," she says, "I believe everyone should have enough to eat, drink and have a home."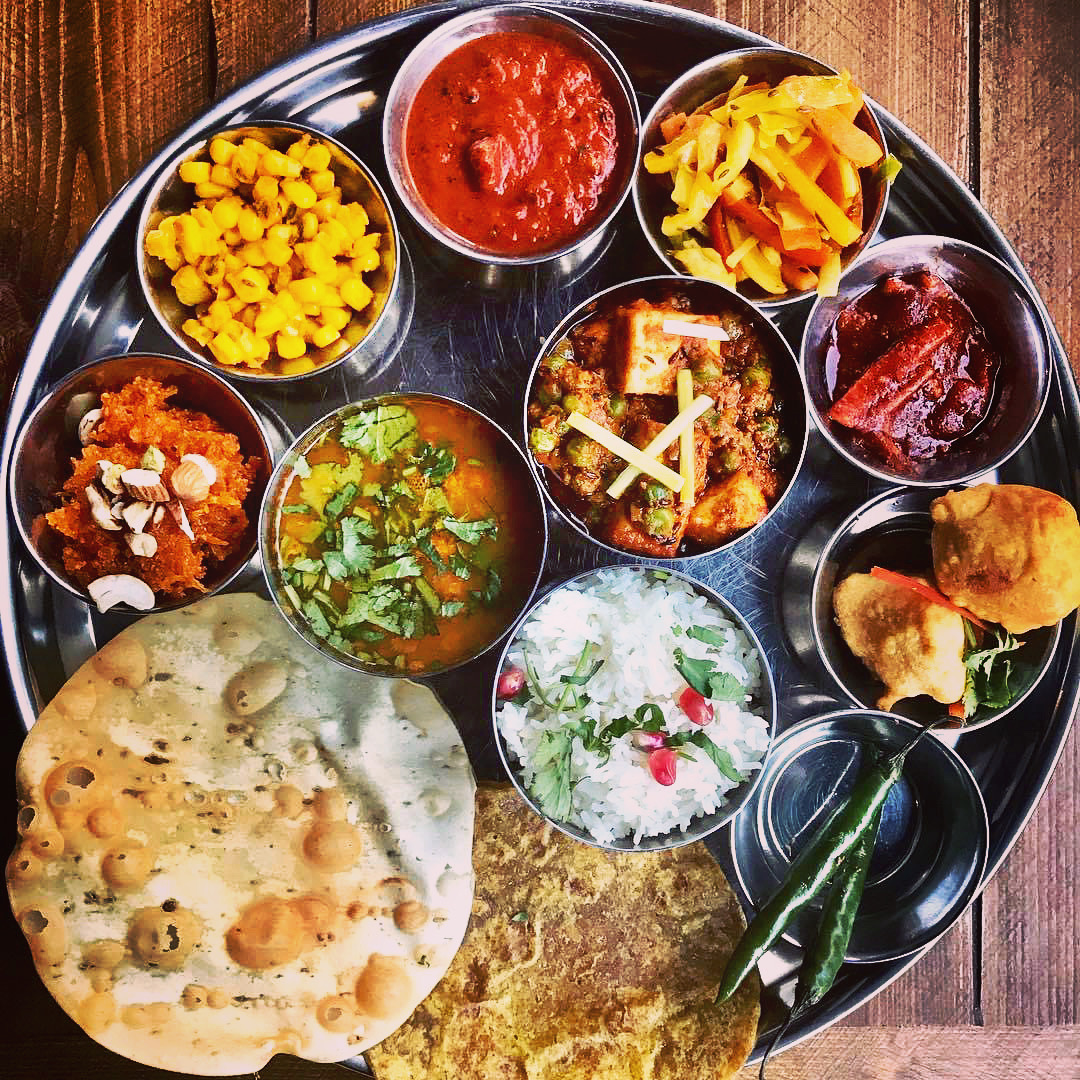 She adds that Brighton is a food lovers' paradise and so they never see a dearth of guests. "People who travel here are likely to try out different cuisines. To add to this, Brighton is also the vegan capital of the UK so Gujarati food is very well received."
At the heart of Manju's journey in the UK, has been the attempt to bring a change in people's perception of Indian food. "Unfortunately, some people still think it's vindaloo and chicken tikka masala," she says, adding, "It is so much more than that."
The hustle and bustle of the kitchen
If you are planning to step into Manju's be warned, it would be wise to make a reservation beforehand.
The day is busy, as Dipali, the head chef and Manju's daughter-in-law describes it, and starts very early. "We begin by checking the produce that our suppliers bring in. We ensure a seamless process and prep and prep to make sure everything is ready. At lunch, as the first guests of the day arrive, the kitchen jumps into action and from then it is non-stop."
Operating from Thursday through Saturday, from 12 pm to 2 pm for lunch (on Saturdays only) and 6 pm to 10 pm for dinner, the restaurant sees a turnout of around 48 people a day. The maximum group size is just four guests. "A small menu and small groups allow us to cook better food for a smaller number of people," adds Dipali.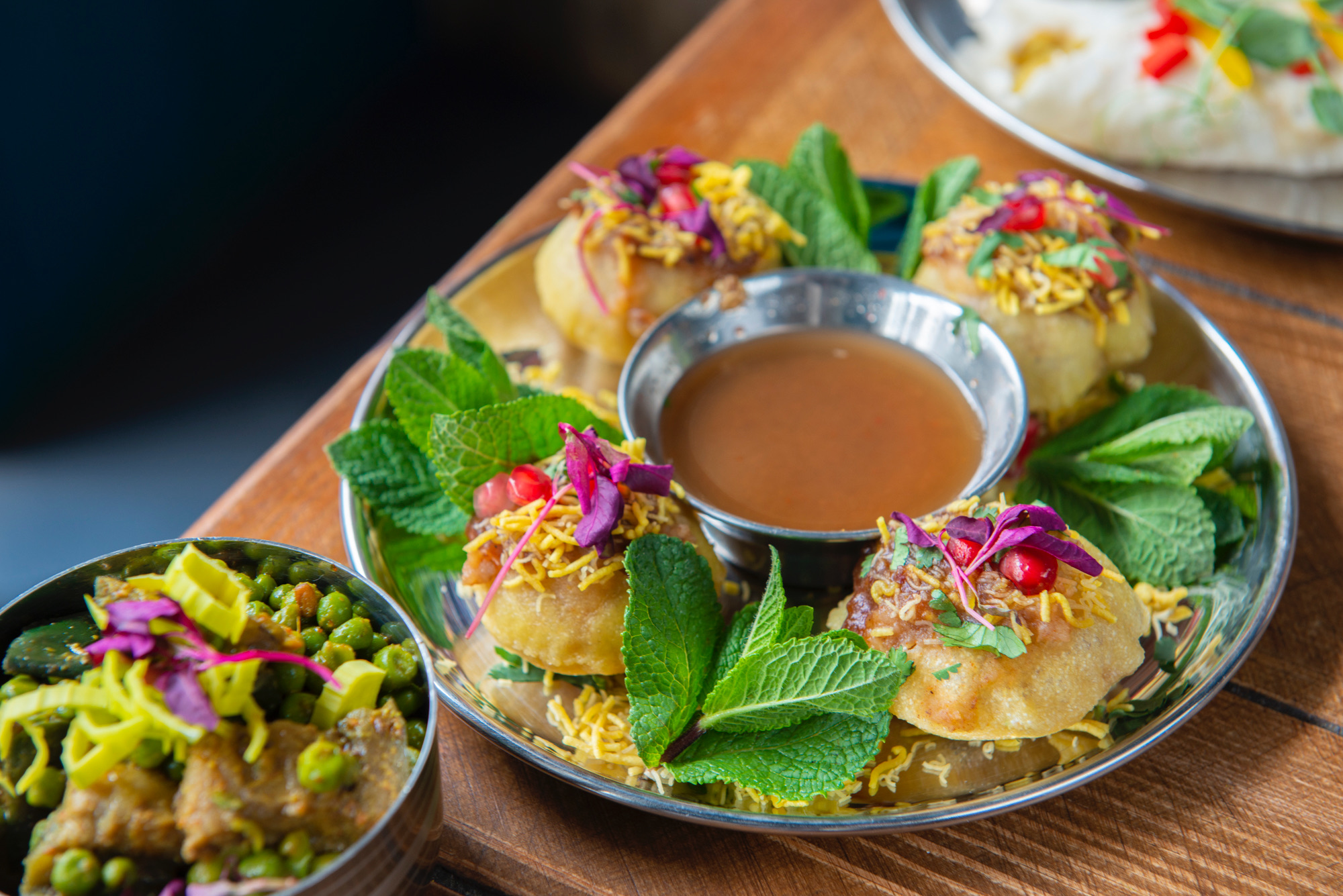 On any given day, the menu will boast 12 dishes that change constantly, depending on the vegetables that are in season. "Everything is made from scratch," says Dipali.
The cost of each dish is approximately 5 pounds.
Ever since the restaurant opened its doors to the public in 2017, they say the response has been fantastic.
"The restaurant has a very special place in people's hearts," says Naimesh, adding that while their main aim was always to make people happy, the journey of taking India to Brighton has been incredible.
The reviews by customers too, reflect this: 'Excellently flavoured and spiced', 'best Indian food I've ever tasted', 'a friendly and relaxed atmosphere'.
However, with every business come challenges and the family-run venture is no exception. "Rising costs have been a challenge," adds Dipali but the family comes together to build the business to perfection. "Restaurants are hard, but as long as people love what we are doing, it makes it all worth it."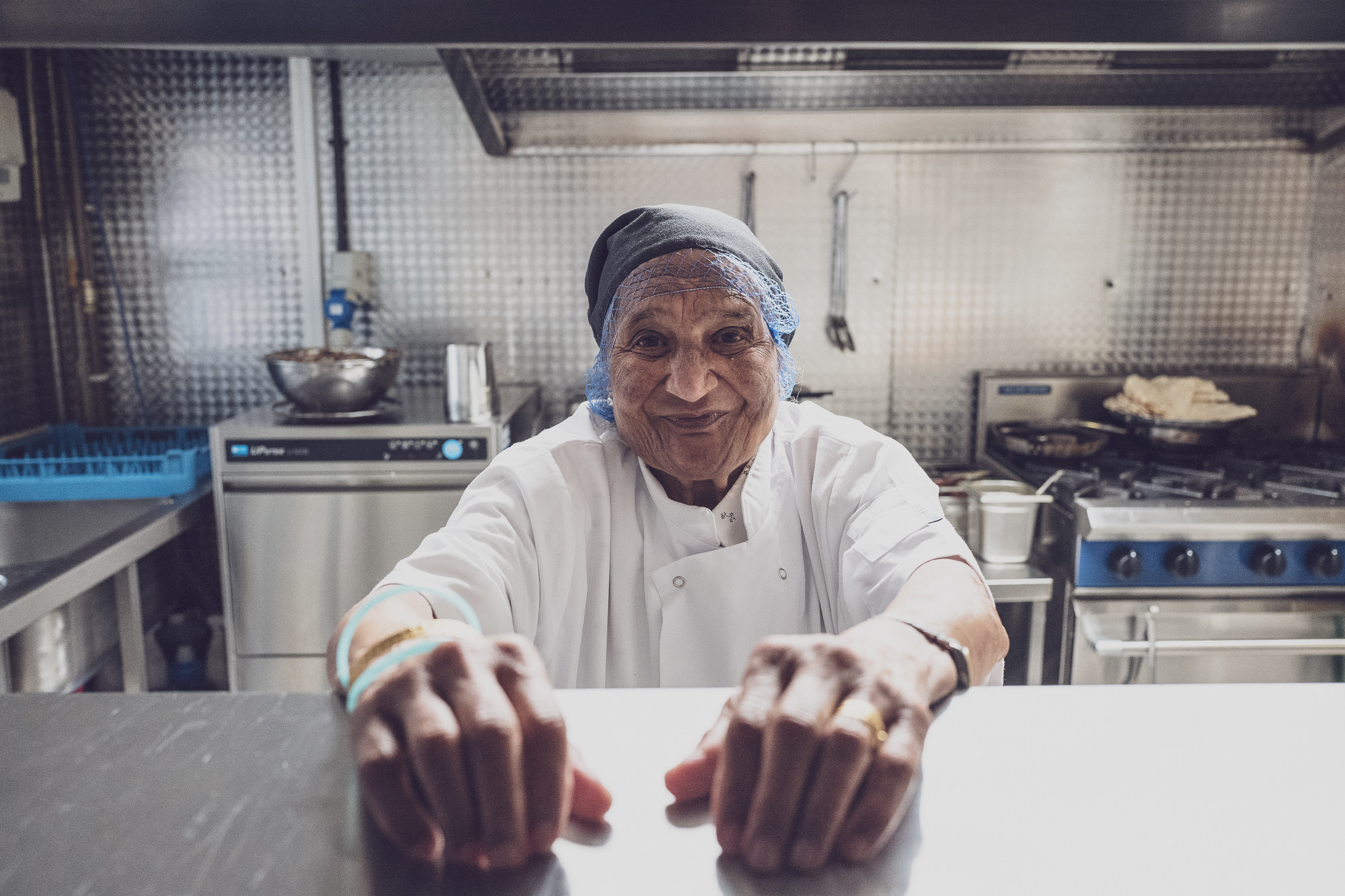 When Manju sometimes finds the time to take a minute's break from cooking and watch people flocking to her Gujarati restaurant, she says she wells up with pride.
After a life of bringing up a family and putting her dreams on the backburner, she says she is blessed to have got an opportunity to follow her passion.
"Dreams do come true," she concludes with a smile.
Edited by Yoshita Rao
We bring stories straight from the heart of India, to inspire millions and create a wave of impact. Our positive movement is growing bigger everyday, and we would love for you to join it.
Please contribute whatever you can, every little penny helps our team in bringing you more stories that support dreams and spread hope.