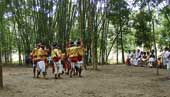 We all know that tourism provides employment and income to millions in India. But have you heard of an entire village being trained to become a tourist hot-spot? This is the story of a small hamlet in Assam, mainly populated by impoverished families displaced by floods. These people have been trained for four years to play the perfect hosts to tourists, and come November, they will get the opportunity to display their new-found skills.
Durgapur, the little village on the fringes of the Kaziranga National Park, has about 70-odd families and has been jointly adopted by the ministry of tourism and the United Nations Development Program (UNDP). These families have borne the brunt of the worst floods, and most live below the poverty line. They do not have much to call their own, and there are not many avenues for making a living in this place. The skills being imparted to them via this initiative, with the help of several help-groups and NGOs like North East Social Trust (NEST) and Indian Institute of Hotel Management, aims to provide a regular source of income for these families.
Pullock Datta reports in The Telegraph about this interesting project:
Most of the families living in the village are below the poverty line and only a few own small plots of agricultural land.

"The villagers were provided training by the Indian Institute of Hotel Management and Catering Services at Guwahati and handicraft experts from Bangalore," the NEST official said.

A troupe of dancers from the village even took classes at Uttar Kamalabari Satra in Majuli.

"Six youths were also provided training as tourist guides," he said.

All the houses in the two square km village are Assam-style dwellings with thatched roof and bamboo walls.
It may sound a bit like a large-scale drama production where all the inhabitants have a role to play, and the entire village is a stage. However, if the production helps these unfortunate people earn a decent and honest living, it is an innovative solution to combat India's enormous poverty.
Read the complete article here.
Image Courtesy: The Telegraph