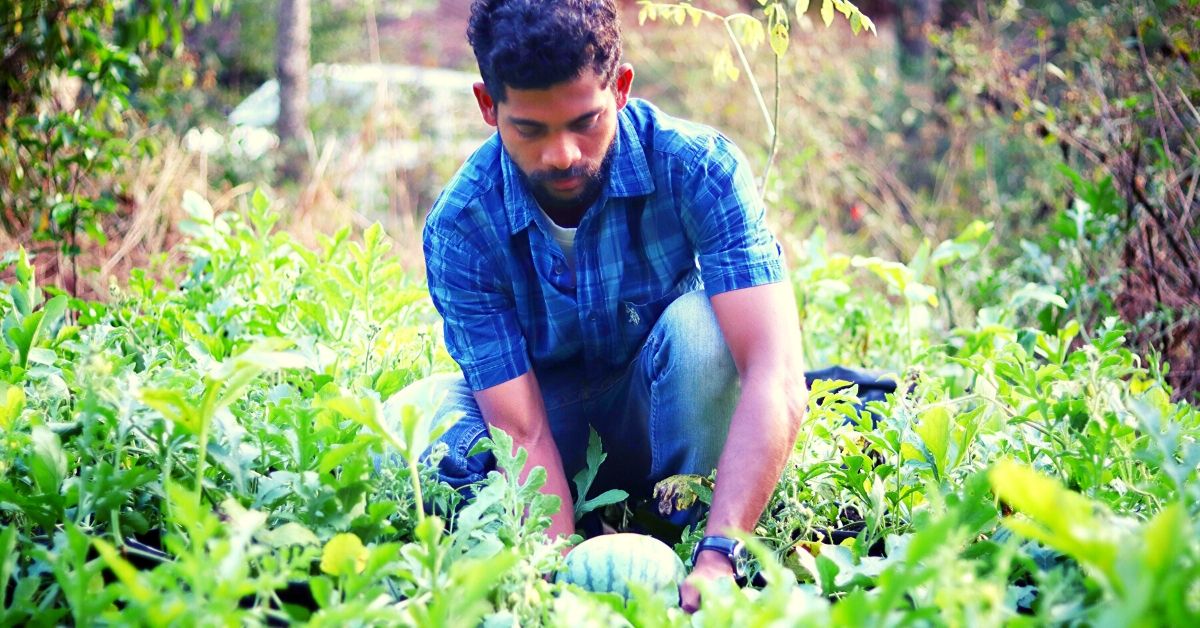 250 delicious organic watermelons in just 4X4 square metres. Nitesh spent only Rs 4,000 to grow them and earned more than Rs 30,000 on selling them! #FarmersFirst
Meet Nitesh Borkar, a 28-year-old from Goa, who is taking the state by storm with his innovative yellow watermelon farming project.
Earlier this month, the young farmer cultivated more than 250 yellow watermelons from an area of 4×4 square meters. Without using any chemical fertilisers or pesticides. 100 per cent organically!
Spending a meagre input of Rs 4,000, Nitesh earned more than Rs 30,000 at the sale.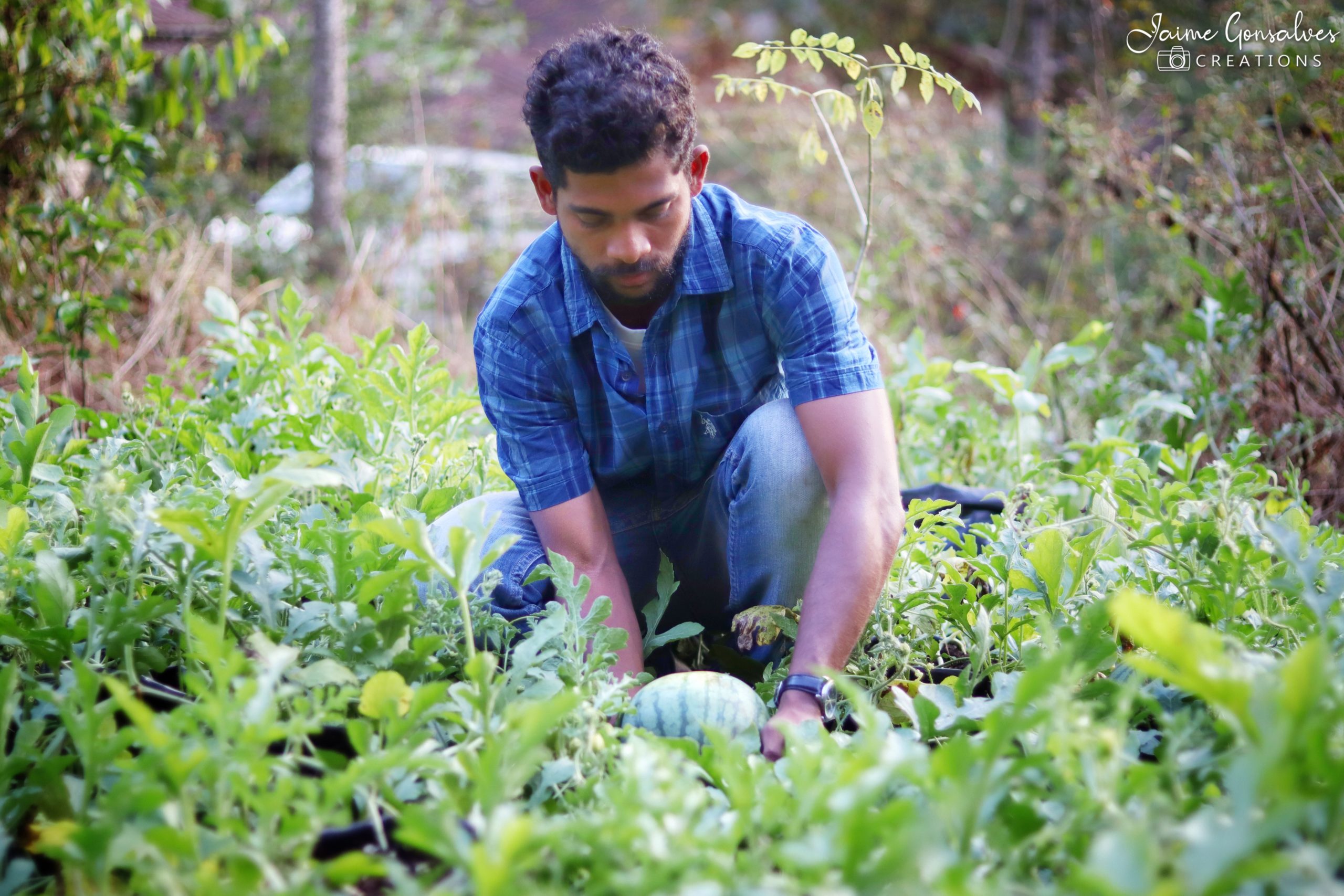 The Better India got in touch with him to know more about how he achieved this feat.
Nitesh had completed his diploma in automobile engineering and worked a secure job in the insurance industry. But three years ago, his passion for the soil pushed him to quit his job and become a full-time organic farmer.
The fact that he grew up watching his father and grandfather toiling in the family farmland for years added fuel to his fire. As a boy, he had worked in the fields with his father. His grandfather, a first-generation farmer, cultivated native and traditional paddy (ukde tandul) and cashew plantations for 50 years.
"After my grandfather's death, our paddy cultivation stopped. My father and I worked hard to revive it. It was difficult because the farmlands in Neura are affected by seawater intrusion most of the time. But we managed to do it."
When Nitesh began his journey as a full-time farmer, he started cultivating rice and seasonal Goan vegetables, selling them in the local market. He also experimented with several fruits and exotic veggies like zucchini, lettuce, and broccoli.
"I was adamant that whatever I would grow, I wouldn't let my land or produce be poisoned by chemicals," he says.
When asked how the idea of growing yellow watermelons came to him, he says, "Back in 2017, a friend of mine told me he had yellow watermelon seeds. He knew I was always keen on trying something new. I did not think twice and bought the seeds from him."
However, it is important to note that the farmer did not succeed in his initial attempts.
The first attempt was in 2017. Since his land was affected by seawater intrusion, it was not conducive to the growth of yellow watermelons; he decided to do the trial cultivation on a leased plot in Agaçaim, a village on the northern banks of the Zuari River in Ilhas, Goa.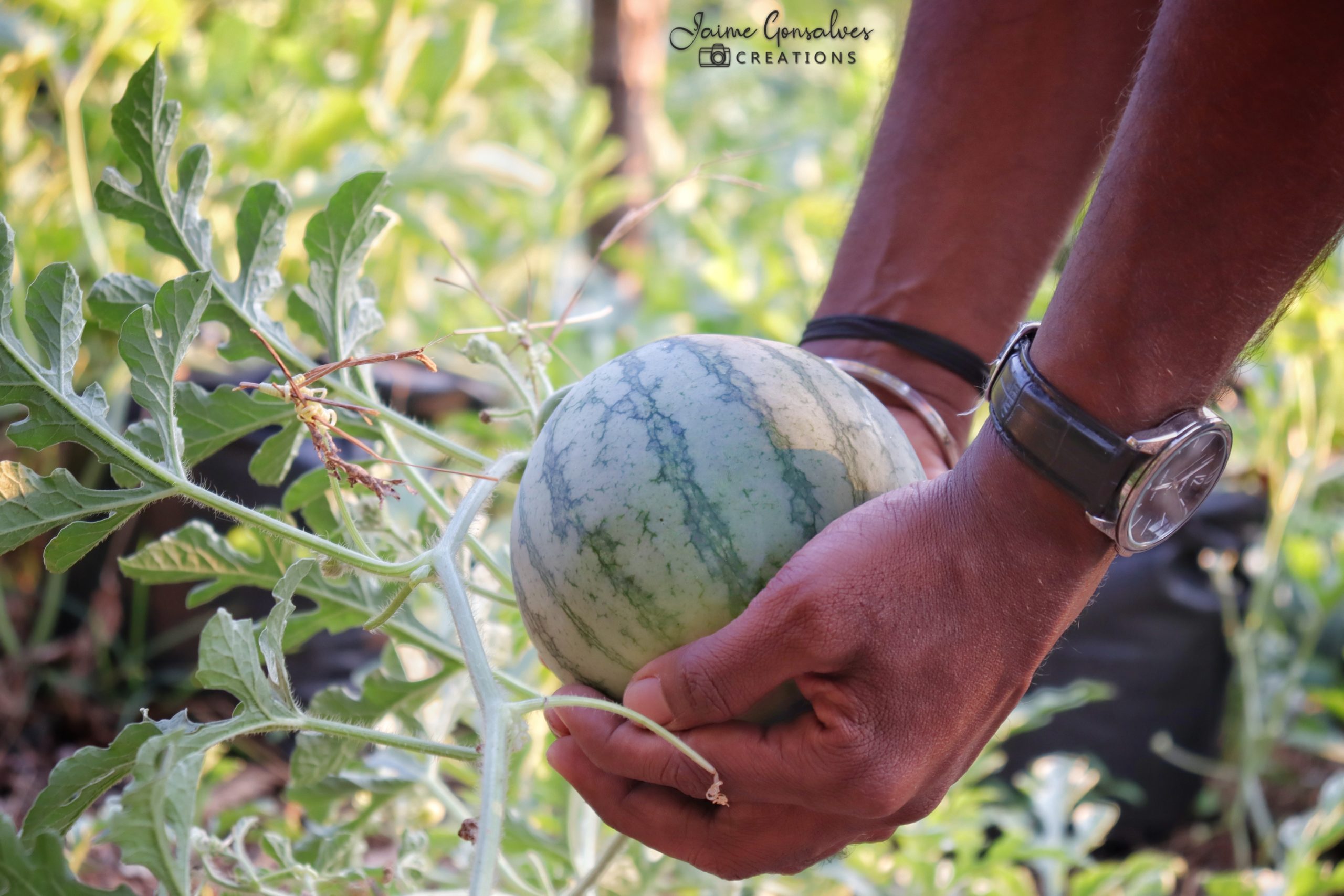 "I took the land from a friend on lease for three months. The previous crop, sweet potatoes sown into the land, were set to harvest in March. And so, after the harvest, I let the land rest for ten days before planting the watermelon seeds."
In 70 days, the vines started fruiting. But since the monsoons were heavy, much of the fruit was damaged. The second time around, he decided to do it on another leased plot in Margao.
"Since the plot was more than 22 km away from my village, several issues cropped up, including negligence, additional transportation costs, labour charges. I had to leave the land midway because I had financial crises at home too. I lost close to Rs 40,000 since it was a big plot."
The loss was disheartening and would have pushed anybody else to give up. But not Nitesh. He turned it into an opportunity to try something new.
"I decided to try a demonstration project on a small patch of land. I chose a hilly terrain which had our family's cashew plantation. Most people thought the land was rocky and unsuitable for growing watermelons. But I knew that the surrounding area mimicked a forest land. So if I tried hard enough, it would work."
Nitesh began by demarcating a 4×4 sqm plot in December 2019. To put it simply, this space is as small as an attic.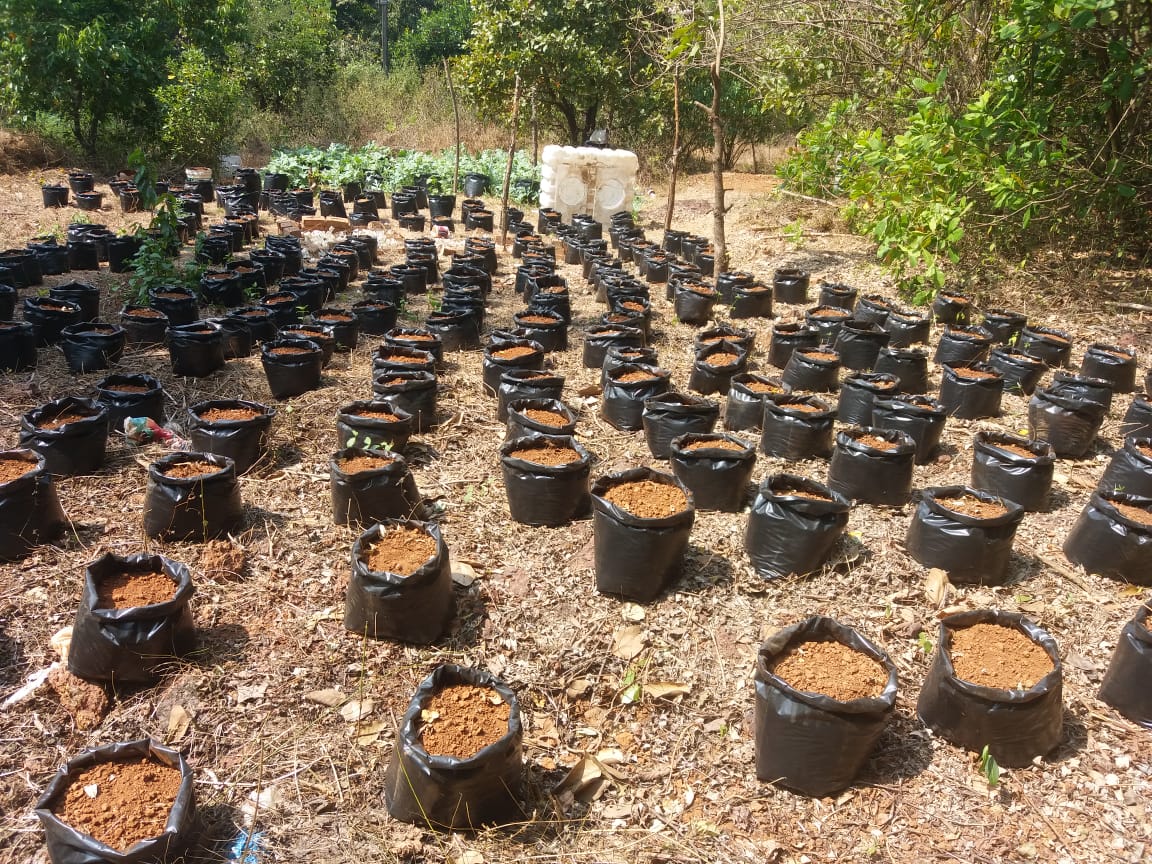 Instead of sowing the seeds into the ground, he invested in 50 grow bags or sapling bags. He filled them with soil and enriched them with farm-made organic manure. This included cow dung and farm waste like leaves and twigs.
Once the soil was fertile, he sowed the yellow watermelon seeds.
The entire input cost, including seeds, bags, preparation of organic manure cost the farmer Rs 4,000. Within 70 days, he yielded a bumper harvest, where he cultivated 250 watermelons from the 50 grow bags.
"The overall weight was 407 kg, with each watermelon weighing between 1.8-3.5 kg. Around this time, watermelon farmers in our neighbouring villages had lost all trust that the fruit would do well!"
Just this month, the watermelon farmers in nearby Verna witnessed a devastating loss, as their crops got infected by an unidentified insect. The farmers noticed dew formation on the crop. After a couple of days, they saw the insects infesting the grown watermelons during the fruiting period.
Speaking to Gomantak Times, Janere Braganza, a watermelon farmer said, "This is a unique kind of insect that has damaged our watermelons. We did not know how this had happened."
Others added how they noticed a decline in the sale of watermelons compared to last year, losing thousands of rupees.
When asked about the precautions he took to protect his crop, Nitesh says, "Since the land is in a forested area, I did not fear a pest attack. To keep crows at bay, I monitored the area from 6-7:30 a.m., when the birds would try to enter the plot. I sprinkled wood ash during the fruiting period to protect the crop from insects, and even made ash boundaries on all sides. To keep wild animals away, I used flashing lights."
He also adds how he used a DIY soda bottle irrigation method to water the growing vines.
"I drilled holes into old soda bottles, inverted them and fixed them above the grow bags to ensure that the soil did not lose its moisture."
Clearly, he put in a lot of effort. How did the people around him react?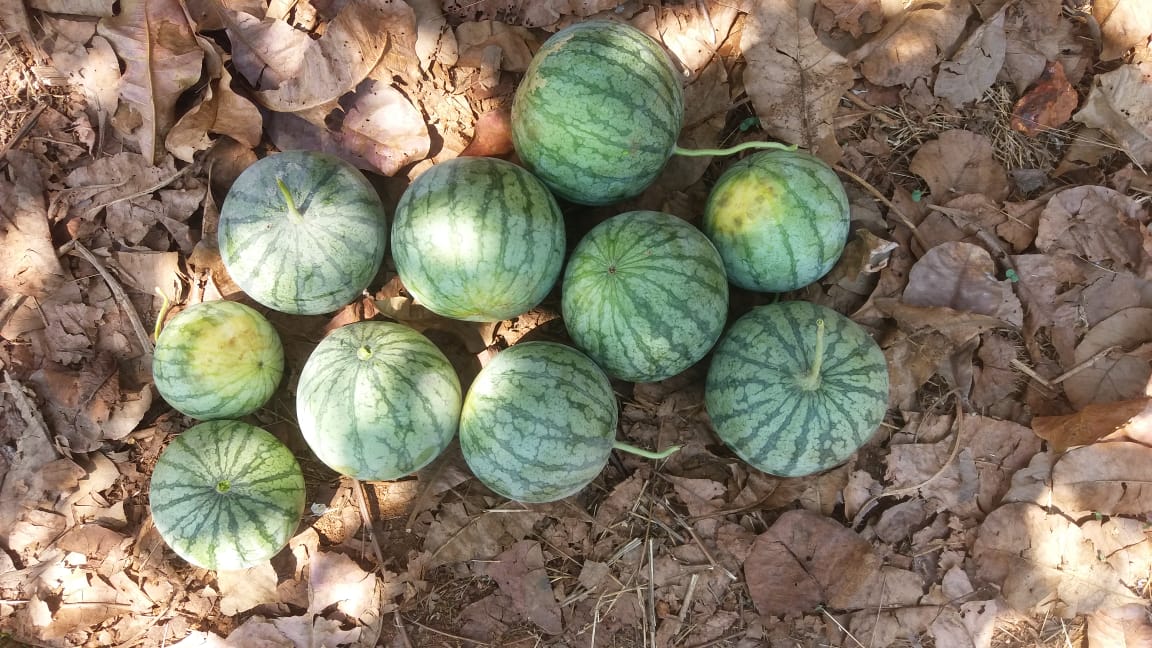 He shares, "People were astonished. They had never seen or tasted yellow melons. So it was a novel concept for them. They were surprised at its yellow flesh and taste, which was as sweet as honey. And because the total input cost was as low as Rs 4,000, many small-time farmers appreciated and showed interest in the concept."
If you're wondering why the watermelon is yellow, here's some trivia. From the outside, yellow watermelons do not look any different from the red variety. The yellow flesh on the fruit is a natural mutation. The fruit has a sweeter, honey-like flavour, as compared to the red-fleshed melon. However, both have the same nutritional benefits.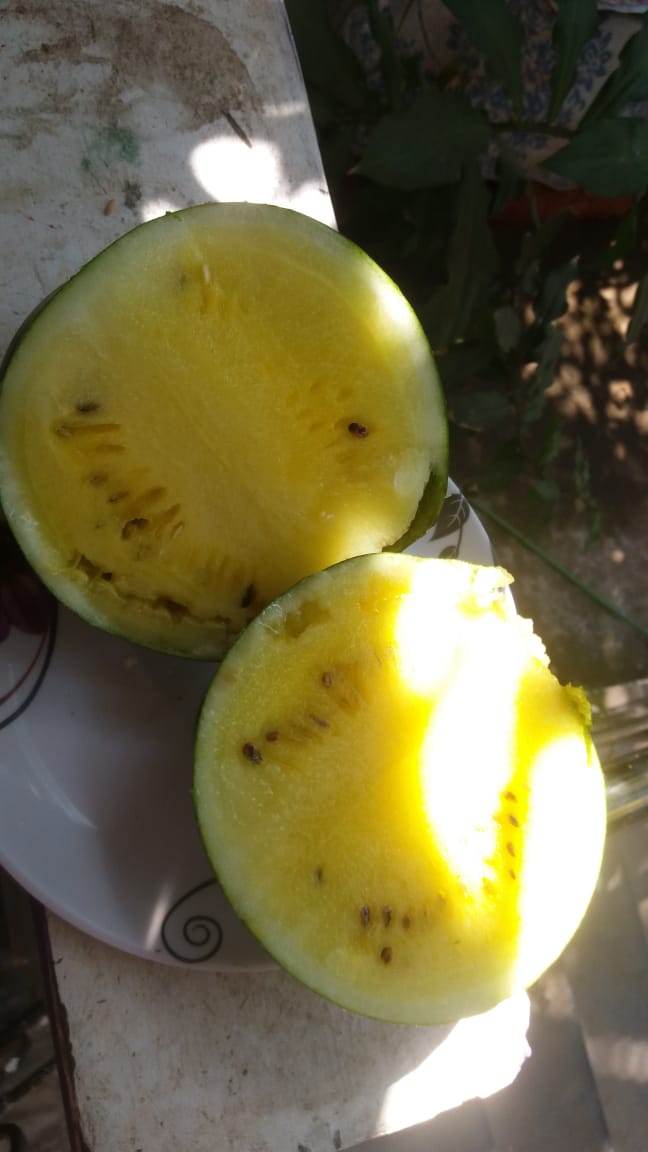 And so, when word spread that a Goan had cultivated yellow watermelon in such a small space, he started attracting visitors.
"Till date, more than 2,000 people have visited me. I take them around, show them the concept, and give them tips. I have not received any training or degree in agriculture. I work on intuition. I firmly believe that land is the best teacher."
Inspired by Nitesh, many youths came forward to explore farming on their ancestral land.
"My concept was appreciated and inspected by the teams of Agriculture Technology Management Agency (ATMA), North Goa, and ICAR (Indian Council of Agricultural Research). ATMA has offered me to be a part of a demo project, running the cultivation of yellow watermelons as an advisor. I am looking forward to it."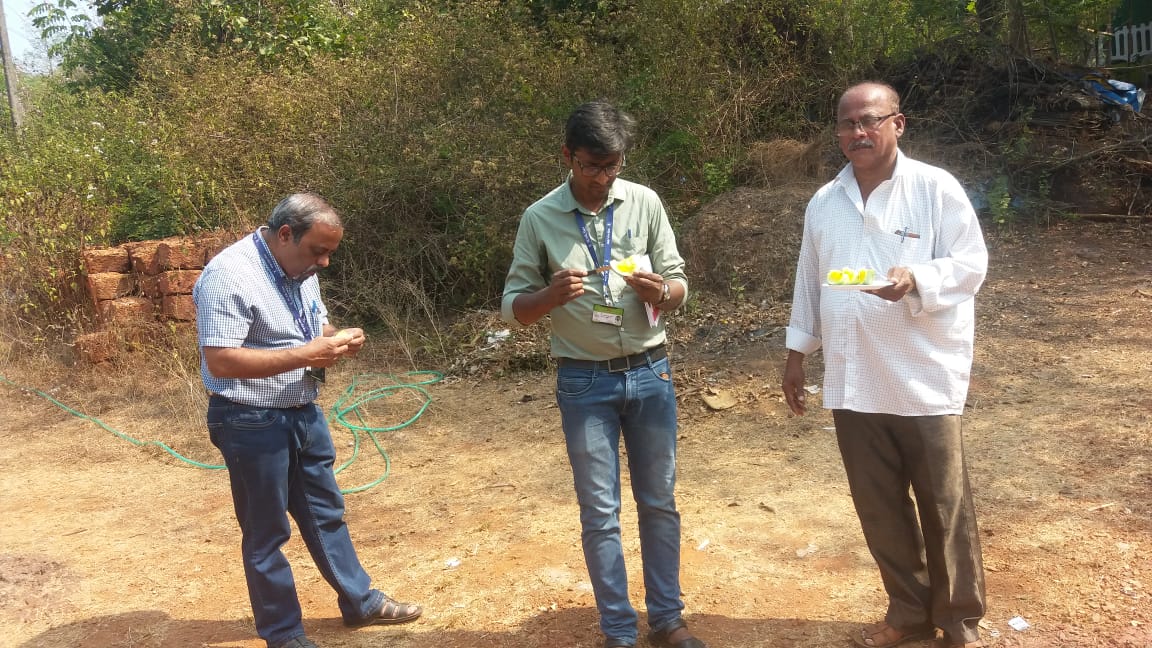 Nitesh is also a core member of a group called Revolutionary Goans, working to bring youth into farming, and help existing farmers in the state switch to organic farming.
"Goa has a demand for locally-grown produce. But the lethargy among Goans needs to be shaken off. People who have huge patches of land build homes on them and leave the rest barren. It is a criminal wastage of good land. We could use the land to grow food for our families. And once we master it, we could move to commercial farming. Our neighbouring states like Maharashtra and Karnataka have seen a farming boom with many youths going back to the basics. It aches me to see fellow Goans abandon their ancestral land and professions to bigger cities in search of employment. Even the ones who stay back want government jobs. Goa needs a farming revolution."
He cites Israel as an example, adding, "It has sandy soil that is not conducive for commercial agriculture. But look at their hi-tech farming! The country has carved a place for itself on the world map with its agricultural innovations. My dream is to do that for Goa."
In his final message, he adds how including agriculture as a subject in school may help boost the farming spirit among kids.
"Introducing agriculture as a subject will help kids develop a connection to the soil and take an active interest in growing their own food. We teach our kids that they can be whoever they want to be, but it is also important to teach them that they could be successful farmers too if they so wish."
What are some challenges in achieving this vision?
"We need to make our farmers self-sufficient. I think Goa has immense potential to become an agrotourism spot. We need support from the government and the participation of Goans to make it happen. Just waiving off loans isn't the solution, I request the government to take more initiative to promote organic farming in Goa," he signs off.
---
Also Read: 'The Accident Snatched My Ability to Walk, Not My Spirit': Punjab's Organic Farmer-On-Wheels
---
If this story inspired you, get in touch with Nitesh on niteshborkergoa@gmail.com or WhatsApp him on 9021107992.
(Edited by Shruti Singhal)
We bring stories straight from the heart of India, to inspire millions and create a wave of impact. Our positive movement is growing bigger everyday, and we would love for you to join it.
Please contribute whatever you can, every little penny helps our team in bringing you more stories that support dreams and spread hope.