India generates about 2 million tonnes of electronic waste per year behind only the United States, China, Japan and Germany. Only 1.5 % of the total e-waste gets recycled.
According to the Global E-Waste Monitor 2017, India generates nearly 2 million tonnes of electronic waste per year behind only the United States, China, and Japan. Around 82 per cent of the e-waste generated comes from personal devices.
We recycled only 0.036 million tonnes of e-waste in the 2016-17 financial year. Meanwhile, according to a recent ASSOCHAM report, only 1.5 per cent of the total e-waste gets recycled in India by the formal sector. With a growth rate of 30 per cent, e-waste generation is expected to touch a whopping 5 million tonnes by 2020.
These figures are worrisome, and there is an urgent need to address the problem of e-waste.
---
These biodegradable carry bags are designed to replace regular single-use plastic carry bags. They may look like plastic bags, but do not contain any conventional plastic. They are made from vegetable starch and other natural additives.
---
Enter Karo Sambhav, a for-profit social venture offering technology-enabled e-waste management solutions. Currently spread across 29 states, 3 union territories, and over 60 cities, Karo Sambhav has collaborated with 25 producers, 2515 schools, 520 bulk consumers, 1007 repair shops, 5,000 informal sector workers including waste pickers and waste aggregators and set up multiple collection points across the country to address the e-waste problem.
Since their operations began in the middle of 2017, Karo Sambhav has successfully collected and sent over 6000 metric tonnes (MTs) of e-waste for responsible recycling.
More critically, it has ensured global brands like Apple, Dell, HP, Lenovo, Vivo, Xiaomi, Cisco, Toshiba, Ericsson, and others meet their Extended Producer Responsibility (EPR) targets. EPR is "the extension of the responsibility of producers for the environmental impacts of their products to the entire product life cycle, and especially for their take-back, recycling and disposal."
The Idea behind Karo Sambhav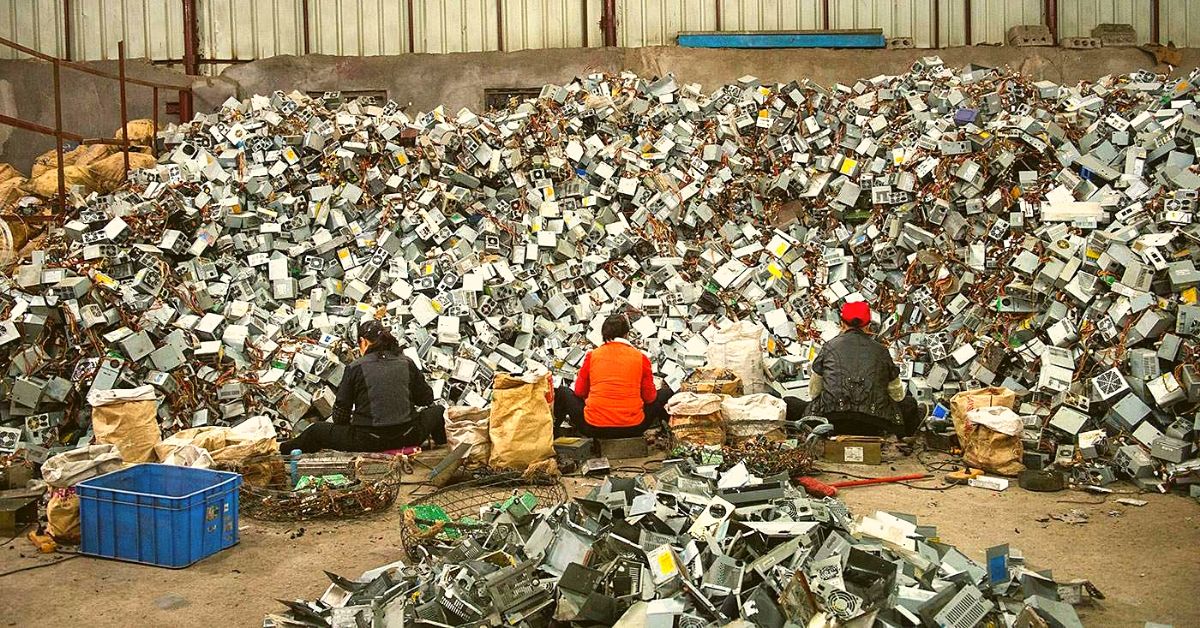 While India came up with its first set of rules on electronic waste in 2012, there was no industry-driven action for the next five years because of lack of infrastructure, institutional interest and a shoddy ecosystem. Until 2017, no significant progress in handling e-waste took place.
"Although we had witnessed multiple countries succeed in implementing e-waste rules centring on the principle of EPR, this wasn't happening with India. It was critical, India got this right with e-waste because if it succeeded in this segment, the government could extend the same principle to manufacturers of different products. Therefore, Karo Sambhav was established in 2017 to show that India could succeed with e-waste rules immediately. Otherwise, the government would write off the very principle of EPR," says Pranshu Singhal, the Founder of Karo Sambhav, in conversation with The Better India (TBI).
Their focus was on addressing the glaring gaps in infrastructure and the very e-waste ecosystem itself for the implementation of regulations that made sense. With little happening, the government soon tightened regulations, set targets for producers of electronic products, and introduced penal provisions for not complying with them. The industry was forced to rethink their position, but there were no service providers to help them.
Can we create an ecosystem that ensures regulations are technology-enabled?
"Once the government sees the success of EPR in e-waste, they can employ it in multiple product categories. For example, in certain countries, EPR is being employed in plastic waste, end-of-life vehicles, etc. Brands all over the world have been resistant to EPR-based regulations because of the high costs it entails, while those in India who want to take up this responsibility never had anyone to support them. At Karo Sambhav, we aim to combine brands wanting to do something positive and regulations the government pushed to create examples of brands meeting e-waste targets. Our name comes from there — a desire to make it possible," he adds.
How do you address e-waste?
We can divide the e-waste problem into three elements:
1) Collection
How do you collect the products dispersed among different individuals, households, office complexes? How do you get them to embrace responsible recycling? Essentially, how do you drive long term behaviour change in people while parallelly creating systems that enable it?
2) Recycling
Once you've collected the e-waste, how do you recycle it?
3) Dealing with by-products from the recycling process
Once you've recycled, what do you do with by-products? How do you recycle them?
Karo Sambhav began by focussing on creating collection systems.
But the real challenge of addressing e-waste in India is how to engage with the informal sector, which according to another report, recycles 95 per cent of India's e-waste. So, how does e-waste usually travel in our cities?
At home, a kabadiwala (scrap collector) turns up, sources the waste, aggregates it, sells it to a larger aggregator, who sells it to another bigger aggregator and finally it gets sold to an informal recycler. The biggest problem with e-waste is not the product but informal recycling of that waste which has toxicity embedded in it. Unless you make physical changes to it, toxicity will not come out.
How do you create an overall ecosystem which is safe, trustworthy, environmentally safe, protects human health and follows all the safety protocols while not compromising on the ability of those working in the informal sector from scrap pickers to waste aggregators to earn?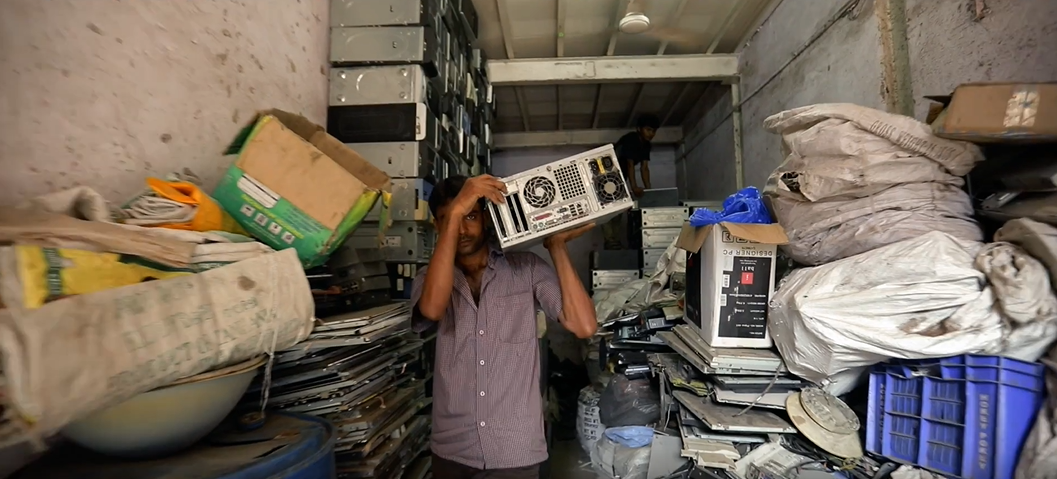 How do we formalise this informal segment?
"In the first year, formalisation entailed scrap workers and waste aggregators getting a bank account, PAN card, Aadhaar card and a GST number if applicable. In the second year, our focus was on establishing safe working conditions. In the third year, our focus has been improving their business acumen?" says Pranshu.
The focus is to collect waste from people, initiating behavioural change, use the existing informal sector, formalise to improve their livelihoods by supporting them with multiple programmes and stop the flow of e-waste to informal recyclers.
"That's our broad approach," says Pranshu.
To establish an ecosystem, Karo Sambhav conducted multiple e-waste awareness initiatives, engaged with civil society, individuals, government institutions, visited waste pickers and aggregators in different cities, who are today formalised and undergoing regular training under Karo Sambhav. They are present in all states and over 60 cities in India.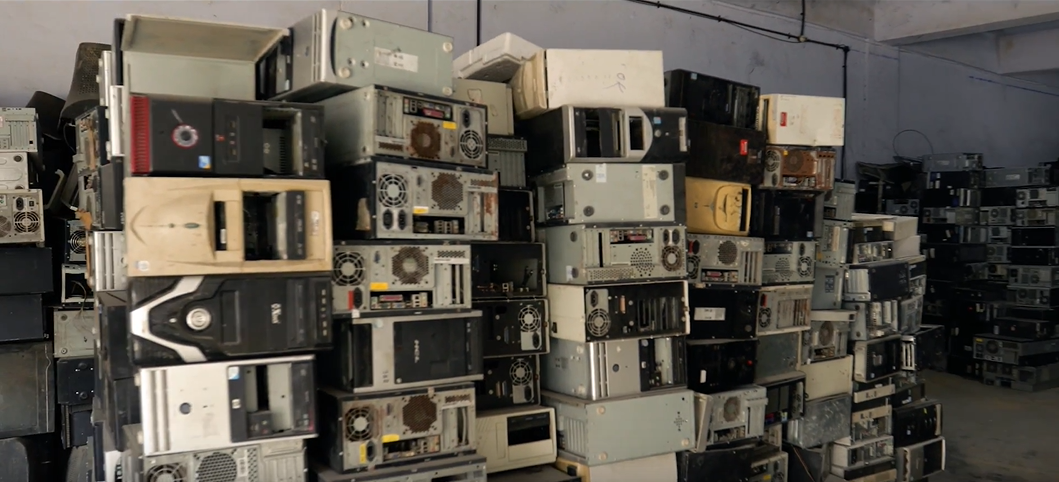 Engaging Brands
As per the e-waste rules, there are three broad areas of activities for brands who want to fulfil their EPR:
1) Conduct citizen awareness campaigns and engage people to ensure long term behavioural change to recycle their e-waste responsibly
"We ran awareness campaigns for these brands in over 60 cities, working with over 2,500 schools which are long-term engagement programmes running 4-6 months. We also approached bulk consumers like office complexes, resident welfare associations, conducted radio programs and digital programs, and worked with open markets and repair shops. Our initial emphasis was on creating awareness and inspire people to recycle," says Pranshu.
Charu Mani, the principal of DAV School, Gurugram, where the startup organised an awareness programme, said:
"Our school had an enlightening experience with Karo Sambhav School Programme. We sensitise not only the students but also their families. During our collection drives, students and their families can deposit their e-waste which is then handed over to Karo Sambhav. Over the past year, we have collected around 200 kgs of e-waste. The school is proud to be a part of this movement which has made both the faculty members and students take positive steps towards saving the environment."
2) Create multiple collection channels across India
Karo Sambhav has done the same through aggregators in the informal sector, who they have helped formalise, alongside repair shops. Today many of them are associated with Karo Sambhav which has become a significant source of e-waste collection.
Ansar Malik, a waste aggregator from Mustafabad in Delhi, says, "Our e-waste collection process starts with kabadiwaalas who collect it from various places and further hand it over to smaller aggregators who then hand it over to us. Karo Sambhav's logistics team collects the waste from us with proper documentation and pays us through online bank transfers. While our operations are mostly in Delhi in Seelampur, Mustafabad and Mayapuri, we also work in like Punjab and Haryana. E-waste from these regions also lands up in Delhi."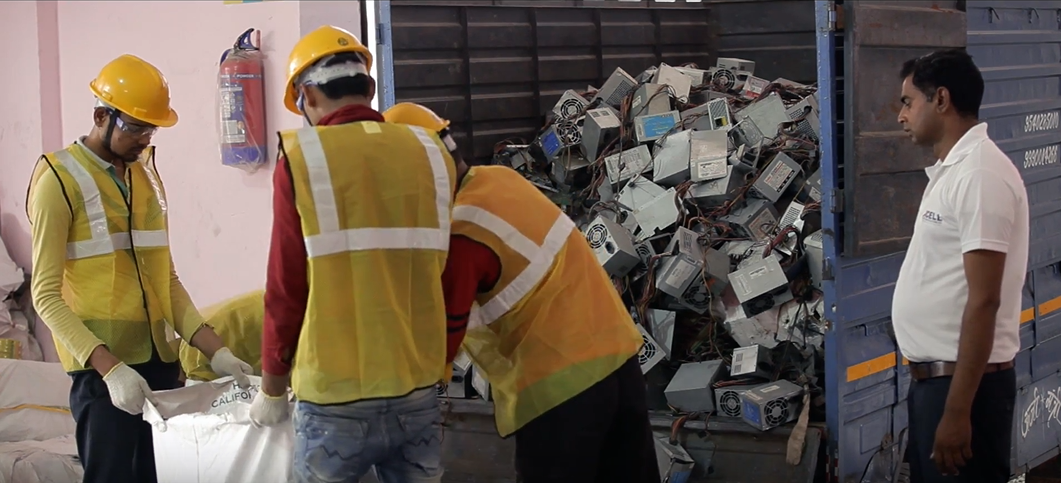 3) Meet specific targets of e-waste collection calculated based on past sales
"Take the example of smartphone makers. If a particular company is selling the smartphone in 2019/20 and the life span of each phone is five years, we would look at sales data from five years ago, and 30 per cent of that has to be collected this year. We base collection targets on past years sales. Next year, we cap the target at 40 per cent, and it keeps increasing till it hits 70 per cent," says Pranshu.
However, Karo Sambhav soon saw brands reporting volumes of e-waste collection without ever collecting it. Some recycler would issue a certificate with tampered data to ensure brands achieve their targets on paper. How do we create a transparent and fully automated chain of documentation to tackle the possibility of wrongdoing in the system?
"What we have done is employ multiple IT solutions like barcoding of e-waste that reaches our warehouses so that there is a legitimate paper trail. We have been generating it over the past 1.5 years, and this enables end-to-end visibility of where the e-waste comes from, which waste picker collected and from where they collected it, their KYC details, when was the waste sold, collected, etc. All this documentation is collected to ensure a clean chain of documentation to establish the e-waste trail. This is what we do to enable producers to meet their targets. All our producer members are meeting their targets," informs Pranshu.
What can individual consumers do?
Whenever individual consumers reaches out to Karo Sambhav, the first thing they ask is whether they can initiate a dialogue with their peer group, office colleagues or residential society.
"We offer our assistance to further that conversation in these locations. In 50-60 cities, we will come back and do a campaign in your residential society. If the society or institution can gather 200kg of e-waste, we will do an end to end pickup. If it's significantly less than 200 kg, we will request you to come to our nearest collection point or centre and drop off your e-waste there. This process is also evolving. As more brands join and collection channels get better, it becomes easier for people to dispose of their e-waste," he says.
India has 300 authorised recyclers of e-waste today of varying standards. Karo Sambhav has chosen a few of what they claim are better partners, listed on the firm's website.
"We are also encouraging a range of entrepreneurs to set up efficient recycling centres. Today, our e-waste is travelling several hundred kilometres for recycling due to lack of responsible recyclers in each state. Every recycler follows their system of reporting, and that makes it very difficult to audit them. We are working with global partners to address these concerns. Although we are not entirely satisfied by the quality of recycling, we already see a shift for the better," claims Pranshu.
Yet, despite the successes, significant challenges still exist. What happens to the by-products of recycling? Karo Sambhav has developed a robust collection process and recently began a deep dive into recycling, while they look to address recycling by-products very soon. How do they earn money? Each producer/brand pays them a fee for supporting them in their journey like conducting awareness programmes, collecting waste on their behalf, setting up collection systems, etc.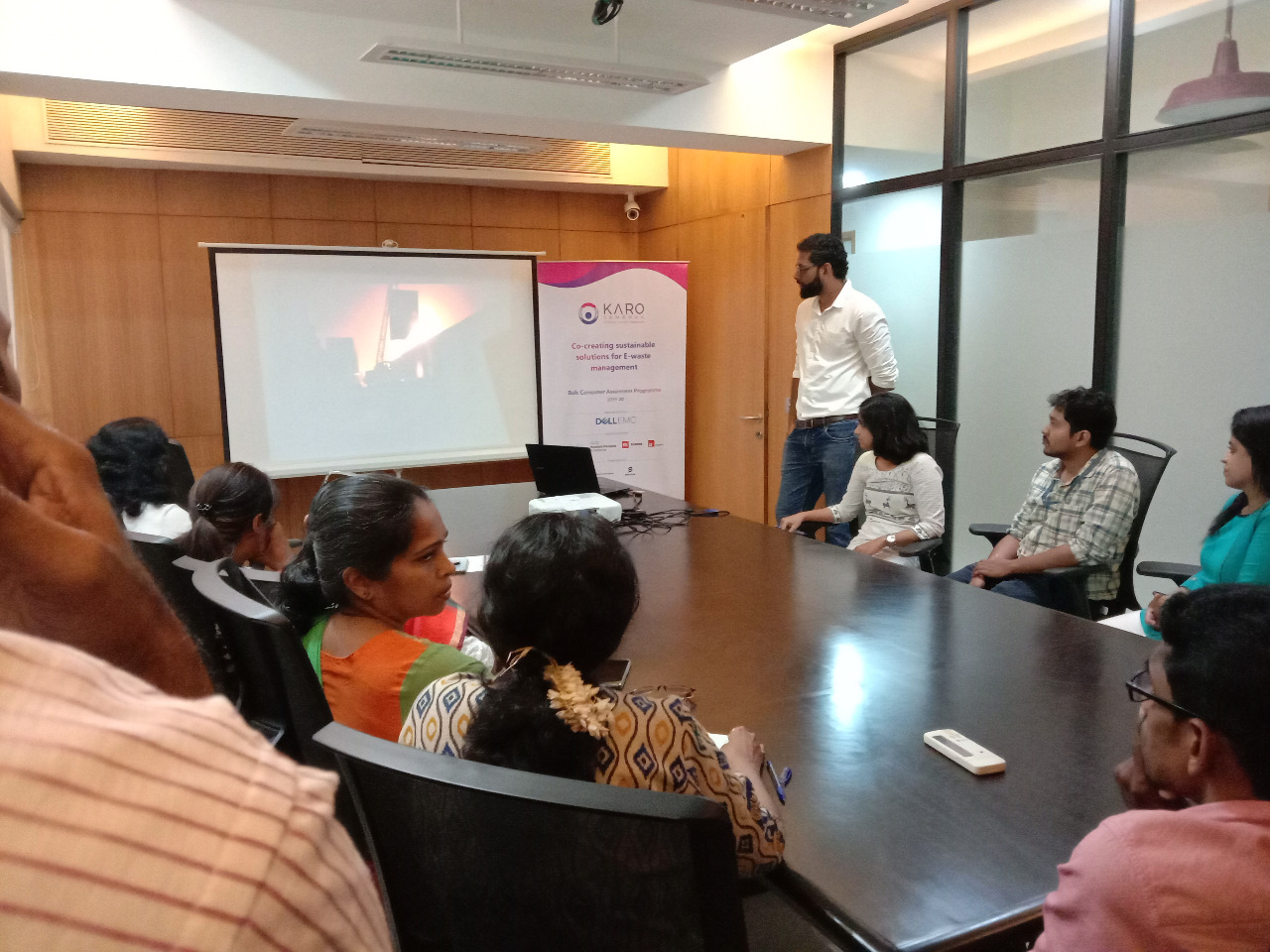 Why should you care about e-waste?
"We need to start collecting materials back we have already utilised. Participating in a responsible recycling scheme, we ensure the waste does not end up in the informal sector which uses unsafe and polluting methods to extract precious metals," says Pranshu.
While India has a very long way to go in correctly dealing with e-waste, there are ventures like Karo Sambhav that are determined to make it possible.
---
Also Read: Bengaluru Startup Turns Company e-Waste into Profits, Processes over 500 tonnes!
---
(Edited by Saiqua Sultan)
Like this story? Or have something to share? Write to us: contact@thebetterindia.com, or connect with us on Facebook and Twitter.