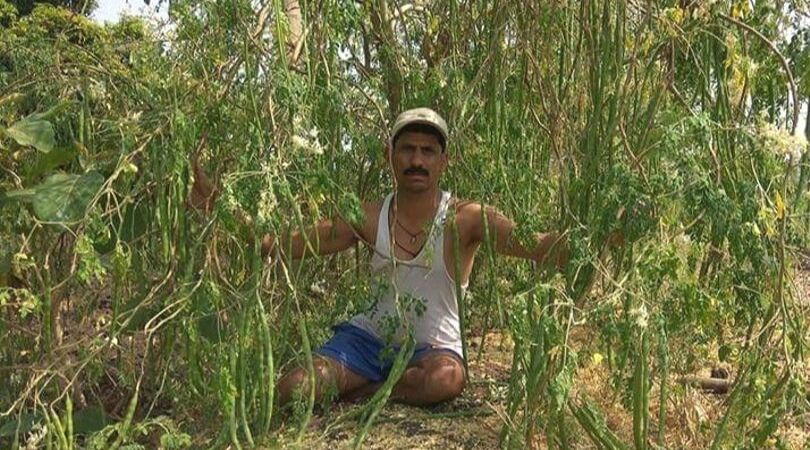 Each part of this 'wonder tree' is useful. The roots, stems, leaves, seedpods, resin and flowers are considered to be healing herbs in Ayurvedic and Unani folk medicine.
Superfoods, organic cultivation, sustainable farming, and climate resilience may be familiar terms for us, but for farmers in Maharashtra, these are a way of life. They grow and market the superfood Moringa, follow organic methods of cultivation, and embrace resilient climate crops.
---
Are you a health aficionado? Do you find yourself curious about every trend in the food industry? Then don't look further! Check out the range of local and powerful superfoods here.
---
Meet the Moringa growers from Sangli, Solapur, Nashik, Pune, and Yavatmal, who thanks to video streaming platforms and messaging groups, have enhanced their livelihoods by catering to growing urban demands.
So what's Moringa?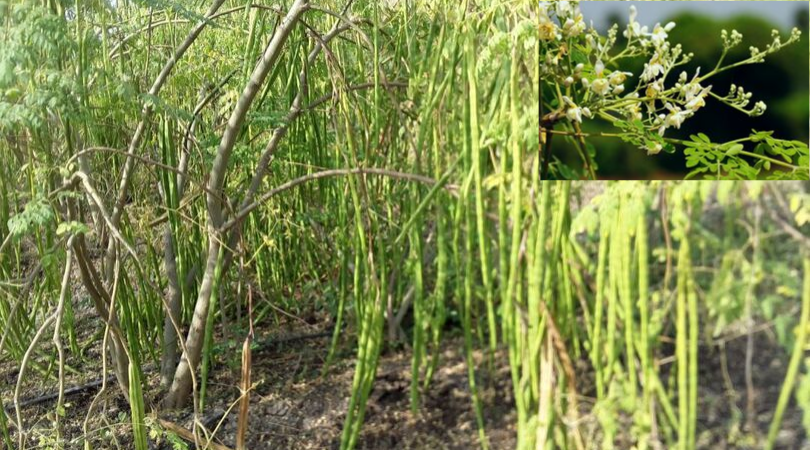 It's a rare horticulture crop which begins fruiting within six months of planting and continues to do so for eight or nine years. Its lengthy pod is rich in calcium and other minerals, a must-add ingredient to sambar. It is also used as a vegetable.
Moringa Oleifera, its generic name, is derived from the Tamil word 'murungai' meaning 'twisted pod', and 'oleifera' is Latin, meaning 'oil-bearing', due to the high oil content of the seeds.
Grown from seeds or propagated by a branch cutting, it needs hardly any irrigation. That is the reason it has been grown in large acreages in the drought-prone regions of Maharashtra, where rainfall is very scanty.
Moreover, each part of this 'wonder tree' is useful. The roots, stems, leaves, seedpods, resin and flowers are considered to be healing herbs in Ayurvedic and Unani folk medicine.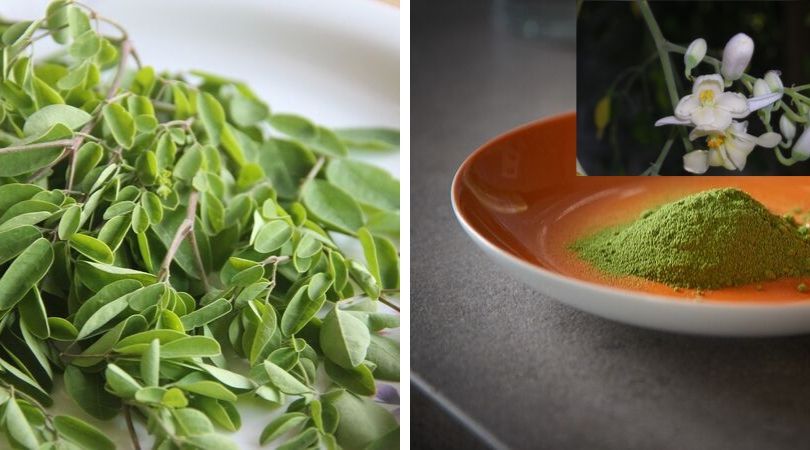 According to the Indian Meteorological Department, Maharashtra records at least 55 per cent deficit in rainfall every year. While Marathwada is affected by drought, the other regions fall under the rain-fed area. Keeping the need for diversification of cropping patterns in mind, the farmers of dry land regions have chosen Moringa, considering its wider adaptability and tolerance to the severe drought conditions.
As per a study, it was found that Moringa farms incurred an expense of Re 1 to accrue the benefit of Rs 2.99. Hence, with low cost of investment and returns in the same year of cultivation, drumstick is an economically viable crop.
Prashant Jadhav, 28, of Atpada village, 80 km from Sangli town, grows pomegranate, wheat, and jowar on his 25-acre field. Since the last seven years, he has added a new crop, shewga (Moringa in Marathi) on three acres, which gives him an assured income of Rs 3.5 lakh per acre.
Each Moringa tree gives him around 25 kg drumsticks, while one acre provides around 15 tonnes of the fruit. The drumsticks attract between Rs 20-55 per kg depending on the quality, and reach markets in Pune, Kolhapur, and Sangli.
Jadhav, who follows sustainable practices in farming, like drip irrigation, grows a Moringa variety which fruits nearly ten months in a year—from January to October.
"I took to Moringa after watching a YouTube video and reading about its potential and popularity among health-minded individuals," says the final year LLB student.
Jadhav belongs to a family of farmers that has been growing traditional crops for ages. He attends day college and spends his remaining time in the fields. Unsure whether he will get a government job after completing his studies, he pursued his interest in farming.
There are scores of rural youth like him, especially those with farm lands who are pursuing farming.
Following the acceptance of turmeric as a 'miracle herb', it is the Moringa craze which is sweeping the USA and countries in Europe, where health and wellness shops are stocked with biscuits, tea, cookies, chocolates, and muffins incorporating this plant. Indian food companies too, have begun incorporating Moringa into their products.
Though Moringa has been part of traditional Indian diet, the world at large discovered it when Time magazine touted it as "the next quinoa" in 2015 and the New Yorker in 2016 mentioned it as "a nutritional Swiss Army knife". Other leading international publications too wrote gloriously about it. The Food and Agriculture Organization of the United Nations named it as the 'crop of the month'.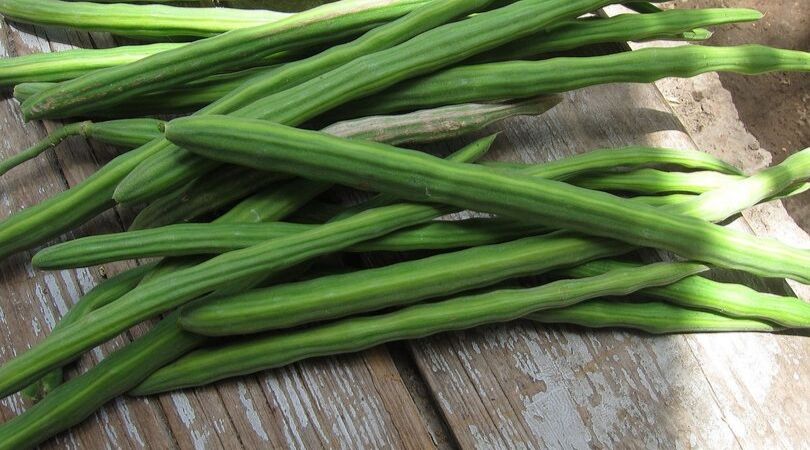 Notably, a study published in the journal of the Federation of American Societies for Experimental Biology in 2017 found that its bioavailability (the amount that enters the body's circulation) to be "very low", but noted that it had exceptional anti-inflammatory extracts. Until recently, the much ignored Moringa has acquired respectability among nutrition columnists in Indian media too. But sadly, it has yet to be a part of the mid-day meals food offered in schools.
A telecom engineer from Nagpur University, 29-year-old Shantanu Chandrasekhar Mahale of Lohi village in Yavatmal, runs a hardware solutions firm. He is a die-hard Moringa enthusiast and does not get tired of extolling its virtues—that the bright green leaves have seven times the Vitamin C of oranges, four times the calcium of milk, four times the vitamin A of carrots, three times the potassium of bananas, and double the protein of yoghurt. Moringa leaves have applications in nutraceutical, pharmaceutical and cosmetic industries, he insists.
In fact, 140-odd research papers have been published worldwide to study the effects of Moringa on humans and animals, he adds. A millennial who resides on the internet, he regularly checks food and crop trends the world over. He is also a member of different farmer groups where such topics are discussed.
For over a decade, his family has been growing soybean and tur without good returns, but ever since he took over and started Moringa plantation on the family's 20 acres in May 2017, their fortune has changed for the better.
"I made a comprehensive study of crops that would assure me good returns with minimum inputs, including water, in an arid zone like Yavatmal, and thanks to the Internet, I zeroed in on Moringa," says Mahale, who has 10,500 plants of the crop on his farm.
Having formed a proprietary firm, Only Me Superfood, Mahale packages Moringa powder in 100 gm bottles and reaches out to health practitioners and chemist stores, informing people about its benefits.
He tells us that the yield of Moringa reduces after a couple of years, and the pod changes colour, necessitating the introduction of newer varieties. The improved varieties popular among farmers in Maharashtra are Bhagya (KDM1); PKM 1, PKM 2, ODC Vasanthi, all from Tamil Nadu.
Rohit 1, a Moringa variety developed by Nashik's Balasaheb Marale, has reached Kumamoto in Japan's Kyushu Island and Arizona in the USA. It is undergoing validation process by India's National Innovation Foundation which involves growing it at different locations spread throughout the country.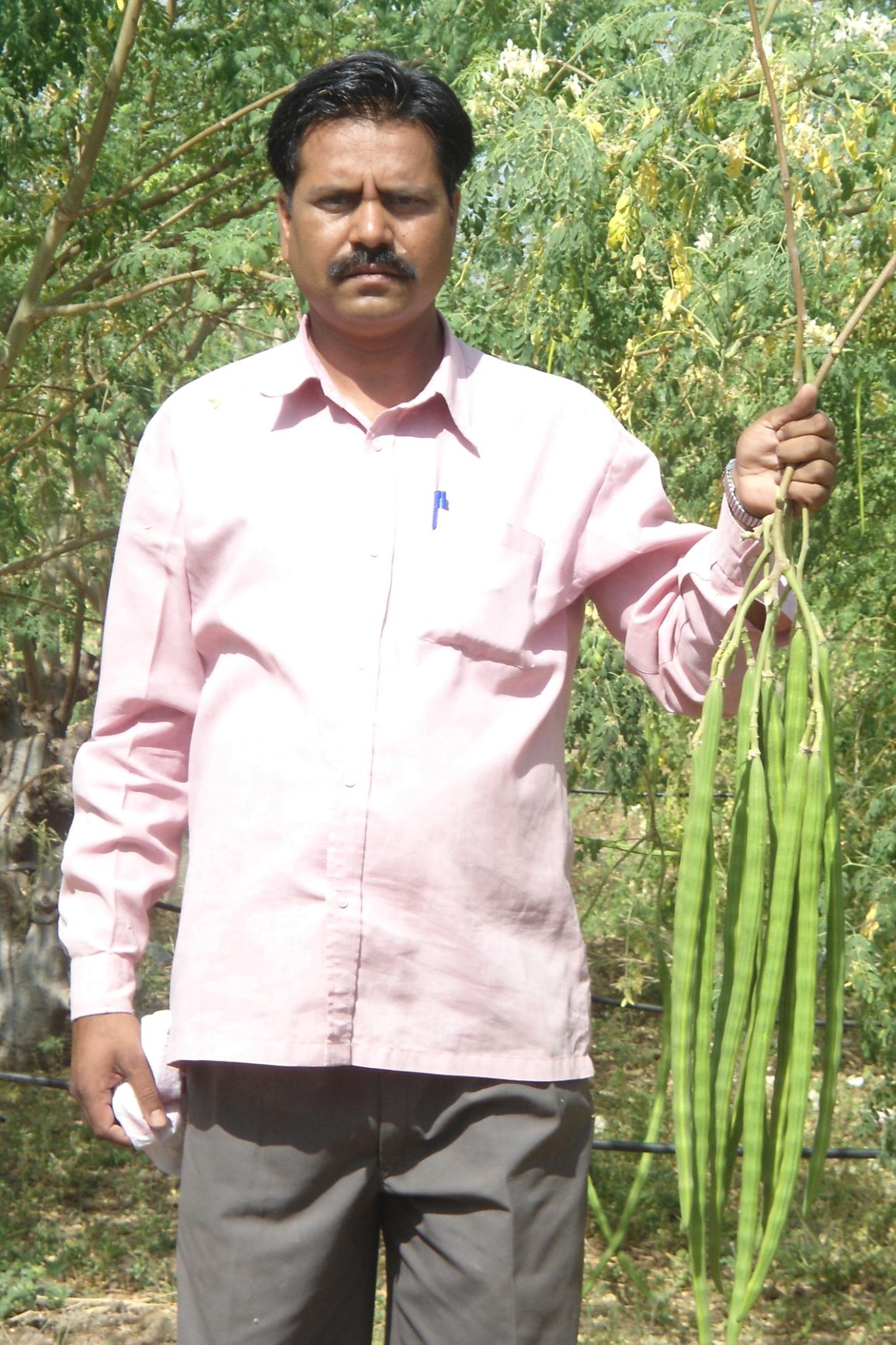 And if the claims are validated and authenticated, the NIF files applications for plant varieties developed by the innovative farmer under the Protection of Plant Varieties & Farmers' Rights Authority. So far, the Foundation has filed applications for 71 plant varieties, nine of which have been successfully registered.
Through his website, and regular talks and workshops, Marale hopes to popularise Moringa cultivation among farmers. He claims that this variety flowers once or twice a year, with an average yield of 20-50 kg drumsticks per year.
Moringa is presently traded in several vegetable markets across Maharashtra, in Pune, Vashi, Solapur, and Aurangabad. This season, the rate for the drumsticks is between Rs 3,500-Rs 4,000 per quintal.
Shyamsunder Jaygude, 42, of Kelawade in Pune, has 240 Moringa trees planted on the edges of his 20-acre farm plot. A pioneer farmer who introduced Puneites to exotic vegetables like broccoli, bok choy, zucchini, Thai chilli, and bell pepper, he makes approx Rs 5.4 lakh annually from Moringa's fresh leaves and powder.
"A farmer for over 27 years, I adopted organic methods of cultivation about ten years ago," he says adding, "My drumstick price is fixed at Rs 80 per kg. Besides fresh leaves, I sell the powder to retail and wholesale customers."
His farm is close to the highway, and so the vegetables grown there are picked up by food delivery firms like Nature's Basket. "There is a growing awareness among urban dwellers for Moringa, and I deliver the leaves and the powder to the homes of teachers, bankers, IT professionals," says Jaygude.
Thanks to the benevolence of Moringa, Bala Shivaji Patil, 36, of Uplai Khurd village in Madha taluka of Solapur district is known as lakhpati shetkari (farmer); he even receives farmers on his four-acre farm every day. Moringa has not only brought riches to his six-member family but fame too.
"I began with two acres in 2008 and now have four acres under Moringa with each acre fetching me around Rs 4 lakh," says Bala, a pioneer Moringa grower, who has authored a book, Crorepati Banvel Shewga… (Moringa Can Make You A Crorepati). Published in 2014, it has sold over 10,000 copies.
---
Also Read: From Neem to Buttermilk, This Woman Uses Simple Hacks to Grow Her Own Veggies!
---
Farmers in the dry land regions of Maharashtra have realised that Moringa is a climate resilient crop which requires little effort and investment to grow, but fetches a handsome price.
Featured Image: Shyamsunder Jaygude at his farm near Pune. Image Courtesy: Hiren Bose
(Edited by Shruti Singhal)
Like this story? Or have something to share?
Write to us: contact@thebetterindia.com
Connect with us on Facebook and Twitter.
Tell Us More
We bring stories straight from the heart of India, to inspire millions and create a wave of impact. Our positive movement is growing bigger everyday, and we would love for you to join it.
Please contribute whatever you can, every little penny helps our team in bringing you more stories that support dreams and spread hope.