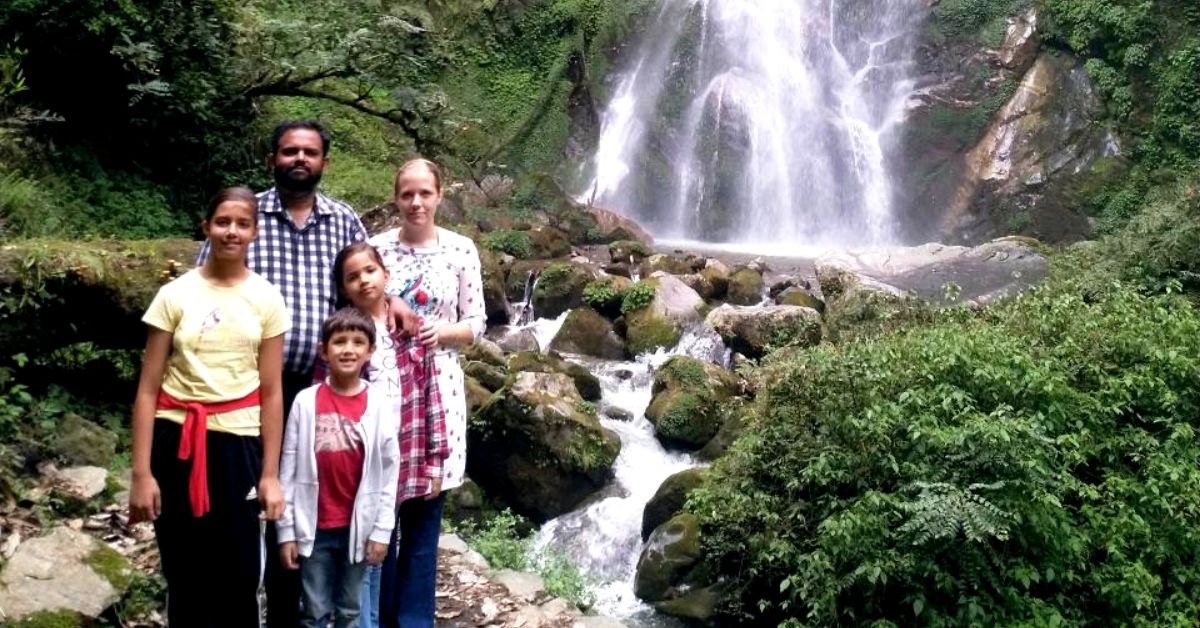 The couple gives us a sneak peek into their 15-acre Govardhan farm and highlights the principles they follow to maintain it.
For Pradeep Mocherla and his wife Raita, what began as a friendship in the virtual world turned into a partnership for life. The man from India and the woman from Finland met in a Yahoo Chatroom in 1997, and have not parted since. What's more, the couple shifted base to India from the UK to pursue their dream of a life where they give earth back in return for what they receive.
The couple may come from different countries but what binds them together is their shared love for nature.
---
Turn your home waste into black gold with these easy to move composters. Must-haves for every home garden enthusiast!
---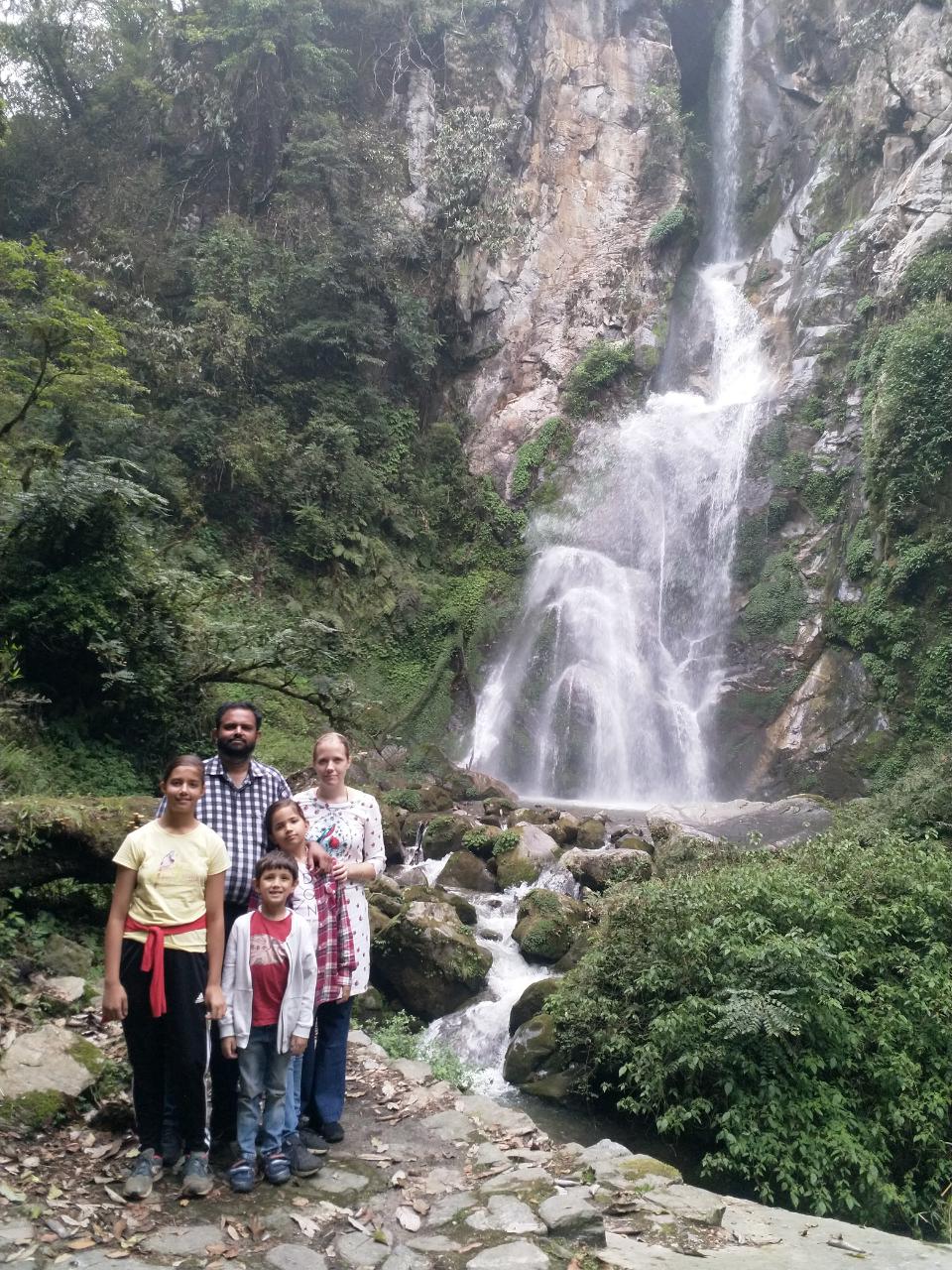 "Finland is sparsely-populated, heavily-forested and boasts of thriving natural ecosystems. Raita grew up in a culture, where her community would leave their homes and settlements and venture into the deep wilderness to escape the summers. Without electricity or working toilets, they thrive on the natural produce in the forest for two months. So she was instrumental in our decision to move away from city life and settle down in the country-side," says Pradeep.
As for Pradeep, his childhood was spent rearing cattle on his grandfather's farm in Visakhapatnam.
"The central ethos of my life has been—Nature is the best teacher. And I knew, regardless of what career I chose, I would eventually wanted to live in a rural home on a farm, grow my own food and live in tune with nature."
And that is precisely what they are doing now.
Situated 20 km on the outskirts of Hyderabad in the village of Girmapur, Pradeep and Raita Mocherla live in the eco-friendly home of their dreams built in their vegetable forest that spans 15 acres.
To be closer to Raita who was completing her education in Finland at the time, I shifted to the UK in 2001 and founded my IT firm, smiles Pradeep.
Pursing a dream
The couple began searching for a base India to begin their country life in 2003. In 2009, once they had acquired the land, Pradeep quickly shifted his firm , BizBites Technologies to Hyderabad, looking forward to a new life.
"When we first moved to Girmapur, many villagers were curious as to why we wanted to leave the comfort of city life and live in a place that lacked good road connectivity, was remote and untouched by urbanisation," informs Pradeep.
Naturally, the couple had their share of problems when they made the urban to rural switch. Shopping for basic necessities meant travelling for half an hour to the city and their three kids did not have many companions of their age in the village, but one of the boons was, the children grew up in the lap of nature.
"It was our desire to inculcate a love for earth in our children right from childhood." Today their kids, aged Gopala Untamo, 8, Harini Aurora, 10 and Aavani Aurora, 11 go to Diiksha Waldorf School, located 15 km away in Thumkunta which is also outside the city and focusing on experiential learning.
The school focuses a lot on teaching life-skills to kids with a special focus on natural and sustainable living and the Mocherla's often welcome many kids from Diiksha, Walden Path and other alternative schools in the city to their farm for field visits. "It is an absolute joy to see kids and their commitment to our farm. Even as young as five, they fight with their parents to get 'brown rice and their favourite veggies' from Pradeep Uncle's farm.' Parents who often complained about their kids scrunching their noses when they saw lady finger or bitter gourd are surprised to see the same kids relish these veggies from our farm," shares Pradeep.
The farm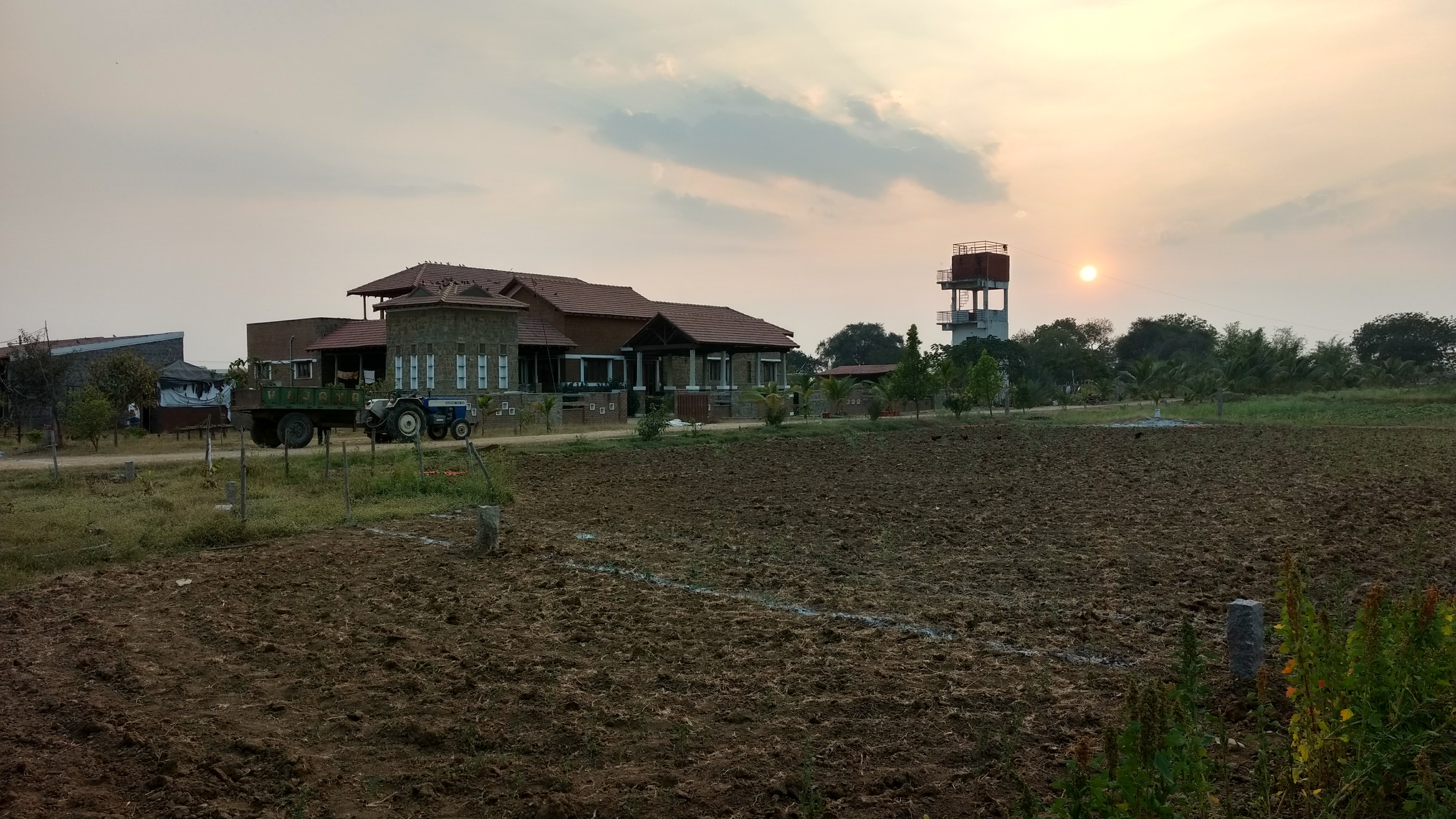 Apart from fulfilling their household kitchen needs, their 15-acre Govardhan farm, supplies fresh produce to schools and clients' doorsteps.
"We started farming from a sustainable point of view and to provide livelihoods for farmers around us. Today it is a vegetable forest of sorts. We operate on a no-profit no-loss basis and all the turnover from the farm is successfully distributed amongst the 15 farmers who work with us."
The couple gives us a sneak peek into their farm and highlights the principles they follow to maintain it.
Biodiversity & multi-cropping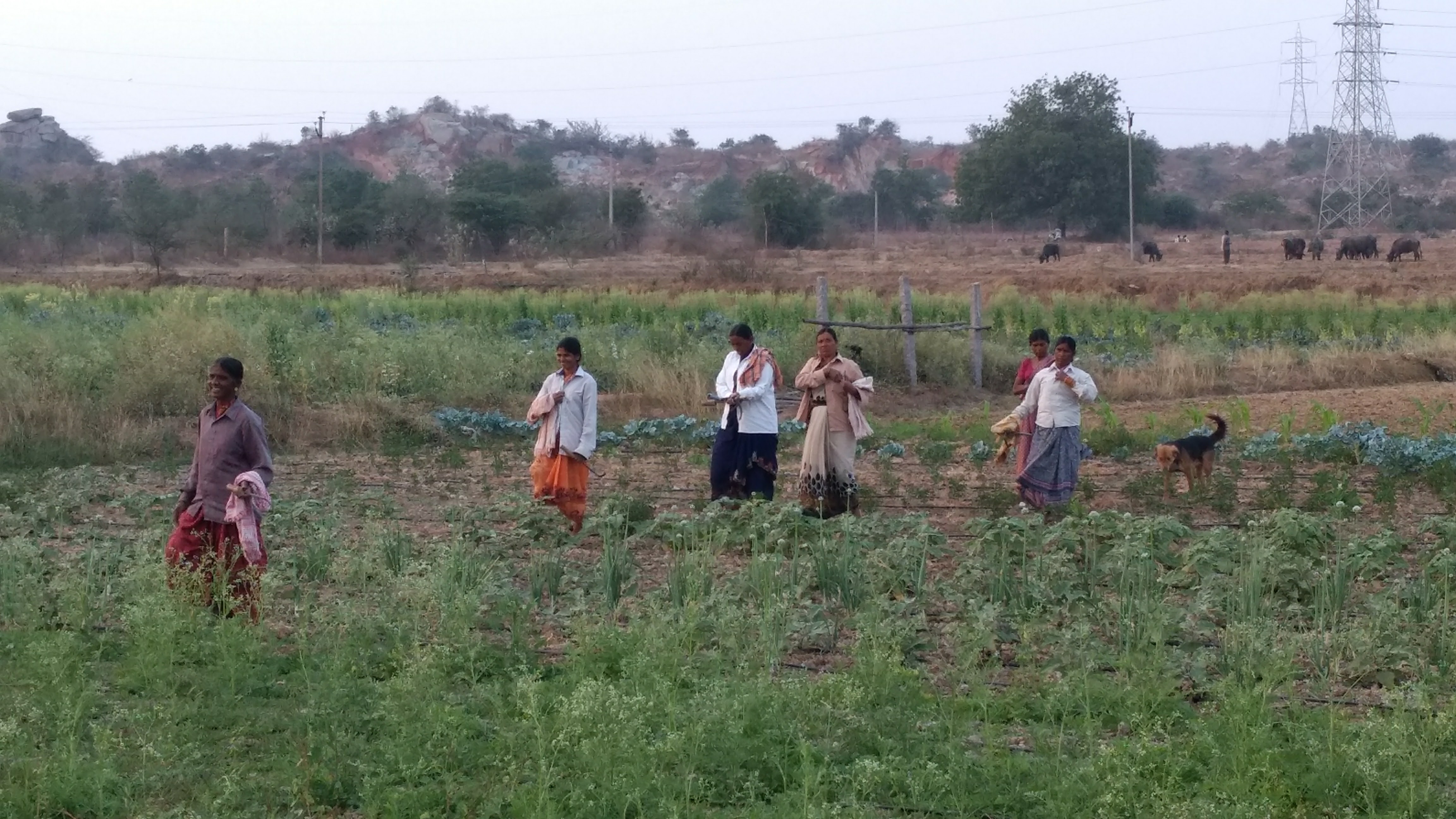 Pradeep adds how the diversity of crops plays an important role on the farm.
"I grow as many as 30 varieties of crops in the small space of one acre! This too is done in a manner based on consumption patterns. So at any harvest, no produce is wasted, everything is sold. Multi-cropping and intercropping help keep pests at bay too. Every layout of the plantation is scientifically-designed, and techniques of intercropping and multi-cropping are followed."
The farm grows grains such as rice, wheat, millets such as pearl millet (bajra), sorghum (jowar), finger millet (ragi), etc, spices (turmeric, chillies) and superfoods like quinoa too.
Some of the vegetables they grow include radish, potatoes, varieties of tomatoes and brinjals, Aratikaya (Raw Curry Banana), beetroot, snake gourd, bitter gourds, ladyfingers, cabbage, cucumber, green peas, chillies, carrots etc. Leafy green include amaranth, spring onion, spinach, coriander, etc.
The farm also has several trees like almonds, cashews, citrus trees, pomegranate, guava, jackfruit, coconut plantations, moringa, teak, holy basil (tulasi), sandalwood, rudraksha and burflower-tree (kadambam).
No external inputs
The farm follows the principles of permaculture and does not rely on the use of organic concoctions such as jeevamrutham or organic pesticides such as neem or garlic sprays.
"For eg. using intercropping, we grow broccoli next to brinjal plant. So the pest that attacks our broccoli is the food of the pest that the brinjal plant attracts. So the balance of nature is restored."
Similarly to rejuvenate the soil and maintain its fertility, at any given time, they only cultivate three out of 15 acres of the plot. As Pradeep claims, the produce from three acres of cultivated land can feed almost 300 families.
The rest of the patches are allowed to rest. Overall, the land is used only for about four months in a year. When left to rest, manure in the form of animal dung is added to nourish the soil and tilled every week. After tilling it for one month, the land is left to bake in the sun.
After following the process for years, the soil is good as gold now.
"Our farm is our work of passion. We don't care about profit because maintaining the farm itself can be a very laborious task sometimes. But our biggest joy is eating the food that we grow ourselves."
Their farm also boasts of several horses, cows, buffaloes, geese, hens, sheep, honey bees, fish and insects etc.
Eco-friendly home & a zero-electricity toilet system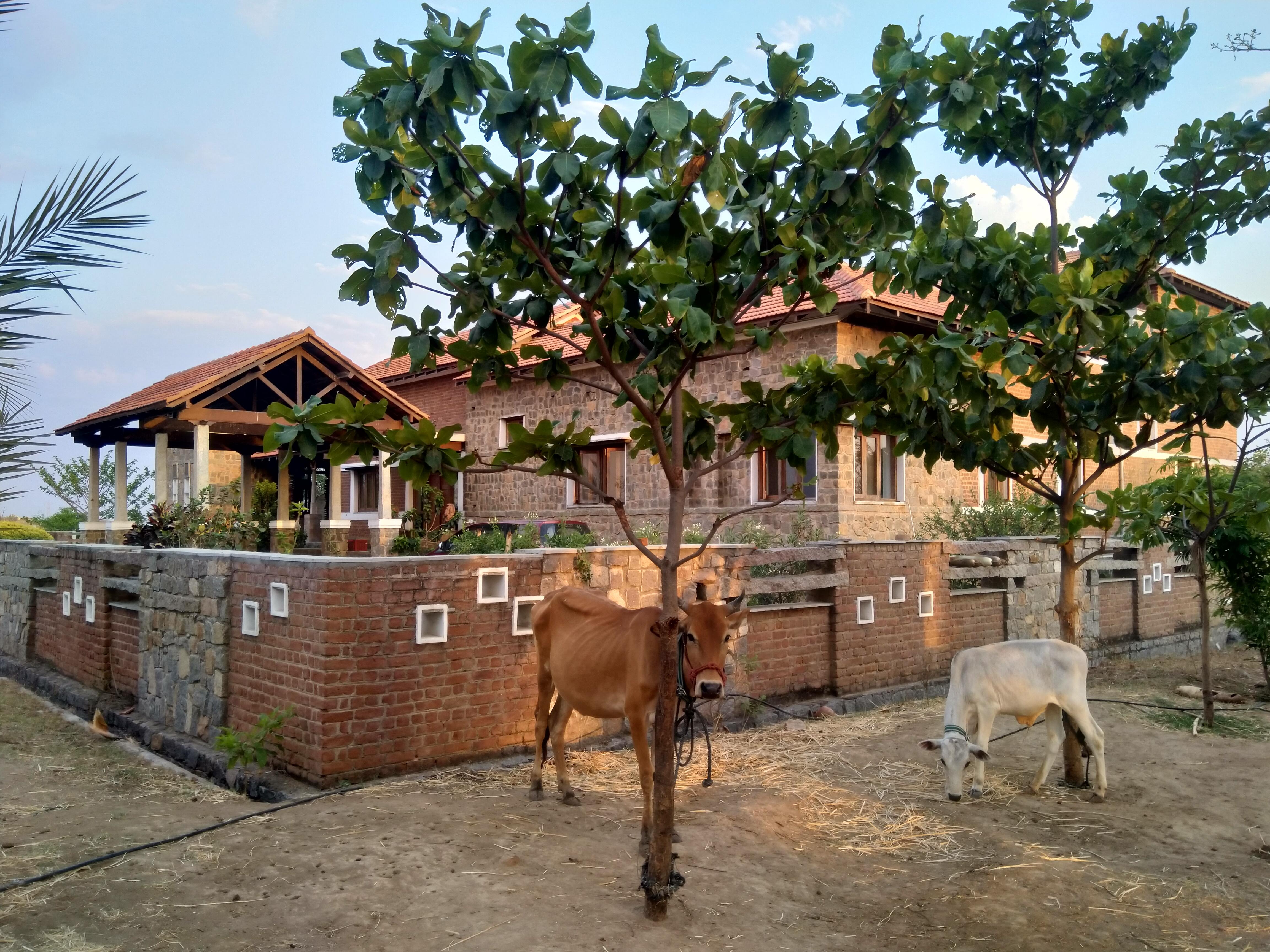 The Mocherla home is free of steel and concrete and is built traditionally using wood, terracotta tiles, stone and earth bricks. Designed and built by veteran architect, Yeshwant Ramamurthy, it has a huge traditional courtyard and high ceilings that allow cross ventilation, cutting out the need for an air conditioner.
"When we were building our home, we wanted to set up a drainage system that would allow us to recycle and reuse drain water. We did not want the sewage to contaminate groundwater, water bodies or be left into the farmland without treatment. That's how we installed Aquatron."
It took them six months of research to zero in on the patented Swedish technology and install the zero electricity bio composting toilet in their home in 2012.
Aquatron separates faecal matter from the rest of the wastewater as soon as a toilet is flushed, thus eliminating the need to treat faecal sludge. Compared to conventional sewage treatment technologies, this translates into huge savings in electricity and operating costs and it allows reuse and recycling of wastewater too! Watch its working here.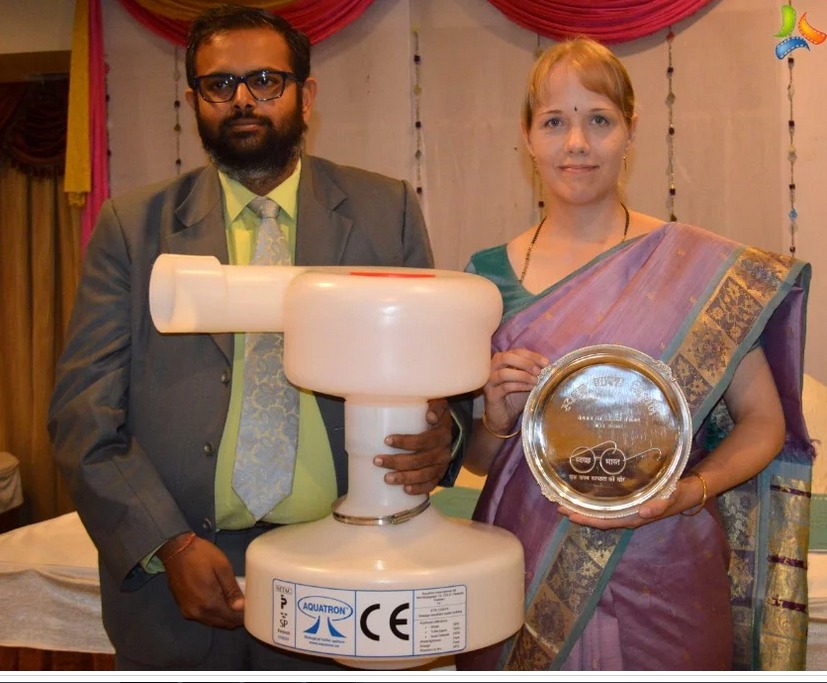 "It requires no additional maintenance or electricity and easily separates the solid waste from the sewage water, and treats the water for secondary purposes like gardening, farming, re-flushing, floor cleaning or even to recharge groundwater. The solid waste becomes manure that can be cured and used. Whatever amount of water is used, 100 per cent of it is recycled."
Having lived in their green home for more than ten years, Pradeep and Raita are happy with the decision, despite the problems it brought initially. For them, living close to the workings of nature, understanding how it works and helping others learn from their experiences is a perpetual source of contentment.
"It is a major switch and yes, it can be heavy on the budget. But we made the switch to help our children remember that buildings are not made out of steel and glass. We made it because we are selfish. Not for ourselves, but for our children and grandchildren's future. When we decided to go sustainable almost 15 years ago, nobody was talking about climate change. Today, climate change is staring us in the eye. Whether it costs two lakh, 20 lakh or two crore, if you want to be selfish for your child and grandchild's future, make this switch," says Pradeep.
If this story inspired you, get in touch with Pradeep Mocherla at pmocherla@gmail.com and Raita Mocherla on raitamocherla@gmail.com
---
Also Read: Punjab Techie Quits High-Paying Job to Take up Natural Farming, Grows Organic Food!
---
(Edited by Saiqua Sultan)
Like this story? Or have something to share?
Write to us: contact@thebetterindia.com
Connect with us on Facebook and Twitter.