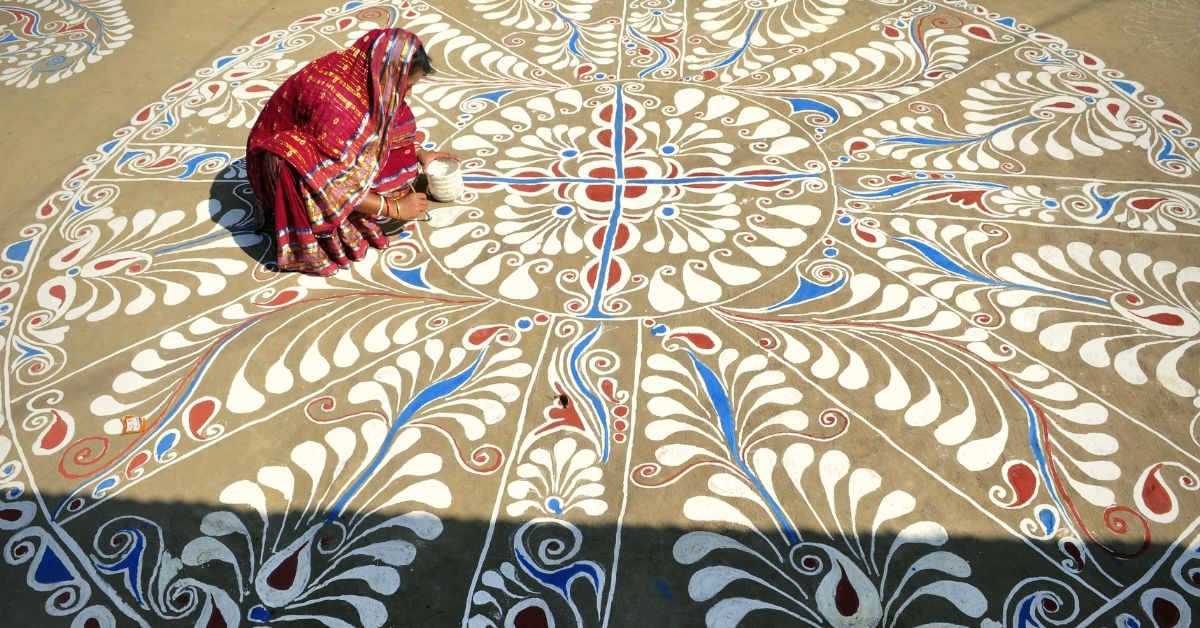 From initiating 'bhutayajna' for ants and insects to preventing chicken pox, the strokes of Alpona have tied together the social fabric of Bengal for eons. #History #Heritage #PhotoStory
For us, a day before any festival was always the worst. Chaos ensued as my mother single-handedly made all the arrangements. From shopping, cleaning, decoration to food, everything seemed like a mess, waiting to blow up in our faces. But, she would not forget the tradition of Alpona—the traditional Bengali art that has been passed down through generations for many centuries now!
---
Looking for a great gift for a loved one? Send them this gift card that they can use to shop for all their favourite items on the store, responsibly created by scores of talented artisans across India, click here!
---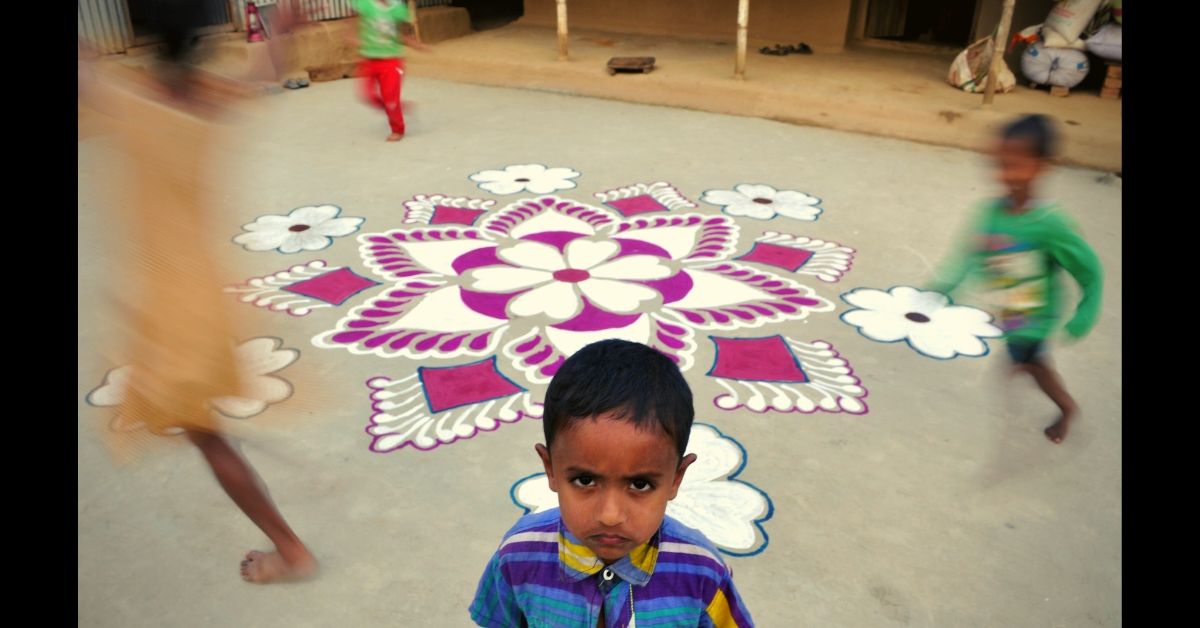 My grandmother taught it to my mother, who did the same for me and my brother. Motifs of sun, lotus, fish, swastika, owl, snake, footprints of goddess Lakshmi, or even abstract designs are meant to be a symbolic welcome to the Gods and the minute creatures of nature, especially during prominent holy festivals like Saraswati Puja (also known as Vasant Panchami), Makar Sankranti, Diwali and Durga Puja.
I remember how, amid all the pandemonium, my mother would still manage to make me a white paste of rice flour and sneak it into my hands. "Go! Make something beautiful," she would order with a slight smile smoothing away the worry lines from her tense face. I would hurry to the door and sit down to create the intricate patterns and beautiful swirls covering the expanse of a porch or verandah. The only time when I would not get punished for scribbling designs on the floor. It was the best part of the festivals for me, apart from the food, of course.
Roots of the Ritual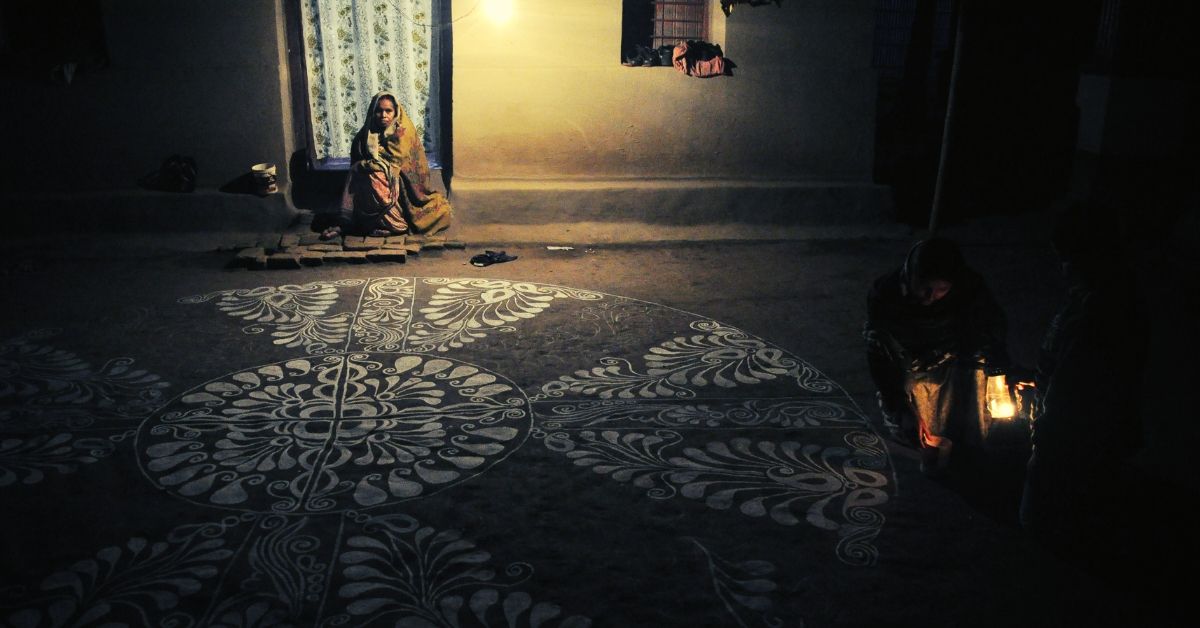 An ancient tradition, this laborious ritual of finger-painting geometrical or free-hand motifs, is known by various names in different parts of the country. While in Bengal and Assam, it is known as Alpona, people in Bihar call it Aripana, Jinnuti in Odisha, Rangoli in Maharashtra, Pakhamba in Manipur, Kolam in Tamil Nadu and Apna in Almora and Nainital.
In Bengal, however, we use the term 'Alpona' which finds roots in a Sanskrit word called 'alimpan', which means 'to coat' or 'plaster'. A few sources also claim that the root of the term could be non-Aryan, derived from 'ailpona'- the art of making 'ails' or embankment, believed to keep homes, neighbourhoods or villages safe and prosperous.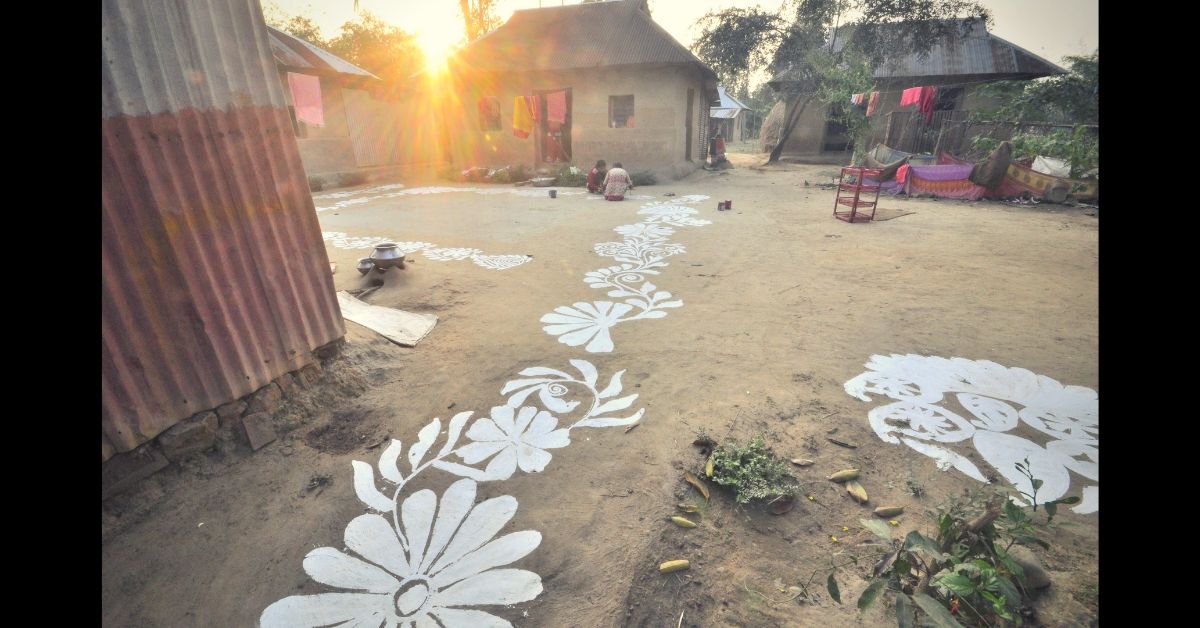 "The designs drawn on the floor have a magical power and presence. They were used as welcoming signs at the entrance of the house, for a guest must be welcomed with grace and elegance. Beauty being equated with godliness, it was also the symbol of good omen and had therefore to be associated with every phase of life," writes Stephen Huyler in Painted Prayers, Women's Art in Village India.
Contrary to its contemporaries, Alpona is not dry. It is a liquid paste made of the slurry of atop chaal (refined rice), and was originally drawn on a base of clay mixed with cow dung. Although, predominantly it is white in colour, artists can add hues to the design using turmeric paste for yellow and red clay with vermillion paste for crimson.
Strokes Connecting Communities and Nature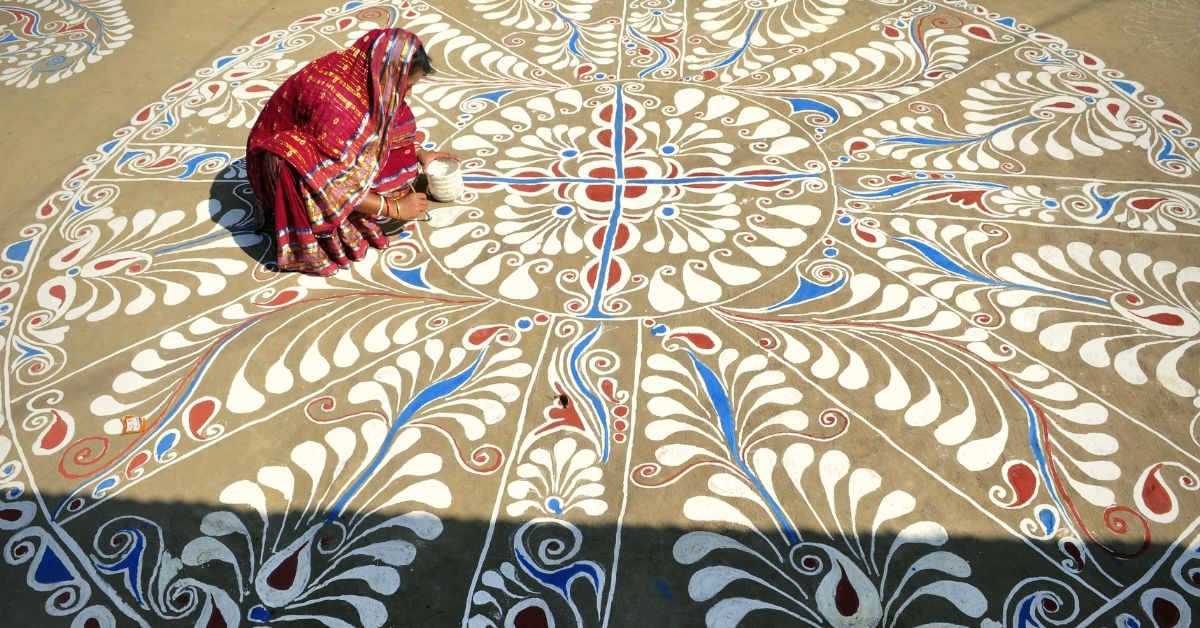 The very fact that Alpona is drawn using rice flour also means that earlier it served as bhutayajna, that is, an offering of rice flour to tiny creatures like ants and other insects as one's good deed of the day. Further, rice powder is a cleansing element which is traditionally attributed to preventing chicken pox during the summer and is hence applied on the faces of children in several parts of India as a preventive measure.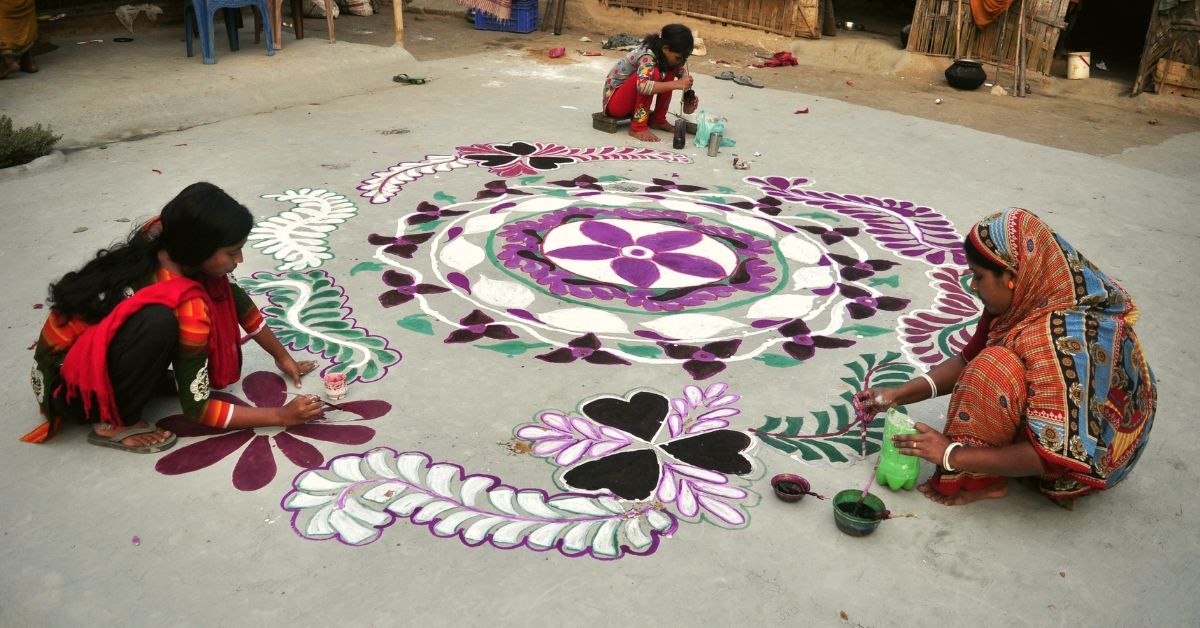 The ritual, usually practiced by women, is also intertwined with an aspect of self expression. Alponas often associated with broto or vrat (fast) on the one hand, was practiced by married women for their husbands, but, on the other, also emerged as a symbol of expression where they could not only let their imaginations run wild, but also create a safe space of dialogue outside of their houses, in a patriarchal social setup, as observed by Madhupa Bakshi, dean of Media Science Department of Heritage Academy, Kolkata, as well as Rabi Biswas, a practitioner and researcher on the art.
Hence, sprinkled with symbology and traditional wisdom, a stroke of Alpona for generations has continued to tie together the social fabric of Bengal–something that is fading with time–against the ease of chemical paint-dripping brush strokes or worse, plastic sticker rangolis.
Abhishek Saha, is a photojournalist who has been visiting Lankamura, 10 kilometers away from Agartala, Tripura , for almost a decade, for its special Makar Sankranti celebration. Here, the women cover the streets of the village with huge Alpona designs every year.
Speaking to The Better India, about the fading tradition, he says, "It takes almost a week-long labour to create these beautiful pieces of art. And, now the new generation, always stuck to their phones on social media, is choosing to take shortcuts instead of putting much effort. Unfortunately, the art seems to be dying, as the older women told me this time. I hope with my photos, I can show and warn the world what they are about to miss in the next few years, if not preserved!"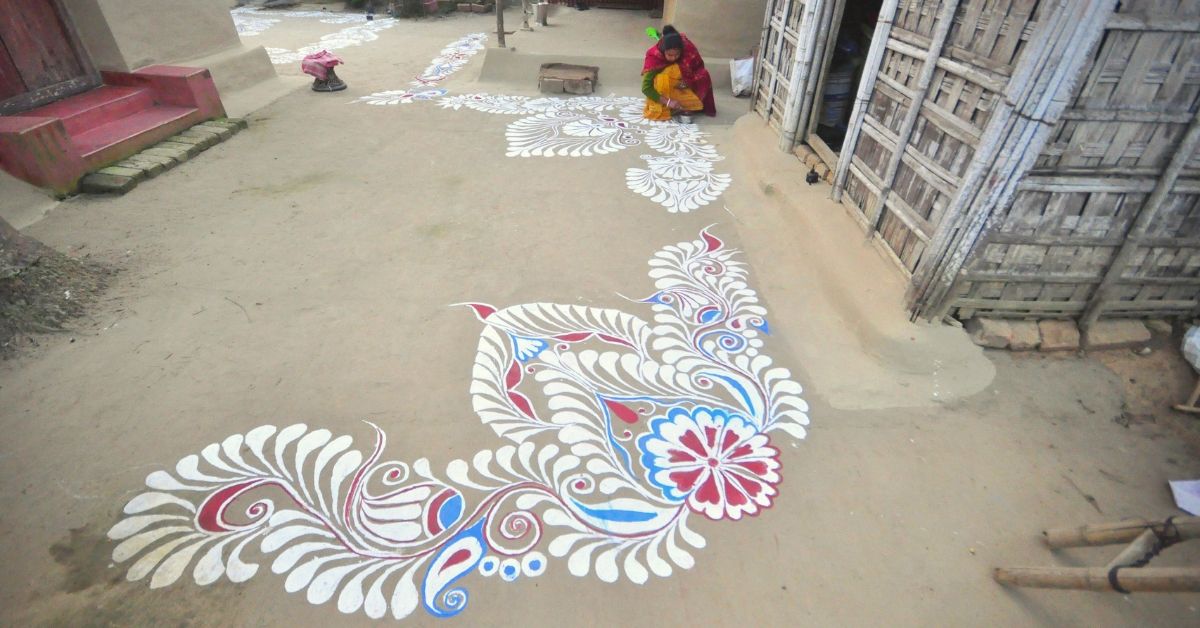 The time-taking task of grinding the rice and making a paste for the paint is an emotional and organic testimony that needs to be protected, preserved and passed on, just not as a nostalgic memory, but a substantial social contribution.
---
Also Read: How a Pinch of Rice Flour, Math & Imagination Led to the Ancient Art of Kolam
---
(Edited by Saiqua Sultan)
All the photos were clicked in Lankamura, 10 km away from Agartala, Tripura by Abhisek Saha.
We bring stories straight from the heart of India, to inspire millions and create a wave of impact. Our positive movement is growing bigger everyday, and we would love for you to join it.
Please contribute whatever you can, every little penny helps our team in bringing you more stories that support dreams and spread hope.