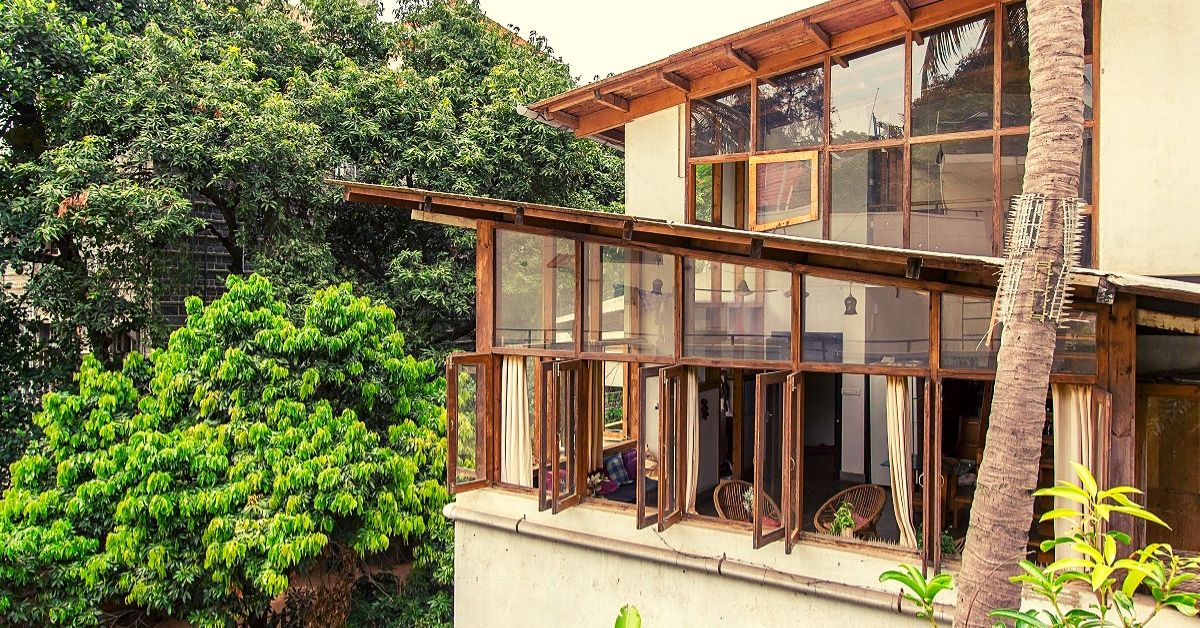 Made from refused and reused material or what Dasarathi refers to as 'kachra,' the home with a built-up area of 1700 sq ft was designed by his family of three, and executed brilliantly by award-winning architects Vijay Narnapatti and Dimple Mittal from the architectural firm, Maya Praxis.
Deriving its name from what literally means 'scrap house' in Kannada, GV Dasarathi's decade-old Bengaluru home, 'Kachra Mane,' is strikingly different from the other urban dwellings that surround it.
Made from refused and reused material, or what Dasarathi refers to as 'kachra,' the home with a built-up area of 1700 sq ft was designed by his family of three, and executed brilliantly by award-winning architects, Vijay Narnapatti and Dimple Mittal, from the architectural firm, Maya Praxis.
Speaking to The Better India (TBI), Dasarathi explains the rationale behind its name and what prompted him to build such a home.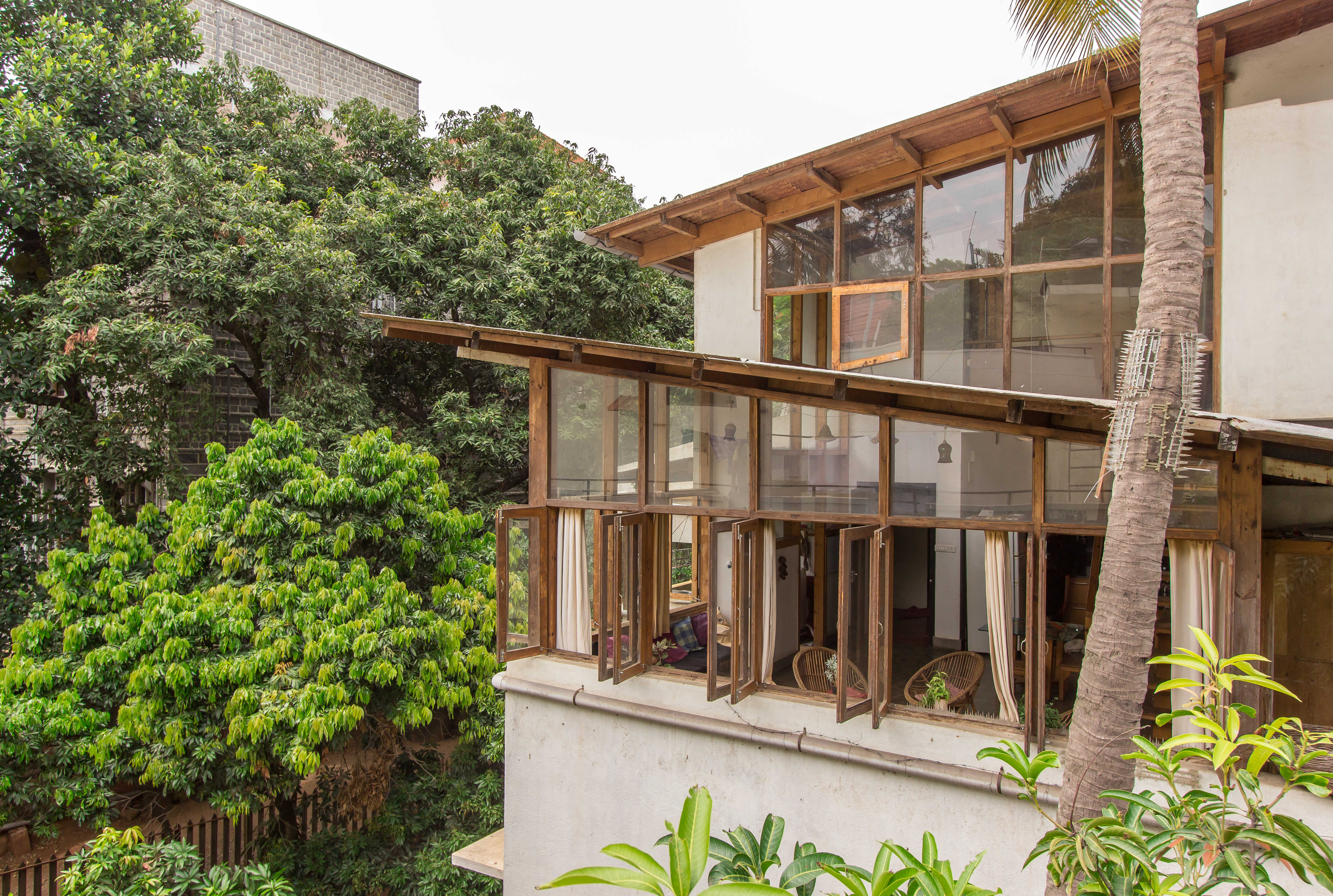 "Right from childhood, I was aware that I needed to live an environmentally-conscious life, and the 4Rs—reduce, reuse, recycle and rethink—became crucial to ensure this. Over time, I realised that the construction industry lacked this conscience and was one of the major generators of unusable waste like concrete, which pollute our environment and water bodies. So, ten years ago, when my family and I decided to build a home, we wanted to ensure that it would cause the least amount of destruction to the environment, while also being cost-effective."
Here are 10 things you need to know about this unique green home:
1) The cost and time taken to build Kachra Mane was 50 per cent less than what is required to create a regular urban home. Additionally, during construction, the use of cement, steel and sand was also reduced by more than 80 per cent.
2) Apart from having a 20,000-litre rainwater harvesting tank that reduces their dependence on municipal water by half, the home recycles grey water from their bath and wash basins to water their garden and flush toilets.
3) A 200-litre capacity solar water heater with an inbuilt heating coil for cloudy days meets their hot water requirements.
4) All the wood other than doors and wardrobes is pine wood which was bought from shops that buy packing cases and sell the wood.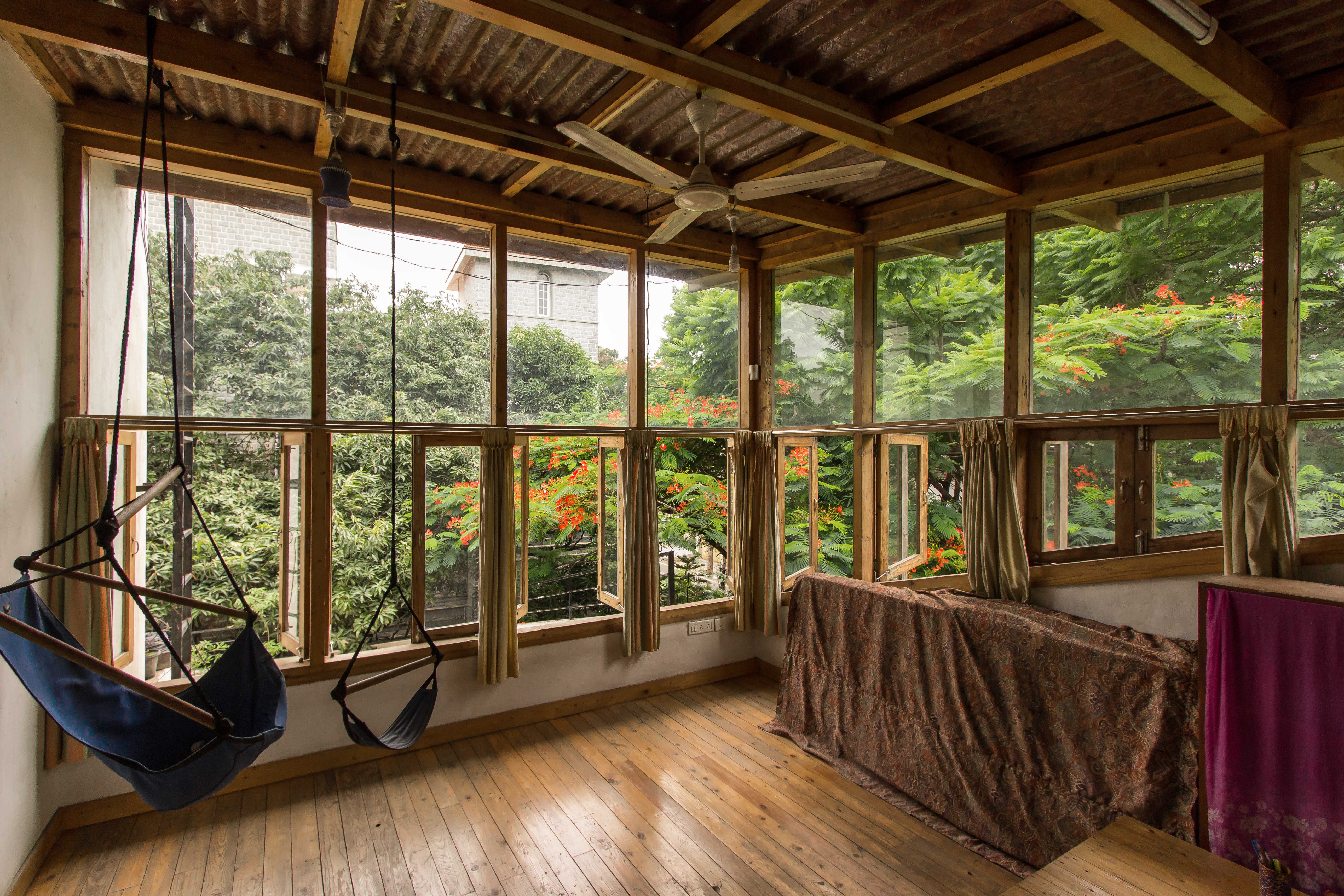 5) The walls in the house are large windows. 80 per cent of the glass used in the construction was sourced from shops dealing in glass from demolished buildings. Only the larger than life window panes are new because they couldn't source them from demolished sites.
"Bangalore has a large demolition industry with specialist demolition firms that break down old buildings and sell the wood and other reusable material in shops. Many such shops are located in Shivajinagar and City Market known as the Bamboo Bazaar," says Dasarathi.
6) Even the toilets are constructed using reused fittings like the wash basin, commode, taps, showers, again bought from shops dealing in material from demolished buildings, saving 85 per cent costs.
7) The home has plain cement floors and does not use glazed tiles or ceramics.
8) The roof is made from a corrugated bamboo sheet which has been used as an alternative to an RCC (reinforced cement concrete) roof saving 30 per cent costs. It is only 5 mm thick and does not trap heat even in summers.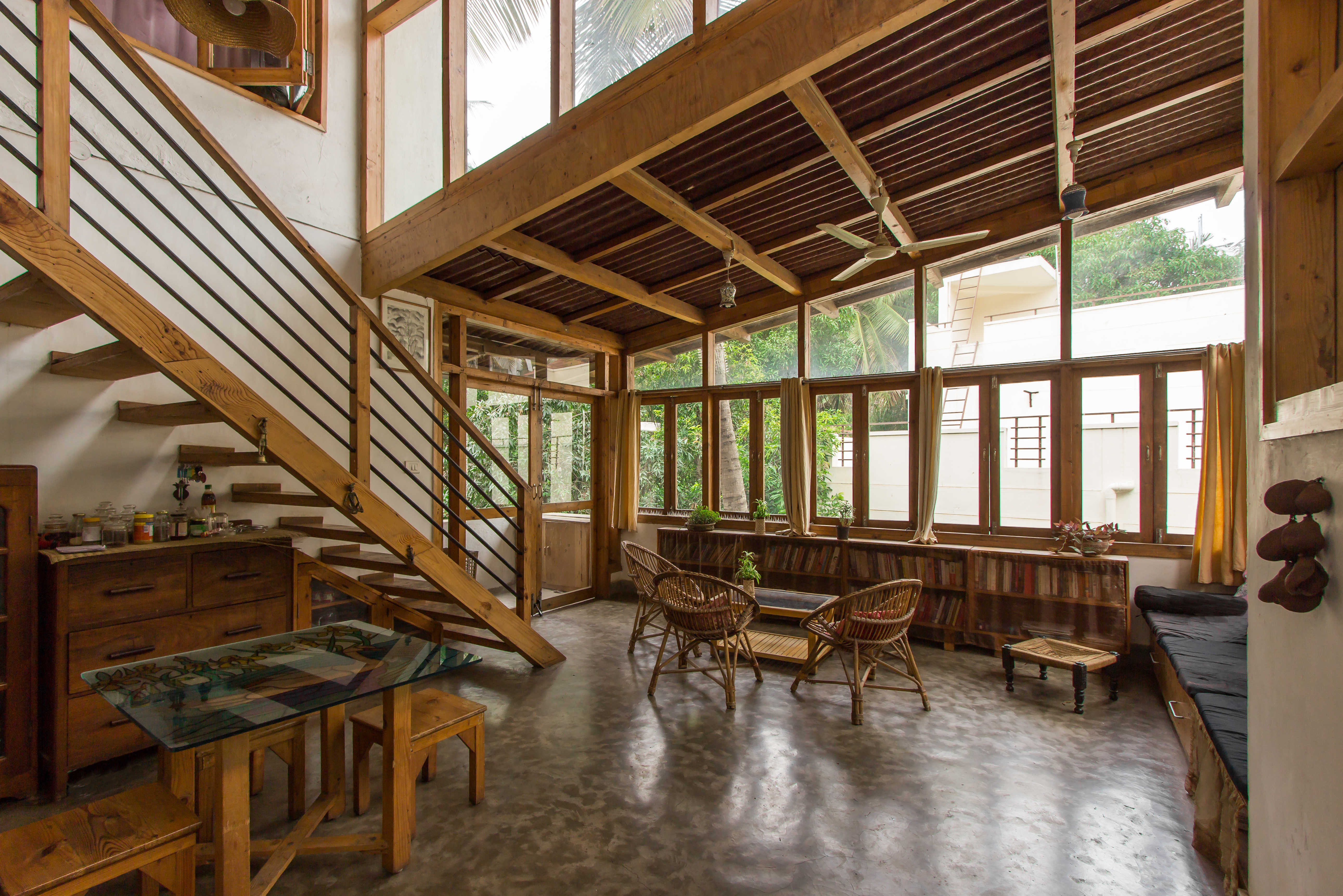 9) The brick walls have a 0.25″ plaster and look uneven, but they save 50 per cent costs when compared to even-flat walls which require up to 1.5″ plaster.
10) The home has no air-conditioner, no artificial chimney in kitchen and uses monkey protection spikes instead of expensive grills.
In addition to all the above, most appliances in the home are either second hand or factory seconds.
What is a factory seconds appliance?
These refer to appliances that are new but may have been damaged during shipping or storage. They are sold at a 30 to 40 per cent discount. The flaw is usually an aesthetic one, not a functional one. For e.g. a dent on a fridge.
When you purchase such an appliance, it is not only eco-friendly move, but you are also cutting costs, and saving raw material and energy used to manufacture newer appliances.
The home has been built to last 25 years with the idea that each generation would want to alter it as per their requirements.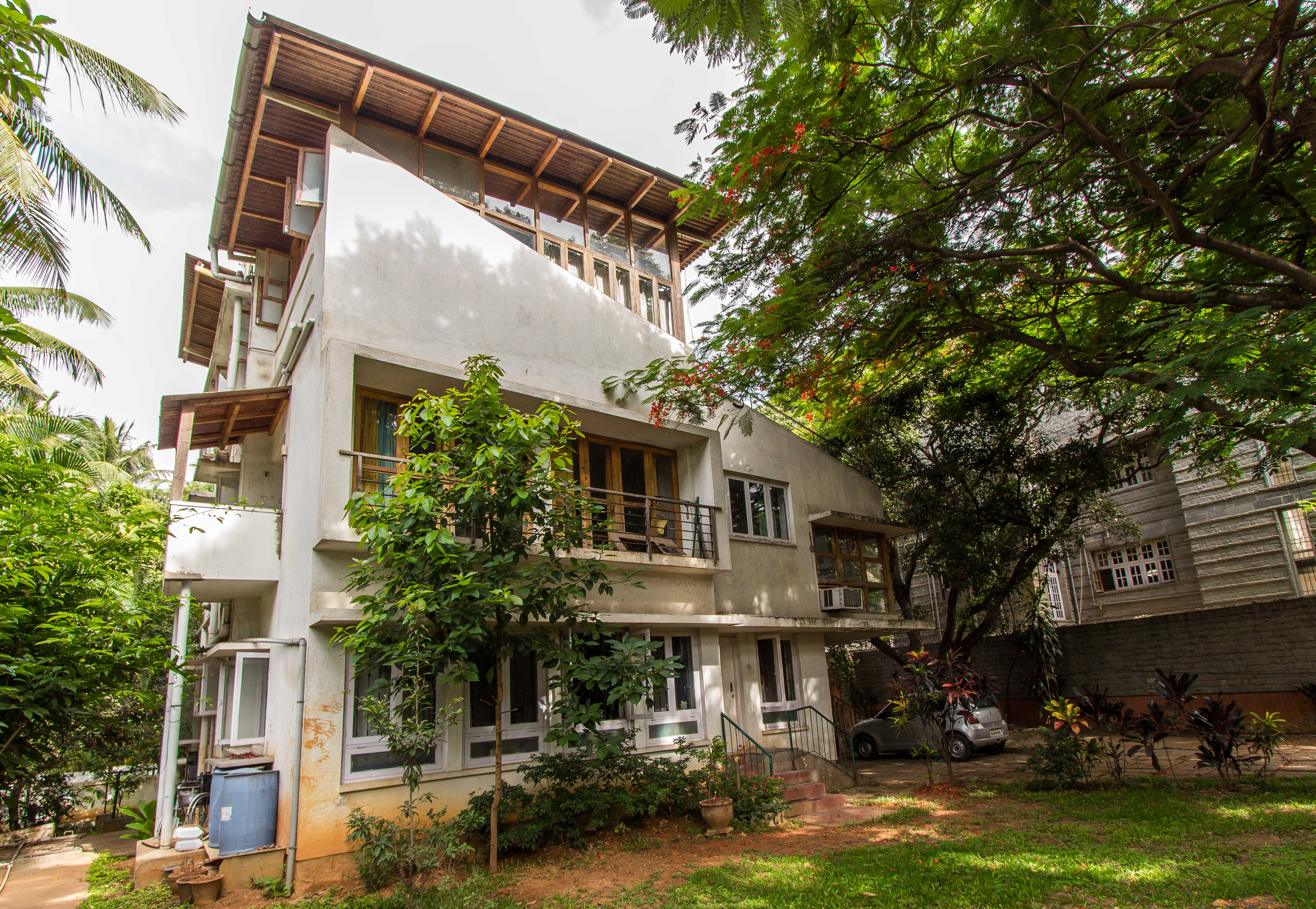 ---
You May Also Like: Made From Recycled Waste, This Award-Winning Navi Mumbai Home is Stunning!
---
Building an eco-friendly home may not be everyone's cup of tea, but Dasarathi shares a few sustainable practices one could follow at home:
1) You can wear clothes that do not need ironing (e.g. denim, corduroys, cheese cotton shirts.
2) Reduce detergent overuse which is polluting our water bodies, wear dark coloured clothes and wash your clothes with plain water. Dasarathi adds how he typically washes his clothes 50 times in plain water, before using detergent once. Just rinse your clothes in half or one bucket of water for a few minutes, wring them and put them out to dry. The leftover water can be used for flushing.
3) Instead of buying a washing machine with a clothes dryer, dry them in the sun. You don't just save electricity but also the sun's UV rays will kill all the bacteria on your clothes.
4) When ironing shirts, don't iron the area that gets tucked into the pants and goes below the waist. Using a 750 W iron, you save 15 minutes of ironing a day which makes 68 kWh a year, or 55 kg of CO2.
4) Don't wash your towel too often since you only use it to dry your body after bathing.
"I wash my towels in detergent once every 15 uses, and just dry them out other times. Use dark coloured and thin towels. The thicker the towel, the more detergent and water it consumes during washing," he adds.
5) Cycle within your locality or take public transport for long-distance travel within the city.
"My office is 15 km. from my home. I have been cycling or taking the bus to work for the past 20 years. You too can start today. Start by walking, cycling or using the bus just one day a week."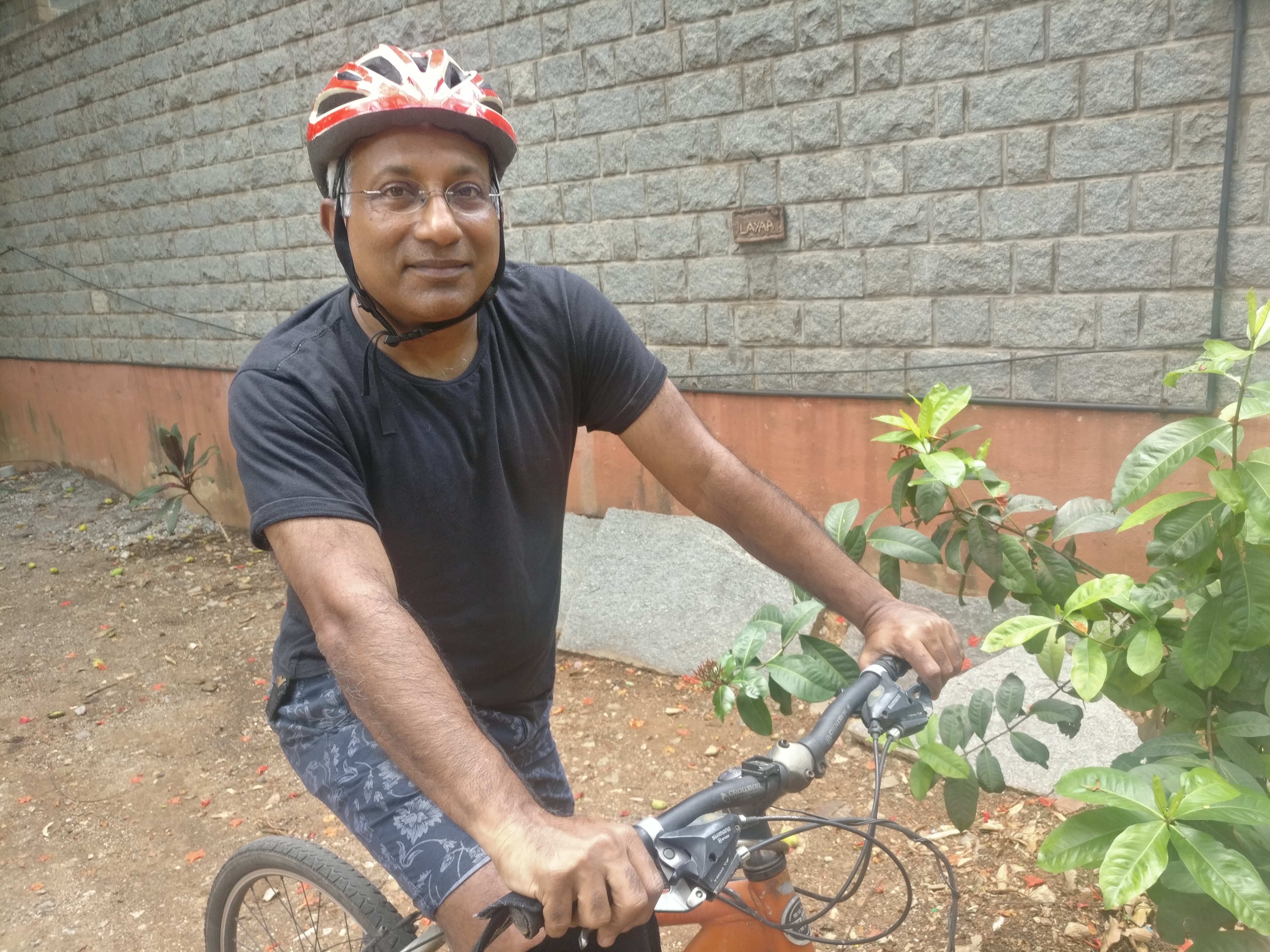 Dasarathi ends the conversation with a message for our readers.
"We are destroying and killing ourselves with our lifestyle. So this switch to sustainable building and living is critical. If you don't have an option of building an eco-friendly home and buy a pre-built flat, you can still make a change. Instead of using glazed tiles, marbles, do up your own interiors using reused wood, ceramics, kitchen sinks, from demolished buildings. When you build a home, don't do it to impress your relatives or friends or as a status symbol. Start building to reduce our carbon footprint."
If this story inspired you, get in touch with Dasarathi on his blog, lowcarbonlife.in, where he has documented each of the developments and sustainable practices they follow in great detail.
(Edited by Gayatri Mishra)
Like this story? Or have something to share?
Write to us: contact@thebetterindia.com
Connect with us on Facebook and Twitter.
We bring stories straight from the heart of India, to inspire millions and create a wave of impact. Our positive movement is growing bigger everyday, and we would love for you to join it.
Please contribute whatever you can, every little penny helps our team in bringing you more stories that support dreams and spread hope.