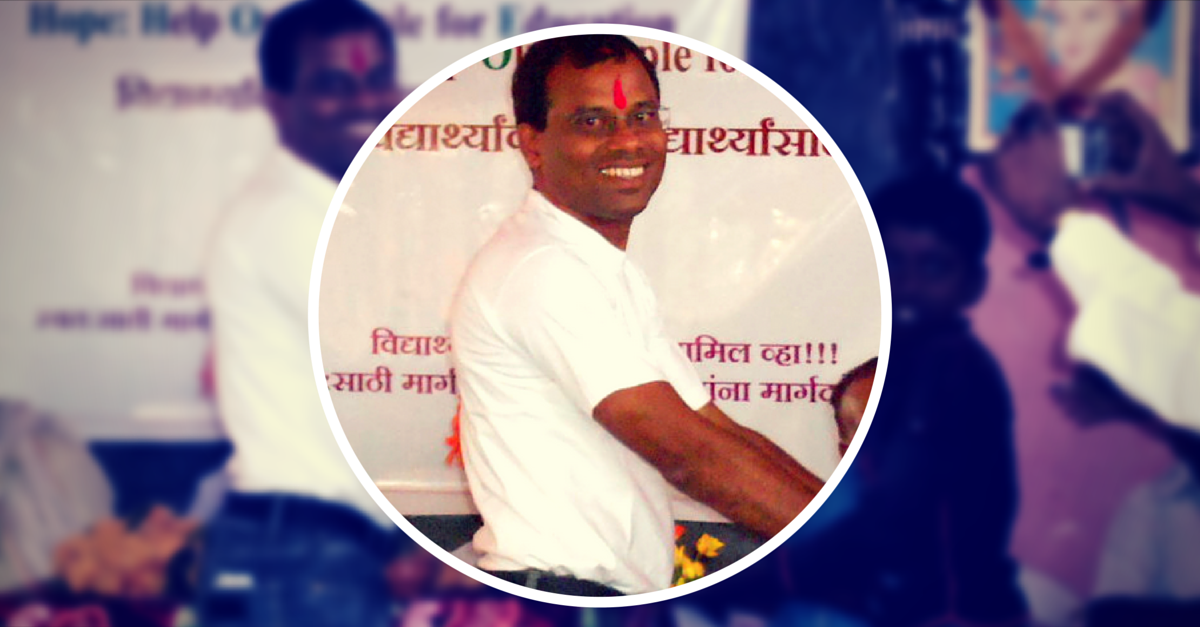 He used to sell bread for earning his daily bread. He gathered coal from the streets so that his mother could cook a meal. He changed tyres during his vacations to survive. He became an engineer with the money collected from his teachers. But today he is helping many others like him to become engineers, doctors, chefs and even IAS officers! Meet a true blue changemaker.
H

e used to sell bread for earning his daily bread. He gathered coal from the streets so that his mother could cook a meal. He changed tyres during his vacations to survive. He became an engineer with the money collected from his teachers. But today he is helping many others like him to become engineers, doctors, chefs and even IAS officers! Meet a true blue changemaker.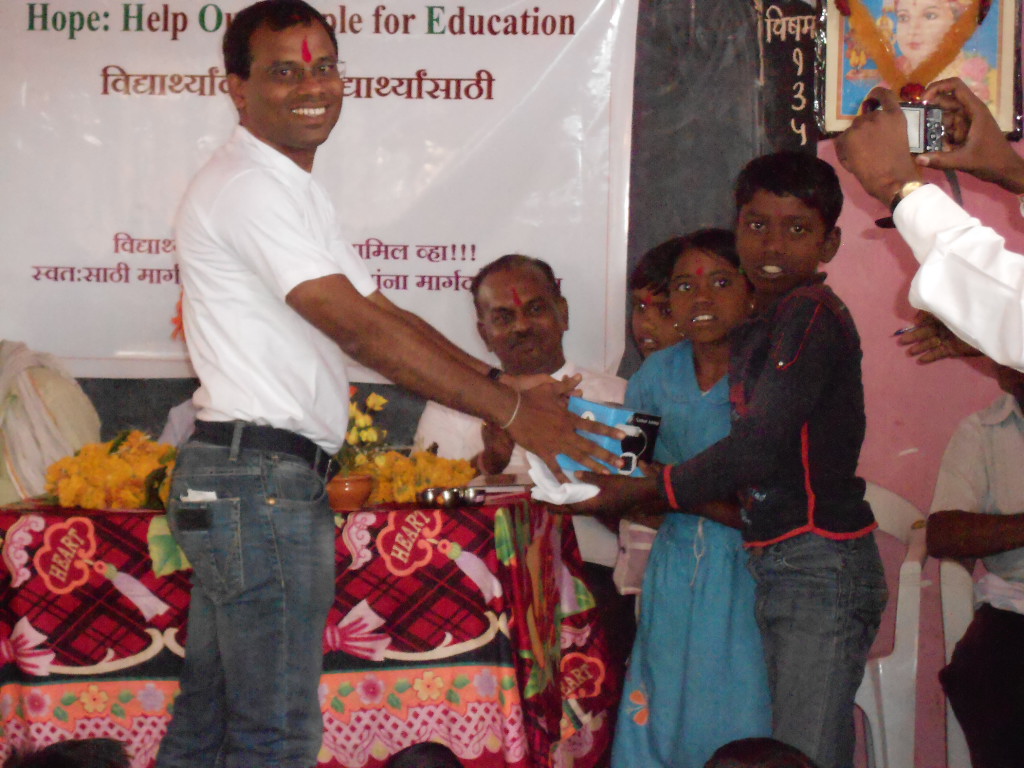 Amol Sainwar is the founder of 'Help Our People for Education (HOPE) Bahuudeshiya Sanstha'. This organization was established in the year 2007, and so far it has helped 35 students to fulfill their dreams. It has lit more than hundreds of houses with its project 'Vidya Deep'. HOPE has completely transformed an entire village with its efforts and is continuing to do so for more such villages in Maharashtra. It also helps the poor and needy who need expensive medical aids.
Let's look at some of the young lives HOPE has changed so far.
Uddhav Charduke was connected to HOPE through his heart. Yes, that's true! Uddhav was born in the backward tribal village of Gondpimpri, Maharashtra, with two diseases from birth – one was the actual heart disease and the other was poverty which made his heart disease even worse.
He had to go through two heart operations by the time he was 20. His parents were poor farmers who had to sell their land and become laborers to help him survive. But, as if this was not enough, Uddhav lost his father and on the other side doctors asked him to do another heart operation. With a sister, two younger brothers and a depressed mother at home, Uddhav had lost all hopes of living anymore.
At this time, Uddhav was identified by HOPE. And with the help of HOPE, Uddhav's operation was successfully conducted in a renowned hospital of Nagpur in 2010. With his own strong will and with constant help from HOPE, he has finally achieved his goals. Uddhav is now a chef in the 'Pune Club's Hotel' in Pune, Maharashtra.
HOPE's success story is incomplete without mentioning the story of Varun Kumar Baranwal. Varun lost his father when he was just 16. He was always on a rebellion. However, this time he wanted to quit studies to support his family.
But his mother and his sister worked double shifts after he secured 88.93 % in class 10 without any coaching or help. The hard work of his mother and sister paid off and he got admission in MIT, Pune, securing 179 out of 200 in MH-CET. Being in Pune, Varun came across several social issues. He also followed Anna Hazare's movement for the Jan Lokpal Bill very closely.
All this sowed the seed of a new dream in him, a dream of 'fighting for social justice'. Varun did well in his engineering and had an offer for campus placement in a good company. But he did not accept the offer. He wanted to opt for civil services. But social and financial pressures were trying to shatter his will power.
Nothing speaks louder than an empty stomach. Varun was about to quit when HOPE came into the picture. Amol could see the passion in Varun's eyes to help more students like him. For the following year, HOPE provided all the necessary study materials and coaching to Varun. And Varun, as always, lived up to expectations.
Varun cleared his IAS exams in the year 2013, securing the 32nd rank at an all-India level. His first posting was in Gujarat.
"Society has an involvement in my earning, hence I have to work for society. 'Mahila Sashktikaran' is key for development of our motherland and hence I will work on it as an IAS officer. I will work to correct the imbalance in male and female rights by becoming an IAS officer and by using the HOPE platform," says Varun Baranwal.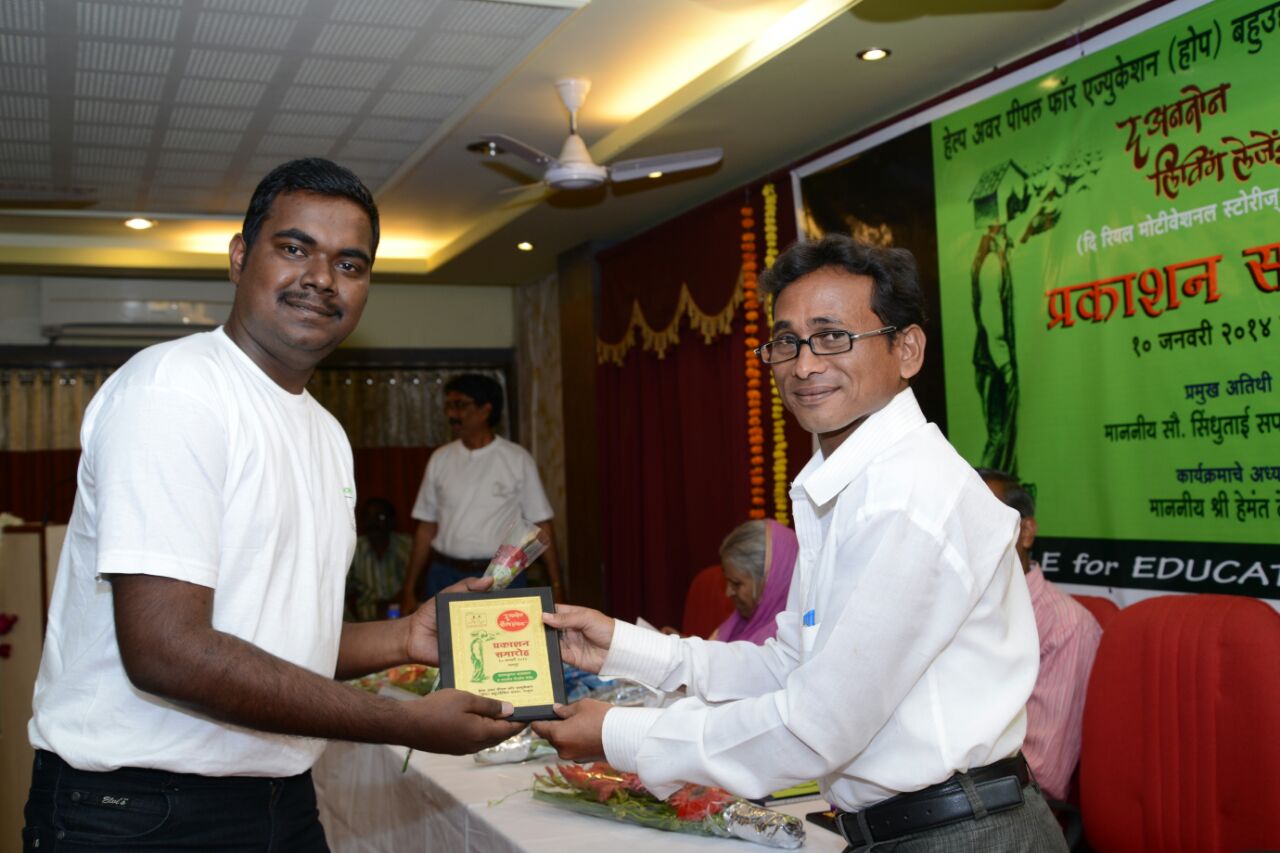 HOPE not just helps students to become engineers and teachers, it also recognizes and encourages one of the most important but neglected people in our society, who are called the artists.
Prabhakar Pachpute was one such artist, who just needed a finishing touch. Prabhakar was born in a very poor family but developed his artistic skills without any help. HOPE helped him complete his M.F.A (Masters in Fine Arts) degree.
Prabhakar's first show, 'Canary in a Coalmine' in the Clark House Initiative, Mumbai, was a great hit. HOPE proudly entitled Prabhakar with the name of 'Artist for the people'.
"I failed in 10th class but never gave up. Many a times I thought of leaving education to take up a jo,b but HOPE inspired me to do what I wanted to do. I wanted to work for a coal miner through my art with the use of the HOPE platform," says Prabhakar
"While returning from Paris, one person asked me if I was a naxalite. Then I coolly told him that just because I am from Chandrapur, it doesn't mean that I am a naxalite. I want to remove this mindset through my art," he added.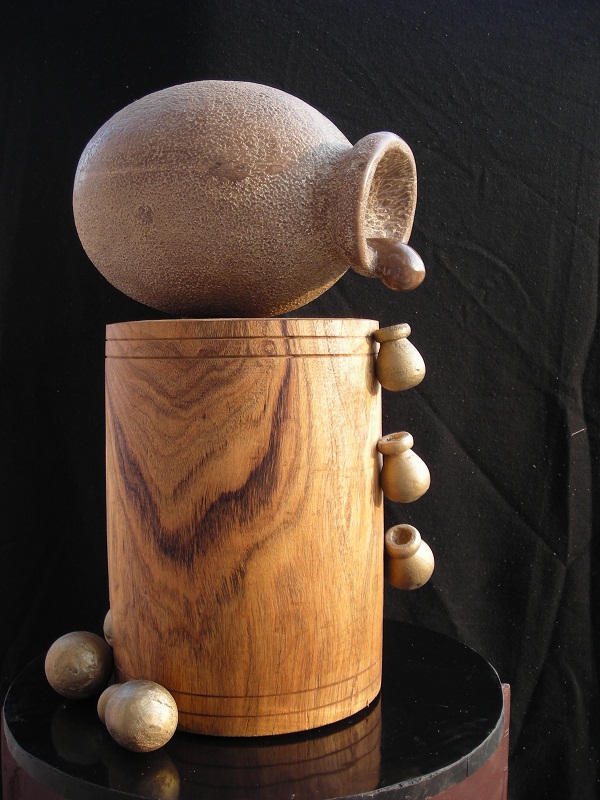 There are many such students and their stories, which were given a happy ending by HOPE. Inspired by all these struggle full but motivational stories, the chief editor of Lokmat Times, Shri Mukesh Walke, had also published a book based on HOPE titled 'The Unknown living legends'.
And now, about Amol himself!
HOPE is not just an organization for Amol Sainwar. Amol wants to relive his childhood with these kids who are associated with HOPE. Amol lost his father when he was just 8. To support his mother in looking after him and his 3 sisters, Amol started selling bread and gathering coal from the streets at this tender age. He also joined a garage and used to change tyres of cars during his vacations when other kids enjoyed their holidays.
He passed 12th standard after facing lot of difficulties but was a bright student always. He decided to do D.ED instead of doing a degree in engineering just because at that time the only course he could afford was D.ED. But his two teachers and the principal of his school believed in his caliber and hence supported him to get into engineering. Their belief in him was not misplaced, and Amol stood first in his college and second in the whole university in his final year of B.tech.
He worked in Uganda and Dubai for some time, but his heart was always in his small village where there were many such Amols like him. He had only one thing in his mind – that all the Amols back in his hometown won't be lucky enough to get their teachers' help to study further. And he can't let them suffer like he did. This pain from his past and the urge to make a better future for others like him propelled him to establish HOPE in the year 2007.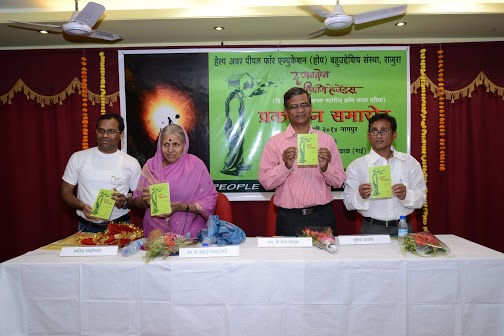 But just helping the students for higher education was not enough. Amol, who was born and brought up in a small village of Rajura, Maharashtra knew his people's problems at the grass root level. He came across many villages in Maharashtra which were still in dark even after 67 years of our independence. Lonewadi was one such village in the Yavatmal district of Maharashtra, which had no electricity or water supply. Students used kerosene lamps to study after dusk.
These kerosene lamps had a lot of health hazards associated with them. For such students HOPE introduced 'Vidya Deep', a solar lamp.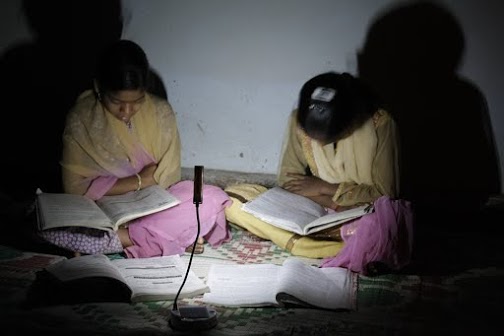 After distributing hundreds of Vidya Deep lamps to the needy students, now it was time to transform the whole village. Amol, along with the team of HOPE went ahead and installed solar operated street lights beside every road of this village. By now, he had also distributed 'Vidya Deep' to each and every house in this village.
Lonewadi is situated on the hills, and as there is no electricity, the water could not be brought up to the village with the help of a pump. The villagers had to go down the hill to get water every day, which was dangerous especially during the rainy season. But the HOPE team had a solution for this too.
A solar-operated water distribution system was installed, which now provides drinking water to the villagers without any hassle.
The struggle was not yet finished. Electricity was still a major requirement for several other issues like getting technology into the schools and pumps for better irrigation. After cumulative efforts by HOPE and the villagers for about 3 years, roads and electricity were provided to Lonewadi by the government. Finally, with all these efforts, electricity reached Lonewadi in the year 2014. The first ever computer was installed in the school of Lonewadi, which was also reconstructed by the HOPE team.
Lonewadi is a self-sustained, one-of-its-kind village now. HOPE calls it an 'Adarsh Gaon'. But for HOPE, the mission still continues. Villages like Sondo, Kinhi, Mahadev and Gauri are on their journey towards becoming an 'Adarsh Gaon' with the help of HOPE. Amol and his team are already headed towards the next student and the next village to transform their lives.
"I believe in the vision of Swami Vivekanand and APJ and hence have a vision & dream to see our motherland developed before I take my last breath. Our Hindustan lies in Rural India and I believe in the development of our country by providing urban amenities to rural area. Let's empower our villages. I believer each village of our country will become an Adarsh Gaon if we get one 'ANNA' in each village. Here I appeal to youths to come forward and work for it," says Sainwar.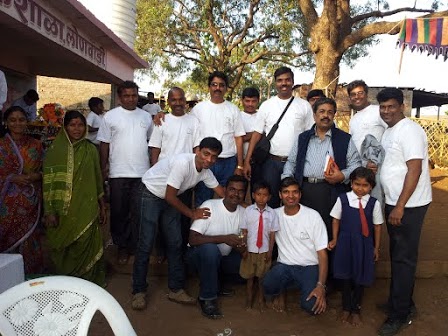 For more information on HOPE please visit Amol Sainwar's facebook page or contact Amol at – amol.sainwar@gmail.com
Like this story? Or have something to share? Write to us: contact@thebetterindia.com, or connect with us on Facebook and Twitter (@thebetterindia).
We bring stories straight from the heart of India, to inspire millions and create a wave of impact. Our positive movement is growing bigger everyday, and we would love for you to join it.
Please contribute whatever you can, every little penny helps our team in bringing you more stories that support dreams and spread hope.