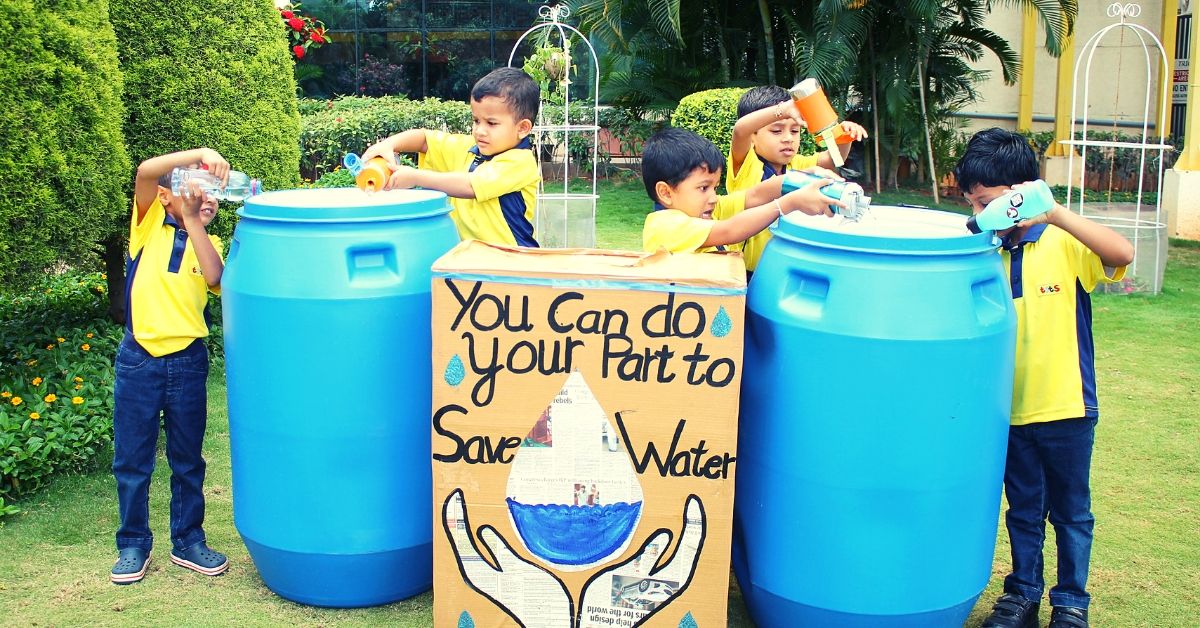 What's more? Water aerators installed on school taps reduces water wastage by 60 per cent!
India's demand for water is also expected to be twice that of the supply by 2030.
While the government is taking measures to overcome the water crisis, hundreds of citizens and communities across the country are doing their bit by practising Rain Water Harvesting (RWH).
This simple act of collecting and using rainwater is an ancient practice, and yet it has never been more relevant than it is today.
---
Be a part of the community that saves every drop of water. Check out water-saving and cost-effective devices that you can install at home here.
---
RWH can go a long way to help mitigate the effects of depleting groundwater levels and fluctuating climate conditions. It can help recharge the water table, reduce urban flooding and finally, ensure water availability in water-scarce zones.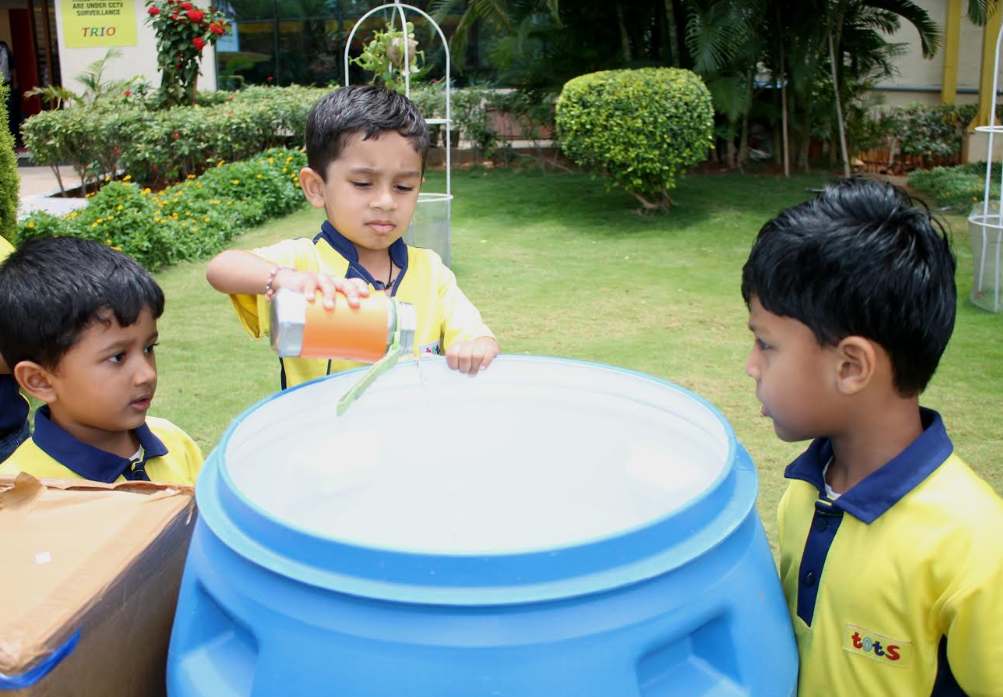 The Trio World Academy, a school in Bengaluru, has joined the bandwagon and introduced several initiatives which aim to influence its students to conserve rainwater, recharge groundwater tables and educate students about the judiciously using the precious resource.
In 2017, it installed two types of RWH structures—roof-based and land-based. Water saved on the rooftop fulfils the water needs for gardening and water captured on the ground recharges the groundwater tables.
There are a total of 12 pits in the premises, each with a holding capacity of 10,000 litres.
We strongly believe in rainwater harvesting, as schools have a vast catchment area consisting of not only the rooftop but also the huge playground that can collect the runoff water. The RWH system not only helps in water augmentation in terms of groundwater recharge or storage but also acts as a flood control measure. It is an initiative to teach the students about rainwater conservation and in a small way giving it back to nature, says Naveen KM, the Managing Director of the school, to The Better India (TBI).
To further champion the water-saving cause, the school authorities have installed water aerators on 50 taps meant for handwashing.
As per Naveen, each aerator reduces the wastage of water by 60 per cent by controlling the water flow.
"More often than not, children tend to leave the tap open while applying soaps and even forget to turn off the faucet properly, and this leads to nearly hundreds of litres of water getting wasted every month. These aerators are proving to be an effective water-saving tool for the school," he adds.
Another unique idea was to get the students to empty the leftover water from their bottles at the end of the day.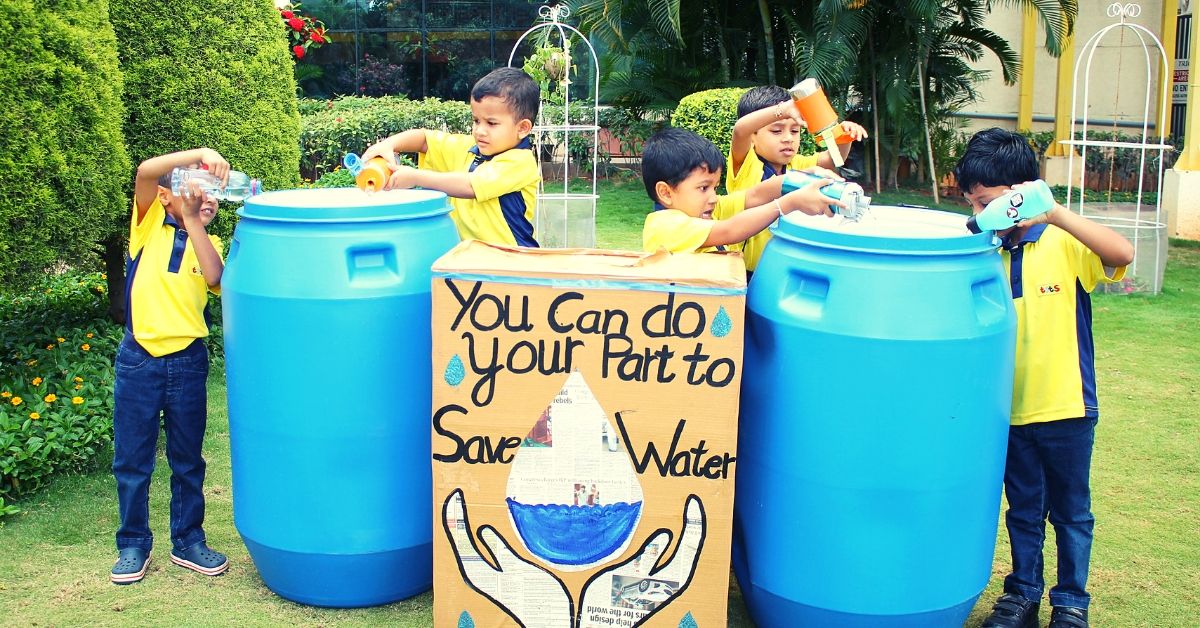 We have kept big containers in and around the school campus. During dispersion time, we have requested parents and children to empty the water bottle in big containers or storage wells kept in the green lawn. This helps the school save 50 litres of water daily which is used for gardening purposes, says Naveen.
The school authorities claim that these measures have saved the school approximately 50 lakh litres of water in the last two years.
These initiatives on saving water and using recycled water in schools also help in learning about the harmful effects of microbeads in our water systems and how to care for and protect our natural waterways. Children are not only the future of our country but also a great source of strength when we want to mobilise masses, says Vinod Singh, the principal of Trio World Academy.
Taking these efforts as an inspiration, many school students are implementing water-saving techniques in their respective homes.
Speaking to The New Indian Express, a student of Class 5 said, "Everyone is doing their bit to save water, and these initiatives help us in applying the same methods at our homes too. The generation ahead needs to be taught about environmental sustainability and water conservation."
If schools across India follow similar practices, the young generation could certainly avert a serious water crisis.
Image Credits: Bishwajeet Bhattacharya
---
Also Read: Delhi School Bans Disposable Plastic, Harvests Sun & Rain To Save Rs 10 Lakh/Year!
---
(Edited by Gayatri Mishra)
Like this story? Or have something to share?
Write to us: contact@thebetterindia.com
Connect with us on Facebook and Twitter.