When the going gets tough, the tough get going. And so, Dr Sekhar Raghavan is visiting housing complexes every day, hoping to use the upcoming monsoons to recharge the groundwater levels of Tamil Nadu's capital.
The Chennai droughts have made not just national but international news. Most residents of the Tamil Nadu capital, whether young or old, rich or poor have been brought to the mercy of a couple hours' supply of tap water or purchased water tanks. Businesses have come to a standstill, families are compromising on their daily chores, and Chennai is reeling under a perpetual thirst, thanks to the drought.
Residents are praying for rainfall, which will recharge the local water bodies. The tanks, they are aware, are not a sustainable solution. Sooner or later, they too will run out of water. Today, the tanker costs between Rs 4,000-5,000. The day isn't far when this amount will not be enough to purchase a few hundred litres of water. A report by NITI Aayog has concluded that 21 major Indian cities will run out of water by 2020. Chennai, as it looks, is already facing this horrible prospect.
---
In these daunting times, every drop of water counts. And if you can save up to 80 per cent of the water you use, why not take the opportunity? These water saving fittings can do all the work for you. Check them out on The Better India Shop.
---
But these trying times have awoken hundreds of residents to the dark reality as well as to their responsibility as extensive users of the city's resources. That we use hundreds of litres of water daily—in taking baths to washing clothes and utensils, but never really replenishing them has started costing us.
Natural resources are not entirely free to use. The price we pay is by using them sustainably.
The timelapse imagery of Chennai's disappearing reservoirs is mind boggling. That's roughly 3 billion cubic feet of water gone in less than a year https://t.co/NcwvYkNrcr pic.twitter.com/hEdu7SXOCC

— Brian L Kahn (@blkahn) June 21, 2019
One man crusading for residents to follow through this responsibility is Dr Sekhar Raghavan. Popularly called Chennai's "Rain Man", Raghavan has been working to encourage rainwater harvesting in the city for over two decades. His tireless efforts are now applauded, and today, in the middle of a water crisis, the eco-warrior receives nearly 20 phone calls daily, inquiring how housing complexes can implement a harvesting system.
"I visit every single one of the homes. We have spread enough awareness. Now is the time to act, and act I will," says the 71-year-old while speaking to The Better India.
Born and raised in Chennai, Dr Raghavan has been living in a housing complex near the beaches. This detail is crucial for the story because the location of his house was the catalyst in making him the water conservation crusader he is today.
"I have been living in the house for about 50 years now," he explains, adding, "The way my locality developed has always worried me. Cement roads and constructed buildings have blocked water from percolating into the ground, and so, all the water finds its way into the sea. It either meets the sea or floods the city. In 1995, I started going door to door, pleading people to harvest rainwater. Initially, I got a lot of resistance, but within three years, I had established the importance of my message. That was the starting point of my crusade."
Once Raghavan's message gained momentum, he formed a 'Rain Centre' (RC) to organise the efforts of harvesting rainwater on a city level.
As you harvest, so shall you reap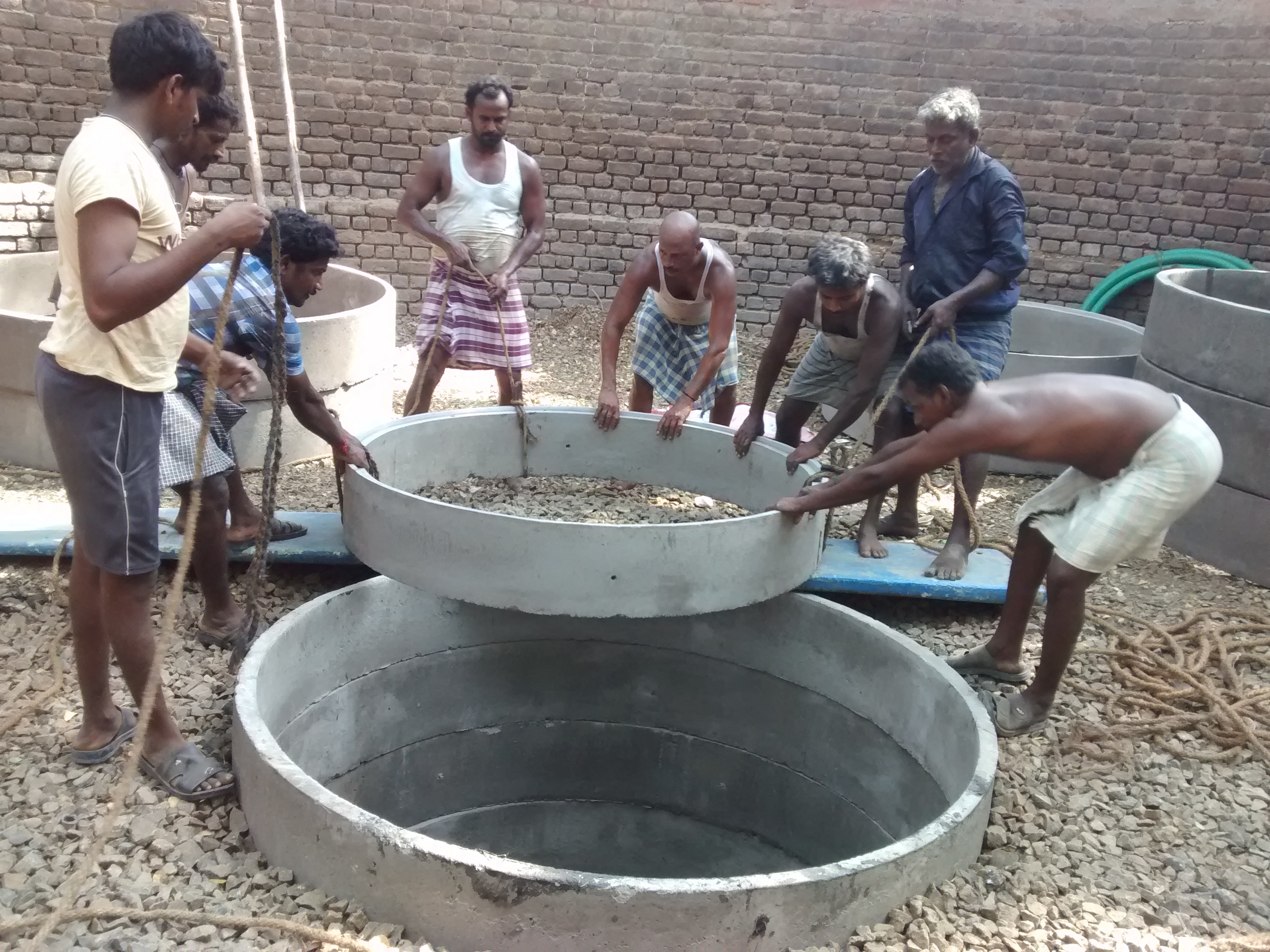 The year 2003 saw a great policy boost for Tamil Nadu as the state government issued a mandate for all buildings to have a rainwater harvesting system. Non-compliance could result in fines or cutting of the government water supply.
"Tamil Nadu received less than average rainfall in 2003 and 2004, and so, for the people who implemented the harvesting system, the results were not evident. In the following year, however, we got heavy rain which replenished the groundwater. This was reinforcement enough for thousands of residents to acknowledge and appreciate the benefits of harvesting water. Even then, my studies showed that about 40 per cent of the total buildings actually implemented good quality systems. The benefits of which we can experience today," the doctor says.
RC, led by Dr Raghavan, also consists of a team of plumbers and well-diggers who conducted surveys of rainwater harvesting systems across the city. They wanted to show the residents a model house for rainwater harvesting. After the 2005 rainfall, they saw the groundwater levels go up by 20 feet—a positive sign for them to pursue their cause.
Desperate times, undaunted efforts
Today, over a decade since Raghavan united efforts to conserve water, Chennai is once again realising the importance of his message. As a result, RC gets nearly 20 calls every day, asking the experts for their advice and quotations on a harvesting system. So far, he has successfully helped 500 houses harvest rainwater.
Speaking about how he is helping residential complexes in their efforts, Raghavan says, "I spend nearly three hours every night responding to every e-mail. I have received about 300 messages so far and have visited 100 senders. I am glad that people have finally understood the importance of water harvesting. Each location is grouped area-wise and I visit one locality every day. We can't depend on the government for everything. Some efforts need to be made by individuals, and I will leave no stone unturned in ensuring sound guidance to those willing."
Here is a basic outline of what they do:
– Identify the water catchment areas and a slope which allows smooth flow of water.
– Build a recharge well to store the collected water and a source well to extract it.
– A pipeline connects rooftops (which has the largest surface area in any housing complex) and driveways to the recharge well. Speed breakers are built on driveways to direct water to the recharge wells.
– Recharge wells are about 1 foot tall, 15 feet deep, and 3-5 feet wide, depending on the area of the housing complex and the amount of rainfall in the area. The price of constructing the well depends on the width, although the consultation is free.
– The aim is to dig a few feet deeper once you reach the sandy layer in the earth. This way, the water gets filtered and recharges the groundwater.
Considering the urgency of the situation, RC is giving the highest priority to housing complexes that have 200 or more flats.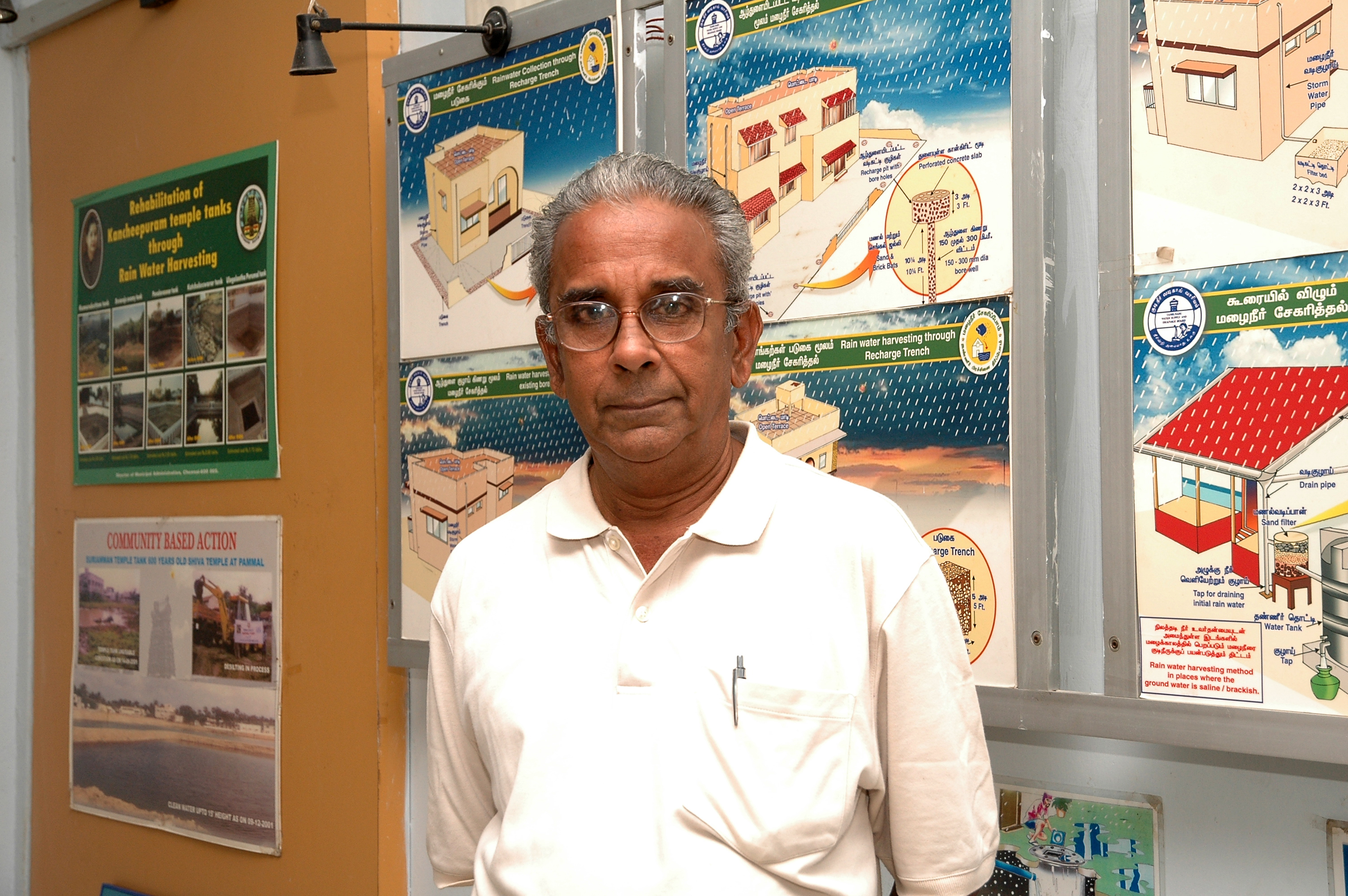 Then come the complexes with fewer flats, and at the end of the list, are independent houses which have big gardens and require less domestic water.
"There are two kinds of rainwater harvesting," the doctor tells us. "One that collects water in your building sump, which requires you to add a filter but you can have the collected water for your domestic use. The second method is to recharge the groundwater, which is our primary focus. I can see people coming together for a good cause because of the drought. Constructing harvesting systems is not as expensive as paying for tankers every summer, and so, hundreds of people have come forth to get the harvesting systems although these won't benefit them individually."
---
You May Also Like: As Chennai Struggles For Water, This Man Has Enough For 6+ Months!
---
Rains are the predominant source of freshwater in India, melted snow being the second. Since the topography and climate of our subcontinent do not allow for the second option, it is upon us to take responsibility for the first. We cannot keep exploiting nature and expect it to replenish itself when we obstruct this cycle with our ever-increasing population widespread use of chemicals and unchecked pollution. Modern problems sometimes require traditional solutions like harvesting available resources and giving back to nature what it gives us.
To get in touch with Dr Raghavan, write to him on sekar1479@yahoo.co.in. He may be busy helping others throughout the day, but he is sure to answer your e-mail at night. You can also call them on 044 24416134/044 24918415 or visit their website.
(Edited by Shruti Singhal)
Images Courtesy: Dr Sekhar Raghavan
Like this story? Or have something to share? Write to us: contact@thebetterindia.com, or connect with us on Facebook and Twitter.
We bring stories straight from the heart of India, to inspire millions and create a wave of impact. Our positive movement is growing bigger everyday, and we would love for you to join it.
Please contribute whatever you can, every little penny helps our team in bringing you more stories that support dreams and spread hope.