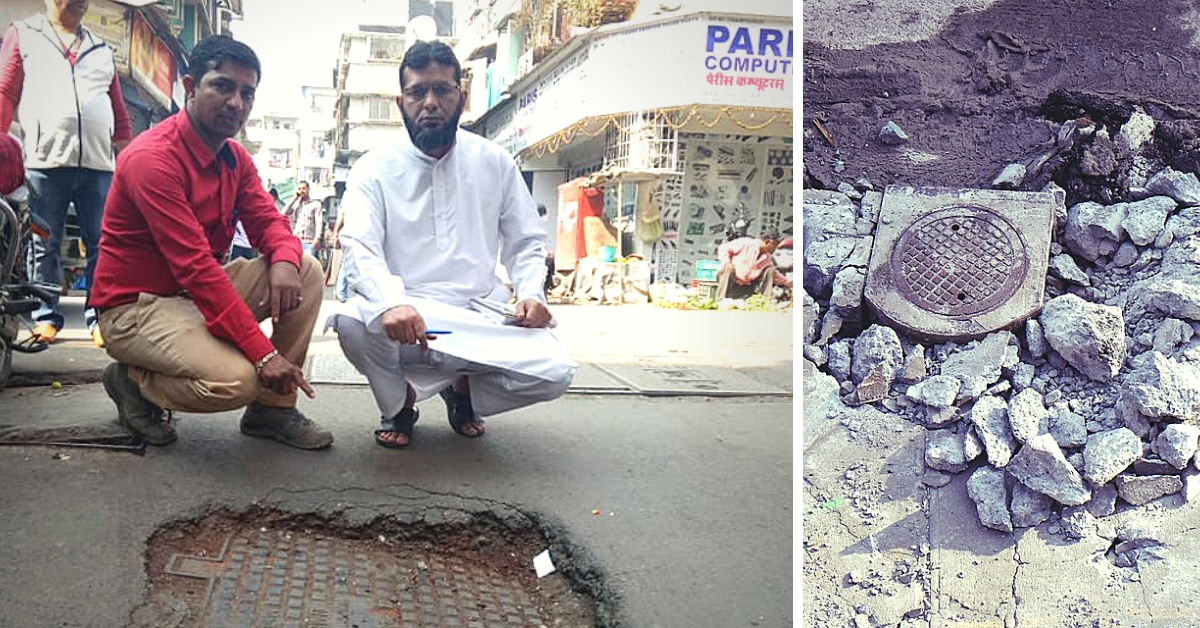 Taking time out of their regular lives, both, a businessman and an automobile dealer, have been inspecting streets of Mumbai to spot the pitfalls.
In August 2017, the death of Mumbai's top gastroenterologist Dr Deepak Amarapurkar after falling into an open manhole, caused an uproar about the lack of safer roads.
However, like most waves, this eventually died out with time.
While, on the one hand, dust gathered over the issue diluting the once-vehement public outcry, on the other hand, two Mumbaikars prepared to put this to an end.
Their guiding motto: not to wait for anyone to lose a limb or their life, for the civic authorities to take action.
Owing to this, back in July 2018, the duo, Irfan Machhiwala and Mushtaq Ansari began to fill potholes on the streets of Mumbai. They have now centred their focus on open or sunken manholes and broken drainage covers.
Two years after the tragic incident, on January 10, they launched a city-wide campaign against such dangerous spots to make Mumbai's streets safer.
https://www.facebook.com/muhammadirfan.machiwala/videos/vb.100001575943516/2296002900462219/?type=2&video_source=user_video_tab
Taking time from their daily lives, Irfan, who runs a seafood business and Mushtaq, an automobile dealer, have been screening the city's streets on a bike for the past five days.
Speaking to The Better India, Irfan said, "As citizens, we are concerned about other Mumbaikars walking and riding on these streets, and that is what inspired us to take it up. After our trips, H-West ward in Bandra was found to be one of the most affected areas."
In the last two weeks, they have already identified 62 manholes that were either not covered properly or were not on the level as the road.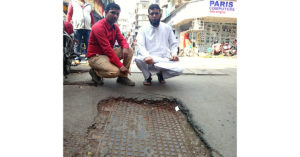 "Each time new roads are made, the contractor needs to make sure that the old drains are properly covered and adjusted according to the new level. But, that is not done most of the times. Even the existing covers are not always sealed properly. This creates a bulge or depression on the road, making it extremely dangerous for pedestrians or two-wheeler riders," he added.
As per the findings, the manholes and openings of stormwater drains are situated on Ambedkar Road and SV road in Bandra West, and Dharavi, Wadala, Sion Koliwada, Reay Road, Sewri and Fort.
After inspecting with rectangular and circular lids, the duo clicked photographic and video evidence to post on social media. They have even lodged a number of complaints on the BMC's websites.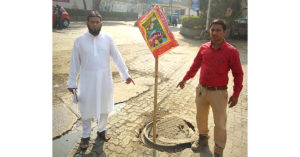 Once such a complaint is registered, the BMC has to move to action within a week. But, after complaining about 62 spots in the last two weeks, repairs have begun only in two areas so far.
Thanks to their efforts, repairs in Bandra West and Sion Koliwada are underway. Irfan, however, is hoping for faster and more positive action.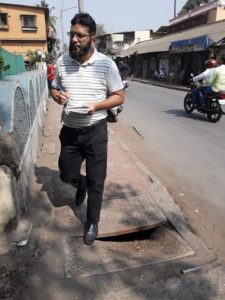 "The BMC is currently repairing the broken covers and not the sunken manholes or the potholes, so we will continue to push for those. It is a slow beginning, but we hope to bring a faster change with our consistent efforts," he said.
As an example for citizen impact, the duo hopes to continue the job till the city is free from such pitfalls.
"Someone has to take up the baton and put a lid on unsafe roads and bad management. So, this time, it's us!" Irfan concluded.
(Edited by Shruti Singhal)
---
Also Read: When BMC Failed, Mumbaikar Spent Hours Alerting Motorists About Open Sewer!
---