---
In the MY STORY section, we present some of the most compelling and pertinent stories and experiences shared with us by our readers. Do you have something to share? Write to us: contact@thebetterindia.com with "MY STORY" in the subject line.
---
Shankar Ji travels all the way from South India to trek the Himalayas every year. He does not hesitate to embark on some of the most dangerous treks even as he crosses 63 years of age. What's more, he carries his own baggage too and does not employ a porter! With increasing age, his passion to explore is rising too. Read more about the inspiring traveler.
I firmly believe that Indians are the greatest gumakkads (wanderers) in the world. Today we meet one such gumakkad who has traveled across the length and breadth of this country. In literal sense!
All I knew about Shankar R before writing this post was that he successfully completed the treacherous Manimahesh Kailash Parikrama trek. This fact alone was enough for me to seek more information about him and when I got to know about him I couldn't help writing a blog post.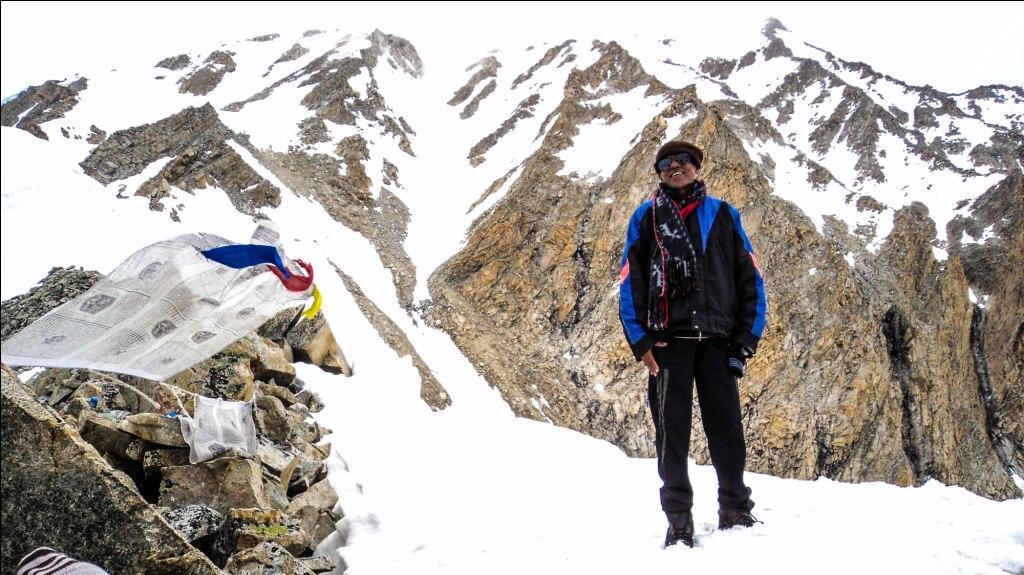 And before I even start, let me tell you one interesting fact about Shankar Ji. He has successfully managed to walk across the treacherous yet equally rewarding Kalindi Khal Trek in the Uttarakhand Himalaya. Kalindi Khal is a trek where even the best in the business think twice before venturing out.
Having gone through his photographs, I can say at least one thing about him with absolute certainty – he loves walking and he has some cosmic connection with the majestic mountains of Himalayas. How else would you explain a Tamilian guy visiting these Himalayan wonderlands every year without fail?
All the way from Chennai to the highlands of the Himachal Himalayas!
In conversation…
What all major treks you have done so far?
To name a few, I have been fortunate enough to tread on the Manimahesh Parikrama Trek, Lamkhanga Trek, Srikhand Kailash Trek, Chadar Trek, and before I forget, the Kailash Manasarovar Parikrama.

How and when did you get into the world of trekking? Tell us how did it all start?
I started as a solo traveler right from the age of 27. I started out with an idea of covering all the major temples of India, which I did, fortunately. During one such journey, a fellow traveller told me that I can be a good trekker. And that got me going!
At the age of 50, I was selected by GoI for the holiest Kailash Manasarovar Parikrama Yatra. What more one can ask for in life? I have been fortunate enough, that's all I can say.
Back then I was a little fleshy and I managed to walk all the way through the KMY trek. It turned out to be a turning point in my life. Prior to KMY, I was just a [religious] pilgrim, but now I see these rivers and mountains as a part of my own being. The KMY became the new beginning of my trekking life. Words can't explain how I started to feel after KMY.
What about your family? How did they react when you took to the world of trekking?
Family support is always important and my case is no exception. My family was always supportive but these days they worry because of my age.
I think its in my genes. My father did his Bharat Yatra way back in 1938. Even my Polio affected brother has visited Badrinath Dham. So I am sure it does run in the genes.
Trekking is a damn expensive hobby, how do you manage your finances?
If you take out travelling from my life, I don't have any other hobby or recreational expenses. Therefore, my travelling is my pilgrimage, hobby and recreational activity. All my retirement money, whatever I could manage, is resting in my bank account and I travel off the interest coming from it.
To be honest, I never purchased clothes after my retirement and that's why I have got little expenses to worry about.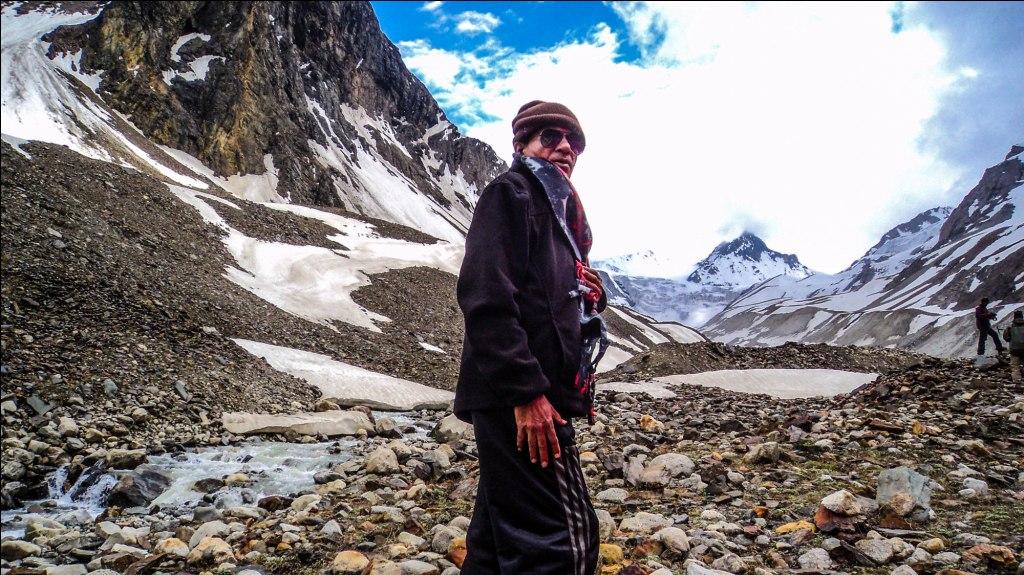 List down your five major treks. And why are they special to you?
As I have mentioned already, KMY changed my world-view perspective entirely. It was not just a test of my physical strength but also my mental ability. I was 58 when I did the KMY Yatra. The secret lies not in the Kailash or in the Manas, but in the journey. It is the journey that takes you close to the Shiva.
My efforts were appreciated by not just my companions but even lauded by the Army people. I think they were just being generous.
Meanwhile, I was also told that I did not have a suitable pair of shoes and warm clothes that one must carry on the KMY expedition. I think I was just lucky!
The second one I must talk about is the Kalindi Khal Trek. I met two trekkers from Poland enroute Dothital in UK. They encouraged me to take up the Kalindi Khal challenge and surprisingly I too agreed. This idea was further cemented by the unending support extended by Tilak Soni (Where Eagles Dare). A lot of messages were exchanged along with copies of insurance premiums and doctor's certificate, and finally I was on my way to chase another one of my wildest of dreams. I was 63 at that time.
I think I was just lucky enough.
Recently in June 2014, I also managed to successfully complete the Lamkhanga Trek.
Porters or On Your Own?
I prefer to carry my stuff on my own. Rarely I have used the services of a porter. I carried my backpack during the Lamkhaga and Srikhand Trek.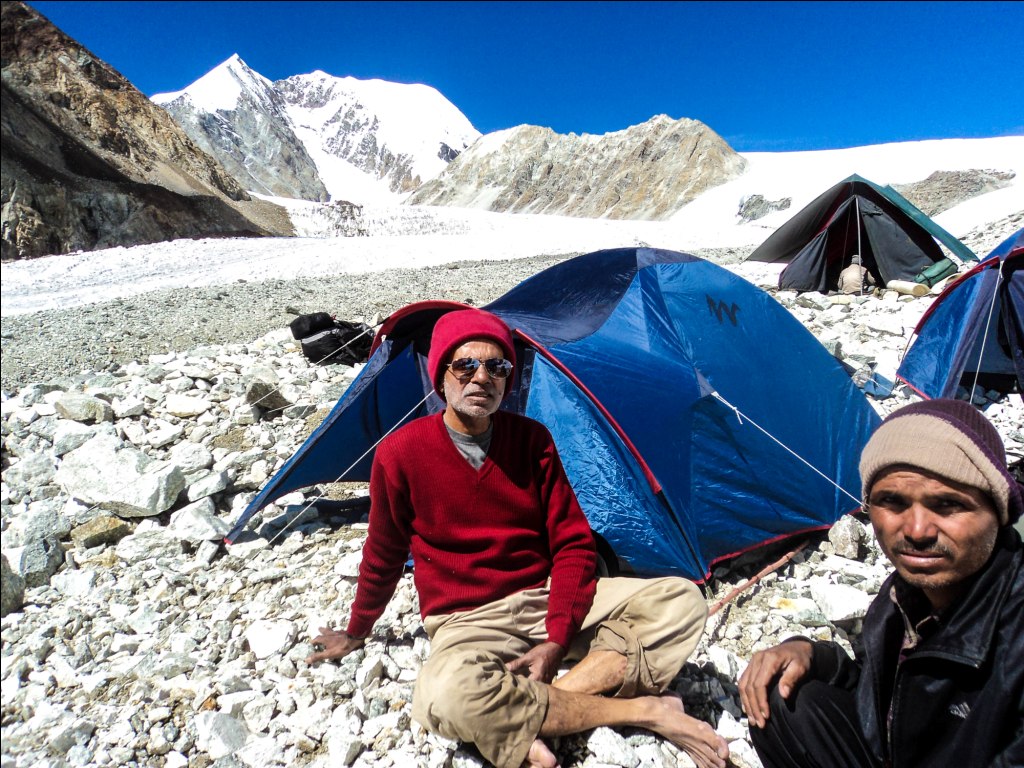 Any Wise Words?
The younger generation should have a positive attitude and a strong mind. One must befriend Mother Nature and not try to conquer it because that's just not possible. Friendliness towards nature is more important than anything else.
Coming all the way from down south to the Himalayas, have you ever thought of settling in here?
I would love to but its not feasible. I have to be with my family and physical presence is more important than financial backing. Life is meaningless without spiritual experience and my travels are my way of reaching out to the higher spiritual spheres. Although I am single, I live with the memories of my travel.
My travel journey is still going strong and the passion to visit new places is increasing. I just hope that journey never ends.
I just wish to be luckier. The way I have always been.
I have not had the pleasure of meeting Shankar Ji yet but eventually we shall meet someday because the Himalayas are the greatest common factor between us.
I befriended him on Facebook some time ago, and since then all I would hear from him is just these two words; 'very nice Tarun' and 'Great Tarun' on every photograph or blog post I would share on my timeline. Recently we had the longest conversation of our Facebook lives and that too didn't last more than 25 sentences.
– Tarun Goel
This story was first published here.
Like this story? Or have something to share? Write to us: contact@thebetterindia.com, or connect with us on Facebook and Twitter (@thebetterindia).
About the Author:
Tarun Goel belongs to the mountains of Himachal Pradesh. Of late he has come to believe that he is just a thought wandering in the Himalayas. Just a thought! You can find him blogging at
www.tarungoel.in​