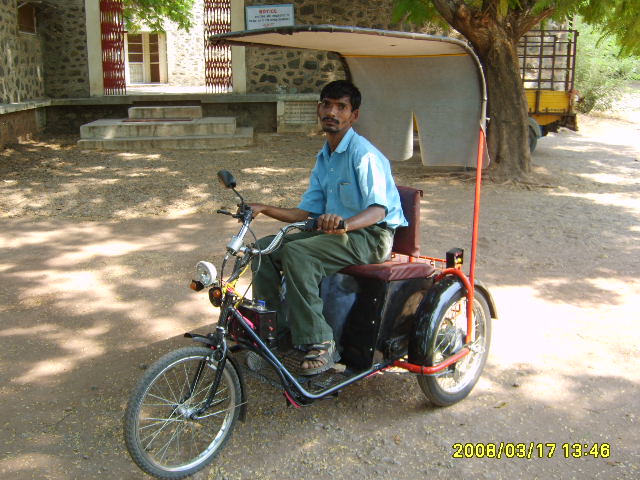 Dr. Rajvanshi saw the physical trouble rickshaw pullers go through and he invented these four electric rickshaws to simplify their work. Modifying the humble rickshaw, he made these amazing vehicles that can also be converted into a bed for the driver and are disabled-friendly too.
Dr. Rajvanshi saw the physical trouble rickshaw pullers go through and he invented these four electric rickshaws to simplify their work. Modifying the humble rickshaw, he made these amazing vehicles that can also be converted into a bed for the driver and are disabled-friendly too. 
A long time ago, in the 1960s in fact, a kid named Anil Rajvanshi would regularly go on cycle rickshaw rides. And whenever the rickshaw went uphill, that kid would get off and push it along with the rickshaw-puller.
Today, the same kid is Director of Nimbkar Agricultural Research Institute (NARI) in Phaltan, Maharashtra, and is working to simplify the rickshaw-pullers' manual efforts through his amazing innovations. "To my young mind the idea of one human being engaging in hard physical labour to transport another was quite shocking and horrifying," Dr. Rajvanshi recalls.
Through his NGO, Dr. Rajvanshi and his team has modified the humble cycle rickshaws into electronic rickshaws.
"I observed that the regular rickshaws in Lucknow were very poorly designed and required a great amount of manual effort to pull them, especially on upward slopes and against the wind," he says.
To address the much ignored problems of this community, Dr. Rajvanshi started researching on new ways to design rickshaws and was ready with a modified version in 1995. Since then he has innovated four unique types of rickshaws which have been sold in various countries.
Improved Pedal Rickshaw (IMPRA)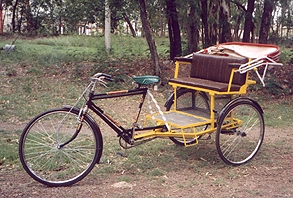 IMPRA was the first model that NARI worked on. The regular rickshaw was modified and was given three speed gears. To make it easier to use, back wheel breaking was also provided along with better suspension and less aerodynamic drag as compared to the existing rickshaws.
The light weight rickshaw (around 70 kgs) was designed in such a way that the seats could be used to make a nice long and comfortable bed where the rickshaw-puller could sleep at night.
"We observed that most of the rickshaw pullers sleep on their vehicles only, so we thought of using the seats to make a bed," he says.
The rickshaw can take two passengers easily on a slope of 6-10 percent and costs around Rs.10,000 (in mass production). The model has been successfully tested and a few pieces were commissioned in Europe, USA and Canada.
Motor Assisted Pedal Rickshaw (MAPRA )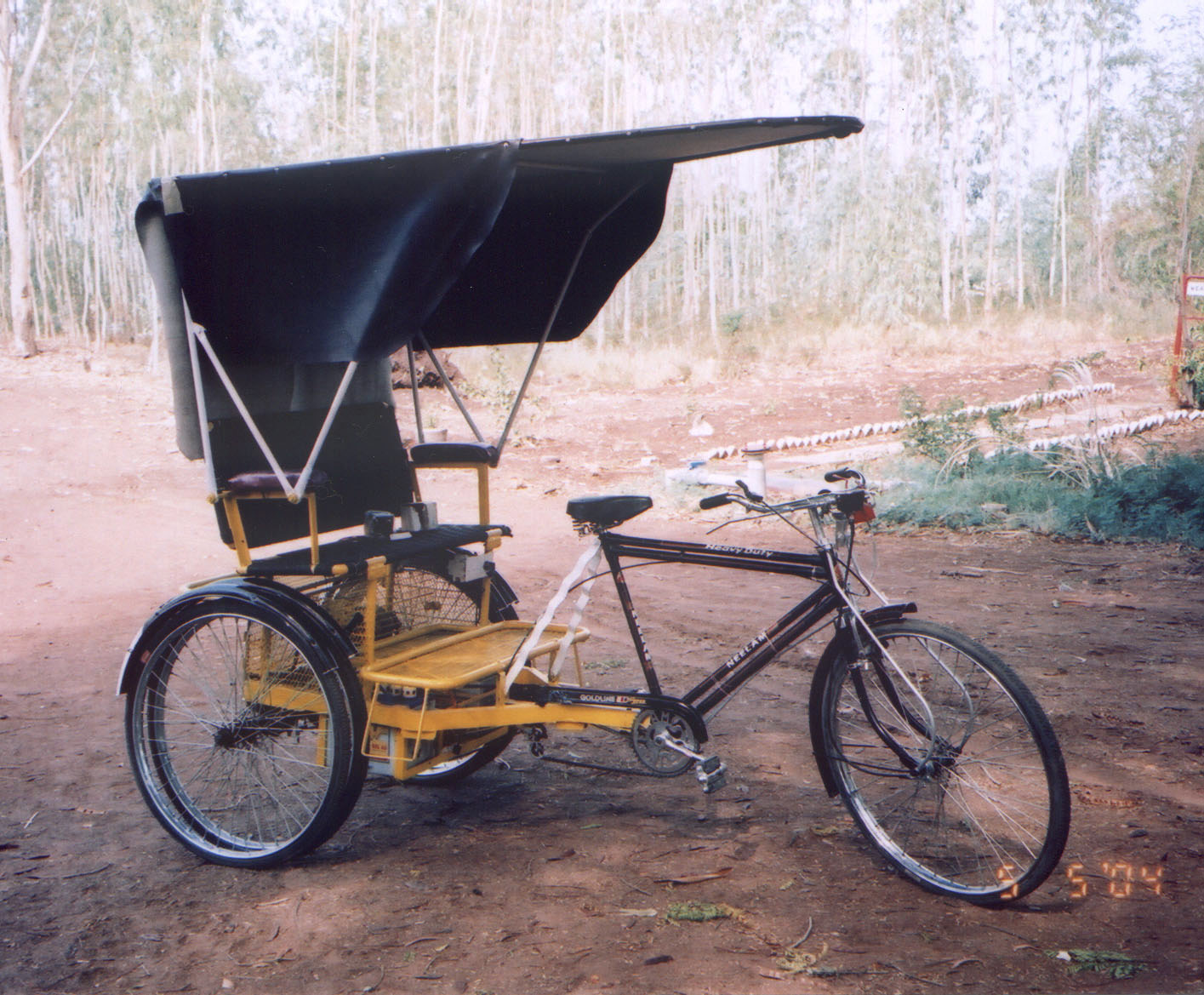 MAPRA was designed to further increase the ease of pedalling of the rickshaw. Apart from reducing the manual labour, the rickshaw puller can pull the vehicle to a greater distance which will eventually result in better income.
The rickshaw-puller is assisted by a motor which comes on with the use of a manual switch whenever the need arises.
MAPRA can run at a speed of 14-16 kms/hour on level roads and on a 10 percent slope it can easily carry two people at a speed of 8-10 kms/hr. It costs around Rs. 35,000.
The motor runs on batteries. MAPRA weighs 129 kgs and can run for 45 kms at a stretch when the battery is fully charged. The battery needs 67 hours to get fully charged and needs to be replaced every two to three years.
"We realized that most of the rickshaw-pullers are not the owners. The high cost is something they cannot afford. So we had planned to start a Rickshaw-Pullers Co-operative Society that could provide soft loans to the rickshaw pullers to buy MAPRA. The cost can be repaid in instalments on a daily basis and so will not be too much of a burden on them," Dr. Rajvanshi says.
Electric Rickshaw (ELECSHA)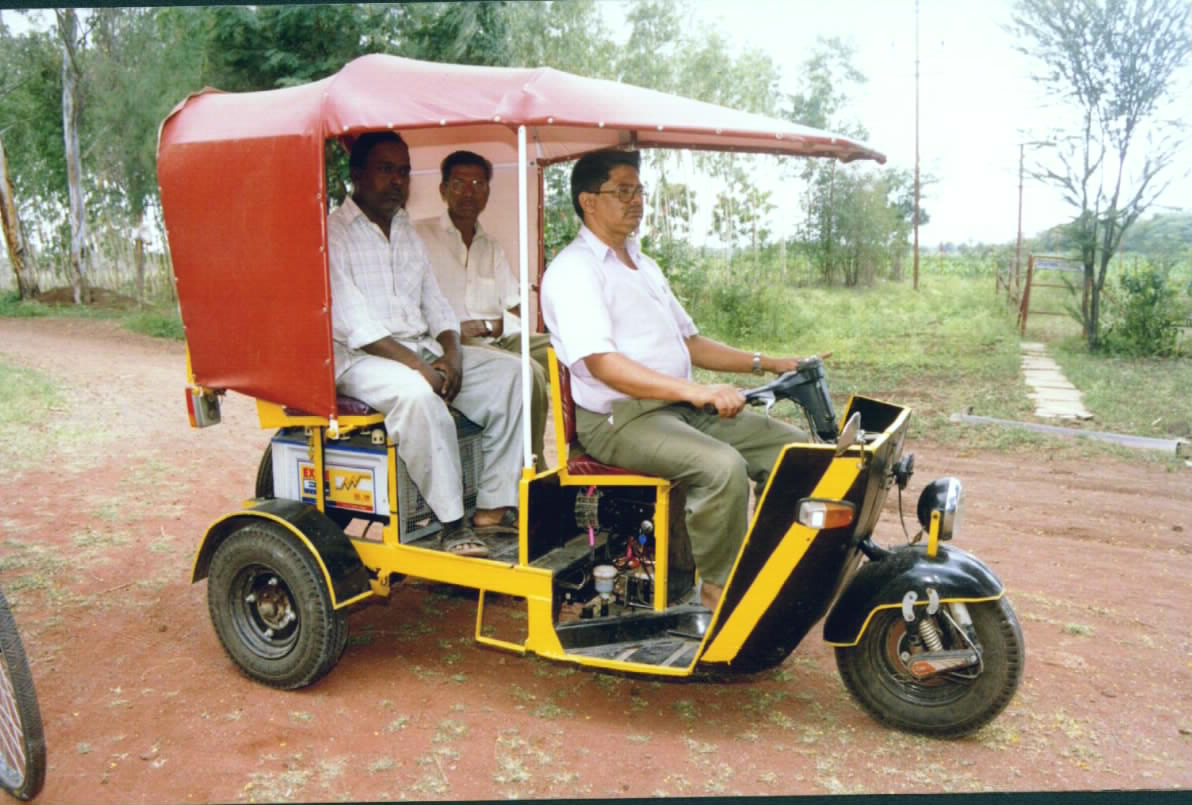 "In most cities, we see petrol or diesel operated auto-rickshaws. This is a costly and polluting mode of transportation, so we decided to invent an alternative to these rickshaws," Dr. Rajvanshi says.
ELECSHA uses 40 percent less energy than petrol and diesel operated vehicles. It has a PMDC motor, lead acid batteries, two speed specially designed gear box and an electronic card for a soft start. Besides, it also has a reverse gear.
It can easily take two to three passengers at a speed of 35-40 kms/hr and can run up to 60-70 kms per battery charge. This model is available at Rs. 1,50,000 and NARI is ready to negotiate the transfer of this technology to interested parties willing to manufacture this model.
MANHARA (Motor Assisted NARI HAndicapped RickshAw)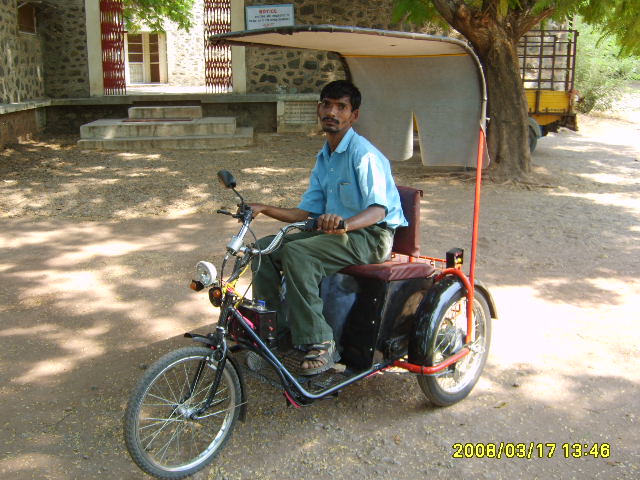 "It is very sad to see that our country is not at all disabled-friendly. From bus stands to other public places, people with disabilities have to face a lot of problems. That is how the idea to invent MANHARA came about," Dr. Rajvanshi says.
Powered by a small electric motor which runs on batteries, this technology is suitable for a handicapped person to travel. A physically challenged person can choose to use the hand pedal, while there is also a motor that can assist him in making this process much easier.
"There are close to 3-4 million physically handicapped persons in India who have capable hands but need a wheel chair for mobility. This can also be a great means to increase the livelihood options for persons with disability," he says.
In one battery charge, MANHARA can run for 25-30 kms at a speed of 10-12 km/hr. The vehicle also has a big basket at the back which can be used to carry goods.
"Apart from using it as a rickshaw, they can use it for small businesses like courier service, delivery of small goods, etc.," Dr. Rajvanshi says. The cost of this vehicle is around Rs.25,000.
The Challenges
The heavy weight of the battery comes as a challenge in some models. Also, a lot of trouble was faced in finding the high quality, low-cost batteries.
More research needs to be done to improve the controllers. "The problem is that people here do not want to spend on Research and Development. We just buy things from other countries rather than creating them ourselves," Dr. Rajvanshi says.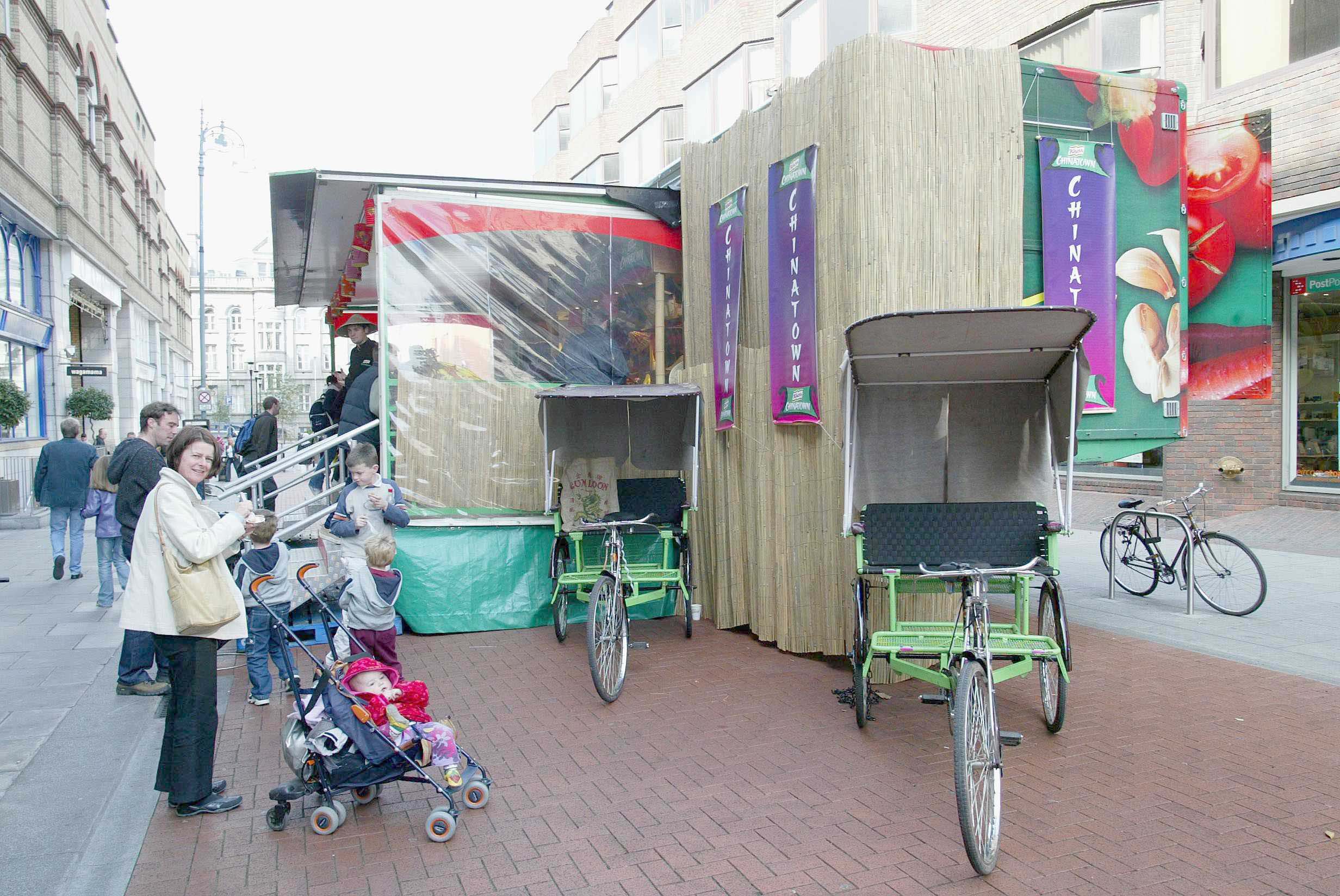 The Future
Having sold a few units of these modified rickshaws abroad, Dr. Rajvanshi is now looking to modify these models for a better result and to make them more accessible to Indians. For this, he is open to speaking with genuinely interested people who would be willing to take up this technology and improve upon it with the aim of commercialization.
"In the future. I would be more than happy to share my ideas to improve this technology and make it available on a larger scale," he says.
To know more about this innovation and other amazing works of Dr. Rajvanshi, contact him at – anilrajvanshi@gmail.com. You can also read more about him in his book – Romance of Innovation.
Know more about his interesting innovation Lanstove- a stove which is also a lamp, here.
Like this story? Or have something to share? Write to us: contact@thebetterindia.com, or connect with us on Facebook and Twitter (@thebetterindia).
We bring stories straight from the heart of India, to inspire millions and create a wave of impact. Our positive movement is growing bigger everyday, and we would love for you to join it.
Please contribute whatever you can, every little penny helps our team in bringing you more stories that support dreams and spread hope.