When Mansukh bhai suffered severe loss in the Gujarat earthquake, he got an idea to make a fridge out of clay. He invented "Mitticool" which runs without electricity and also preserves the original taste of the food items. Apart from a fridge, he has invented non-stick earthen tavas, earthen thermos flasks, etc. Know all about the man who is helping millions with his amazing environment-friendly and pocket-friendly innovations. 
Mansukh bhai Prajapati, a traditional clay craftsmen, has transformed traditional clay items into an innovative range of products which he calls Mitticool, 'mitti' meaning clay in Hindi. The Better India sheds lights on the entrepreneurial journey of this tenacious innovator.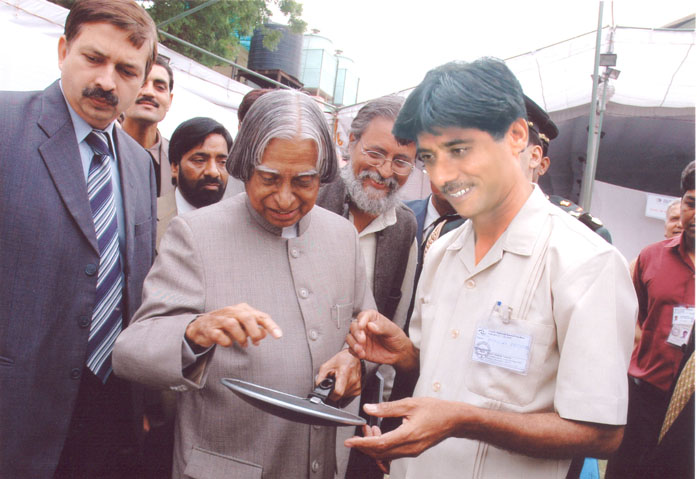 Born in Nichimandal village of Morbi, Rajkot, Mansukhbhai was exposed to traditional clay making since childhood. But, due to the precarious financial situation of the family, he had to leave studies early and take up various odd jobs to support the family.
Entrepreneurial Streak
In 1988, he left his job and took a loan of Rs. 30,000 to start his own earthen plate manufacturing factory. Mansukh bhai modified the roof tile making hand press and developed a hand press machine having a capacity to produce 700 earthen pans per day. He sold one pan for 0.65 paisa and within 2 days he could sell the entire 1st batch.
This continued for some time. However, he started getting negative feedback from customers regarding the durability of the tavas (pans). He then experimentally varied the proportions of clay to get a mix which was more heat resistant and durable.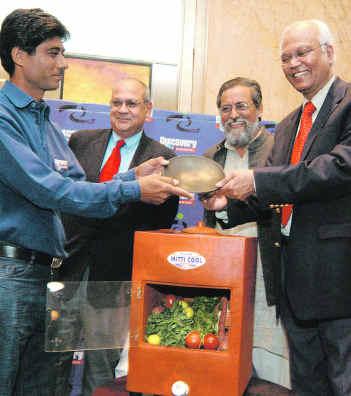 In 1990, he got his unit company registered. And in 1995 he got a bulk export order for water filters from Nairobi, Kenya. Finally, the Trade Mark 'Mitticool' was registered in 2001.
Tragedy
In the calamitous earthquake of 2001, Mansukh bhai suffered huge irreparable loss. His stock was decimated to a large extent, and whatever remained, he distributed it among the earthquake victims in Kutch.
Idea for Mitticool Fridge
In February 2001, Sandesh Gujarat Daily carried a photo feature on the earthquake where at one place it showed a broken water filter of Mansukhbhai with the caption 'Garibi Ka Fridge Tut Gaya' (Fridge of the Poor got broken)
This caption motivated him to work hard and create a fridge that could be used by rural masses. In 2002, he started working on the refrigerator design and came in contact with GIAN (Grassroots Innovation Augmentation Network), which assisted him in various stages of product development.
Mitticool – The Natural Refrigerator
The principle of cooling used in this simple machine is the same as that of earthen pots. It does not require electricity or any artificial energy and therefore has no recurring costs. The refrigerator preserves the original taste of fruits and vegetables.
During testing, the shelf life of coriander was extended by 4 days as against 1.5-2 days in room temperature. Shelf life of vegetables like brinjal, chilly & okra was increased on an average by 5-6 days vis-à-vis room temperature.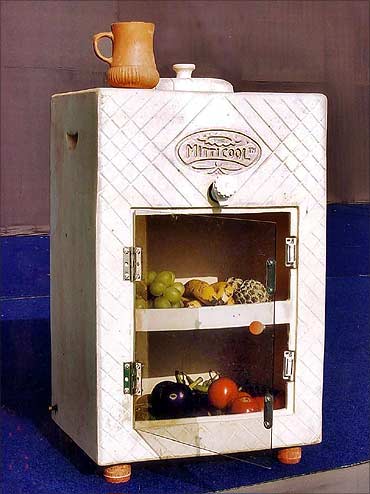 GIAN facilitated design improvements in the fridge through National Institute of Design (NID), Ahmedabad. Mitticool refrigerator has been featured at a conference organized by the Centre for India and Global Business, Judge Business School, University of Cambridge, UK in May 2009. Bosch and Siemens Hausgeräte (BSH), Germany, one of the world's largest home appliance companies, have also written to GIAN and showed interest in the product.
Non Stick Earthen Tava
Mansukhbhai's wife once asked him to bring a non-stick tava from the market. At that time, in 2003, he found out that a non-stick tava costed Rs. 200. Manusukh bhai did some more market research and found out that apart from being costly, Teflon coated non-stick tavas do not retain the natural taste of food . Also, the coating tends to wear off quite soon.
So, he reached Mumbai to learn the process of non-stick coating on pans and to find an appropriate coating material for his earthen tavas. After about a year of research and making one lakh trial tavas, he finally succeeded in developing the non-stick coating for earthen pans using Azo Noble.
Mansukh bhai's non-stick earthen tava uses less oil than a normal pan and preserves the natural flavor of food. It is much cheaper than non-stick tavas and consumes less LPG as well. As the coating gets absorbed by the pores of the earthen material, it does not wear that easily.
The non-stick coating has been tested at the Institute of Chemical Technology, University of Mumbai. For this product, Mansukhbhai was also supported under the Micro Venture Innovation Fund (MVIF) of NIF- India.
GIAN also helped him to set up a company, Clay Creations, in 2008 and assisted him in developing the online retail portal (www.mitticool.in).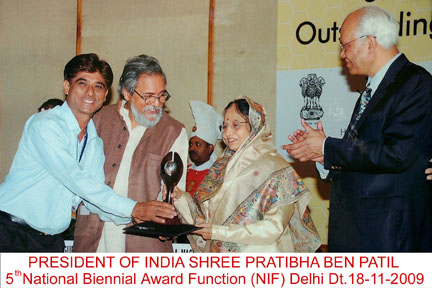 The Road Ahead
Mansukh bhai is an innovator who is always open to new ideas on innovative products and design. NIF-India shared with him an idea about developing an earthen thermos flask. Manuskhbhai, paying heed to the consultation given by NIF-India on design and development, promptly manufactured thermos of 1 and 2 liters capacity.
GIAN & NIF-India also assisted Manuskh bhai in collaborating with the retail giant, Future Group. Now, his products are sold at various branches of Big Bazaar. Watch Mansukhbhai talk about his journey at an INK Conference:
Mansukhbhai is a man on a mission. If he is not experimenting in his factory, he is travelling across the country to market his products. After inventing a fridge made of clay, he is improvising to make small 'Minute Mitticools' like 5 minute mitticool or 2 minute mitticool, which would be able to cool water in 5 or 2 minutes. We look forward to hearing all about his brilliant innovations in the future as well!
For Technology Licensing, Technology Transfers or Collaborations, please write to- bd@nifindia.org
Like this story? Or have something to share? Write to us: contact@thebetterindia.com, or connect with us on Facebook and Twitter (@thebetterindia)
About the Author:
Rahul Anand is interested in social innovation, enterprise and social impact. He is co-founder of
Bloodaid