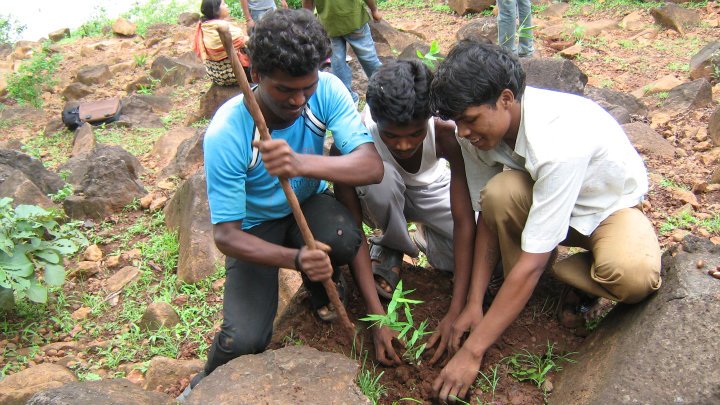 Deforestation in the country is not news anymore. With rapid industrialization and rising needs, we have been cutting down trees for quite some time. Now there is an immediate need to bring back the green cover, and Vodafone India, along with Grow-Trees, has taken a positive step in this direction. They have started planting 300,000 trees along the Kanha-Pench corridor. The saplings selected are of native and useful species in order to create an extra income source for the villagers. Here we profile the salient features of this initiative, which can serve as a case study for more projects of a similar nature.
---
This article on an Environment initiative has been made possible by Vodafone India.
---
At first when I heard one of the villager say 'Yeh jungle toh sher ka ghar hai aur hum insaan log guss aaye hain. Hamara faraz hai ki hum in ke ghar ka khayal rakhe' (This forest is home to the tigers and we human beings have encroached into their home. It's our dutyto protect their home), I just could not believe my ears. But, it was true; the villagers of Rata in Madhya Pradesh echoed these very sentiments. How true is this?  And, how often have we heard this?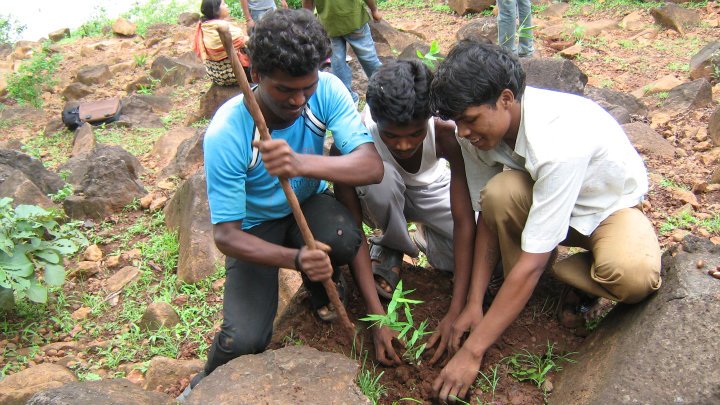 Deforestation has been a big menace in India. Forests have been destroyed to make way for development. This problem has been persistent for ages now and has been the cause of growing concerns. With modern technology and advancement, humans have been exploiting various resources of nature for profit and survival.
Greed has caused rampant over-exploitation of earth's natural resources, thus leading to environmental issues like receding forest cover, depleting wildlife and degrading air quality. In places like India, the effects of deforestation have caused irreparable damage across the country, wiping out natural habitats and delicate ecosystems.
Given this background, Vodafone India has undertaken a unique initiative to offset its carbon footprint by restoring forests. It has tied up with Grow-Trees, who along with the villagers of Rata, PochaMajhipur, Jogisoda and Chandiya, will protect 100 hectares of land between Kanha-Pench Wildlife corridorsin the Sijhora Range of Madhya Pradesh. Vodafone along with Grow-Trees aims to set up the first private wildlife corridor in India.
Afforestation- Need of the hour to protect forests and wildlife
There has always been man-animal conflict. Human beings for the longest time have invaded into the natural habitat of the animals and claim it as theirs. In the name of development, forests are being destroyed in a wrong manner. In India, the effects of deforestation have caused irreparable damage across the country wiping out natural habitats and delicate ecosystems.
Deforestation has paved the way for industrial development, mining etc., and has destroyed natural habitats of wildlife. The trees removed from the designated area are usually cut and sold, or burned. As a result, carbon dioxide is released into the air increasing the amount of greenhouse gases in the atmosphere.
An international research shows just how detrimental the deforestation issue in India has become: India once had 14.8 billion acres of land that was forested, but now has just dwindled to 8.6 billion acres. Another fact, according to the India State of the Forest Report (ISFR) in 2011, states, "forest cover has declined by 367 sq. km compared to the forest cover in the preceding ISFR in 2009." Even though the forest cover has stabilized since the 1980's, there is still cause for alarm; it is estimated that within 100 years, if little is done to change current trends, there will be no rainforests left on earth.
Grow-Trees.com, the exclusive Indian planting partner for United Nations Environment Program's Billion Tree Campaign, will plant 300,000 trees in the Kanha-Pench corridor over the next three years. The corridor is being developed by Kanha-Pench wildlife reserves. The plantation work started from Rata Village in Mandla district of Madhya Pradesh which is 100 kms from Jabalpur.
The size and scale of this private reforestation initiative is the biggest till date in the country. The planting process on site will be led by Grow-Trees' on-ground partner Foundation of Ecological Society (FES).
"FES has been training and creating awareness among the villagers about their forests and how it is important for them to protect it. They are also educating the villagers on how to plant trees and maintain them properly. The project will ensure for the maximum survival rate of the plants. On an average, a sapling needs three years. The survival rate of the trees is 75:25 with 25 per cent likely to be replanted," explains Ishan Agarwal, Mandla team leader for FES. He works closely with the four villages that are involved in the Grow-Trees project.
FES has researched the area along with the help of the Forest authorities to understand which are the trees that need to be planted here and how could they be useful to bring about a sustainable living for the villagers."The selection of the saplings for the plantation has been based on what the villagers want and can benefit from. We have selected Bamboo, Amla, Jamun, Tendu, Karani,Harra, Baheda, Khamer, Ladiya and Mango. There is also Shisham (Timber) that is being planted," says Sasmita Nayak, an MSc in Wildlife and Bio-Diversity Conservation and now working with FES in Madhya Pradesh.
Rata and the other villages involved in this project have  secured community forest rights (CFR) as per the Forest Rights Act (FRA) over forests in the Kanha-Pench Corridor and have the right to sell bamboo and minor forest produce (MFP). This is helping the villagers earn a good income.  "Each family can earn anywhere between Rs. 15,000 to Rs. 50000 from MFP such as Mahua, Tendu Leaves and Amla," says Purshottam Singh Parihar of Rata Village.
Parihar says: "The entire village is involved in protecting these forests." When asked why they are involved he says, "By planting trees and maintaining these forests we are creating a clean environment for ourselves and for our future generation. Secondly, we get wood for household purposes and also MFP from which we can earn a living". The other villagers echo his words.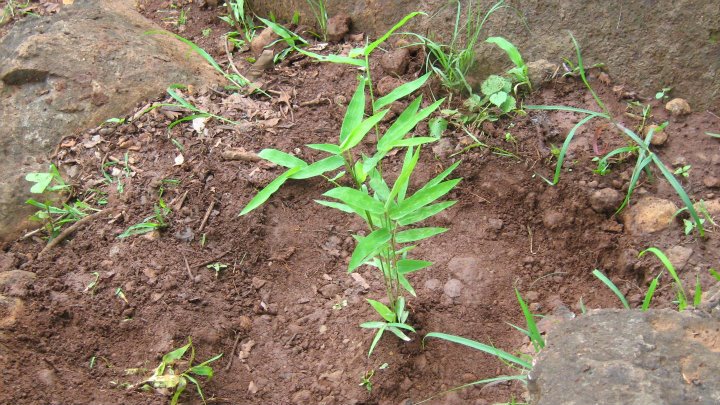 Parihar also informed that they are teaching the villagers how to cut the trees without causing them irreparable damage. "Earlier, one would cut the entire tree for few branches. Now we are trained to figure out how to cut, how much to cut and from where to cut so that the tree is intact and there is no major damage to the tree," he says. This is a step in the right direction when villagers are aware and protecting their own forests and its inhabitants.
According to FES, the involvement of the local community in such a project is fruitful as it is also creating employment for the villagers. They get paid Rs. 2 for planting each sapling. The project will create 25,000 workdays of direct jobs mainly for women and tribals inhabiting the area, in addition to supporting several allied livelihood activities such as farming and minor forest produce (MFP) gathering.
Bikrant Tiwary, CEO, Grow-Trees.com, adds that approximately 45% of India's land is degraded primarily due to deforestation, unsustainable agricultural practices, and mining and excessive groundwater extraction. "More than two-thirds of this can be regenerated and our endeavour is to facilitate this by providing planting opportunities to individual and corporate customers," he adds.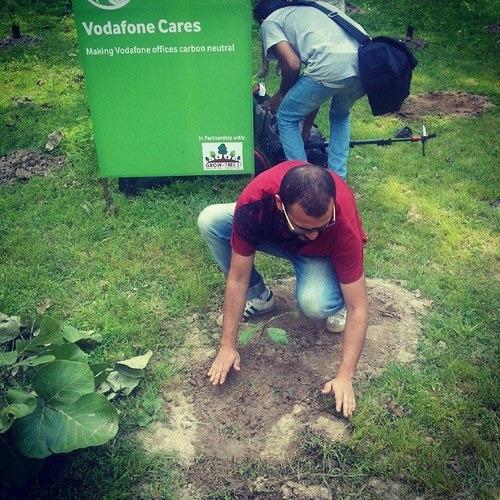 Kanha Tiger Reserve in Madhya Pradesh and Pench Tiger Reserve straddling Madhya Pradesh and Maharashtra are important habitats for the tiger population in central India. As tigers need large home ranges to ensure population viability, it is important to ensure habitat connectivity between different breeding areas. The Kanha–Pench corridor is vital for the long term survival and viability of tigers as it connects smaller tiger populations in Pench to larger populations such as at Kanha.
The trees planted will help improve the forest connectivity between Kanha and Pench and provide a sheltered corridor for tigers and animals to traverse between the two reserves.Vodafone is investing Rs. 2.50 crore in this green project to also ensure that they are carbon neutral. Currently, the company generates 33 million kgs of carbon footprint annually through their offices. Watch this video by Ankita Sinha to better understand the initiative and its finer details:
This is a positive move towards protecting our forests and the environment for the future generation to come. We do hope to come across many more such examples of corporates, governments and communities coming together to solve pressing issues.
Like this story? Or have something to share? Write to us: contact@thebetterindia.com, or connect with us on Facebook and Twitter (@thebetterindia)
About the Author: Anusha Subramanian, a British Chevening Scholar and an Award winning journalist started her journalism career 19 years ago. She has worked with Mid-Day, The Observer of Business & Politics, Business Standard, Hindustan Times and Business Today. Anusha is also a trained mountaineer and has started a social initiative called summiting4hope to help rehabilitate the flood affected victims of Uttarakhand.
We bring stories straight from the heart of India, to inspire millions and create a wave of impact. Our positive movement is growing bigger everyday, and we would love for you to join it.
Please contribute whatever you can, every little penny helps our team in bringing you more stories that support dreams and spread hope.
Tell Us More