Around 300 million people in the world are visually impaired and face difficulties every day in activities as basic as walking. Anirudh Sharma and Krispian Lawrence came up with an interesting idea to simplify the lives of visually impaired people. Read their journey of change and how they designed a special haptic shoe line that helps the blind navigate easily.
Imagine a scenario where you have an important interview but you are late. You get ready in a hurry and run to the bus stop, finally catch the bus and manage to reach the office just in time. There is nothing unusual about this scenario, right? Now, imagine the same scenario through a blind person's perspective. If they happen to be running late one day, there is very small possibility that they would be able to make it to the bus stand or reach office on time.
There are many such small incidents in our everyday life that we might not even notice, but each day there are so many obstacles and little things a blind person has to worry about. Anirudh Sharma decided to do his bit to simplify their lives through his shoe line "Le Chal".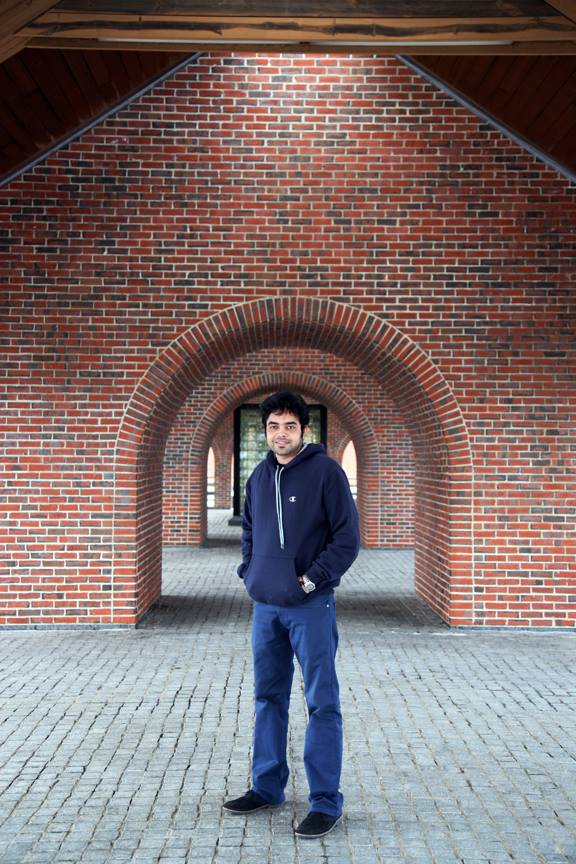 Sharma along with his friend Krispian Lawrence has designed a shoe that can assist the visually impaired in navigating easily from one place to another. The shoe can be connected to the user's smartphone through Bluetooth and vibrates according to the directions to the destination.
"I wondered about the daily tribulations of the visually impaired people and thought how difficult it must be for them to do things as basic as walking. That is when I decided to come back to India and launch Le Chal," says Sharma, who  was a Research Assistant at the Fluid Interfaces Group at MIT Media Lab, Massachusetts Institute of Technology (MIT).
The Genesis
This Delhi boy never befriended books. It was machines that attracted him and held his attention. As a result, regular bad grades in engineering college made him think harder about the work he wanted to do.
"I was never a 'book person'. I would open any machine and experiment with it. My attendance in classes was very poor and I almost failed in a few major subjects. But, I knew this was not something that mattered. If I wanted to make it big and bring a change, I had to follow my passion, which was working with machines," Sharma says.
Sharma's various projects at college level won him and his team several awards, which gave a boost to his confidence. In one of the tech fests, he was recognized by the head of HP labs in Bangalore. He offered Sharma an internship, which he grabbed with both hands, and left his engineering degree in the middle.
But again, he wasn't satisfied with just that. He wanted to invent more, experiment more and do more with technology. Fascinated with experimentation, one night he installed a vibrator in a friend's shoe just out of curiosity and this was the seed that grew into "Le Chal".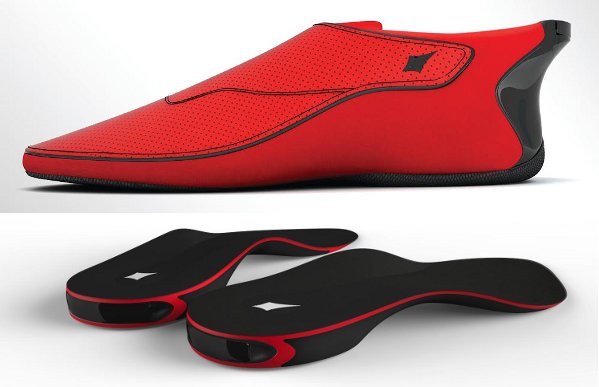 He designed a prototype and went to Hyderabad to set up his own company with a friend. "Le Chal" received instant attention and he was invited by someone from MIT to pursue a course there.
"I was lucky enough to get a seat at MIT in spite of not having a degree. It was my passion that led me here," he says. After finishing his studies at MIT and working there for a year, he returned to India to give shape to his brainchild "Le Chal" which was officially launched in 2014 and now the shoe line is up for sale.
How does it work?
The haptic shoes for assisting the blind in mobility won him the MIT Tech Review TR35 'Innovator of the Year' award.  The shoes contain an electronic module that includes a vibrating unit, a chip and a removable and rechargeable battery.
The shoes will lead the user to the desired destination by notifying him or her about the turns. A left or right turn would be indicated by a vibration on that particular side of the shoe. The shoes are designed to be used alongside a cane as they do not notify about every obstacle. This is because it would become very frustrating and disorienting for the user to be notified for each obstruction, as the roads in India tend to have many obstacles on the way. The vibration will only guide on the turns and show the route to the destination.
The interesting design of the shoes is a plus point which is attracting a lot of non-blind customers as well. The Le Chal team has also designed Polyurethane insoles which can be used in any pair of shoes, as fitness trackers to record the number of steps taken and calories burnt.
The shoes are currently available in the price range of $100 and can be ordered from their website. "I am a believer of technology and I would like to put this technique out in the open for other people to use and replicate," Sharma says.
The Future
Sharma's focus is now on expanding the initiative and creating a good market for the product. He is also leading the MIT Global Startup Labs India initiative to bring young innovators together.
"I like making things and working on the future of existing simple tools that we have today. There are so many talents in our country, I would like to give them a platform to explore, innovate and invent," he says.
Sharma is also working on a project to develop ink out of pollution. Watch this video to understand his ideas better-
From an "incomplete engineer" to an innovator and INK fellow, Anirudh Sharma sets an example of how passion can take you places. If you actually believe in something, things like money and a professional degree don't really matter.
To know more about these shoes, check out his website.
Like this story? Or have something to share? Write to us: contact@thebetterindia.com, or connect with us on Facebook and Twitter (@thebetterindia)
We at The Better India want to showcase everything that is working in this country. By using the power of constructive journalism, we want to change India – one story at a time. If you read us, like us and want this positive movement to grow, then do consider supporting us via the following buttons.
Please read these FAQs before contributing.