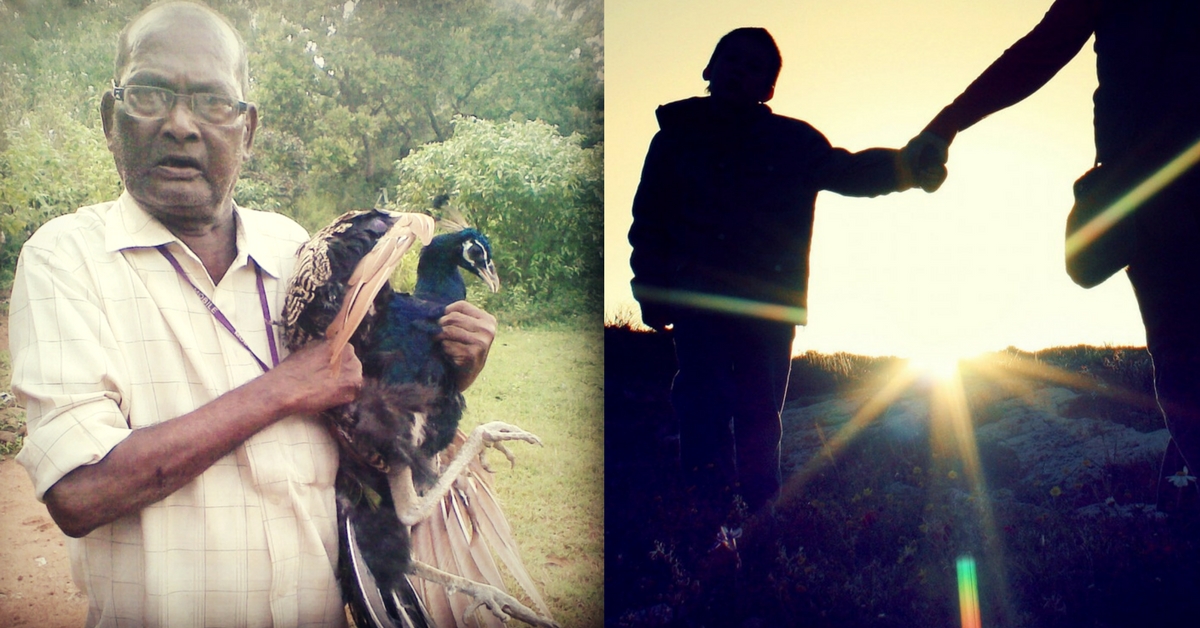 Within two years, three peacocks became five, and the number kept increasing. There are almost 100 peacocks there today, prompting the area to be called as 'Peacock Valley.'
Almost three years ago, Pannu Behera, from Odisha's Cuttack district, gathered his family together to discuss his 'will.' His breathing ailments had aggravated over the years, and he knew the time had come to explain everything in detail before the inevitable happens.
While his family – his wife, son, daughter, daughter-in-law and three grandsons – sat around him, they already had a sense of what was coming next.
"Give me ten days time," Pannu asked his middle grandson Kahucharan, who he lovingly addressed as 'Kalia.' "If you don't like it even after that, I promise I will never ask anything from you."
Kanhucharan, who was then studying in Class 12, reluctantly accepted his grandfather's last wish.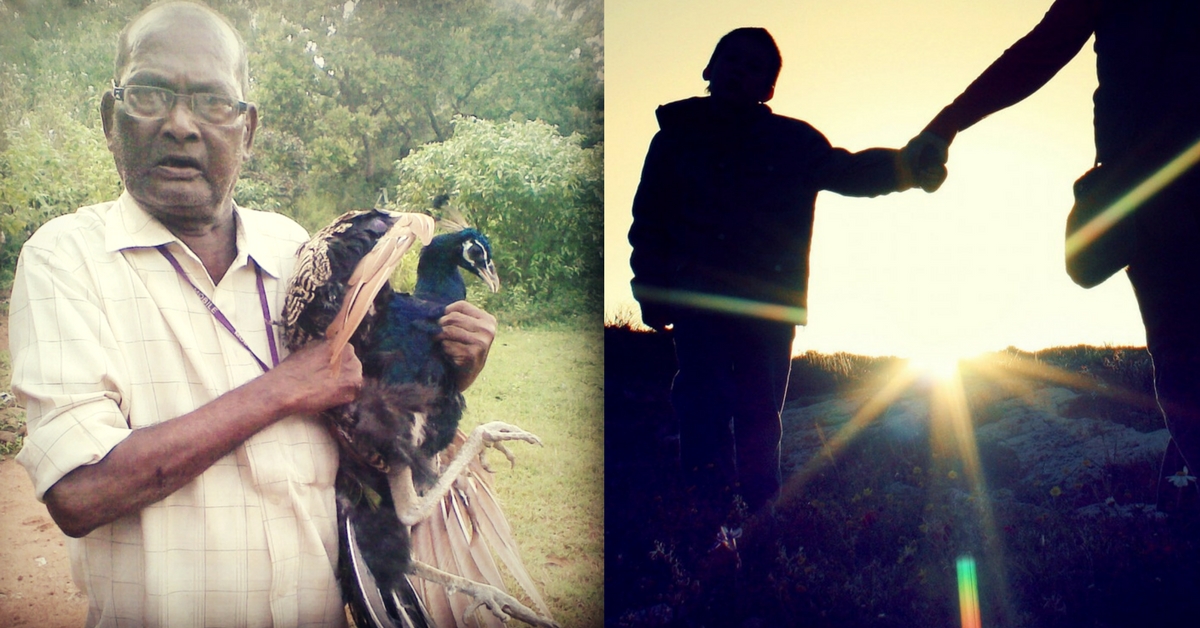 "My grandfather knew I was the more emotional one, among our family members. I was not so keen. But I knew only I could take care of his most 'prized possession'. Had I refused him, he wouldn't have found peace in death, so I reluctantly agreed," Kanhucharan says.
The next morning around five, Kanhucharan went to the same spot he had been visiting since his childhood. Only this time, he went with an intention to 'officially own it.'
"My grandfather asked me to sit at a corner and observe him. I saw him walk in that 100m stretch and lovingly call out 'Raja Aaa (Come, Prince). Within minutes, around 60 odd peacocks and peahens gathered around my grandfather as he fed him, a ritual he had been doing since 1999," Kanhucharan says.
Peacock Man
Pannu, who served as a home guard with the Odisha police for 32 years at the Sidheswar Police Firing Range in Cuttack district, was famously called Odisha's 'Peacock Man,' until his death in 2017.
After his death last year, Kanhucharan took over the duty and now takes care of the 100-odd peacocks that flock the area every day for food.
"Within five days, I realised the affection my grandfather shared with peacocks. For him, they were family. Somehow, the affection trickled into me, and I readily accepted to 'own' his prized possession."
The Injured 'Raja'
Pannu's first brush with the peacocks came in 1999 after a devastating Super Cyclone struck the Odisha coast. One morning, on duty, Pannu discovered an injured peacock and two peahens, who had come over from the neighbouring Chandaka wildlife division.
"Out of courtesy, my grandfather fed a portion of rice that he had brought for his lunch to the peafowls. He nursed the injured peacock and lovingly called him 'Raja' (prince). The next morning, he saw they were back again. The ritual had thus started, and my grandfather started feeding them twice a day – early morning and late afternoon," Kanhucharan recollects.
---
Hey, you may also like: This Gujarat Man Spends ₹ 1.5 Lakh Every Year to Feed 3,000 Birds That Visit Him Everyday
---
Every morning, Pannu would come down to the firing range and call out 'Raja Aaa (Come, Prince),' and strangely the three peacocks would respond to the call and come for food.
The food would be a simple morsel of rice and wheat; Pannu would occasionally feed them with 'Gulgula' (an Odia sweet dumpling made from wheat).
Peacock Valley
Within two years, three peacocks became five, and the number kept increasing. There are almost 100 peacocks there today, prompting the area to be called as 'Peacock Valley.'
Soon, people from surrounding areas came to know about it and started flocking to see the peacocks up close.
"A few cyclists had come to this area, and they were so mesmerised to see the peacocks in their natural surroundings that they suggested this place should have a name related to peacocks. That is when we zeroed down to 'Peacock Valley."
The place has become so popular today that as many as 200 people visit on a daily basis to see the peacocks in their natural surroundings. In winters and good weather day, the number goes up to 800.
Initial Hindrances
Though Pannu's family had mostly been supportive, they did think it was weird for the head of their family to dedicate so much time to peafowls.
"My grandfather was so dedicated that he would spend the night in the guard room. Though my father would be worried, he never went against him. Since my father supported his father, the rest of the family didn't complain of the obsession even though we were worried about his health," Kanhucharan says.
Food Expenses
While Pannu used to share his food initially, when the numbers started to multiply, he decided to use his salary to feed his peacock family.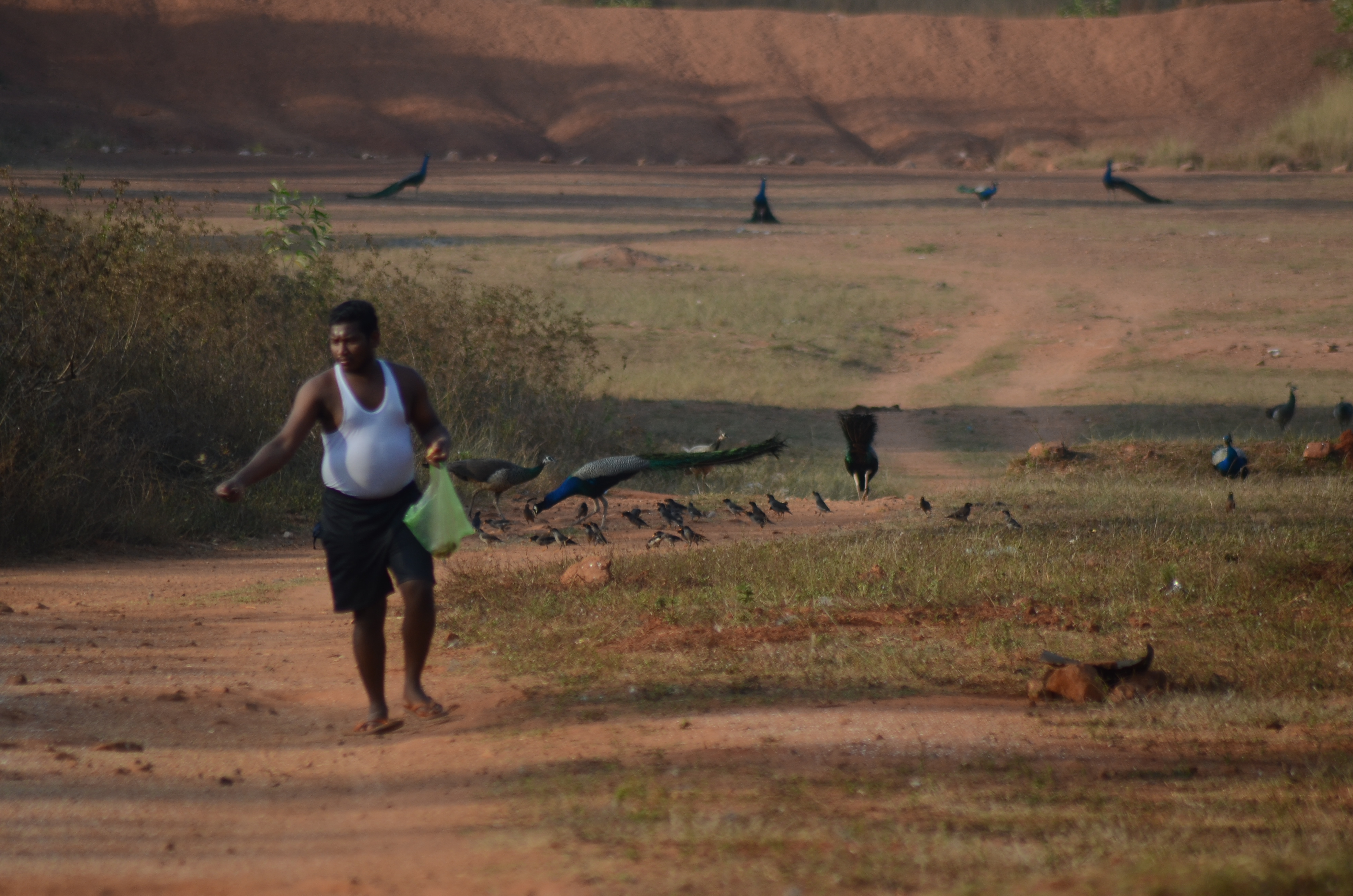 "My grandfather used to get around Rs 5000 monthly. Since my father was also earning, he told him to take care of the household expenses, and my grandfather invested his entire salary in purchasing food for the peacocks," Kanhucharan says.
Officially, Pannu retired in 2013, but due to his dedicated work, the Police Welfare Fund would pay him some amount to continue feeding the peacocks.
In 2016, the department wrote to the State Government, requesting to reinstate Pannu, for the exceptional work he was doing.
Pannu has also bagged several awards and rewards, including a President's medal from APJ Abdul Kalam in 2007.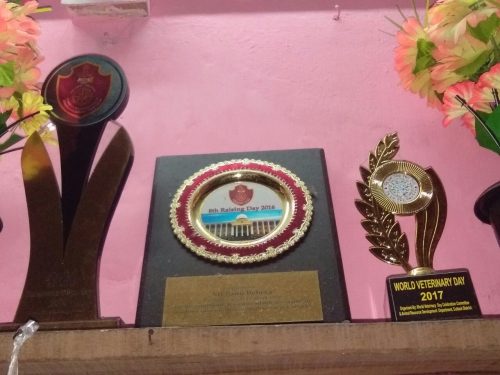 After his death last year, his grandson Kanhucharan has taken the lead and uses his pocket money, besides collecting money from people visiting the area, to feed the peafowls.
"The daily expense is around Rs 500. Even if people who come to see these peacocks donate Rs 1, the expenses for the day can be taken care of," says Kanhucharan.
Firing Range & Practice
Interestingly, even though the area is a dedicated firing range which has firing practice going all the year round barring monsoon, the peacocks are not scared.
"Over the years, they have got acquainted with the gunshots. They are confident nobody will harm them. So they come for food, no matter what. When there is night firing, sometimes the numbers do decrease, but usually, all of them are on time. But, due to safety reasons, I generally feed them early when there is no firing practice," says Kanhucharan.
Pannu's Death & The Road Ahead
Pannu died in May last year while undergoing treatment at a Cuttack hospital. Till his last breath, he kept asking about the peacocks.
In fact, he had already told his family members that after his death his mortal remains should be taken to his two houses – his village and the peacock valley.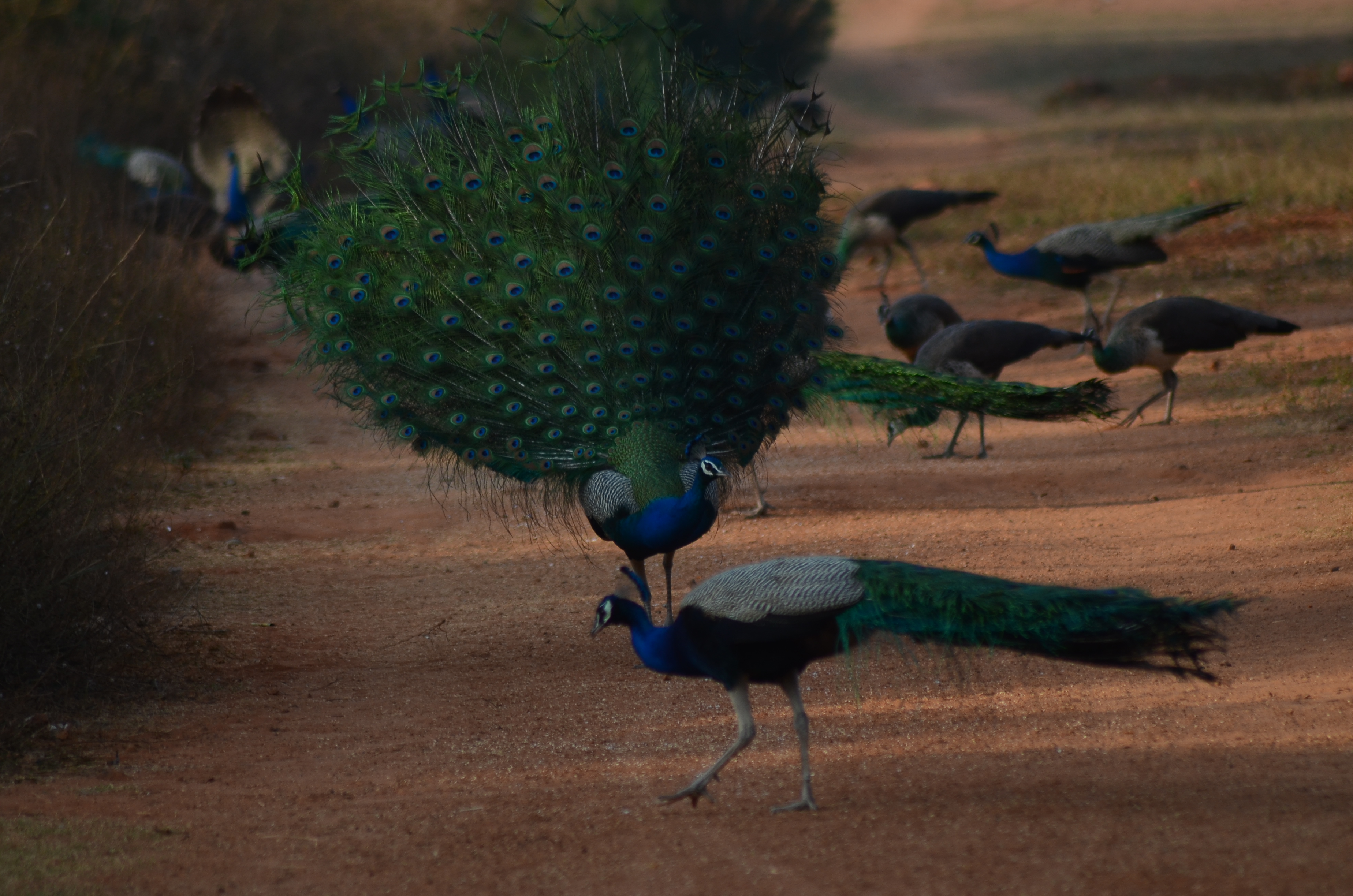 Kanhucharan, who has completed his Bachelors in Commerce, has been getting some job offers in Bhubaneswar but is not keen on leaving the peacocks.
"A few days back, a person from Bhubaneswar offered me a job with Rs 18,000 as monthly salary. Though the money was good, I rejected the offer. In the last three years, I have developed a bonding with these peacocks. If they don't eat, I can't eat either. How can I leave them now? I don't know what future has in store for me, but I will ensure the tradition that my grandfather started will continue till I am alive," he signs off.
About The Author: Tazeen Qureshy is a freelance journalist based in Bhubaneswar. She has worked with national media organisations including NDTV and India Today Group. She writes on a variety of topics – including women and sports.
(Edited By Vinayak Hegde)
---
Hey, you may also like: Want to Help Protect Distressed Animals & Birds in Your City? Reach out to These Organisations
---
Like this story? Or have something to share?
Write to us: contact@thebetterindia.com
Connect with us on Facebook and Twitter.
NEW: Click here to get positive news on WhatsApp!
We bring stories straight from the heart of India, to inspire millions and create a wave of impact. Our positive movement is growing bigger everyday, and we would love for you to join it.
Please contribute whatever you can, every little penny helps our team in bringing you more stories that support dreams and spread hope.