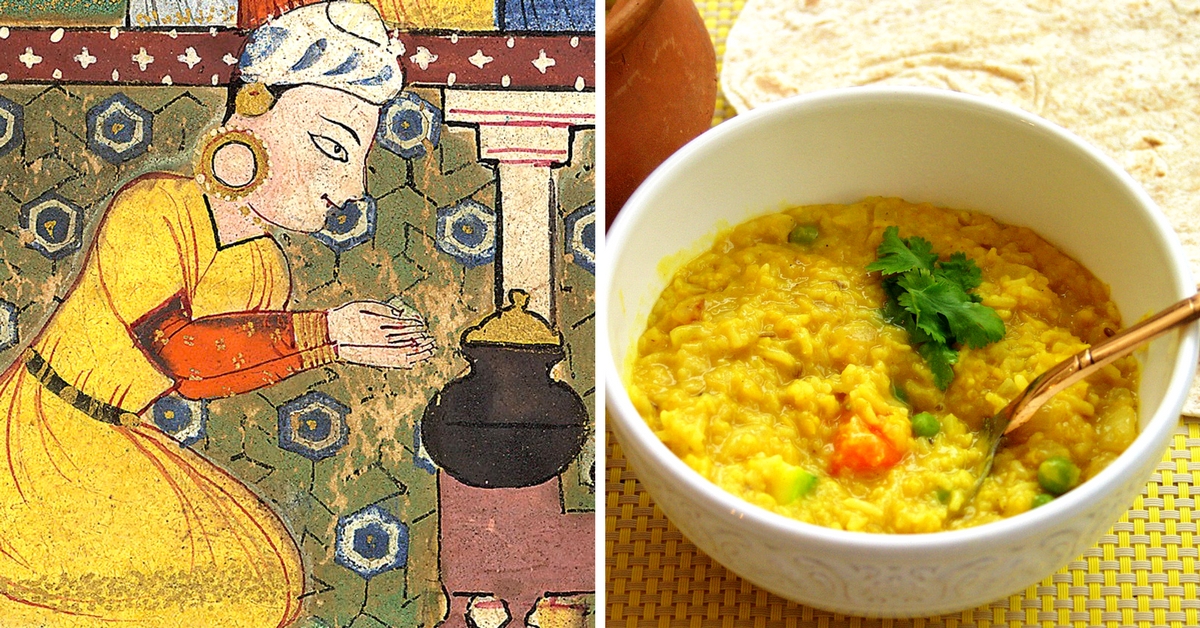 When and how did khichdi become such an iconic and integral part of Indian cuisine? Here's the fascinating story.
Food often tends to reflect the history and culture of the land where it was first created and khichdi is a prime example of this. Essentially a fragrant potpourri of rice, lentils and spices, this mellow dish can be found in kitchens all over India in various avatars.
In Gujarat, khichdi is eaten with a bowl of lightly spiced kadhi (a yoghurt-based) curry; whereas Tamil Nadu's ven pongal is liberally laced with ghee.While the Himachali version of this rice-dal medley is loaded with kidney beans and chickpeas, Karnataka's fiery bisi bele hulianna has delicious additions such as tamarind, jaggery, seasonal veggies, curry leaves, dried coconut and kapok buds.
In West Bengal, bhog'er khichuri is a staple at Durga Puja pandals and is served with a mishmash of leafy greens and vegetables (called lyabra). At the home of khaddoroshik (food-loving Bengali), its the pulao-like bhuni khichuri (studded with assorted vegetables and served with deep fried fish) that rules.
So when and how did khichdi become such an iconic and integral part of Indian cuisine? Here's the fascinating story.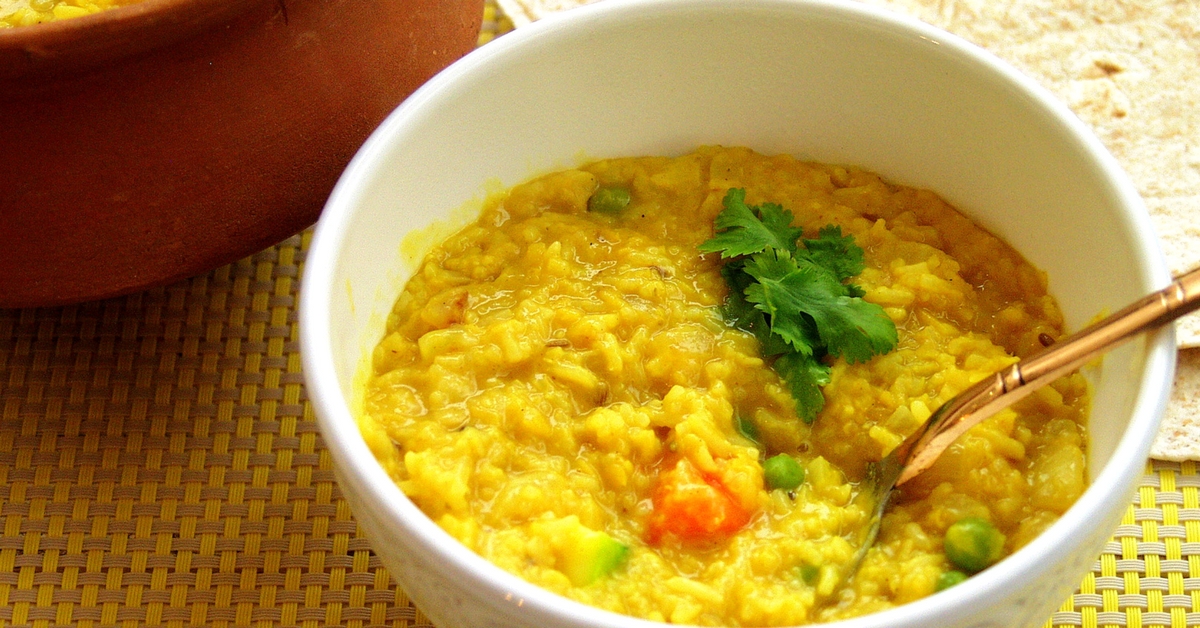 According to historian Mohsina Mukadam, khichdi is "one of the most ancient foods in India, yet one that has hardly changed." Its name has its origins in the Sanskrit word khiccā, which translates to 'a dish made with rice and pulses'. The gastronomic literature of ancient India also has many mentions of the krusaranna, an early relative of khichdi that had ingredients such as curd and sesame seeds.
Ibn Batuta, the famous Moroccan traveller who visited India in the 14th century, wrote, "Munj is boiled with rice, then buttered and eaten. This is what they call Kishri, and on this, they breakfast every day."
The mighty Mughals too fell in love with this rice-dal staple and gave it an important place in the imperial menus of medieval India. There are several historical references to Akbar's penchant for khichdi (who hasn't heard the story of Birbal using khichdi to make Akbar accept a mistake in judgement?).
In fact, Abu Fazl's Ain-i-Akbari mentions several versions of the khichdi prepared in the imperial kitchen, including ones with saffron, strong spices and dry fruits.
Also, according to India's celebrated food historian KT Achaya (in his book The Story of our Food), Jahangir's was so fond of a spicy khichdi adaptation (enriched with pistachios and raisins) that he named it "lazeezan" (which translates to "the delicious")!
Jahangir's role in popularizing khichdi also finds a mention in the travel chronicles of Athanasius Nikitin, a Russian merchant who travelled to 14th century India. Furthermore, French traveller Jean-Baptiste Tavernier, who came to India six times during the 1600s, also wrote about khichdi (of green lentils, rice and ghee) being a popular evening meal.
Even Aurangzeb, who rarely paid attention to food, was fond of the Alamgiri Khichdi, a spin-off featuring fish and boiled eggs. Later, during the colonial era, this version of khichdi would go on to be called kedgeree by the British who took this recipe back to their country. By the 19th century, kedgeree had become a sophisticated breakfast/brunch dish in England that continues to remain popular even now.
Such interesting experiment with khichdi was not limited to the regal repasts of the Mughals. In the 19th century, Nawab of Awadh Nasir-ud-din Shah's dastarkhwan (royal kitchen) was famous for it ingenious raqabdar (royal chef) who would make an outrageously extravagant khichdi entirely from pistachios and almonds painstakingly cut to resemble the grains of lentils and rice respectively.
Another variant of khichdi that found prominence in the cuisine of Uttar Pradesh (erstwhile Awadh) was the piquant amla khichdi. Made using rice, kali dal (split black gram) and amla (Indian gooseberries), the dish gradually became inextricably linked with the festival of Makar Sankranti.
In Kashmir, khichdi was traditionally offered as sacrificial food to local deities on Khetsimavas (a festival in December) while the locals typically enjoyed it (and still do) with kadam ka achaar (pickled knol khol). In the adjoining states of Himachal and Uttarakhand, two distinctly-flavoured dishes — balaee (made with bengal gram, roasted coriander and buttermilk) and Garhwali khichdi (made with urad dal, sesame seeds and warming spices) respectively — were being concocted.
Down south, the imperial chefs of Hyderabadi Nizams had created the unique keeme ki khichdi — a spice-laden mix of rice, lentils and minced meat that was served with sour and soupy khatta. Karnataka's feted bisi bele bhat, on the other hand, is believed to have originated in the kitchen of the Wadiyar rulers of Mysore.
The state of Tamil Nadu was where other spectacular renditions of khichdi took place on the form of ven pongal and its many equally-scrumptious forms, such as the classic khara pongal, the fiery milagu pongal and the sweet jaggery-infused sakkarai pongal.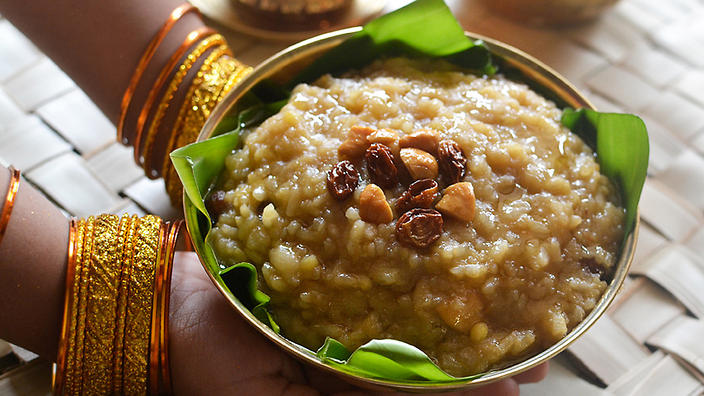 In Bengal, elaborate versions of the traditional khichuri such as til khichuri (made with sesame seed paste and saffron), malai bhuni kichuri (made with coconut milk and bak-tulsi variety of rice) and khejurer khichuri (made syrup-soaked dates, nuts and thick cream) were being fine-tuned. However, it was the niramish khichuri — a no onion, no garlic recipe made of sona moong dal, gobindobhog rice and assorted veggies — that became one of the most treasured components of Bengal's festival cuisine, especially during Durga Puja.
The West too had its own khichdi evolution going on. Delicious adaptions, such as the spicy Ram khichdi from Kathiwar (with a medley of local veggies) and the milder sola khichdi from Surat (with minced meat and fresh cream), were taking shape in Gujarat. In neighbouring Rajasthan, the subtly spiced khichdis that replaced rice with millets or whole wheat were popular while in Maharashtra, it was the tangy valachi khichdi (made with field beans, groundnuts and grated coconut).
The kitchens of the food-loving Parsis also spawned a few unusual interpretations of khichdi, such as the Bharuchi vaghareli khichdi (made using marinated and fried Bombay duck, a kind of fish) and the kolmi ni khichdi (made with prawns and coconut milk).
Today, with every region having its own take on this classic dish, it won't be an understatement to call khichdi India's version of culinary comfort. From serving as a baby's first meal and gruel for the sick to a deeply satisfying lunch on a rainy day, this versatile dish effortlessly lends itself to diverse occasions.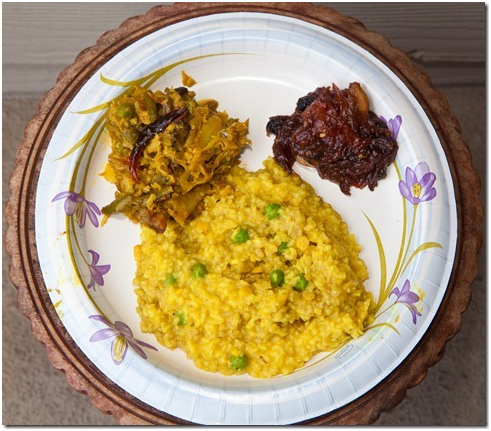 Little wonder that khichdi has become an integral part of both India's gastronomic heritage and colloquial stories. Remember the oft-heard saying "Khichdi ke chaar yaar, dahi, papad, ghee aur achaar"? Or the famous TV serial 'Khichdi' that depicted a family as assorted and quintessentially Indian as the dish?
Interestingly, this year, the eponymous khichdi has also been chosen as the Brand India Food. At the three-day World Food India event being held in Delhi from November 3, 2017, renowned chef Sanjeev Kapoor will be preparing over 800 kg of khichdi that will then be relished by 60,000 orphan children as well as other guests present at the event. Other than a bid to create a unique world record, it is also an effort to popularise this traditional Indian dish globally.
Now, if all this food talk has made you hungry, here are some unusual khichdi recipes you can try at home. Worry not, you can't go wrong with this easy one-pot meal, but if by chance you do, you could always say it's a version made in another part of the country!
---
Also Read: The Story of Biryani – How This Exotic Dish Came, Saw and Conquered India!
---
Like this story? Or have something to share? Write to us: contact@thebetterindia.com, or connect with us on Facebook and Twitter.
NEW: Click here to get positive news on WhatsApp!
We bring stories straight from the heart of India, to inspire millions and create a wave of impact. Our positive movement is growing bigger everyday, and we would love for you to join it.
Please contribute whatever you can, every little penny helps our team in bringing you more stories that support dreams and spread hope.