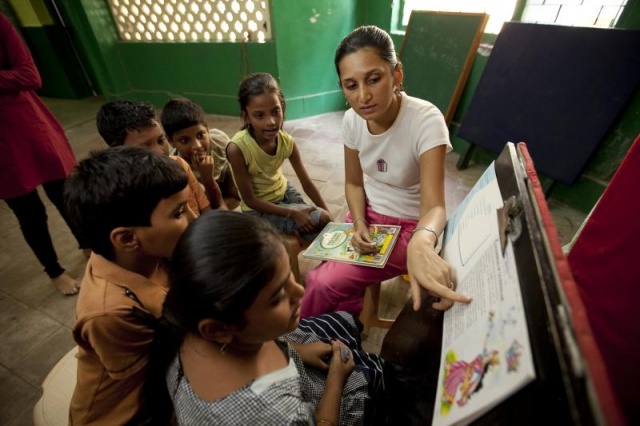 As we read and hear more about women empowerment, here is a lady who focuses on education which is a very elementary yet an integral part of a decent living for an individual. Mrs. Elizabeth Mehta has been instrumental in providing quality education to the children of the poor communities living in and around Mumbai, at par with the English medium education of the best schools in Mumbai. Here we will take you through her education model and also how it has been instrumental in changing the lives of women for better.
Elizabeth Mehta was working with children at the Spastic Society of India, in her role as an educationist, when she noticed that one of her students was lagging far behind the others, given that she was getting the same attention and inputs. She decided to consult a visiting psychologist from the UK about this, and his answer changed her outlook towards education and learning forever.
The psychologist had this to say: it is important to assess the individual strengths and weaknesses of the girl and set goals for her accordingly, rather than set common goals for all kids and expect them to reach them at the same time. Mrs. Mehta realized that this was where most schools in India were faltering – with the high student to teacher ratios, the lack of individual attention, the common examination patterns and syllabus. She learnt that education for the majority in India was didactic and teacher-centered, where the child was not taken into account. Out of this introspection was born Muktangan.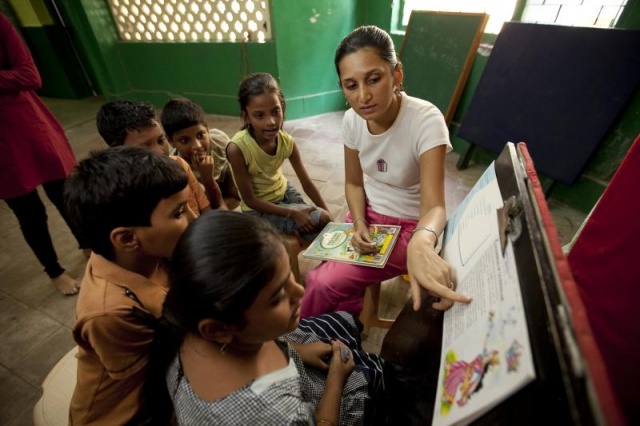 Muktangan, founded in the year 2003, is a community-based education model, operating within the mainstream school educational system. Being more inclusive and child centric in nature, it is offering quality education to children in poor communities – those who are most likely to be left out in the rapid urban growth of India.
The Beginning
Mrs. Mehta started this initiative by training 7 women from the local community in a pre-school approach that was drawn from her years' of experience. It has now transformed into a vibrant educational model working across 7 schools in Mumbai and also having a wide support of the local communities. Since its inception, Muktangan has been successful in training more than 500 teachers, 350 of whom are actively employed in their English medium schools and are teaching over 2000 children through a constructive approach.
"According to the 2011 census, 38% of urban households in India reside in slums. The city of Mumbai tops the list of the most populated cities with almost 60% of its citizens residing in these slum communities. Despite the country's economic boom, the overall percentage and plight of this marginalized urban community has remained unchanged for over a decade and the disparities in education and socio-economic indicators have gradually become starker. These were exactly the factors that inspired Muktangan to pilot a community based education project that on one hand, attempts to address the failure of the government schooling system to stem the trend of higher failures & drop outs, and on the other hand, inspires & nurtures the women from the marginalized communities to break out of their shells and get recognized as change leaders who are actively contributing to the overall growth of their communities", says Mrs. Elizabeth, Founder of Muktangan.
The Approach
Muktangan's community based educational model is completely in relevance with the marginalized communities in the urban centers. Its major objective has always been to work with the community women who have a great level of awareness about the local culture and the needs of the children. Muktangan provides such women with a sound learning environment and nurtures them to become teachers who are self-sufficient and mainly requires them to focus on the individual learning needs and pace of the children. They believe that this model of collaborative learning would not only lead to higher student retention in mainstream education, but also set educational and social transformation paradigms in the urban landscape of India.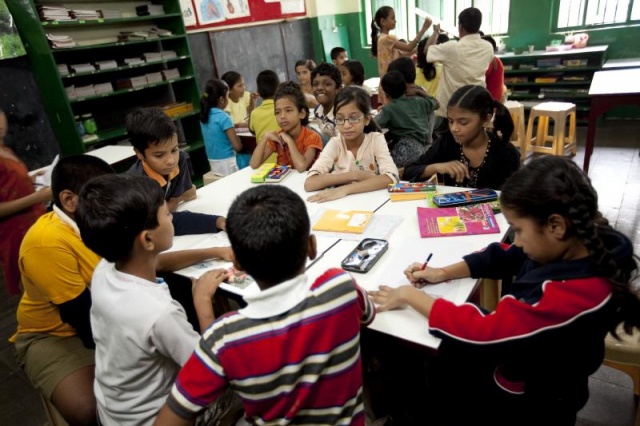 Impact – Primary and Secondary
This innovative model provides English-medium education at an affordable cost to more than 2600 children from economically disadvantaged communities with a significant growth of about 300 children being enrolled every year. With a student-teacher ratio benchmarked with the best in the world, the individual attention that the children get in these schools is incomparable with other regular municipal schools. Also, they follow a very inclusive approach of enrolling about 18% of the total strength as differentially-abled kids in their schools and giving them a special treatment which leads to their overall development.
Muktangan has trained and empowered the local community women who had little sense of self-identity. Hundreds of them who started off as trainees have moved on to take up roles of class teachers and faculty members in various schools. Muktangan has been successful in living up to its tagline 'learning and growing together' by recognizing the tremendous potential of these local women. According to their research, in the ten years of their existence, their teachers have contributed to as much as 40% of their household income and have held a higher socio-economic status in the community. They are now role models for the other women in their surroundings.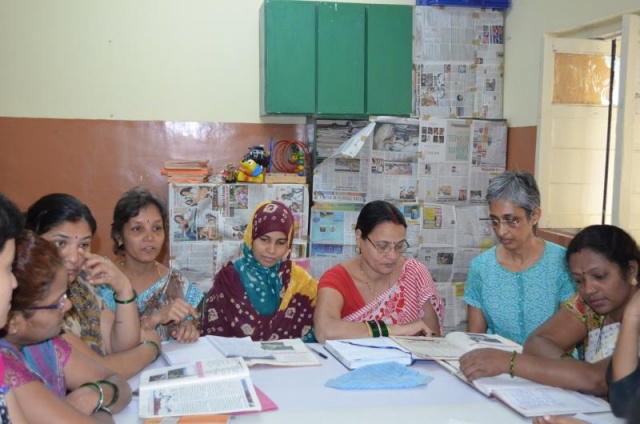 About 95% of the community women, who are working as teachers in Muktangan, are actively pursuing professional and academic courses through their own initiative which is a clear indication of their aspirations to be a contributing member of the society. Being a Muktangan teacher has made these women more self-reliant and confident and has brought them affirmation from the family and community, enhancing their self-respect and dignity.
The next steps
With more than a decade of well-grounded work in the areas of mentor-training, pre-school, primary education and more recently even secondary education, Mukatangan now has plans for major scaling up exercise. They are working towards establishment of a greater number of schools in places other than Mumbai, mainly in rural areas. They also have plans to pitch their services and shorter duration training modules in the pre-school and elementary school space.
With the government schooling system in dire states, coupled with no likely changes in the ECCE (Early Childhood Care and Education) Policy of the central government, the management at Muktangan aims to work closely with the state government and the other NGOs to build capacity in the areas they have strengths. In the elementary education space, they are targeting to impact 400 classrooms across the country and impact the lives of more than 10,000 children other than Muktangan schools by 2016.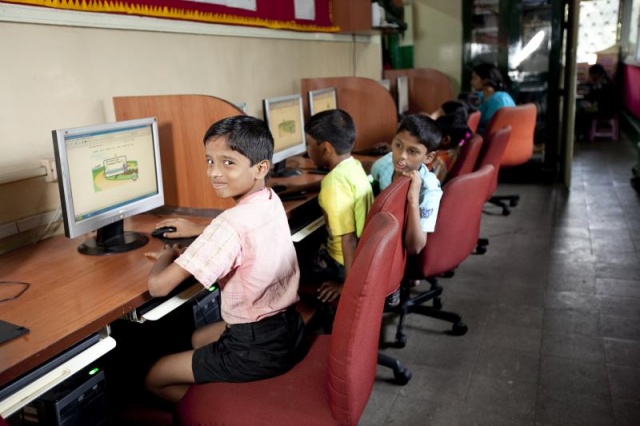 Financial sources
Muktangan currently gets about 50% of its funding through institutional donors with long term commitments and the balance through corporate, HNI's and retail donors. It also partners with various philanthropists and foundations that have similar objectives and aims as that of Muktangan.
Muktangan is also one of the select NGO that is working closing with the MCGM currently on the PPP model that is likely to be implemented from 2014 onwards. They are now looking out for a vital support from the government to achieve its further goals. Muktangan is also a part of the Paragon Charitable Trust that funds and promotes the work taken up by them.
In the end
Muktangan means an "open courtyard", emphasizing the free, safe space, the program creates for children. Its innovative education programs could indeed be the beginning of a change in India's education system, which so far has not kept pace with the country's rapid urbanization and economic growth. It has been successful in changing the lives of hundreds of teachers and children from poor communities in the past decade and is poised to change thousands of lives in the years to come.
Be sure to visit this unique program to understand what makes this model so promising to be based in a city like Mumbai! And if you are willing to bring about a change in the lives of these marginalized children and women, do explore the innumerable support and volunteering opportunities that Muktangan offers. You can learn more about their cause by engaging with them on Facebook and Twitter and Youtube.
About the Author: Niyati Tiwari is a freelance writer and a student at BITS Pilani.
We bring stories straight from the heart of India, to inspire millions and create a wave of impact. Our positive movement is growing bigger everyday, and we would love for you to join it.
Please contribute whatever you can, every little penny helps our team in bringing you more stories that support dreams and spread hope.