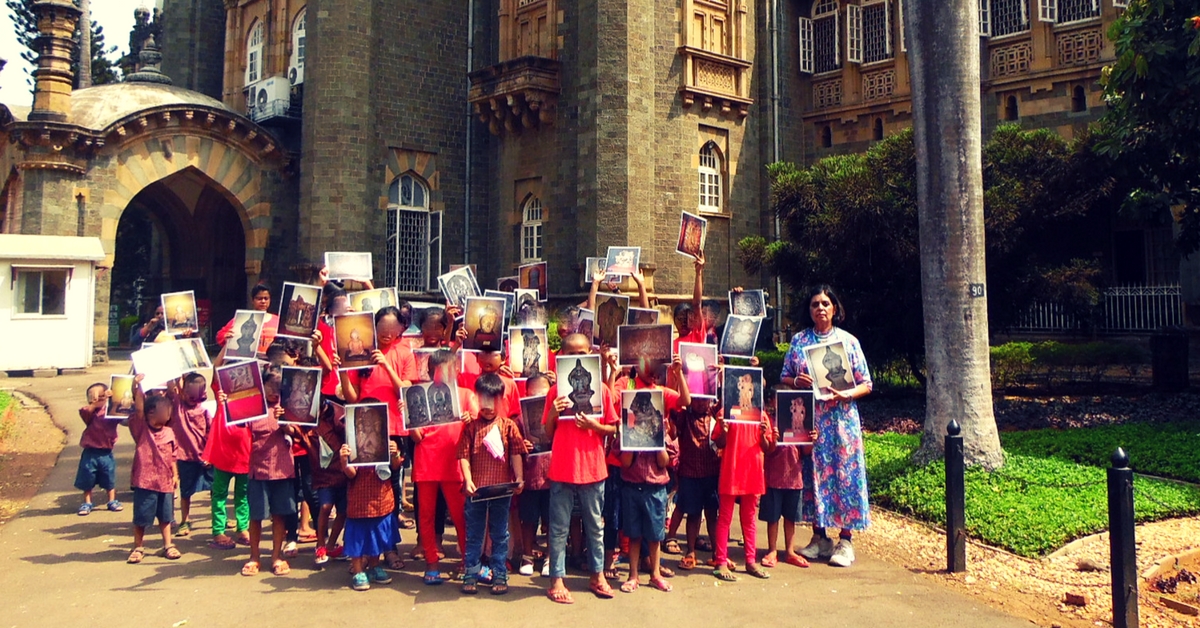 One of the major objectives of AAWC is to "prevent the cycle of intergenerational prostitution" among the community.
"What do you want to be when you grow up?" Manju Vyas remembers asking a 6-year-old.
The young girl did not bat a lash saying, "I want to be a Madame. A brothel owner."
That one memory is clear as the day in Manju's head. In between two garment shops, opposite the Pochammadevi Temple at Kamathipura, is a door. It opens to the world where all the magic happens in the most infamous red light area of Mumbai.
Children recite action songs, women profusely type at their keyboards and move in quick succession from one room to the other. It's one of the centres of Apne Aap Women's Collective (AAWC), in addition to the other at Falkland Road.
Founded in 1998, AAWC is an anti-trafficking organization that works with commercial sex workers and their children.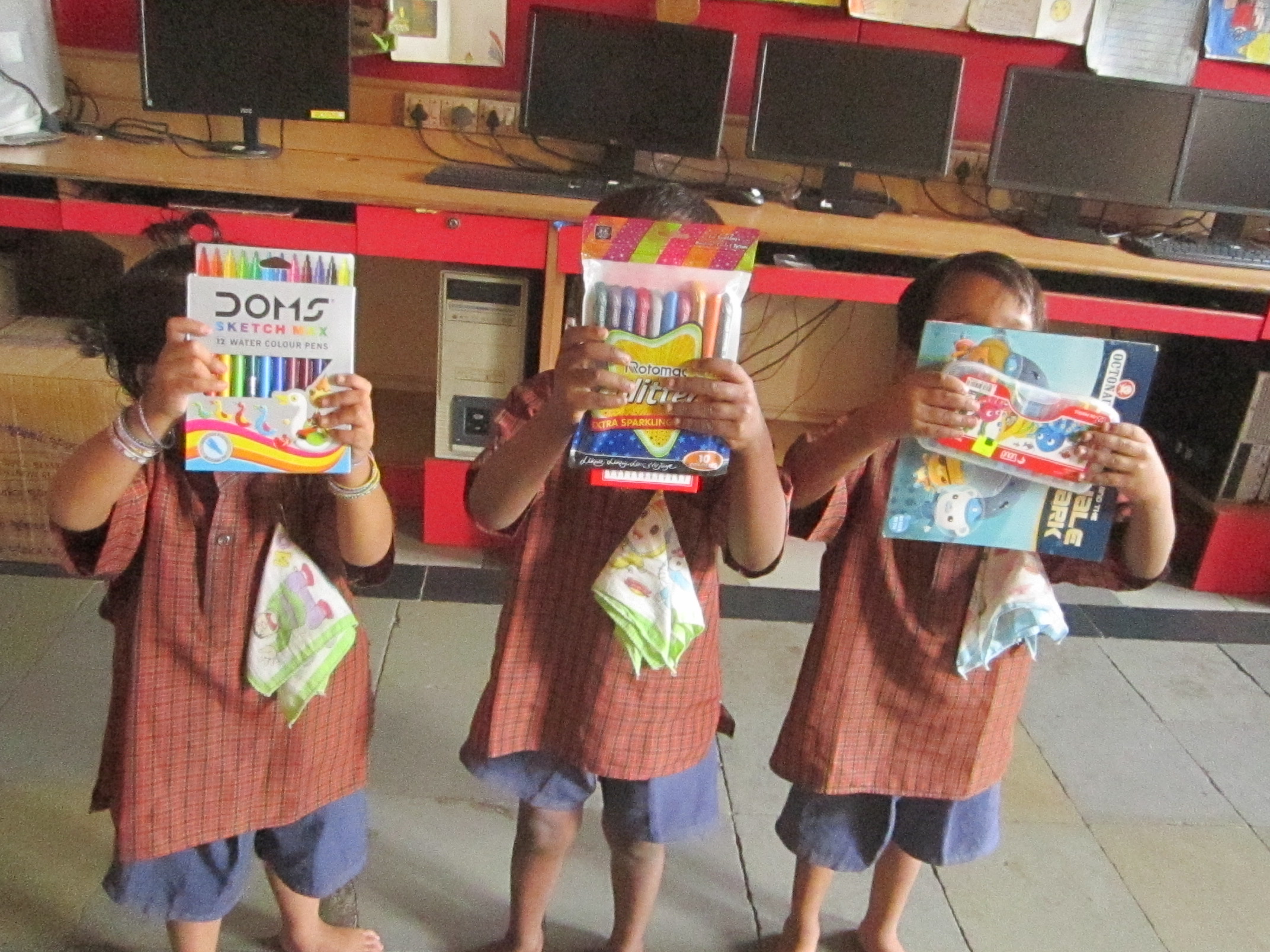 Manju Vyas who joined AAWC in its infancy stage, has served as its director for the last 19 years.
"When I got the opportunity to understand the women, how they landed into the profession and their struggles, I realised, merely working with them was not enough. I started interacting with their daughters too," she says.
These interactions established one of the major objectives of AAWC to "prevent the cycle of intergenerational prostitution" among the community.
In the last 18 years, AAWC has reached out to 750 girls, 400 toddlers and over 3,000 women.
Purpose
Most kids and women that AAWC works with, live in Kamathipura and aren't natives of Mumbai. They were trafficked from rural Maharashtra, neighbouring states like Andhra Pradesh, Tamil Nadu and Karnataka and countries like Bangladesh and Nepal.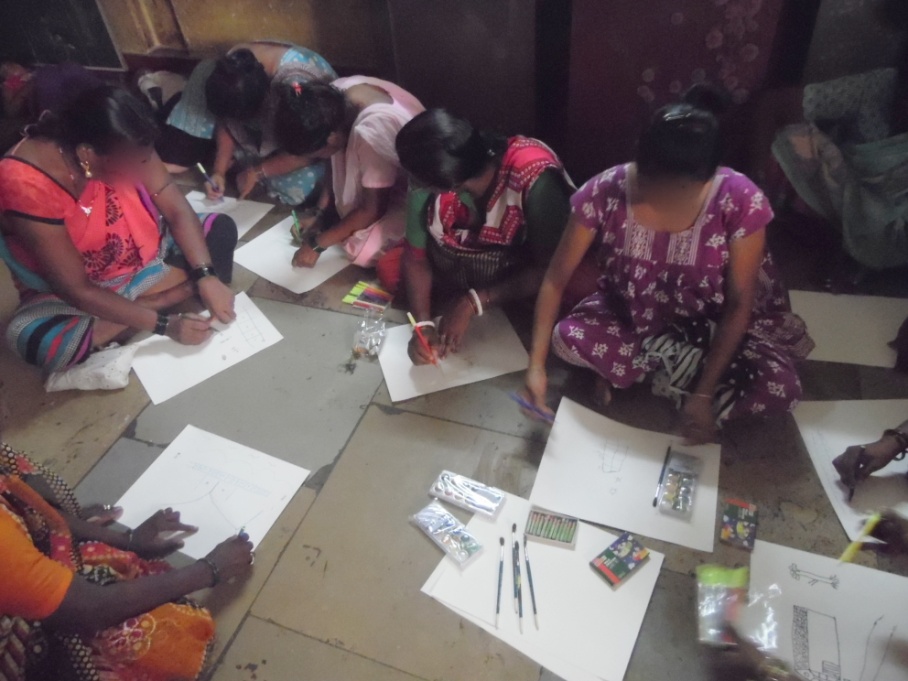 "Social ostracization of CSWs without understanding the situations due to which they entered the profession, ruins their lives. Neither are they accepted by society, nor are their children. When we isolate one woman based on her profession, it's not just her, but an entire generation following her, that is bearing the brunt," says Manju Vyas.
The idea is to help society learn to accept one woman and in turn accept the entire generation.
AAWC runs three major programs:
 'Umeed' ('hope' in Hindi) – programme for women in brothel-based prostitution from the age of 18+
'Udaan' ('Flight') – programme for the daughters of Umeed members and other girls living in Kamathipura from the age of 5-18.
'Umang' ('Enthusiasm') – programme for the toddlers of Umeed members and other children living in the area from the age of 2.5-5 years.
Ummeed
The outreach workers are the primary point of contact between the organisation and its members. They make daily visits to brothels, homes and create a rapport with the women.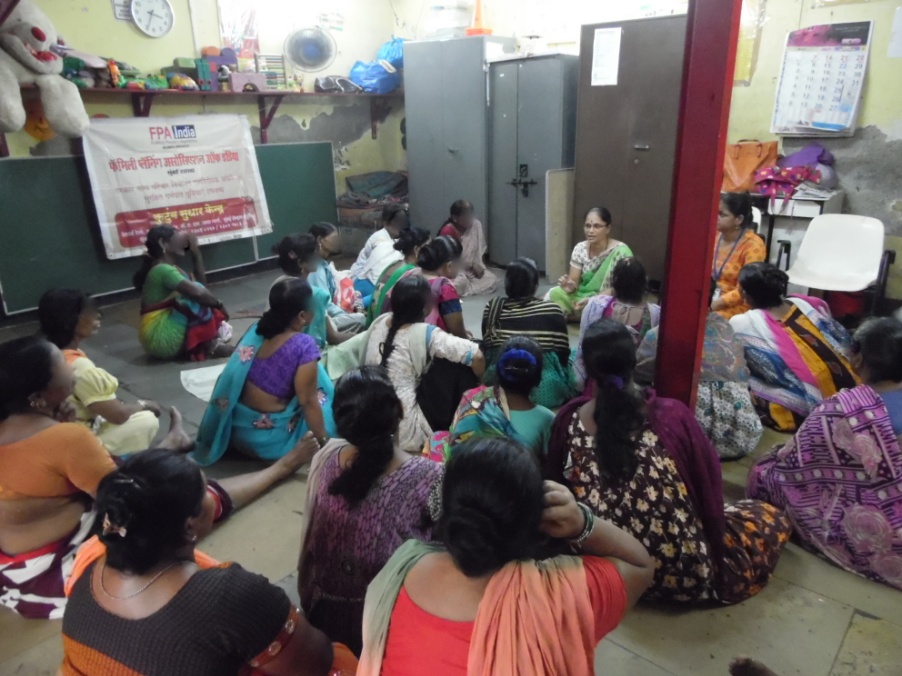 The idea is to empower them to know their rights, get basic education, financial literacy and acquire skills if they wish to quit sex work and explore other jobs.
But getting women to quit the profession isn't the only challenge.
"We don't believe in having a condescending approach toward them. Being in the profession for years, they are mentally and physically drained. Most of them are severely infected or addicted to substances. How do you then tell them to quit their job?" asks Manju.
Giving them identity documents to avail government services, opening and operating bank accounts, reading and writing their own name are the baby steps of empowerment.
"Helping women undertake vocational training, get a job and sustain it, is the major challenge," she adds.
---
You may also like: Sex Workers Defy Tradition: "Our Daughters Will Not Be Prostitutes, They Will Study."
---
Awareness
AAWC conducts regular sensitization and awareness drives on safe sex, since women are at the risk of getting infections from their clients like STDs and HIV.
Importance of menstrual hygiene is emphasised through tie-ups with organisations that provide sanitary pads. Incase of women with multiple infections, a medical team guides them about the treatment they can undertake. "Our team takes them to the nearest government hospitals and maintains a follow-up. We have a very comprehensive system in place. Providing them with just one-time service is not going to help," says Manju.
Rehabilitation is easier said than done. Delving into the reality of the brothel being a dangerous web, Manju says, "The situation is usually very complex. You cannot have one strategy for all situations. When women under brothel owners work as sex slaves to repay debts, we can't do much except offer medical services. But women who escape brothels are the ones we are able to reach out to."
Most of them are uneducated and unskilled. Engrossed in their daily survival, they lose faith in themselves. Providing them a support system then helps them visualise the possibility of looking at a different job.
"We have enrolled women for different kinds of job training programmes where we handle the complete expense and also give them a stipend for daily expenses, including food, rent, travel allowance etc."
One of the courses for women included an in-house, basic training for beauty and makeup. "The first batch had 20 women, of which only nine were able to complete the three-month basic training course. We referred those women for an advance level training, of which only five were able to complete. The ratio might not be high but we are happy that we are at least opening those opportunities to them."
One of them now runs her own beauty parlour in the area and three others are working with a leading makeup brand in India.
Tailoring and embroidery classes were also introduced. Since it requires long hours of concentration and small math calculations, only a few were able to take it forward.
One woman who worked in a garment factory to cut thread, has now become an assistant manager there. Two more aided with sewing machines, do fall beading work from home.
While most of these women enter the profession as young as 16, by the time they escape the clutches of the brothel owners, they are already 35-40. In the world they've belonged to for the longest time, being 40 is considered old.
"Most women we interact with never pass an opportunity to get their kids educated. They understand the importance of education. It has happened because counselling is the undertone to all our programmes," says Hetal Jobenputra, Senior Programmes Manager at AAWC.
---
Read more: The Transgender Mother From the Famous Ad Is on a Mission to Build a Home for Children of Sex Workers
---
Umang
A certified balwadi teacher and her assistant run an annual curriculum for toddlers under Umang. Volunteers conduct various academic and non academic activities for them.
Regular health checkups, five meals a day, quarterly diet charts and regular follow-ups are undertaken.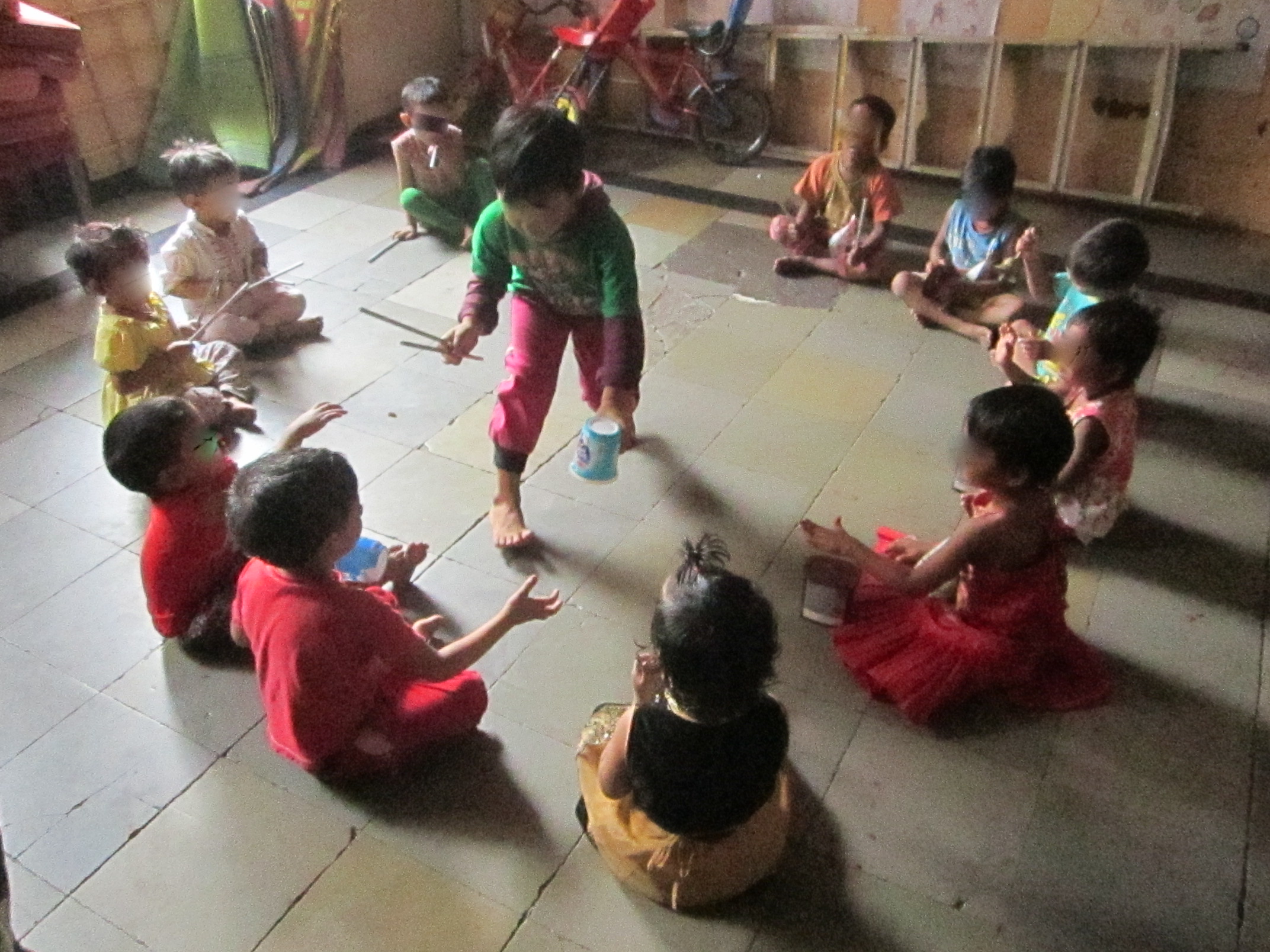 A full-day schedule consists of time to study, eat, play and sleep. Saturdays are the most looked forward to, as they trail to the garden. To improve their social skills, dog therapy once a week was introduced.
"What our children lack the most is trust. It is passed down from their mothers. Dog therapy helps us build that trust. They learn to respect animals too. The trust built with the dog then moves on to humans," says Hetal.
From recognising animals from pictures of their skeletons to matching the pictures of historic figures to their statues at museums, these toddlers are the smartest you'll ever come across.
Udaan
Education is the prime activity for the girls under Udaan. Depending on the request from the mothers the girls are enrolled in English- or Marathi-medium schools. Everything from their fees to stationery is taken care of. In addition to daily tuitions, extracurricular activities include basic life skills, computer classes, music and drama etc.
Summers are the busiest months for AAWC. From the American Library to the museum, from visits to PwC to flamingo watching at Sewri, maximum exposure happens during this period.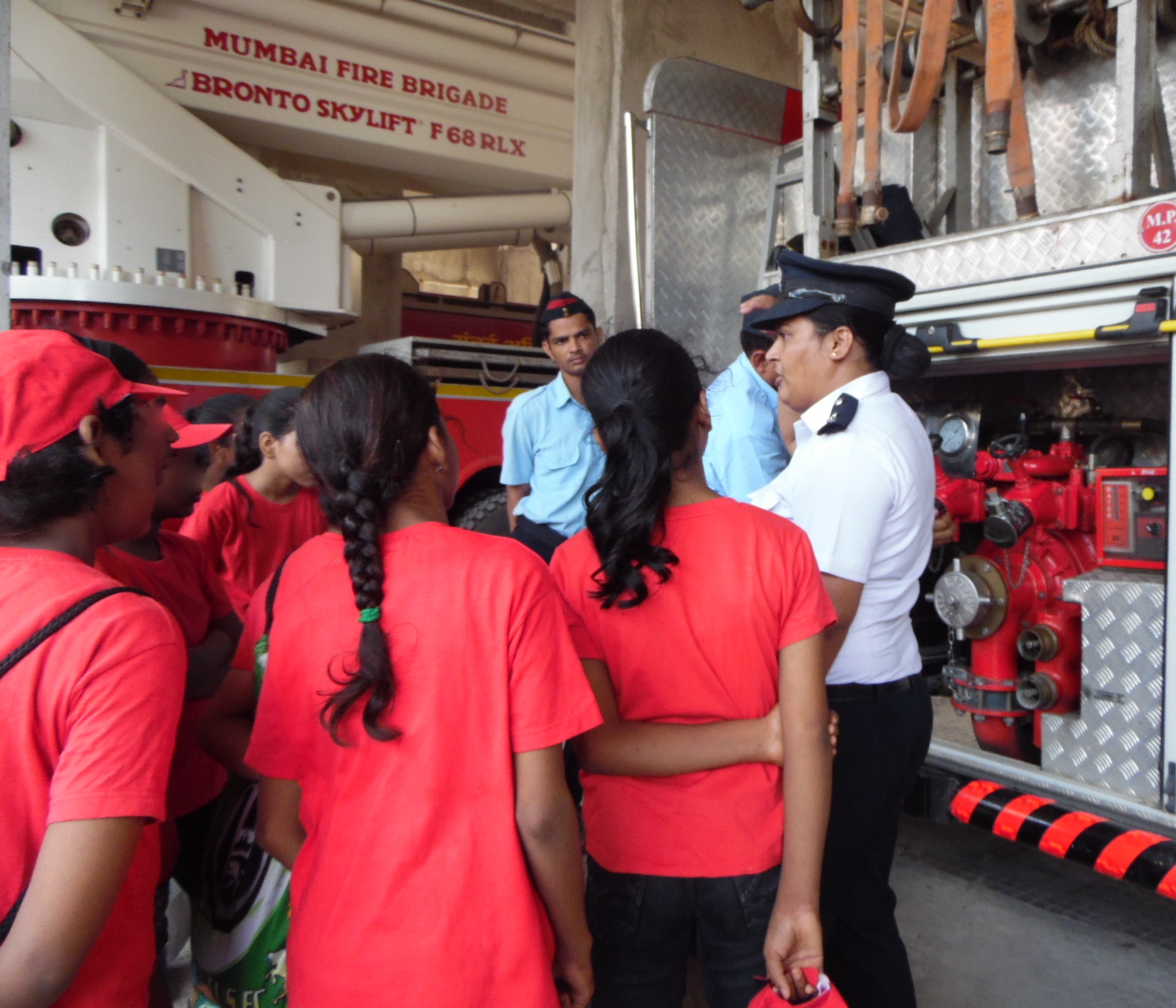 "The focus is not only on theoretical knowledge. They learn and grow rapidly through the medium of fun. They visit the fire brigade, police stations and the bank. If the visit is on a Friday we inform them on Monday in advance, to think about possible questions to ask the Bank Manager. We loop the bank in about it being an open Q&A," says Hetal.
Impact
AAWC prides itself about its 100% result of none of their girls getting into their mother's profession. Many of them are working abroad in five star hotels as head chefs, social workers, managers, teachers, accountants, nurses and are even heading neurosurgery. One of the girls started her own YouTube channel and made an award-winning documentary on bullying.
"If you look at them you'd never believe they have grown up in a red light area," says Manju.
The girls believe in giving back just as much. One alumnus who learnt Spanish, worked as a volunteer and imparted the knowledge of the language to the younger girls.
Many of the girls who are financially settled have helped their mothers quit the profession. Buying homes in the suburbs and outskirts of Mumbai, they are taking care of their younger siblings too. Those who are married visit the centre regularly.
Road Ahead
The road has always been bumpy since they are working with a highly stigmatized sector of society.
"We are always understaffed. Getting people to work with us is a huge challenge. Parents don't allow their daughters to come here and work solely because our address says 'Kamathipura.' They are concerned about their safety and dread what people will say if their daughters are spotted in this area. So, we multi-task," says Manju.
AAWC has established and mastered the art of creating a rapport with the women. But changing the mindset of people is the challenge. And that fight is never going to end, says Manju.
Connect to Apne Aap Women's Collective at:
61-B, Room No. 6, Ground Floor,
Shankarrao Pupala Marg,
11th Lane Kamathipura,
Opposite Pochammadevi Temple,
Mumbai 400008, India
+91 22 2308 3326/+91 22 2381 9721
Like this story? Or have something to share?
Write to us: contact@thebetterindia.com
Connect with us on Facebook and Twitter.
NEW: Click here to get positive news on WhatsApp!
We bring stories straight from the heart of India, to inspire millions and create a wave of impact. Our positive movement is growing bigger everyday, and we would love for you to join it.
Please contribute whatever you can, every little penny helps our team in bringing you more stories that support dreams and spread hope.