With SanLak Agro-Industries, Vikram working with farmers to get them on board for organic farming and millets.
When Vikram Sankaranarayanan came back to India after graduating from the London School of Economics, most people were flummoxed to hear him express his desire to work with farmers.
Undeterred by questions and criticism, Vikram has followed his path and founded SanLak Agro Industries Pvt. Ltd, an enterprise that works closely with farmers and enables them to cultivate millets.
A selection of millets, varieties like barnyard and kodo, is sold through Vikram's retail brand Smilyfe.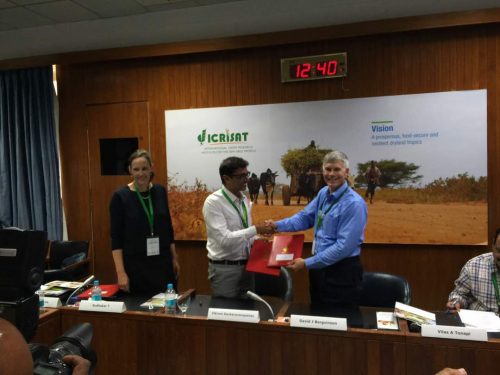 During his time in London School of Economics, Vikram studied international employment relations and human resource management. However, he had no interest in corporate organisations and knew that he wanted to ensure job security for his fellow countrymen.
He says, "Nearly 60 per cent of Indians are in agricultural industry. But only 2 per cent of them substantively contribute to the overall GDP. Hence I knew I wanted to help them. My goal was set once I came back to India."
A lot of times, the policies that work on paper do not translate into success in the real-world. To avoid such an outcome for his initiative, Vikram began by backpacking across the country to learn about the problems and challenges faced by Indian farmers firsthand.
He realised that a lot of farmers lacked resources, as well as the finances to invest in the right tools to achieve success. Perpetually debt-ridden, they had to contend with growing crops that were proving to be detrimental to their own interests.
"We're a country that has crossed one billion population. But a lot of the farmers are dependent on crops that are not really 'smart'. Crops like wheat are not temperature 'smart' nor they are not 'water' smart," he says. In other words, farmers are growing crops that consume a lot of water as well as pesticides and other fertilisers all off which result in serious problems like drought.
Vikram was looking at helping farmer shift to crops that were not water intensive, and would not pose the same challenges as crops like wheat and rice.
So he set his sights on quinoa.
Looking back, he chuckles at the idea that he tried to get farmers to take up quinoa. But his path completely shifted after meeting with Santha Sheela Nair, a retired IAS officer and the former Vice Chairman of Tamil Nadu State Planning Commission.
He proposed the idea of motivating farmers to cultivate quinoa, but she led him towards millets instead.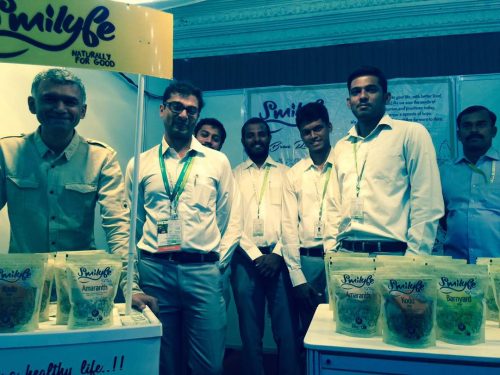 "I had mailed the authorities about my plan to help farmers, but she was the one of the few who provided a definitive answer. Before this meeting, I hadn't even heard of millets!"
Yet he was soon sold on the idea. Millets define the idea of climate 'smart' crops. They can withstand rising temperatures and they don't require pesticides and fertilisers. They also require 30 per cent less water than rice.
Thus, the plan was soon set in motion.
"Millets, in general, were my way to empower farmers. By ensuring a great quality of life for them, you can stop them from migrating. You also end up with food security."
But it wasn't just enough that he turned farmers towards millet; he also wanted to process them according to global food standards so they would be export ready and pose no inherent health concerns for consumers. His main issue was that grains processed through most machines in India contain nano particles of.
To change the scenario, Vikram went out of his way to procure SS304.
A premium stainless-steel primary grain processing machine, the SS304 ensures that processed crops are of the highest quality with no rust contamination. Through his company, Vikram also wants to turn farmers towards food processing by making these machines available to them.
---
You may also like: From School Dropout to Farmer-Scientist, This Man Has Developed 600+ Varieties of Native Seeds
---
With SanLak Agro-Industries, Vikram is pulling all stops to get people on board with millet farming, including communities living in the tribal belt.
Introducing Sustainable Agriculture to Tribal Farmers in India

Food for Thought… Last month, the #SanLak and #Smilyfe team stepped out to over twenty six tribal villages in #TamilNadu to reach out to #tribalfarmers and encourage them to embrace #sustainableagriculturalmethods. #Minormillets have long been a staple crop of #southindianfarmers but in recent decades, they are slowly being eked out by #rice and #wheat. Under current #climateconditions and #publichealth maladies, it is time to revisit what we eat, what we grow, and how we grow it. Click on the video link to learn more.

Posted by Smilyfe on Tuesday, April 18, 2017
"In the company we have an agricultural team who came up with this idea of starting tribal training programmes. It's a pilot project where we train tribals living in the Nilgiris to cultivate millets and teach them to incorporate organic practices. We are projecting that by the end of five years, we would be helping 40,000 farmers in that region alone." If the pilot programme succeeds, Vikram hopes to replicate the models in other places too.
---
You may also like: Meet the Chennai Woman Who Helped Revive Herb Farming & Empowered Farmers in a Uttarakhand Village
---
Vikram is hedging all his bets on millets and is certain that this might be the answer to a lot of problems faced by farmers around the country. With millets gaining momentum with the government as well as conscious consumers, he knows he's made the right call.
The company can be contacted here.
Like this story? Or have something to share? Write to us: contact@thebetterindia.com, or connect with us on Facebook and Twitter.
NEW: Click here to get positive news on WhatsApp!