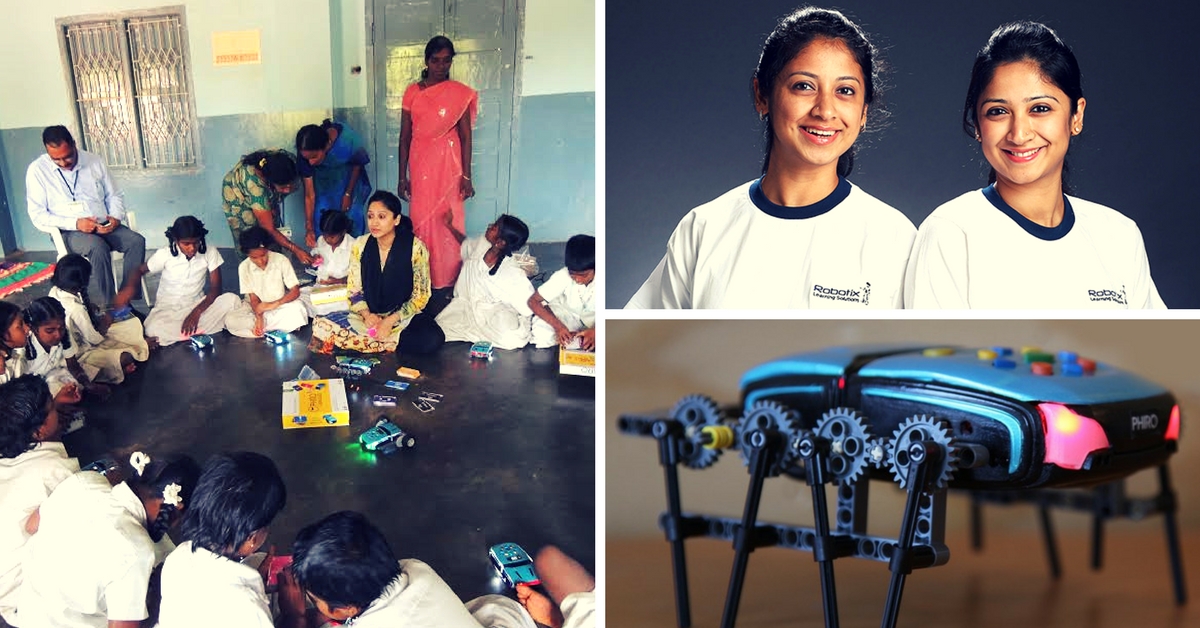 Sisters Aditi Prasad and Deepti Rao Suchindran, COO and CIO of Robotix Learning Solutions, are on a mission to inspire and educate young girls to learn to code and develop real-world programmes for real-world applications.
---
This article is a part of the
#SkillsToSucceed
series powered by Accenture in India.
---
Sisters Aditi Prasad and Deepti Rao Suchindran, COO and CIO of Robotix Learning Solutions, are on a mission to inspire and educate young girls to learn to code and develop real-world programmes for real-world applications.
While the literacy rate among girls is gradually rising/improving, the gender gap still continues. Particularly when it comes to Science, Technology, Engineering and Math (STEM) fields, girls are significantly underrepresented in most parts of India. According to the Department of Science and Technology, in 2005, only 37 percent of PhDs in science were held by women.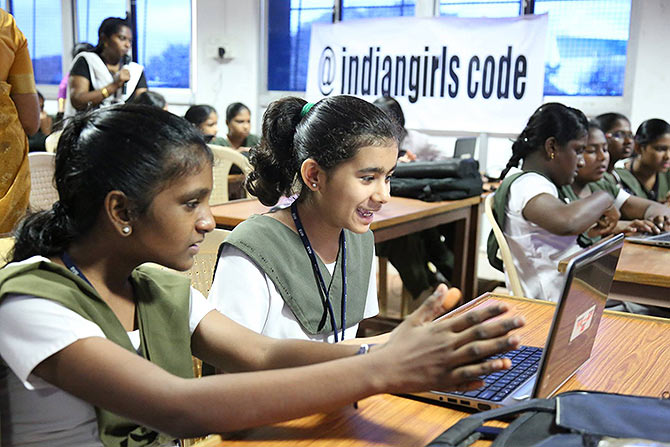 A 2004 report by the Indian National Science Academy concluded, from the little data it could gather, that the percentage of women occupying faculty positions in most research institutions and prestigious universities was less than 15 percent. An MHRD report shows that only 8.52% girls enrolled in higher education in 2012-13 were pursuing bachelor's degrees in engineering or technology. This was far below the national average of 13.27%. These disheartening statistics haven't changed much in the past decade.
Deepti Rao Suchindran, a neuroscientist, and her sister, Aditi Prasad, who works in public policy, felt that this gap needed to be addressed. Inspired by initiatives like 'Girls Who Code' and 'Black Girls Code', the pair of young innovators decided to harness the power of robotics to make school education more interactive and immersive.
In 2009, the two sisters founded Robotix LS, a company with a mission to inspire the next generation of innovators and creators. Under the aegis of Robotix, they next lay the groundwork for 'Indian Girls Code', a free, hands-on coding and robotics education programme for underprivileged girls.
In an interview with The Better India, Aditi talked about how Robotix is bridging the gender gap in STEM while inspiring young minds to ask questions and attempt the impossible.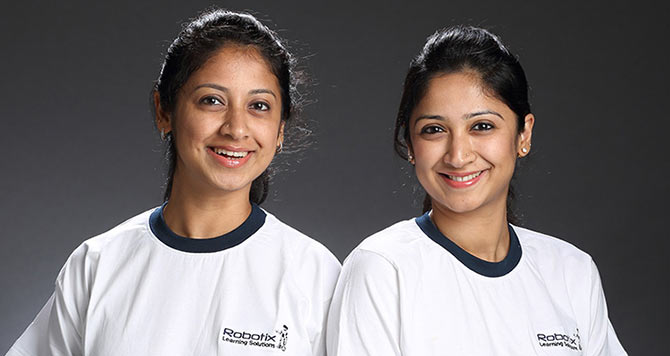 About the Founders
Aditi and Deepti are passionate about innovating in the field of education, and the inspiration behind it can be found in their own childhood. Their father played an integral role in their early years by encouraging them to ask questions, be good observers and explore scientific concepts in innovative and fun ways.
"I still remember the Sundays when both of us would read articles in Time Magazine with our father and discuss fundamental concepts, ideas, and issues around the world. In hindsight, I think this was what ignited our curiosity and inculcated in us a love of discovering new things," says Aditi.
After completing school, Aditi did her graduation in Law from ILS Law College, Pune, before completing her masters at Lee Kuan Yew School of Public Policy, Singapore. Driven by her passion for education, she went to work with the Lee Kuan Yew School of Public Policy's executive education department right after graduation. Later, she moved back to India to work at IIT Madras' China Studies Center.
As for Deepti, she graduated in biotechnology engineering from the Anna University. This was followed by a junior research fellowship in neuroscience at the National Centre for Biological Sciences and a PhD in neurophysiology, from the University of North Carolina at Chapel Hill. Post this, she worked for a few years at a neuroscience technology startup led by an MIT professor and soon after, she decided to pair up with her sister to start their own venture, Robotix Learning Solutions.
How They Started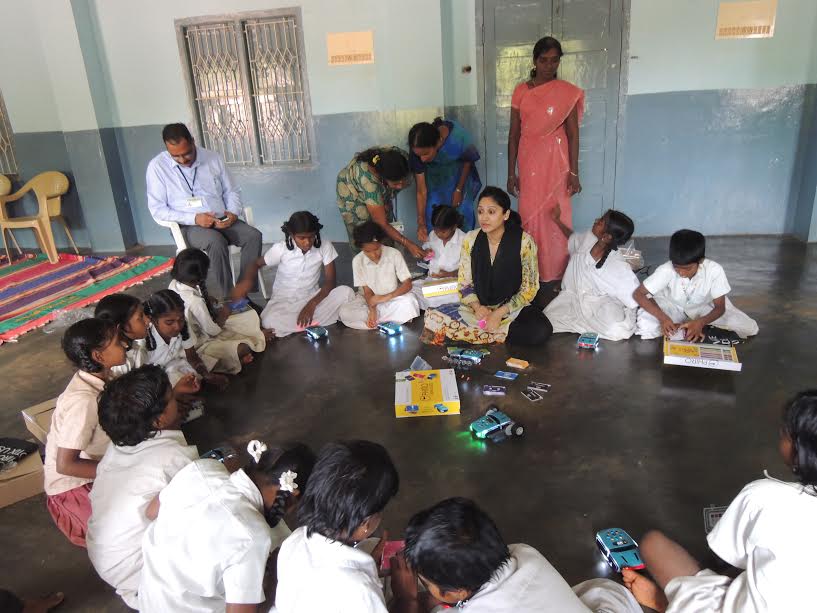 The Indian Girls Code initiative works to inspire and educate young girls to learn to code and develop real-world programmes for real-world applications.
"Our goal was to empower children with 21st century skills, such as computational thinking and expression, creative and critical thinking, collaboration and STEM skills, which are important in today's society. Developing these skills will help secure jobs in the heavily technology driven world, jobs that pay more than non-technology jobs.

We also wanted to bridge the gender gap in STEM. So we started the Indian Girls Code initiative to boost the self- confidence of girls and assure them that they are capable of excelling in any field," says Aditi, who is the Chief Operating Officer of Robotix. Deepti is the Chief Innovation Officer.
How It Works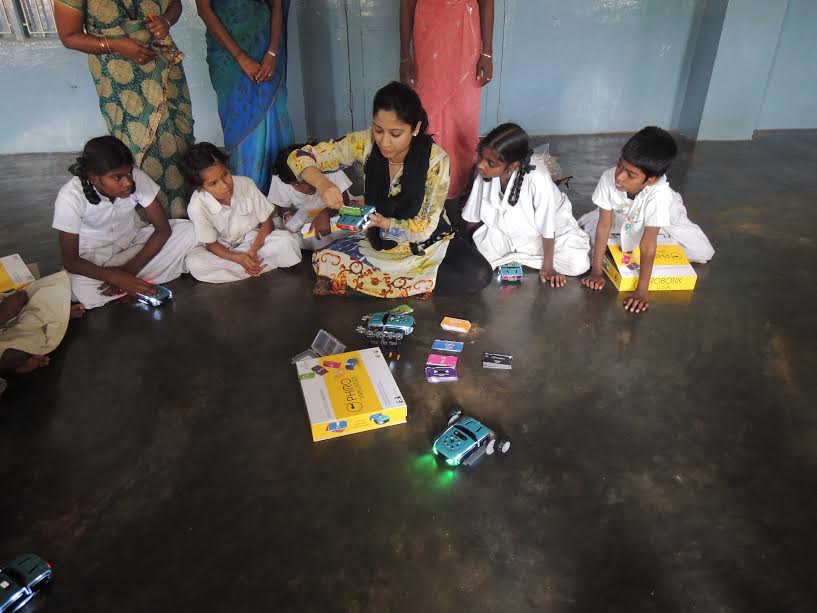 Explaining how it works, Aditi says,
"While interacting with girls, we realised that if girls can solve real-world problems that they face at home, in their community, in their country by developing technology that is valuable to the world and personally meaningful to them, this will empower them in many ways.

So, we started a programme to teach coding to underprivileged girls between the age of six and twelve at the Annai Ashram, an all-girls orphanage in Trichy. Today, as many as 40 girls of the orphanage are taught coding and robotics free of cost every week throughout the year.

Second, we have started after-school programmes and summer camps in schools, both private and public, in multiple cities. Third, we also run an annual robotics competition called the Indian Robotix League in which we have a girls' team award."
The tech arm of the Indian Girls Code initiative has also created a Lego-compatible educational robot – Philo – that can support several coding languages and accommodate learners at every level of proficiency. PHIRO only uses open-source, freely downloadable lessons that instruct children to code in five different ways. Ten PHIROs have been provided to the orphanage to help girls learn more about robotics, coding, making apps and computational thinking.
The Impact
Aditi says that most of these kids are extremely smart and their thirst for knowledge allows them to grasp concepts easily as well as apply these skills in the real world. For instance, she explains how kids used coding taught in the programme to create simple animations that demonstrated the harmful effects of pollution as well as concepts such as waste segregation, recycling, etc.
Another example she gives is of how children taught by Robotix LS used coding to put together their own stories. During the Chennai floods in December 2016, many children made their own animated stories about their experiences during the disaster, what they learnt from it and what could be done for those who needed help in such situations.
Plan for The Future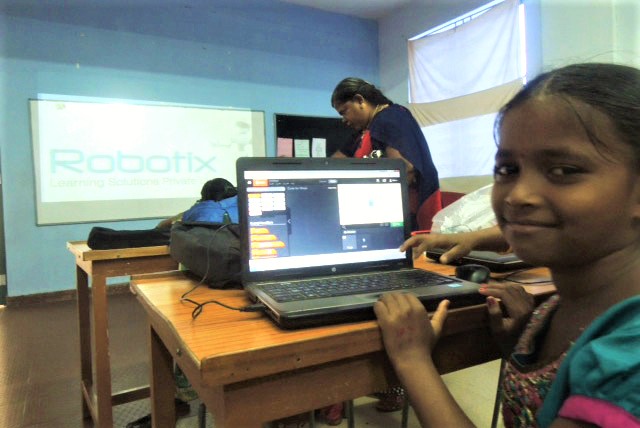 Aditi hopes that the kids will now use their training to create their own little robots that could do simple tasks like picking up trash, segregating waste, etc. Robotix is also designing problem-based projects for kids. This will help the Robotix team understand how the children go about it so that they can improve the curriculum and make innovating easier.
"While we are doing our bit to develop important scientific skills in children, other stakeholders need to do their part too. Engineering colleges, research centres, and corporate companies, all need to collaborate and encourage students to use cutting-edge technology for finding solutions to practical problems.

I know that there have been some great efforts at the broader level, like setting up tinkering labs and the 'Make in India' initiative, but we need to build a strong foundation first. Good quality education at the school level is the most basic requirement if we are to achieve this.

Also, it is essential that more and more young girls are encouraged to take risks, utilise opportunities and choose challenging paths. For this, more needs to be done to support them, especially in companies and universities where women are pursuing these careers," says Aditi.
---
You May Like: Three Techies in Chennai Have Made It Possible for Students to Learn Programming in Indian Languages
---
What Keeps The Dynamic Duo Motivated?
When asked what's the best part of their jobs, Aditi says it's watching kids create innovations of/for the future.
"Seeing young children wanting to make a difference and creating such amazing inventions is what motivates us every single day. We have seen them apply their knowledge to solving the problems they see around them. Knowing that we can make even a small difference in a child's life is our source of strength. They inspire us and we hope that, in some way, learning from us inspires them too."
In a country where technical degrees often translate to higher-paying jobs, Aditi and Deepti are working to offer girls better careers and opportunities to support themselves. By connecting technology with its end use, they are making it more approachable and fun, while turning the spotlight on those who are changing the game with innovative technology. We salute their spirit and wish them all the best in their endeavour to create a new discourse in tech education for girls.
For more information about the Indian Girls Code project, you can contact them at info@robotixedu.com or check out their website: www.robotixedu.com
---
This story is a part of our series with Accenture in India's, #SkillsToSucceed initiative, aimed at advancing employment and entrepreneurship opportunities for individuals to drive impact at scale.
---
We bring stories straight from the heart of India, to inspire millions and create a wave of impact. Our positive movement is growing bigger everyday, and we would love for you to join it.
Please contribute whatever you can, every little penny helps our team in bringing you more stories that support dreams and spread hope.