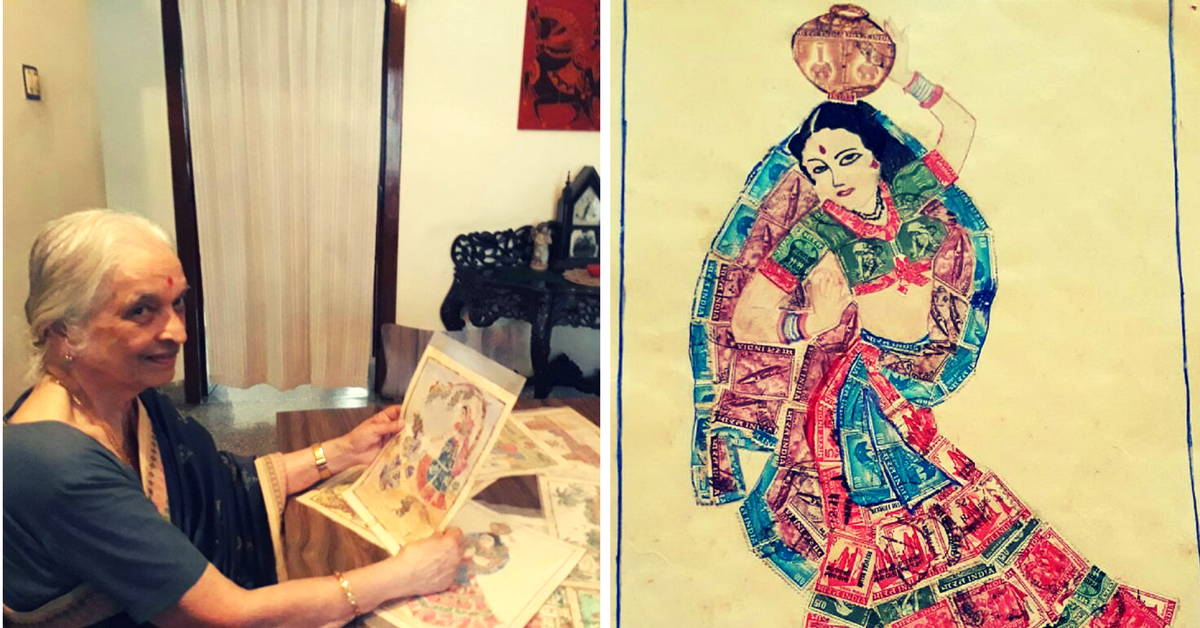 Meet the 82-year-old woman who has spent over 40 years painstakingly creating beautiful artwork from discarded Indian postage stamps and her son who passionately preserves philately.
Meet the 82-year-old woman who has spent over 40 years painstakingly creating beautiful artwork from discarded Indian postage stamps and her son who passionately preserves philately.
Deepa Melkote speaks at the lightening pace of a woman on a mission.
The 82-year-old homemaker is a woman of many talents, but her specialty lies in the intricate collages she has created over the last four decades. Her subjects are varied: historical monuments, dancers in colourful lehengas, brightly coloured birds and mythological figures.
Each piece is comprised of vivid stamps that have been segregated, cut into tiny pieces and glued neatly onto a sketch.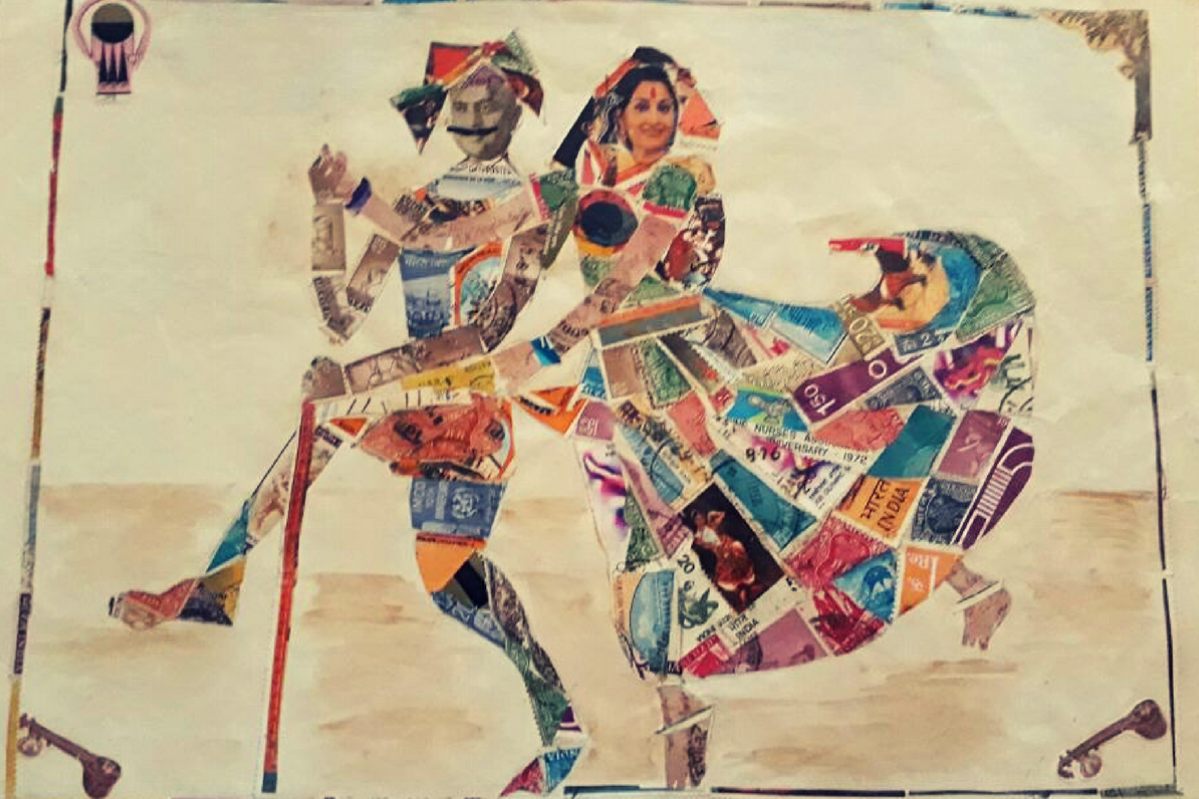 "I once read in a magazine about a British woman who collected stamps and used it as wall paper for her home," she explains. "That gave me an idea to do something with discarded stamps. The colours are what attracted me."
Understandably, Deepa's hobby has been culled by the scythe of modern technology. She complains that she no longer receives snail mail and, when she does, is uninterested in the monotonous stamps affixed to it, unlike the brightly coloured specimens she used to work with when she first began her artistic hobby in the 70s.
Postmarked in History
High above the treetops on Bangalore's Raj Bhavan road extends a majestic dome atop an imposing, stone building. It has been a hallmark of the city's skyline long before it was joined by swooping metro rails, tacky hoardings and the penthouse suites of tall, business hotels. If you crane your neck, you can just about make out the logo affixed to the front of the building: three yellow wings that zip across a red square.
This is the General Post Office, an architectural and historical marvel, with a reputation for efficiency.
On the first Sunday of every month, a group of philatelists meet here to resuscitate what is quickly becoming the lost art of stamp collecting. Formally, they comprise the Karnataka Philately Society, established in 1975 to promote the hobby of philately and build and disseminate philatelic knowledge around it.
Despite dwindling interests in the art, on paper, the organisation boasts more than 500 life members. Their General Secretary is Nikhilesh Melkote, who has been collecting stamps since he was eight years old.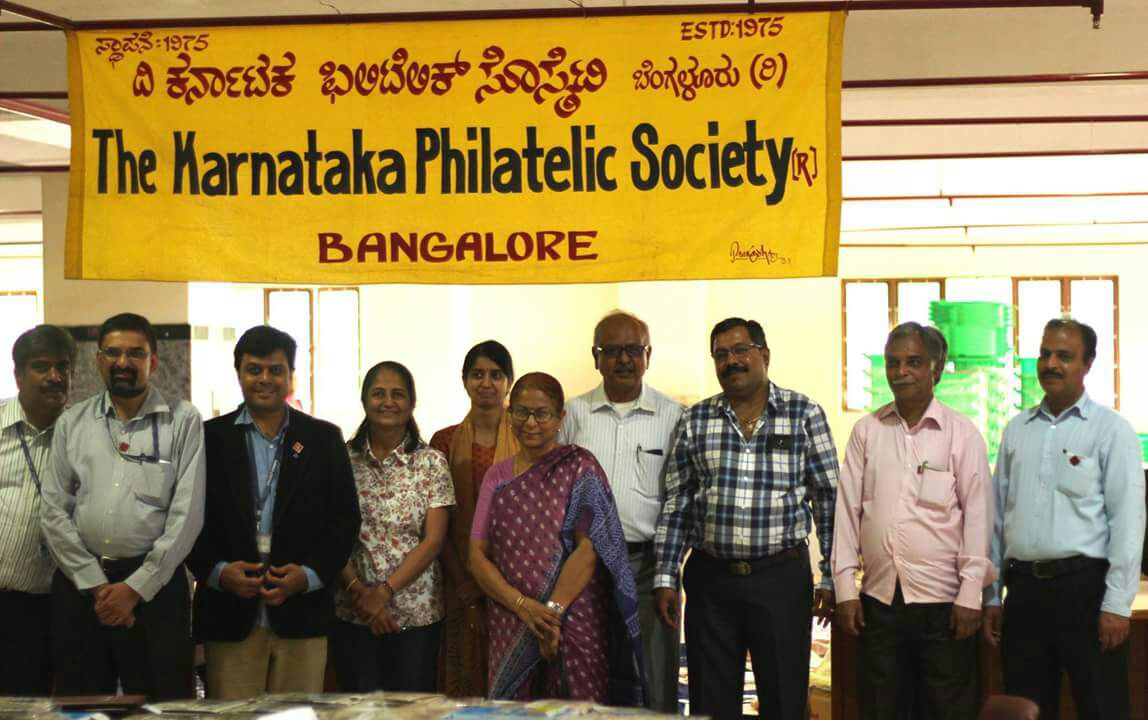 He also happens to be Deepa's only son, and the reason she began using postage stamps as material for her art projects.
"My son used to collect stamps as a school boy. He has many wonderful thematic collections," Deepa says, proudly.
Today, Nikhilesh works tirelessly to share the passion that changed his childhood with other young people. He began by collecting all sorts of stamps but, over time, realised that a more scientific, educational method would involve acquiring thematic collections. At present, he has a stunning range of flag and cricket-themed stamps. He speaks warmly of how both his parents supported his hobby by buying him all the books and materials he needed to pursue philately.
"I could not have reached the level I did, winning international awards and visiting foreign stamp exhibitions, without their unstinted support," he says.
Like her son, Deepa understands being passionate about a hobby, because she has several.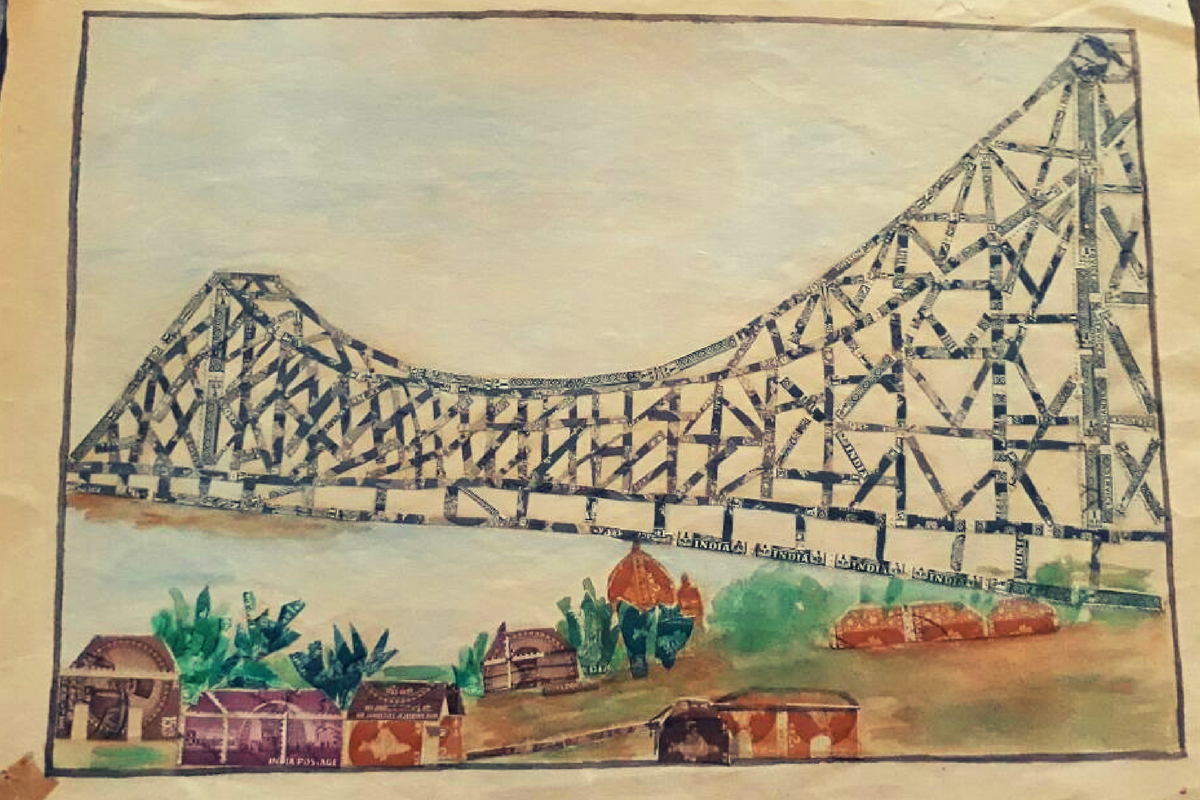 On a regular morning, Vividh Bharati radio is on loud at the Melkote's Indiranagar residence. Deepa sits in her usual spot, listening to music but focusing on the task at hand, usually needlework. She first took to embroidery as a schoolgirl in Dharwad and keeps at it, 70 odd years later, stitching beautiful patterns onto tablecloths or patiently sewing geometric kasuti designs onto saris for friends. In all her years as a seamstress, Deepa has never considered going professional.
"No, no!" she says, appalled, when the question is raised. "Needlework is my hobby! I just do it for my friends."
She is also an ace at crochet work and knitting, is a club- and state-level Bridge player and never misses an Indian cricket match on TV.
Much of her adult life has been transitory. Deepa's husband, an IAS officer, was posted in a different part of Karnataka every two or three years and the family moved with him across the state, from Gulbarga to Raichur. Despite their fluid lifestyles, Deepa and Nikhilesh always managed to pack up their stamps and continue where they had left off at their next destination.
"I hate throwing things out!" Deepa laughs. "I used to collect all the damaged and discarded stamps my son did not want and use them to make collages. At one point, all the peons in my husband's office were instructed not to throw away any stamps but to collect them and give them to me."
Nikhilesh fondly recollects similar memories of his mother. "Sometimes she would get stuck because of the lack of a particular colour. I would ask all of my collector friends and also search envelopes in my Dad's office till we got her the right colours. During my school days, I remember watching my mother patiently and diligently cutting and pasting stamps to make her stamp craft. She would ask me for my spare, unwanted and damaged stamps. I no doubt learnt the qualities of patience and hard work from her. These are especially required for a philatelist who wishes to excel."
Deepa is one of those people whose packrat tendencies nearly always have creative outcomes; when she's around, even used matchsticks can be turned into crafted flowers on a tray. Last Christmas she cleaned out aluminium foil used to wrap food and turned it into garlands that now hang from her friends' Christmas trees.
Among her creations are intricate collages of the Madurai Meenakshi Temple, the Tungabhadra Dam, the Howrah Bridge and Bangalore's Vidhana Soudha.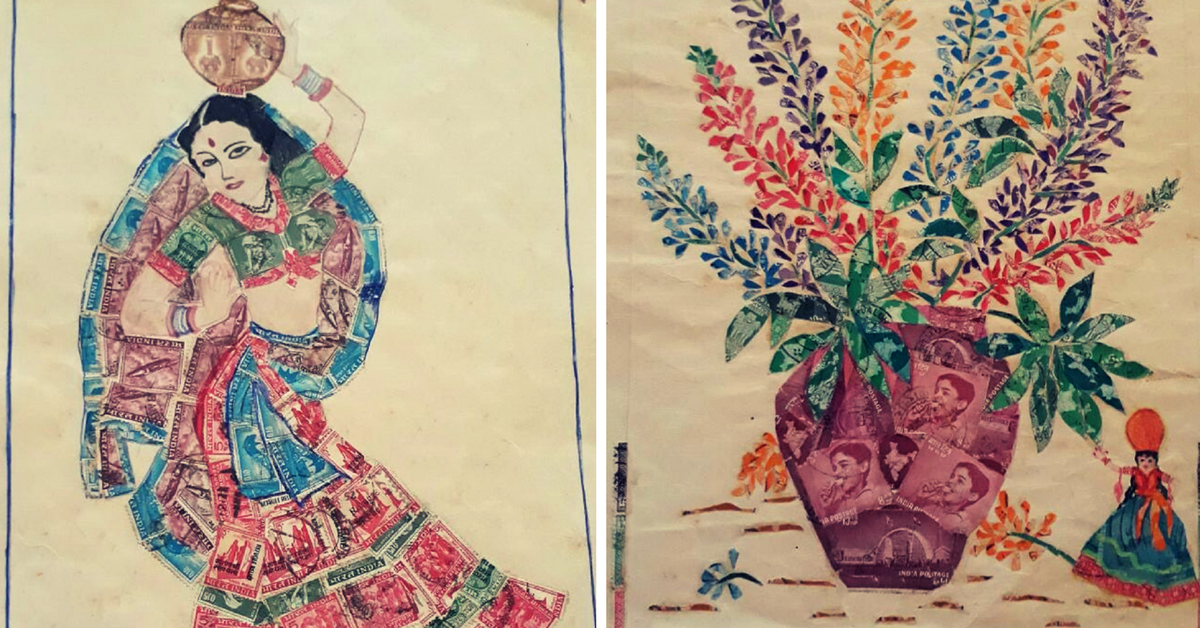 "The sketching is done very quickly," she says. "The rest depends on whether I have all the stamps I need. Sometimes I have to wait for the right colours. If I have enough stamps I can sit from morning to night and finish a piece."
The most remarkable aspect of her work is that it has remained largely hidden for 40 years, save a few exhibitions she allowed her son to display her pieces at, and the times she showed them to her friends.
"People don't have patience with these things," she says, referring to her craft ventures in general. "Some of my friends wanted me to teach them kasuti but after two days they said they didn't have the patience. You have to be willing to sit quietly and keep working."
Despite the fact that she has not held a full-time job since she married – Deepa worked as a lecturer of Sanskrit at the Karnatak University Dharwad – she never has trouble filling her day.
"I was a very good student!" she tells me when I ask what other Renaissance Woman surprises she has up her sleeve. "I got a First Class in all three of my degrees. I also have an LLB Law degree."
Deepa's long-term plans don't extend further than her evening card game at the Bowring or Indiranagar Club, but Nikhilesh is working hard to continue promoting philately. With the KPS, he travels to schools in urban and rural Karnataka to share his passion for stamps with the younger generation. The organisation also conducts workshops and helps existing collectors participate in, and develop, world class exhibitions.
To attend a KPS meeting, visit the GPO, Raj Bhavan Road, Bengaluru 560001, on the first Sunday of every month between 11 a.m. and 1 p.m. Contact KPS here.
Like this story? Or have something to share? Write to us: contact@thebetterindia.com, or connect with us on Facebook and Twitter.
NEW: Click here to get positive news on WhatsApp!