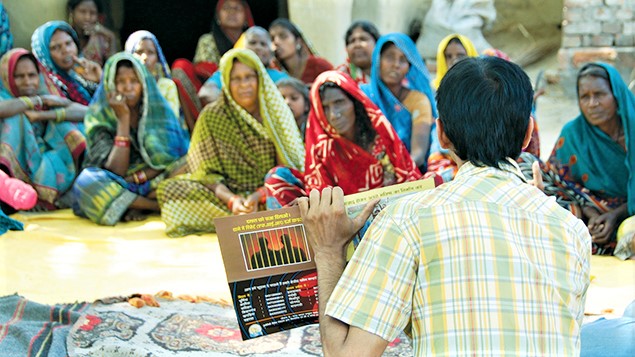 Honoured with the Free The Slaves 2016 award, Samarthan is setting the standard for successful and sustainable anti-slavery initiatives through its innovation, hard work and dedication to fight bonded labour in the most marginalised of Indian villages.
Rural poverty continues to be a scourge in India, affecting tens of millions of households despite years of strong economic growth for the country overall. Something else has also endured alongside the crippling poverty in India's hinterlands, a form of slavery that persists in the 21st century. Bonded labour.
Though it has been outlawed by the Indian government in 1976, bonded labour or begar continues to exist and evolve. Intricately tied to economic, cultural and psychological factors, its main victims are impoverished villagers who do not know their rights and who have no choice but to borrow funds when a family emergency arises. This vulnerability is the key factor that drives bonded labour in India.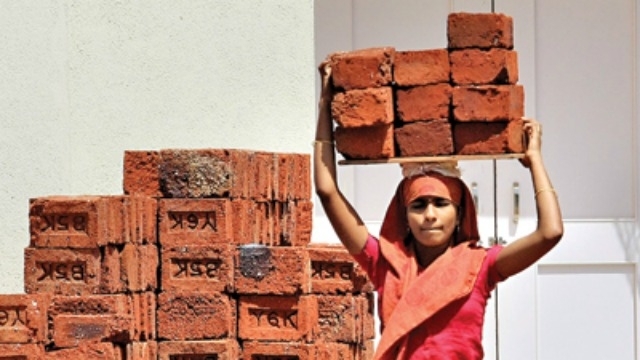 Chained to an illegal financial obligation, unwitting villagers are forced to work off loans to wealthy farmers that they can never repay. If unrelenting psychological pressure fails, slave holders enforce their grip through direct violence, trapping generation after generation in illegal debt bondage. Debt also snares women and girls, who are trafficked away from their families and communities, with no way to get home if they were to escape.
Samarthan, a leading grassroots organization based in Madhya Pradesh and Chattisgarh, is changing the conditions that make this modern-day slavery possible. By educating those in bondage about their rights, and showing them how others in similar circumstances have successfully reclaimed their freedom, it is helping marginalised rural communities fight bonded labour.
Founded in 1995, Samarthan's main mission is to empower people with knowledge and to support the creation of citizen's groups that amplify the voices of the poor, dalits, tribals and women in policy-making platforms.
Samarthan mainly works in remote communities where there is no internet, radio, or television. People in these locations are often isolated and uninformed. Trained volunteers of the organization travel to these small villages to play a weekly radio program that promotes awareness, human rights and ending bonded labor. The original show, a pioneering outreach project created by Samarthan in collaboration with BBC Media Action, is called Majboor Kisko Bola!—"Who Are You Calling Helpless!"
First launched in May 2010, the 36-episode series broadcasts factual information in Hindi, packaged in entertaining formats, about labour welfare, workers' rights, relevant government employment schemes and the prevention of bonded labour. Each 30-minute episode began with a bonded labourer telling their personal story. This is followed model examples, suggested solutions and interviews to provide context and explanation. Each episode also includes recordings of the opinions of the audience, before finishing with a regional folk song.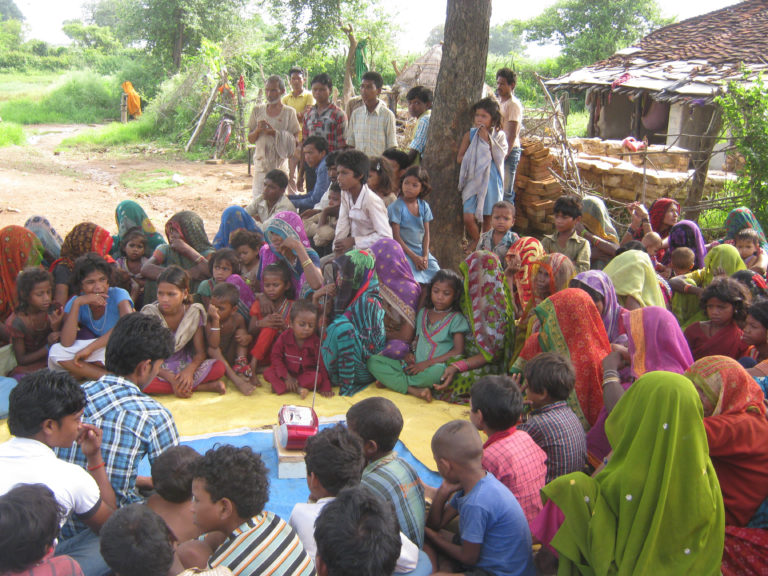 Thanks to this programme, the once defenseless villagers now recognize the risks posed by situations they face every day. Other than acting as a crucial connection between anti-slavery initiatives and the local community in "media-dark" places, Majboor Kisko Bola! is also fostering a vital understanding within high-risk communities about labour rights.
For instance, in a tiny village in Bihar, listening group members shared information about the minimum wage with the rest of their community. It was harvest time and the villagers were working up to 12 hours a day for their landlords in return for around 40 rupees a day. Collectively, they refused to work for less than the minimum wage. The landlords had to give in.
Samarthan has also taken the concept a step further by expanding it to 'listener villages'. The organization has trained facilitators in each village who are provide a new programme each week on a memory stick. This is then played through battery powered radio to at least half of the village each week. The facilitators then organize group discussions to encourage villagers to relate the programme content to their own experiences.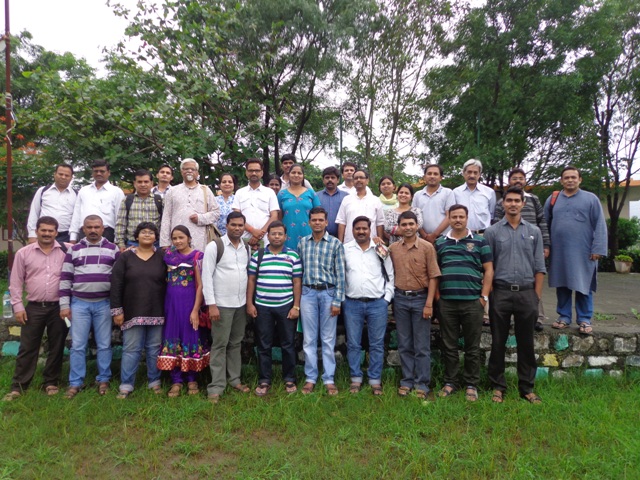 After listening to Majboor Kisko Bola! many villagers have learned about self-help groups, and have organised one for themselves, collecting a small amount of money from each member each month. These savings are distributed to whomever is most in need that month. The pooled funds are also used to set up small shops to generate an additional source of income.
---
You May Like: TBI Blogs: This Daily Wage Labourer Fought and Won the Battle For Equal Wages For Herself & Her Fellow Workers
---
Talking to some of them reveals many success stories. A family reveals how this money enabled them to pay back a moneylender and get their land back while a widow explains how a Samarthan facilitator helped her get the pension she had been denied after her husband's death. Another beneficiary says,
"My parents died working to pay off these loans and we were still stuck with them. It felt like our children would be stuck be with them too. However, thanks to the self-help group set up after listening to Majboor Kisko Bola!, I have paid off the loans and opened a little shop. I now have an income."
Most of the poor villagers say the same thing – until they heard the radio programme, they hadn't realised that there were other people 'like them' who had both experienced bonded labour and escaped it. Majboor Kisko Bola! had given them knowledge, evidence that it works, and the confidence to work together to demand their rights.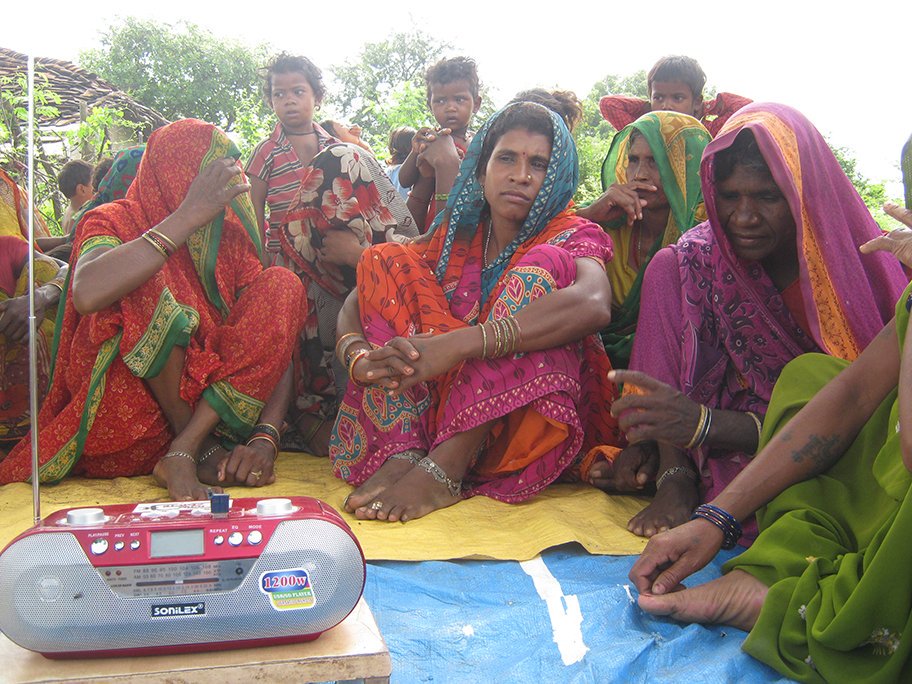 Majboor Kiska Bola! listeners are also given a mobile number to call with queries and reports of distress. Villager response is vast and inspiring. Many callers ask for concrete solutions to help them fight for their freedom. In 2014, more than 200 bonded laborers were rescued.
But this is not all. Samarthan (along with BBC Media Action) also organizes Shrota Samvad or Listener Dialogue that brings villagers and government representatives together. On the day of the meet, residents of the surrounding villages arrive on trailers drawn by tractors, some with bags sewn from cement sacks, some on crutches, others barefoot. A panel of government officials and police sit and listen to the stories of these villagers, before advising them or committing to action.
For most of them, a day spent at the meet means a day without pay, but thanks to the radio programme, they know the importance of this dialogue. Since 2014, more than 3,000 grievance redressals have been filed. The newly aware, listeners have also filed more than 5,000 applications to government authorities demanding entitlements.
In 2016, Samarthan was awarded the  Free the Slaves Freedom Award for its innovative approach to fighting poverty and bonded labor by strengthening local communities. Made possible by a grant from the Pegasus Liberty Foundation, this award celebrates anti-slavery heroes and innovators from around the globe by showcasing what some of the best anti-slavery work in the world looks like.
FTS South Asia Regional Programs Manager Alex Woods says,
"Samarthan's approach works. It provides essential information about workers' rights and bonded labor. It also has a very broad reach and is a very cost-effective intervention."
Thanks to its community driven initiatives, Samarthan has helped dismantle the region's system of slavery by providing inspiration along with information. On Human Rights Day, we salute the commitment and compassion of Samarthan and its entire team.
Contact Details: Samarthan
36, Green Avenue, Chuna Bhatti, Kolar Road.
Bhopal, Madhya Pradesh, India.
Tel: +91-755-2467625
---
Also Read: How Balamitras Are Helping Put an End to Child Labour in the Sugarcane Fields of Maharashtara
---
We bring stories straight from the heart of India, to inspire millions and create a wave of impact. Our positive movement is growing bigger everyday, and we would love for you to join it.
Please contribute whatever you can, every little penny helps our team in bringing you more stories that support dreams and spread hope.