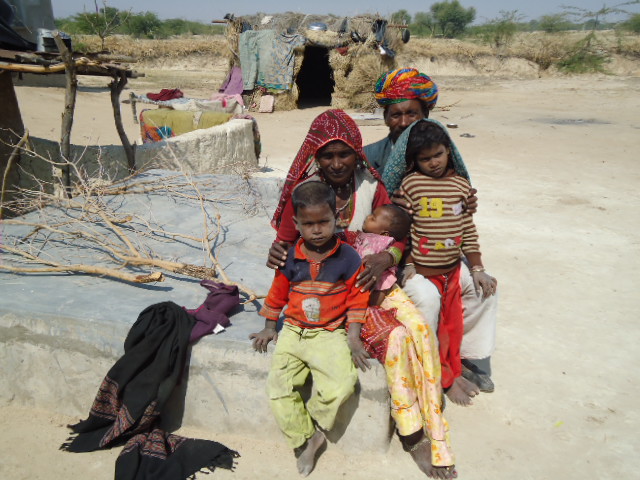 The Bagariyas of Rajasthan are one of the poorest and least literate tribes in India. While they are barely eking out an existence, their children don't go to school, they have no electricity, or in fact, any facilities that make life easier. Most developmental schemes seem to have bypassed them. But we see here, how a little money and a lot of initiative, can have a large impact on people's lives.
The Bagariyas of Rajasthan are one of the poorest and least literate tribes in India. While they are barely eking out an existence, their children don't go to school, they have no electricity, or in fact, any facilities that make life easier. Most developmental schemes seem to have bypassed them. But we see here, how a little money and a lot of initiative, can have a large impact on people's lives.
For centuries they led a semi-nomadic existence, surviving mainly by hunting and guarding other people's fields. Considered among the poorest and least literate castes in Rajasthan, most Bagariyas live in miserable little settlements outside villages, setting up their huts, made of baked mud, thorny branches and plastic sheets, on bits of barren land.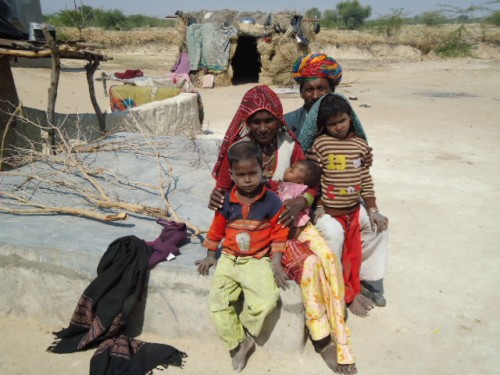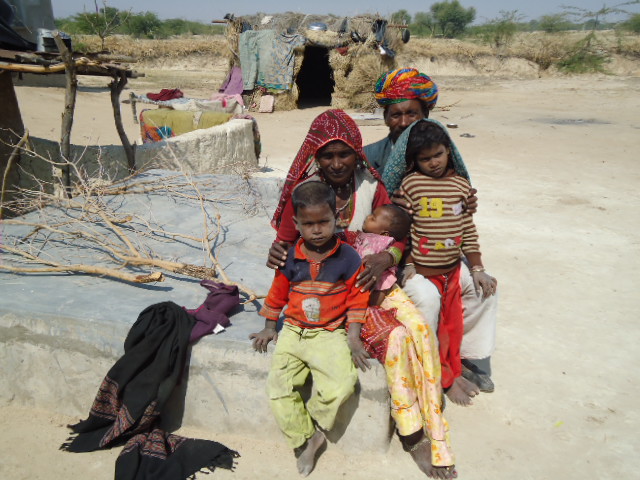 The dozen-odd Bagariya families who live on the outskirts of Kotri, in the north-eastern corner of the Ajmer district, are among the poorest inhabitants of the village. None of them owns more than a small parcel of land, compelling them to work as lowly-paid labourers or as guards in other people's fields, in return for wages in kind. Some eke out a livelihood making coal from wild bushes. While several other inhabitants of Kotri have borewells and pumps in their fields, enabling them to grow two crops a year, no Bagariya can afford these. Most houses in Kotri have electricity, but not a single Bagariya house does. Although electricity poles have been installed near the Bagariya settlement, so far no Bagariya family has arranged for a connection to their home.
Living as they do on the fringes of Kotri, the Bagariyas have been almost completely by-passed in development schemes meant for the village. Says Chhotu Bagariya, 'As long as I can remember, we never received any help from the government, except for two small toilets some years ago—planks of stone put together—which no one uses, and are now filled with dirt. It was only last year that we got forty-five thousand rupees under the Indira Gandhi Housing Scheme to set up pakka houses.'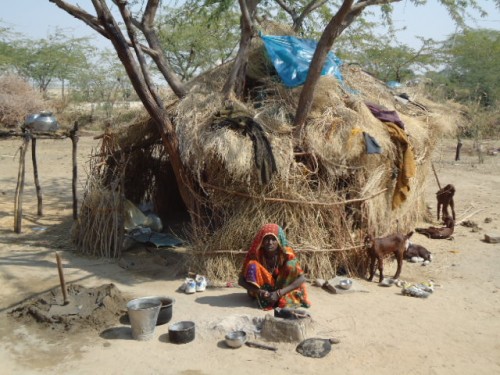 The money sanctioned to the Bagariyas under the housing scheme isn't sufficient to build the two-roomed structure that Chhotu is dreaming of making for his family of eleven members, including his nine children. 'I'll have to take a loan of some thirty-five thousand rupees to cover the rest of the cost, at a two per cent monthly rate of interest,' he says.
Chhotu's neighbor, Mangu Ram Bagariya, adds, 'I've had to pawn my own and my wife's jewellery to get a loan to cover the rest of the expense of building a pakka house. But the trouble is well worth it, because when it rains our mud houses inevitably cave in and collapse.'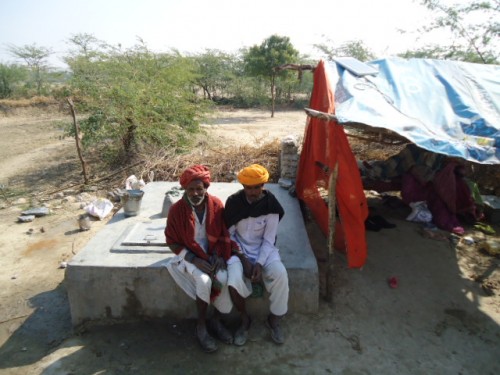 Chhotu and Mangu have no idea how long it will take to repay the loans. It might even take several years. After all, their sources of income, like other Bagariyas', are meagre. They own only a small patch of land, which yields just one crop a year, and that, too, only if it rains sufficiently – which isn't at all definite in this semi-desert part of Rajasthan. They possess some goats, but not enough to generate much of an income for their families. They might have to spend two or three years working as labourers in the salt pans in the nearby Sambhar lake region to save enough to repay the debts they've taken to have the pakka house that they have long dreamed of. 'Being in debt is nothing new for us, though' says 22 year old Ugam Ram Bagariya. 'Almost all the Bagariya families here are deep in debt, borrowing mainly from local moneylenders at high rates of interest. Sometimes, we borrow even simply to buy rations. My family has a debt of some two lakh rupees, which we had taken to arrange for a marriage in the family. We'll have to spend years laboring to repay it.'
Despite being desperately poor, most Bagariyas have large families, with upto nine or ten children. Not a single Bagariya child studies in school. Only a few Bagariya children can somehow manage to read a few letters of the Hindi alphabet, having studied for a few years in a night school run by Manthan, a local people's organization located in Kotri. But none of them is literate in the real sense of the term.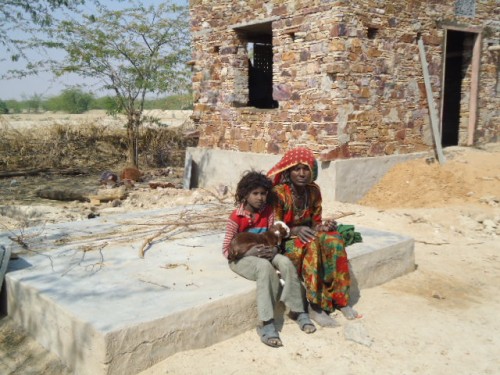 'Our kids simply sit around, playing in the mud all day or grazing goats,' says Manna Devi, mother of eight. Adds Mangu Ram, 'Some of our children began going to the government school, but after a few days they began to skip classes and then they stopped going completely.' He points to a group of Bagariya children, dressed in tatters, their faces caked with mud, running about, and muses, 'What is the use of going them going to school since in any case they aren't going to get a government job?'
Says Teja Ram, coordinator of Manthan, 'We have been trying to convince the Bagariyas of the importance of education, but we haven't had much luck. Maybe their children, like most other village children, find the curriculum alien and boring. But at least the Bagaraiyas now send some of their kids to the crèche we've started in their locality. Who knows, these children might one day go on to join regular school.'
Some 20 Bagariya children attend the crèche daily. 'At the crèche they get nutritious food and learn songs and games. But that's not the only purpose that the crèche serves', explains Teja Ram. 'The two women, both from other castes, who run the crèche serve as a means to link the Bagariyas with the rest of the village. They interact closely with the Bagariya women, learn about their problems, provide them information about health-related issues and family planning and the like.'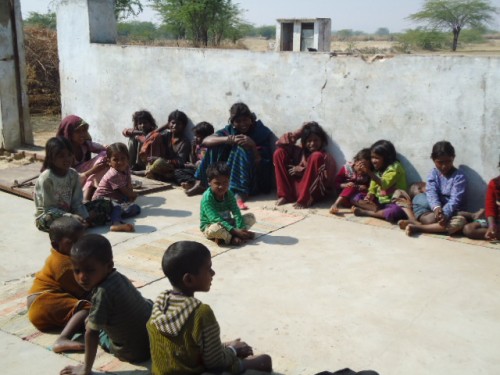 Potable drinking water is a major problem in this arid region. Located near the rim of the giant Sambhar lake, a major centre of salt production, much of the underground water sources here are extremely high in salt content. The burgeoning salt industry has led to the drying up of village wells, increasing brackishness of available water and a sharp fall in the water table across the area, hitting vulnerable communities like the Bagariyas the hardest. 'For decades we took water from two wells located close by,' says Manna Devi, 'but one of them is now dry and the water in the other, which was once sweet, is now too salty to drink. The water from the local hand-pump is also now full of salt.'
Till recently, the Bagariyas had no alternative but to drink the water from the hand-pump located in their locality, even though it is far too salty for human consumption. A recent intervention by Manthan, in association with Forrad, a Delhi-based organization working on water-related issues, has made a major difference in the lives of the Bagariyas in this regard. Under the innovative 'Back to Basics' programme, funds were collected from well-wishers for constructing water tanks (called 'haud' in the local dialect) outside each house in the Bagariya settlement. The cost of sponsoring one water tank, with a capacity of some 6000 litres, was around Rs.10,000. With this money, Manthan purchased the material necessary for the tank and paid the mason's fee, while each Bagariya family provided the labour for installing their own tank. Work was finished in just a week.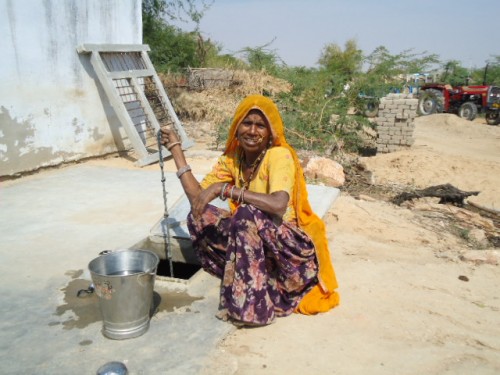 Thanks to the 'Back to Basics' intervention, every Bagariya house now has its own haud, saving girls and women the onerous task of trekking a long distance to fetch water and the compulsion of drinking the harmful brackish water from the hand-pump that the Bagariyas once used to rely on. But although Manthan's effort means a lot to the Bagariyas, each family still needs to spend some 350 rupees a month – a huge sum for them – to purchase a tanker-load of water from a businessman in a neighbouring village and arrange for it to be poured into their tanks.
Says Teja Ram, "There's much that can be done through local-level initiatives for people like the Bagariyas who often get completely left out in the planning and implementation of development schemes. Often, small gestures, like the tanks in the Bagariya settlement, can have a large impact on people's lives and health, although they don't cost very much. As the 'Back to Basics' programme shows, with just a few rupees one can help bring about major changes in the lives of entire families."
All photographs: Yoginder Sikand
We bring stories straight from the heart of India, to inspire millions and create a wave of impact. Our positive movement is growing bigger everyday, and we would love for you to join it.
Please contribute whatever you can, every little penny helps our team in bringing you more stories that support dreams and spread hope.