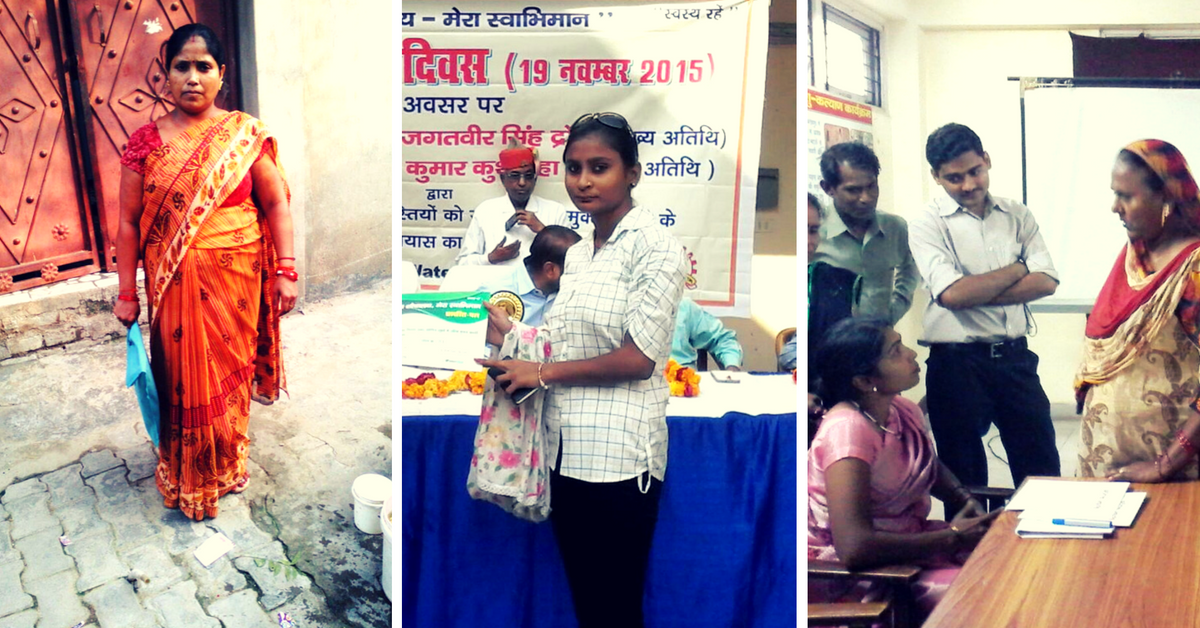 NGO Shramik Bharati is empowering women in the slums of Kanpur to become community leaders and lead the movement for a clean, open defecation free India.
NGO Shramik Bharati is empowering women in the slums of Kanpur to become community leaders and lead the movement for a clean, open defecation free India.
Kanpur, the largest city in Uttar Pradesh, is the hub of industry and a thriving urban centre. The civic amenities here, however, have not been able to keep up with the scale of expansion, as thousands make their way from the hinterlands every year, in search of work and better prospects. About 25 percent of the population resides in congested slums and other informal settlements that have sprung up around railway tracks, on pavements and near the Ganges. Census Data reveals that, in the absence of adequate sanitation facilities, at least 41, 757 households in urban Kanpur defecate in the open.
Yet, if women like Sangeeta Awasthi, Kalpana Anand and Kiron Srivastava have their way, then at least their neighbourhoods will soon be open defecation free. These committed community leaders are also working hard to ensure availability of clean drinking water in their shanties.
No one understands the pain and shame that comes with open defecation better than Awasthi, 35, who lives in a slum at Baba Ghat, flanking the Ganges.
Two decades ago, when she got married to Rajendra, little did she know that she would have to go through the daily humiliation of relieving herself in public.
"If I had known that they [her husband's family] did not have a latrine, I would have never married him," she laments. "It is disgusting that while, on the one hand, elders of the family insist that daughters-in-law cover their heads even within the confines of the home; while on the other, they don't flinch when they tell them to lift their saris and squat in the open for ablutions."
For the longest time, Awasthi compromised on her dignity. After all, her husband's meagre salary as a school peon was just enough to make ends meet and pay for the education of her two sons. But things changed sometime last year when Shramik Bharti, a Kanpur-based non-profit organisation that works on issues of poverty and women's empowerment, came to their area to speak to the residents about the need for building toilets and securing their right to potable water.
An inspired Awasthi decided to start off on 'Mission Sanitation' from her own home. She made up her mind to get a latrine built, even if it meant saving money to build it, at the cost of her other needs. "I realised that, for me, there was no greater need than having a toilet at home," she remarks.
When she finally got a toilet built, after seeking government subsidy and assistance from Shramik Bharti, she decided to step out and tackle some of the other serious sanitation concerns faced by her community.
Even as she spoke to her neighbours about availing benefits under the Swachh Bharat Mission to build toilets, this determined woman decided to focus her energies on resolving a critical problem – water supply.
With only two handpumps in the slum, one of which remained non-functional and the other only pumped up dirty water, women spent the better part of their day figuring out ways to not only store enough water, but to also make it fit for consumption. "We had no option but to use that filthy water," she reveals, "We used to strain it through a muslin cloth and boil it before drinking."
Conscious of the dire situation, Awasthi took matters into her own hands; she went door-to-door to convince families to join her in finding a viable solution.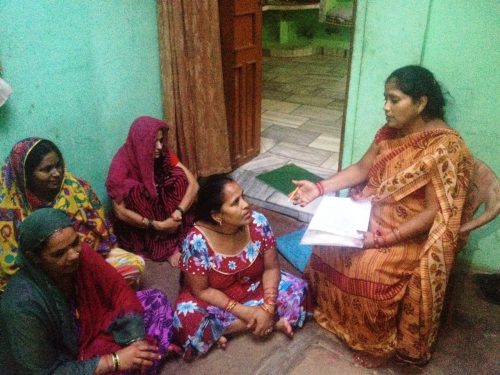 She suggested that each household contribute money so that they could get one broken-down handpump restored and re-bore the other. After much effort, 13 families came on board, contributing Rs 50 each, enabling her to get the required repairs done.
At the same time, Awasthi also met with the Corporator, a local member of the municipal corporation, and demanded that piped water supply be made available to them. Within two months, the civil work was done and today, all 85 houses in the community are enjoying piped water supply.
As a responsible community leader, Awasthi attends every meeting called by the administration or Shramik Bharati to discuss any development work concerning her slum. Presently, the biggest issue for them is the shortage of space for individual toilets. In fact, that proved to be a major challenge for Kalpana Anand, 33, too, as she took up the cause in her Ambedkar Nagar slum in Vijay Nagar area of Kanpur.
Like Awasthi, she wasn't happy to discover that her marital home didn't have a toilet. "I used to curse my destiny as I was forced to defecate in the open," she says. By the time Anand was 21, she was already a mother of four daughters and as her girls grew up, her worry about their safety and health only increased. She was fearful because she was aware of the risks of going to isolated places at odd hours to relieve oneself.
Constructing a toilet at home was always beyond their reach as her husband, Ram Bharti, is a small-time tailor. But after sitting through a meeting organised by Shramik Bharati, she realised that she could easily get one constructed with the Rs 8,000 incentive provisioned under the Swachh Bharat Mission (SBM).Not only did she apply for it, she started motivating others to follow suit.
With no sewage lines or toilets around, there was a lot of work to be done before the female inhabitants of Ambedkar Nagar would be free of having to defecate in the open, but Anand spearheaded the campaign in a sustained manner.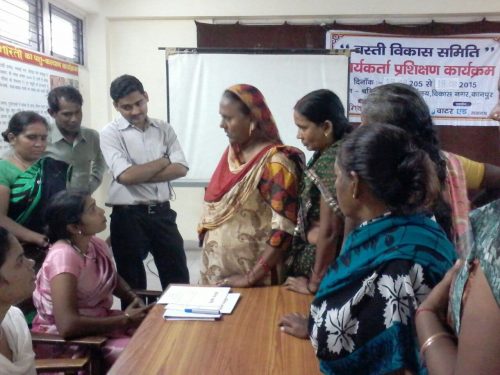 She encouraged 97 families to fill up the form for availing the incentive; of these, 45 have individual toilets now.
"I do not handle the money but facilitate in filling up forms and the purchase of building material at cheaper cost," shares Anand. As the news of sanitation work in Ambedkar Nagar slum travelled to other areas, people started asking her to intervene in their localities as well. "I have understood that awareness is the key to bringing change," she observes.
Indeed, that's the approach that Shramik Bharti has adopted wholeheartedly. It has created teams of dedicated field staff that are deployed in the six zones of Kanpur Municipal Corporation as well as the city's Cantonment Board. Each zone has nearly 80 slums or slum-like localities. Officially, though, as per the list of District Urban Development Authority (DUDA), there are 412 slums in Kanpur.
"Our objective is to develop citizen leaders like Awasthi and Anand and accordingly, we have designed the awareness and advocacy programme," explains Rakesh Pandey, Chief Executive Officer, Shramik Bharti.
Another leader who is creating quite a stir is Kiron Srivastava, 19, from Shivraj Singh ka Purva. When most of her friends are indulging in "fun" activities, this teenager is busy solving water and sanitation issues.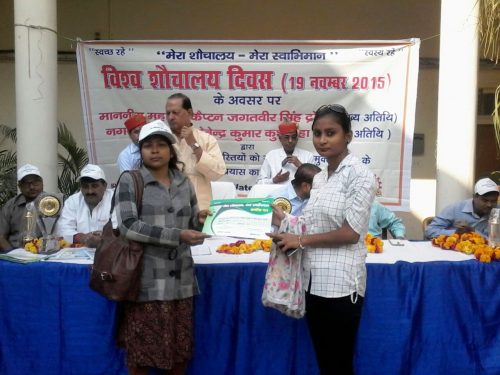 She started working as a community volunteer when she was only 16. She says, "When I had first heard the didis from Shramik Bharati talk about sanitation, I was drawn to the discussion as I felt that associating with them would give a meaningful direction to my life."
Srivastava's devoted attitude – she capably balances her college and social work – has prompted the local Corporator to induct her into the ward committee that supervises all related infrastructure development. Ever since then, she has been working tirelessly for the betterment of 260 households. "I have got 200 forms filled for toilet construction under the SBM, of which 70 toilets have been constructed," she informs us with a hint of pride. She has also submitted an application for building a sewer line.
Clearly, this trio has proven that when women put their hearts into bettering their lived realities nothing can stop them.
Like this story? Or have something to share? Write to us: contact@thebetterindia.com, or connect with us on Facebook and Twitter.
NEW: Click here to get positive news on Whatsapp!