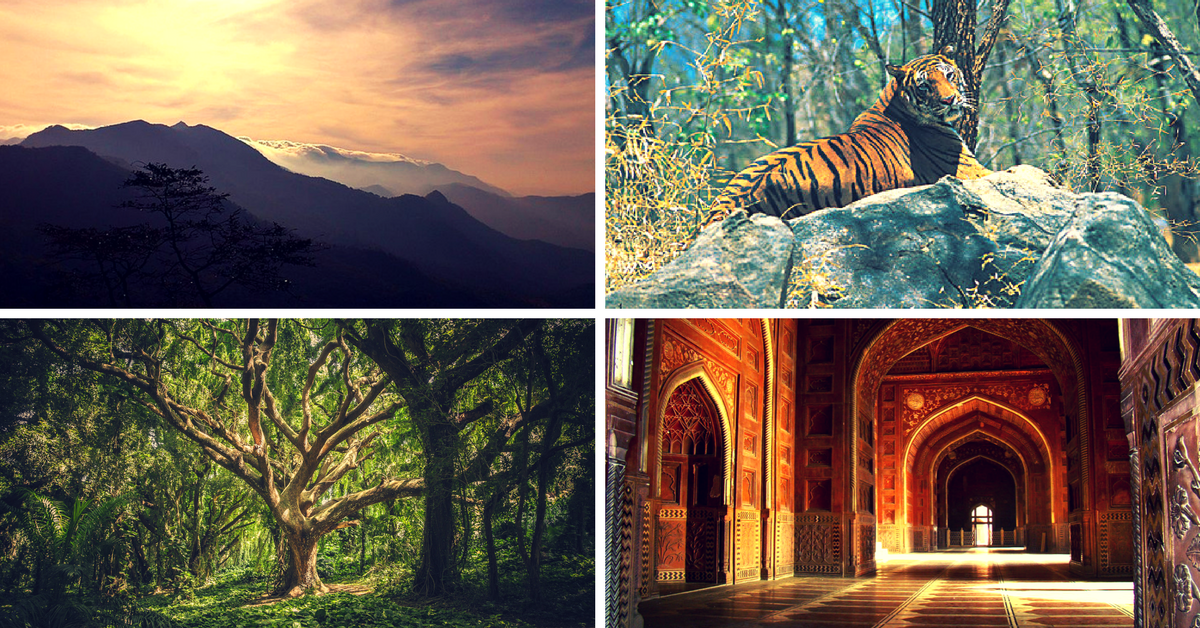 Eco-tourism is fast gaining acceptance the world over, and India is no different. Here are 6 ways in which you can travel green and ensure a good holiday, that is in harmony with nature and local traditions.
Eco-tourism is fast gaining acceptance the world over, and India is no different. Here are 6 ways in which you can travel green and ensure a good holiday, that is in harmony with nature and local traditions.
Are you a 90's kid or older than that? Remember those splendid summer vacations we enjoyed in our native villages as a kid? Bathing in freshwater streams, basking in the sunlight, enjoying the beautiful shade of verdant forests and later, gorging on locally-grown food, made in humble kitchens…
Nature added to the allure, excitement and pleasure of our vacations and for no extra cost, at all!
Eco-tourism is one such initiative in travel that is soothing, stimulating and sustainable at the same time. It is about enjoying recreation based on the diversity of nature, without harming it.
Eco-tourism aims to create minimum or absolutely no interference to the serenity of nature and the local culture of the place one is vacationing in. This also involves uplifting the local population and boosting the local economy. Also known as 'green travel,' it's a fantastic example of what is called 'sustainable development.'
The trend these days is to opt for holidays that allow you to spend time in proximity with nature, rather than opting for the conventional 'sightseeing travel.'
Going back to minimalism and focussing on the vibrant energy generated by nature is something that is attracting travellers today; and thus, eco-tourism is being welcomed by many.
It is said that the greatest threat to our planet is the belief that someone else will save it. Green travel is one of the few ways in which we can do our bit towards our planet. It is a responsible way of enjoying a holiday, without hampering nature.
The good news is that the concept of green travel has already been introduced in India, a country where the scope for such a concept is immeasurable.
Starting from the mighty Himalayas, there are few selective camps that amalgamate eco-tourism with adventure activities, attracting travel enthusiasts who want to go green.
There are a few camps and eco-resorts in Rishikesh, Uttarakhand and Himachal Pradesh that offer eco-tourism opportunities in India. In the tranquil forests of Kerala, some resorts offer a fantastic experience of eco-adventure combined with a relaxing stay in the lap of nature. With more and more such destinations being developed and promoted, eco-tourism will be able to garner interest among the young travellers, in turn helping to maintain environmental balance.
Moreover, it is not just about choosing eco-tourism-friendly destinations for your vacations; it is about ensuring that all our vacations are green in the best possible way.
Here are a few simple ways in which you can make all your holidays as green and sustainable as possible.
1. Choose a Green Hotel
Choose a hotel that has essential measures to control carbon emissions in place; that creates less or zero waste; that has reuse and recycle processes in place and one that employs local population. If you can't find a green- hotel, you can reduce the waste generated by bringing in your own toiletries and towels that can be reused.
2. Getting Around
Whenever and wherever possible, choose public transport over flights and private/rented cards. Car pool or choose the smallest car possible to commute on your travel. Choose to travel in groups to save fuel.
3. Responsible Sightseeing
Do not litter; instead, carry your garbage home. Cut noise pollution, do not take home flora and fauna from the place. Don't create noise pollution.
4. Create Green Awareness
As a responsible traveler, spread awareness about eco-tourism. If you are staying at a hotel which does not employ eco-friendly measures, talk to them about their recycling policy. Encourage others to travel in groups to save on fuel and speak up whenever you see anyone hampering with nature on your vacation.
5. Follow Established Guidelines
On your vacation, make sure you always follow the established rules and guidelines of a place. When hiking, ensure you stay within the marked trails and light campfires in established rings. When indulging in activities like snorkeling, wear a eco-friendly sunscreen that will not harm the creatures in the water. Also ensure that you do not touch corals or stir the sediments under water.
6. Respecting Locals
On your vacation, make sure you create better opportunities for the local population by choosing a tour operator of local origin, eating at local restaurants, rather than international chains, and staying in a hotel that employs locals. Make sure you do not disturb the sanctity of the local environment or insult any local customs or traditions. Do not click pictures of locals without prior permission and establish a friendly relation with them.
Travel is one of the most rejuvenating and revitalizing means of entertainment known to human beings. Enriching in multiple folds, travelling has become the next-big-thing and rightfully so, is one of the few industries with a glorious potential. If more and more travellers are made aware of green travel and are given the chance to participate in it, eco-tourism will undoubtedly see a huge boost.
If we are able to push ourselves beyond our comfort zones, we can create a difference in the world, for better.
TripHobo, as a part of the travel community, urges the global travel family to indulge in eco-tourism and embrace green travel.
Featured Image Source: Wikipedia (1, 2, 3, 4)
Like this story? Or have something to share? Write to us: contact@thebetterindia.com, or connect with us on Facebook and Twitter.
NEW: Click here to get positive news on Whatsapp!