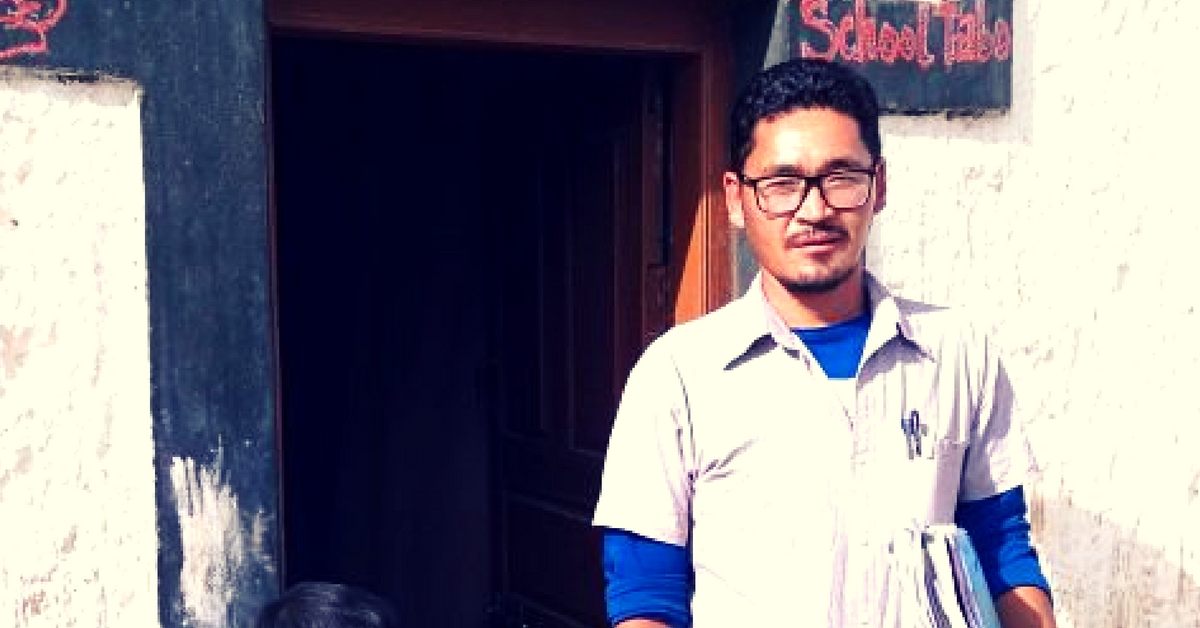 In the second installment of Sudipto Pal's unique 5000km solo cycle ride for child rights, he meets an awe-inspiring teacher in Lahaul and Spiti who leaves him feeling optimistic the state of education in India. Read on to learn more.
In the second installment of Sudipto Pal's unique 5000km solo cycle ride for child rights, he meets an awe-inspiring teacher in Lahaul and Spiti who leaves him feeling optimistic the state of education in India. 
It was a sunny morning when Sudipto started his day-long haul through the arid, wind-swept valley of Kishtwar. He was just about to start a four month-long solo journey across the great Himalayan arc, all the way from Kashmir to Arunachal Pradesh. The Kishtwar valley, under the grip of curfew and fuming with political tension, was hardly an ideal location from which to set off for such a demanding journey. However, the first few days into the journey saw him pass the valley without much trouble and, by the end of the first week, Sudipto entered Himachal Pradesh.
It was at a small hamlet called Losar, near Keylong, where he met Ishaq.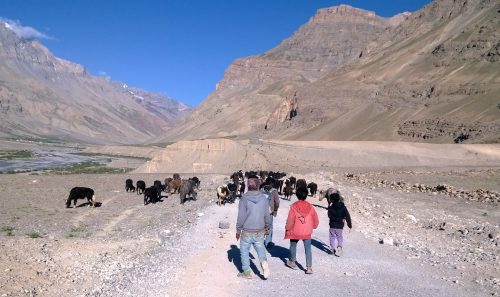 It was about midday, when Sudipto came across this little boy. He was accompanied by several of his friends, many of whom, like Ishaq, are engaged in labour in the mountains, and are living away from their homes to earn their living. Working in cheap roadside hotels and in shops as daily wage earners, and shepherds, these children have never been to school.
As small talk rolled into steady conversation, Sudipto learnt that, around four years ago, Ishaq had migrated from Bihar all the way to Himachal Pradesh to look for work. A bright, intelligent boy of 12, he now works in the fields at Losar, a small village perched on the hills in Lahaul and Spiti.
Ishaq is deemed 'lucky,' as his employer 'allows' the young boy to play with his own children and sends him to school when there is no work.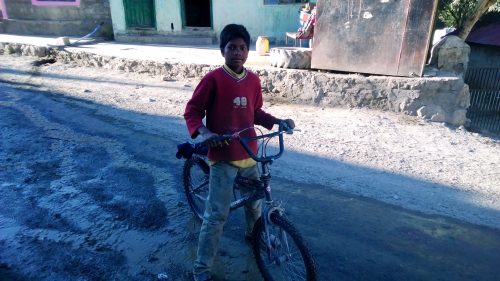 "I sometimes feel scared by myself. But I don't want to go back to my village. I go to school here, and I love that time of the day the most. I don't know if my parents will be able to afford my education if I go back to my village," Ishaq told Sudipto.
"I want to make the employers realise what they are doing is not only illegal, but also unjust," Sudipto says while reflecting upon his conversations with these children, "The children are robbed off their childhood. When I spoke to these children, it seemed as though no one had ever explained this simple truth to them before," says a visibly dejected Sudipto, over the phone from Kaza, a hilly town that has become famous for the Buddhist Monastery clinging precariously to the hill-side.
Three days later, once Sudipto entered a village called Tabo in Lahaul and Spiti, he was in for a pleasant surprise. In this tiny hamlet, tucked away in the remote valleys of the Himachal Himalayas, Sudipto met Sunny Cherring Bodh, a man in his mid-thirties.
Sunny runs a small school named Smt. Angmo Memorial Little Star School for the past two years. "I had only fourteen students in the first year. This year, the number has increased to twenty three!" says a beaming Sunny with twinkling eyes.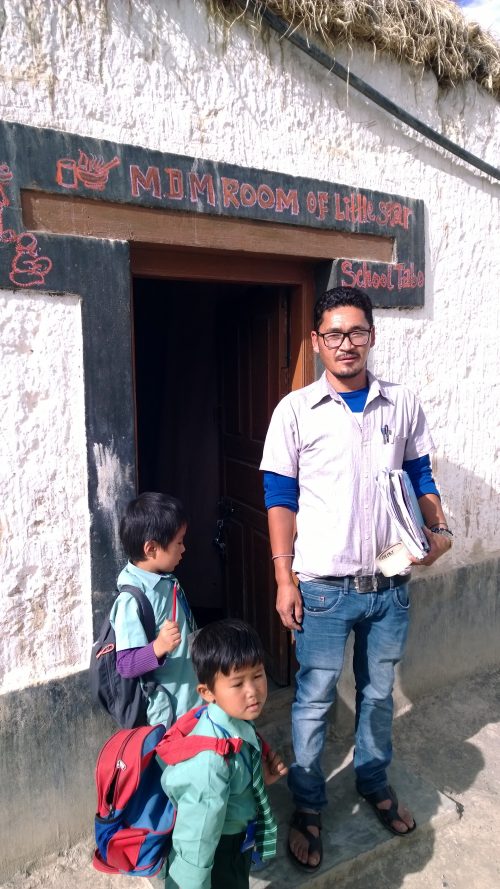 The school is small. with just a single room. The same room is divided by a partition into the classroom and the kitchen where the mid-day meal is cooked and served. Sunny himself cooks the mid-day meal for his students. In fact, he managed the entire running of the school by himself, until he was able to appoint two assistant teachers this year.
"You know what…" Sunny Cherring smiles, "I don't feel bad about asking for donations from people I know. And I get money for the mid-day meals from the government too. All this is for the children of this village. I really want to make sure that no one is kept away from education because they cannot afford it."
"I was always haunted by the thought that the children in my village did not have access to schools. And in turn, they did not have access to the opportunity to dream big and turn those dreams into reality. Since my college days, I wanted to change this story. Then one day it struck me: if the children cannot reach the school, why doesn't the school reach the children? And surely, I can make it possible! It took me a while to make it happen, but I did it," he says.
In answer to Sudipto's question on whether he finds it difficult to bring children to school, Sunny says:
"I don't blame them, actually. If I want them to learn, if I want their horizon to become bigger, isn't it my responsibility to make sure they come to school? Doesn't the buck stop at me?"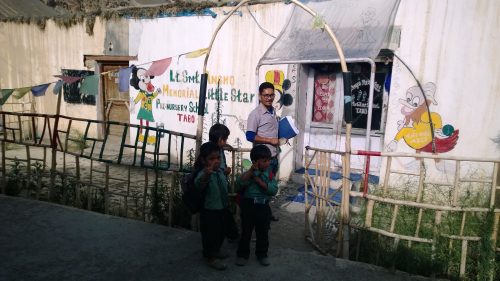 Sunny is determined to bring about change in his little village: "After all, that's what education does, doesn't it?" he retorts. And to walk the talk, the young teacher makes it a point to talk to parents to convince them to send their children to school. Even if they come for the mid-day meal, he feels it is his responsibility to ensure they go back enriched by the education he imparts. He makes his own teaching-learning material, because he wants to make learning a happy process for his students.
Meeting this man infused new energy in Sudipto:
"If there are people like Sunny Cherring in this country, I am sure change will come, even if slowly. I want people to know about his noble cause. I hope this story inspires more people to come forward for the cause of education. Education is the only way out of the vicious cycle of poverty," he says, excitedly.
And the excitement is visibly contagious, to say the least. Talking to Sudipto over the patchy telephone line, with incessant voice-breaks and call drops, all the way from Kolkata to Tabo, instantly energises the Team RideForChildRights at CRY.
Atindra Nath Das, Director, Eastern Region, CRY – Child Rights and You says, "CRY works towards eliminating root causes like access to schools, child labour, gender discrimination, no toilets for girls, child marriage, etc. which create barriers to education for children. Along with our partner organisations, we are working at the grassroots level to make sure that children do not have to face these barriers and can fully exercise their right to education. And when a youth like Sudipto comes forward to spread the message, we know that our battle is already half-won."
"We are extremely happy that this energetic young man has taken up the challenge to spread awareness about the importance of education."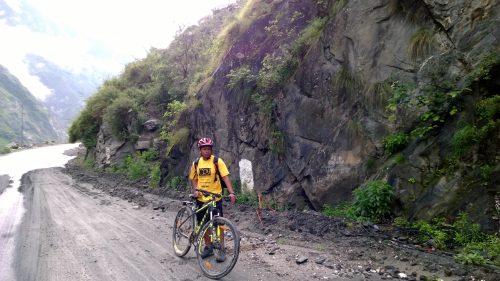 Sudipto Pal has embarked on a journey which in itself is equally challenging; he has started a four month-long solo journey through the Great Himalayan Arc to raise awareness about the cause of child education in the country. He has dedicated his 5,000 km long Trans-Himalayan cycle ride from Kashmir to Arunachal Pradesh to the School The Spark campaign organised by CRY.
You can read about the first part of his journey here. 
To track Sudipto's progress along the trail and to get real-time updates of his journey, please follow CRY Facebook page.
To know more about the campaign and to extend your support, click here.
All images courtesy of Sudipto Pal.
Like this story? Or have something to share? Write to us: contact@thebetterindia.com, or connect with us on Facebook and Twitter (@thebetterindia).
We bring stories straight from the heart of India, to inspire millions and create a wave of impact. Our positive movement is growing bigger everyday, and we would love for you to join it.
Please contribute whatever you can, every little penny helps our team in bringing you more stories that support dreams and spread hope.