The second post in our Travel Series is about Aurangabad, a city that seamlessly blends the ancient with the modern, and gives the appearance of standing still in time. There
The second post in our Travel Series is about Aurangabad, a city that seamlessly blends the ancient with the modern, and gives the appearance of standing still in time. There is a lot more to this place than the renowned Ajantha and Ellora Caves, as a reluctant Nabila Tazyeen discovers much to her surprise, and now she can't stop talking about it! Take the tour with her and see the splendours of a forgotten city. All Photos Courtesy: Nabila Tazyeen
My reaction when I was first told about travelling to Aurangabad for a holiday was, "What? Why Aurangabad? What's there?" By the end of the trip, though, I was urging everybody I met to go and experience the place for themselves. Consider yourselves victim number 35 or upwards.
Aurangabad is a dry, humid place in December. Actually, Aurangabad is a dry, humid place throughout the year; what we found to be scorching heat during the time, citizens of Aurangabad thought to be pleasant weather. But there's more to the place than just that, even if the heat wave hitting you is the first thing you'll notice when you land. Truth is, the city is a melting pot of culture and history. Let me illustrate with examples: there are about 200 Mercedes cars in Aurangabad and the population is mostly very well-to-do. Like all other cities in various stages of evolution, it has the old side and new side to it. There are malls and multiplexes everywhere and a number of restaurants that are testimony to people eating out more than they eat in. Agriculture is booming because the black soil is perfect for coaxing crops like cotton, various pulses, chillies, ginger, turmeric, onions, maize and oranges to grow in abundance; so is the industrial sector, which boasts of companies like BMW who are opening manufacturing units there. Aurangabad has seen kingdoms come and go just as patiently as it has seen religions change hands and evolve.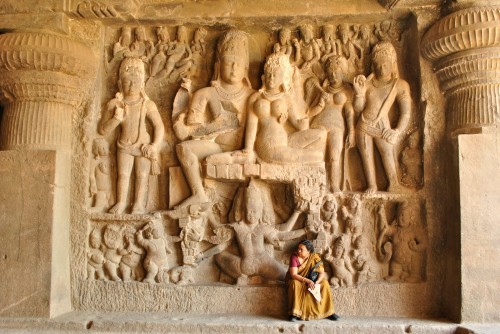 Start your trip with Ellora caves because they're closer to Aurangabad and can be covered in a day. And trust me, you will finish it in a day because it's tiring to walk the distance between each cave and crane your neck as you see wonderful carvings and paintings one after another. Ellora consists of a series of caves that were carved out in different centuries by Hindus, Jains and Buddhists. One wonders about the kind of patience and dedication that must have gone into creating each one of those caves, and then the gigantic carvings inside of them. This, especially when you hear of the process that goes into making a cave: the artisans and sculptors used only a hammer and a chisel, chipping away at the stone from the top of the cave to the bottom, and then from the front of the cave to the back. You'll even see sculptures and caves that were abandoned because the stone wasn't good.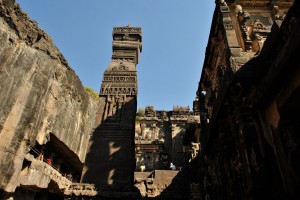 You'll find the Kailash Temple, one of the world's largest monoliths, at Ellora. The detailing of the carvings here is fantastic – every mythological episode has been sculpted in stone, sometimes entirely on one wall.
Try making it to Ajanta on a weekday, although I doubt that it will make much of a difference. The place is packed with people of all ages and cultures. Even the elderly get to experience the caves, thanks to their chairs-tied-to-two-wooden-poles in which a person sits and is carried to the caves. Compared to Ellora, Ajanta is much, much more beautiful, although it doesn't have the religious diversity of Ellora. The caves at Ajanta were created by Buddhist monks in mountains that are laid out in a horseshoe pattern and overlook a stream (when it rains) and a forest. The caves were accidentally discovered by an Englishman named John Smith while he was out hunting for tigers, but instead spotted a white patch of a door in the distance. For caves that are over 800 years old and defaced because of rainwater and wild growth and sun, they are fairly well preserved and exquisite. Most of the paintings and carvings are intact, with attempts underway to restore and excavate more. There are mandala patterns, apsaras and scenes from Buddha's life everywhere, with the Buddha always being at the core of each cave in one of his three most common positions – teaching, meditating or protecting. There's only one cave where you'll see him reclining, occupying seven feet of space in the process.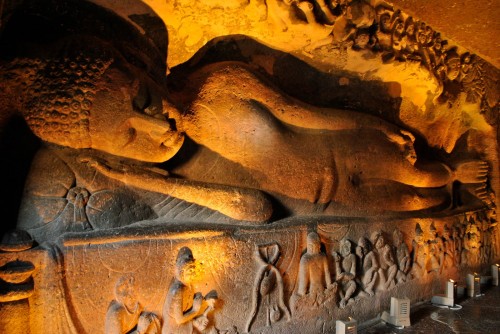 There are also the Aurangabad caves, abandoned because the stone was not of sculpting quality. But I did notice something unusual in one of the temples and I'm not sure if it was someone just trying their hand at sculpting: Buddha and Ganesha were in the same cave, almost side by side.
Not many people know that Aurangzeb's mausoleum is in Aurangabad. Compared to the likes of Humayun and Shah Jahan, his grave rests in a tiny square space made of marble in a mosque in the old city, a few steps away from his mentor's grave. I've heard it said that he was a kind-hearted man and in his old age, insisted that his resting place be made using whatever money he earned by making skull caps and selling them.
The Mad King, Tughlaq, was the exact opposite of Aurangzeb. He named Aurangabad Daulatabad because of its riches – gemstones, mostly. Precious stones are everywhere, and sometimes in the caves, you'll see jade and white crystal breaking the monotony of plain rock like marbling in meat. I believe Daulatabad Fort to be the work of a genius, and maybe at some level, that's what Tughlaq was. Here's why: if I were the enemy, I would be confused at every step I took into the fort, not knowing which way to go, unaware that the elephant carvings on the top of the fort walls were indications of the route I should take; I would be killed a thousand times over by soldiers hiding in spaces that I didn't know existed; but worst of all, I would die a frightful death in the Dark Passage, which eats up light for breakfast, lunch and dinner and spews out darkness in its place. The passage is almost a kilometre long and so pitch-dark that there's absolutely no question of your eyes cannot adjust to the darkness and help you see shapes or forms of any kind. The path of the passage is circular, but you wouldn't know because you can't see. There's no air circulation whatsoever, so if I were carrying a torch, it would go out in an instant. Should I have made it to the other side of the Dark Passage, I would have been slain instantly by waiting soldiers and my body would have rolled down into the moat infested with snakes and crocodiles.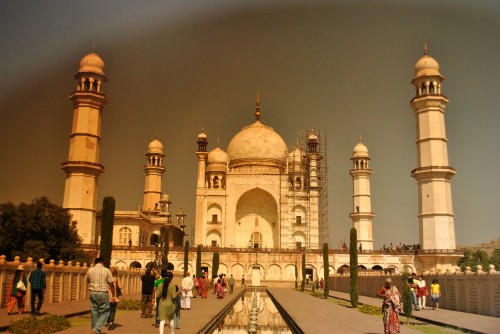 You could leave all that unpleasantness behind and move on to admire the beauty of the mini Taj Mahal. At first glance, it looks exactly like the Taj Mahal, but it's not. To begin with, it's not made entirely of marble. Only up to two feet of the base of the main structure is marble and everything else is limestone. The Maqbara was made by Aurangzeb's son for his mother, but since he was a prince and didn't have the treasury at his disposal, he had to keep himself content with a structure of limestone. But what he lost for in quality of construction material, he made up for with the carvings and motifs because they are absolutely gorgeous. In fact, I like them more than I liked the motifs of the Taj Mahal.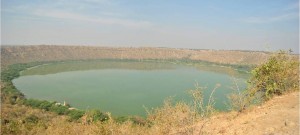 The last leg of the trip was to Lonar Lake. I first heard of it a couple of years back when a friend went on a road trip to the place. The base of the lake is a crater formed by a meteor that hit the Earth over 50,000 years ago. The water trickled in from several fresh water sources but now has a pH level of 10.5 because the minerals from the meteor are mixed in it. Rumour is that the meteor is 60-70 metres below the crater still, but it can't be confirmed because the pH level of the water makes it impossible for a person to deep-dive. The rim of the crater is almost two kilometres in diameter, and the base of the crater has rich biodiversity, with migratory birds often flocking to it during season time. The descent is 170-odd metres, with no defined path to take one down to the base. The magnetic fields in the area are strong – several temples, built at the base in homage to the gods that people thought were responsible for the miracle, are living examples of the magnetic fields; I've seen the compass change directions like crazy there. Lonar town is also full of ancient temples, but the townsfolk are quite unaware of the importance of the crater and use it as a dumping ground for sewage water. The government is taking measures to stop it, but it may take a few years before they achieve the desired results.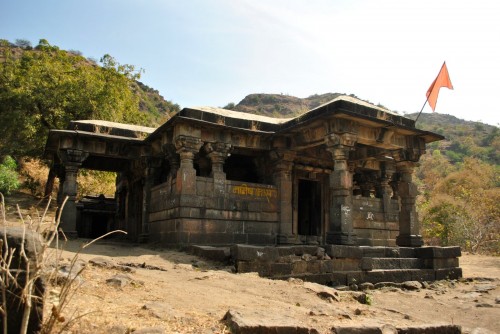 On the way back, don't forget to stop by at one of the many fields growing the crops of the region. And if you'd like to see more places, you can always ask the people of Aurangabad. My experience with them has been charming – they're extremely friendly, courteous and respectful of everyone. And I believe that to be one of the most important aspects of a great journey – local people, after all, can make or break a trip, and this time I had the good fortune of finding people who shared amazing stories and incidents. Most of everything I learned about Aurangabad, I learned from them. I hope you will too.
We bring stories straight from the heart of India, to inspire millions and create a wave of impact. Our positive movement is growing bigger everyday, and we would love for you to join it.
Please contribute whatever you can, every little penny helps our team in bringing you more stories that support dreams and spread hope.