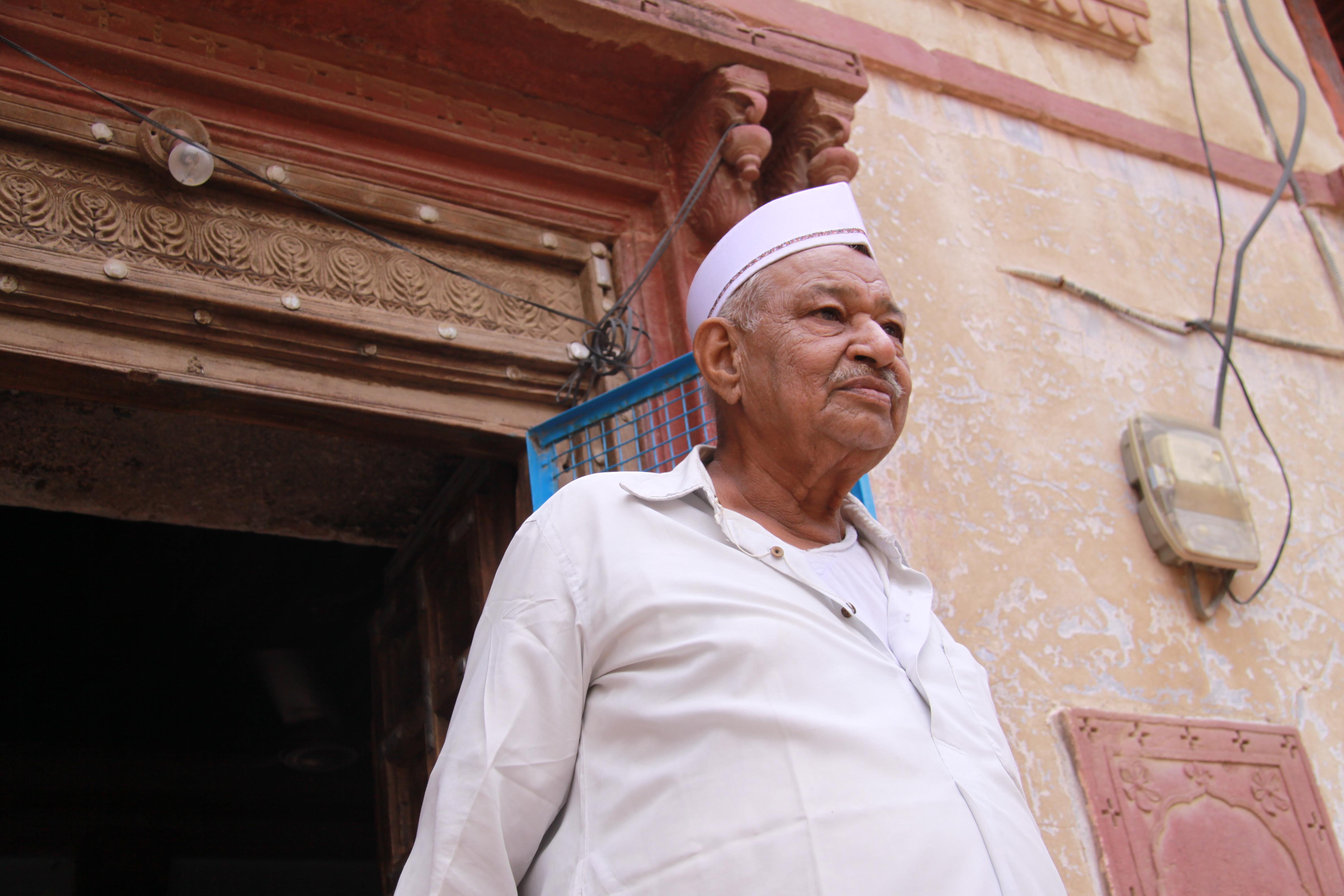 Gangadharan Menon travels to Kheechan to meet Ratanlal Maloo – the man who has single-handedly called over 15,000 Demoiselle Cranes to his little hamlet in Rajasthan from their homes in
Gangadharan Menon travels to Kheechan to meet Ratanlal Maloo – the man who has single-handedly called over 15,000 Demoiselle Cranes to his little hamlet in Rajasthan from their homes in Mongolia and Eurasia, as annual guests, and created a sanctuary worth visiting. The love and care he showed the birds ensured that their numbers increased year after year as word spread in their home-town! Read and be amazed by the difference ONE man can make.
It was from Dr. Asad Rahmani, the Director of Bombay Natural History Society, that I first heard about this legend. His name was Ratanlal Maloo, and he had single-handedly taken care of the conservation of thousands of demoiselle cranes that come to the village of Kheechan in Rajasthan during the months of winter. And for these tireless efforts that spanned over 40 years, he was conferred the Salim Ali Nature Conservation Award in the year 2009 by BNHS.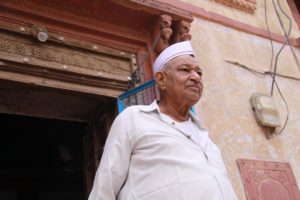 My pilgrimage to meet this soul took me to his 200-year-old house in Kheechan. There, sitting in the shade of a khejri tree outside his house, this septuagenarian told me about his amazing journey.
It all began over 40 years ago when his uncle requested him to return from Orissa, where he was working, just to help his lonely mother cross the magical age of 100. Little did Ratanlal know that it was a decision that would change his life, and the lives of thousands of demoiselle cranes.
Since Ratanlal had precious little to do in the half-asleep village of Kheechan, his uncle entrusted him with a job: feed the pigeons and sparrows and peacocks that frequent a place at the outskirts of the village.
Ratanlal and his newly married wife Sundarbai liked this idea as they were devout Jains who believed that it's their bounden duty to give alms and to feed birds. Young Ratanlal used to carry a sackfull of grains to the feeding place and his wife used to transfer it into a large vessel and disburse it on the ground at the feeding place.
Initially, for a couple of months, only the usual suspects came to feed: squirrels, sparrows, pigeons, and the occasional peacock. But then in the month of September, he found a dozen of a huge, black and white bird that he had never seen before, feeding with the regulars. On asking the villagers, he was told that they were migratory birds that have been frequenting the farmlands of Kheechan in winter. They were called demoiselle cranes or kurja in Rajasthani.
It was love at first sight. Ratanlalji started observing them closely. To his joy, he realised that their numbers started growing till it reached around 80 in November. But in February, to his horror all of them disappeared overnight.
He had to wait for a year for them to come back. And this time around, there were over 150 of them. Word must have spread in Mongolia and Eurasia that there's a feast awaiting them in Kheechan, served by this gentle soul called Ratanlal. This number kept on increasing every year, and in the 40 years of his care and conservation, the number became a staggering 15,000 last year.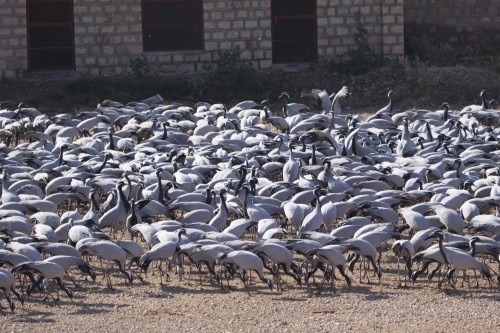 The early days were a struggle for Ratanlal, and the later days a bigger struggle. Once the demoiselle cranes started growing in numbers, the local dogs saw these huge three-foot birds as sitting ducks. They used to pounce upon them, either killing them for meat, or leaving them injured. So firstly, Ratanlal got the panchayat to allot him some land on the outskirts of the village, and he coaxed the richer villagers to help him build a 6-foot fence around what he called the Chugga Ghar or the Feeding Home. He then got a granary made to store the grains that started pouring in from fellow Jain traders who were supportive of the cause. He even got a room constructed to house the injured cranes and bring them back to the pink, nay black and white, of health.
To make me understand the scale and the enormity of this simple act of feeding, Ratanlal explained to me the quantity of grains that's required to feed these birds. What started off as a few innocuous kilos of grains in a year has now become an astromical 1 lakh kilos annually. In peak season today, an average of around 12,000 demoiselle cranes arrive as state guests from November to February. Look at these amazing stats: A thousand cranes need one hundred kilos of grains per day. For 12,000 cranes that's 12 hundred kilos. For a month that's 36,000 kilos. For four months, that adds up to over 1,40,000 kilos. At the rate of Rs. 60 per kilo that works out to over 85 lakh rupees per annum! That's the kind of money that the Jain community spread across the length and breadth of the planet helps him raise every year. It is a quiet cognizance of his selfless service spread over four decades that helped him generate such enormous goodwill.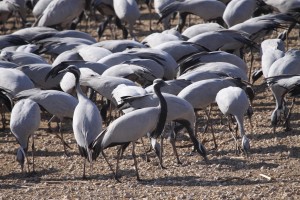 Declared as a World Heritage Site by the World Crane Foundation, Kheechan attracts hundreds of Indians and foreigners who come to witness the spectacle of thousands of demoiselle cranes feeding right in the middle of a human settlement. It was on the terrace of a house overlooking the Chugga Ghar that I met Torbjorn Eriksen, an ornithologist and wildlife photographer from Denmark. He said he had seen many congregations of different species of birds across the world, but never one so dramatic.
Torbjorn explained to me the sheer ecological significance of Ratanlal's act of devotion. Because the cranes get the food they need in the Chugga Ghar, they don't ravage the farmlands of Kheechan and the surrounding villages, thereby making them more endearing and acceptable to humans. Hence there's no man-animal conflict here, but rather a heart-warming man-animal coexistence.
When I reminded Ratanlal that his guests come all the way from Mongolia and Eurasia, he smiled and said, 'To me it doesn't matter where they are coming from, and where they are going. What matters to me is that they have entered my life, and they are here to stay.'
As we were sitting near the granary where a tractor load of grains was being unloaded, a farmer came with an injured demoiselle crane, attacked viciously by a village dog. As Ratanlal washed its wounds with care and compassion, I remembered what he had told me a while ago when I had asked him if he had any children. He had said, 'No, I don't have any. But no, I do have. I have about 15,000 of them!'
Ratanlal explained to me what he had observed in these birds over the years. They spend the night in a salty landscape called Malhar Rinn, about 25 kms from Kheechan as the crane flies. And just before the sun wakes up, they fly to the sand-dunes overlooking the Chugga Ghar. After the entire flock of a few thousands collect on the dunes, they slowly march towards the Chugga Ghar that's a kilometre away. Here they wait outside the enclosure patiently, for almost an hour. Meanwhile a group of about 30 of them encircle the place, making sure it's safe to land. Once the leader of this group lands, the entire entourage follows. And then all heaven breaks loose! Waves after waves of these beautiful birds land inside. First the ones that are close to the enclosure, and then the ones that have lined up all the way up to the dunes. But the discipline they show has to be seen to be believed. Though there would be about 4 to 6 thousand of them on any given day, at any given point in time there won't be more than about 500 of them inside the enclosure. It's only when the groups inside fly away that the groups outside enter.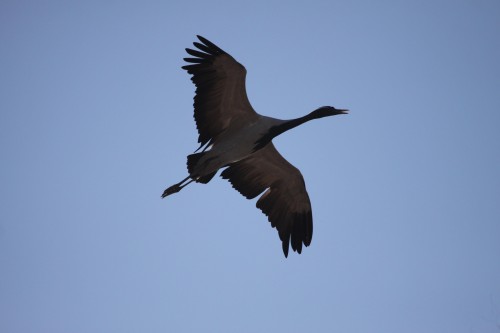 Ratanlal told me that for many years it was an anonymous leader who used to be the first one to land. But since the last 11 years, there has been a change of guard. The leader now is a crane referred to locally as 'langda', as it has a limp leg. He is instantly recognizable as his leg dangles in the air as he hovers around the Chugga Ghar, and then lands on one leg!
The demoiselle cranes, after a sumptuous meal, fly off to the two lakes at the periphery of the village: Vijaysagar Lake and Raatdi Naadi. Here they sip the blueness of the lake and then gobble copious quantities of the pebbles that lie on the lakeshores. Ratalal explained the reason for this strange habit. Since the grains they eat are whole grains, these pebbles act as grinding stones and make it easier for them to digest them. Then they have a dip in the lake, and the more romantic among them indulge in ballet-like mating dances. Just before sundown, they call it a day. And fly off to Malhar Rinn to spend the night standing on one leg. This routine continues till March, when one day, without any warning, they fly off to the land of their birth, in the thick of the night.
On the 7th of July 2011, Ratanlal too flew away from this world in the middle of the night, just like his feathered friends.
Come September, the demoiselle cranes will land in Kheechan, and many of them will miss the hand that fed them for forty years. Perhaps you could go there and lend a hand?
How to get there: Take the road from Jodhpur to Phalodi, which is 135 kms to the north. Kheechan is 10 kms to the east of Phalodi. The base could be at Phalodi, or Osian which is on the halfway mark on the Jodhpur-Phalodi Road.
Where to stay: Plenty of options at either place. You can get some information on the Rajasthan Tourism website.
All Photos: Courtesy Gangadharan Menon
After 28 years in advertising as a writer and creative director, Gangadharan Menon quit the profession to take up his first and second love: teaching and travel. He has over 60 published articles that recount the joy of travelling in this amazing country. A member of Bombay Natural History Society, he is an avid wildlife photographer too. He can be contacted on wildganges[at]gmail.com
We bring stories straight from the heart of India, to inspire millions and create a wave of impact. Our positive movement is growing bigger everyday, and we would love for you to join it.
Please contribute whatever you can, every little penny helps our team in bringing you more stories that support dreams and spread hope.