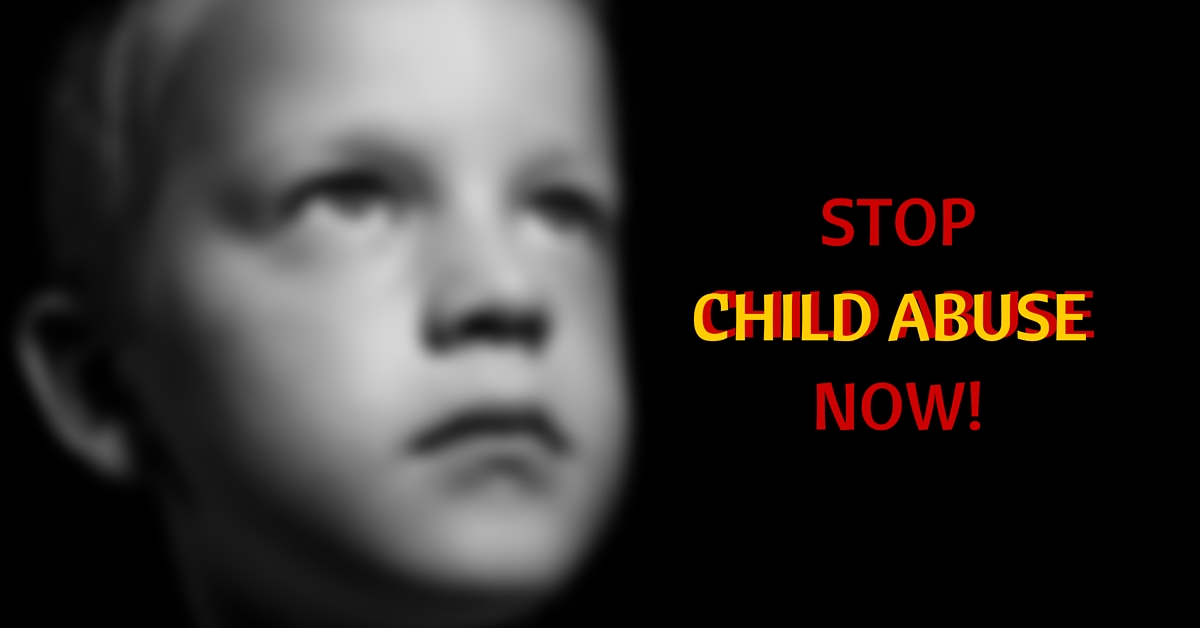 Sometimes, all it takes to save a child from abuse is to identify and then report the case. Here are a few things to keep in mind while looking for signs of abuse and reporting it.
Do you know if your neighbour's son, your niece or the boy who lives in the shanty across your street is safe?
We read shocking stories of children falling prey to sexual abuse and molestation everyday. National statistics state that about 53% children are abused. The highest number of cases were reported in Uttar Pradesh, Assam, Delhi, Andhra Pradesh and Bihar.
Many cases of child abuse are never reported because the child is reluctant to confide in anyone. Or the family of the victim may not want to confront the abuser if he or she belongs to an influential family for fear of backlash or shame.
Many cases never come to light at all because no one notices that the child has been abused.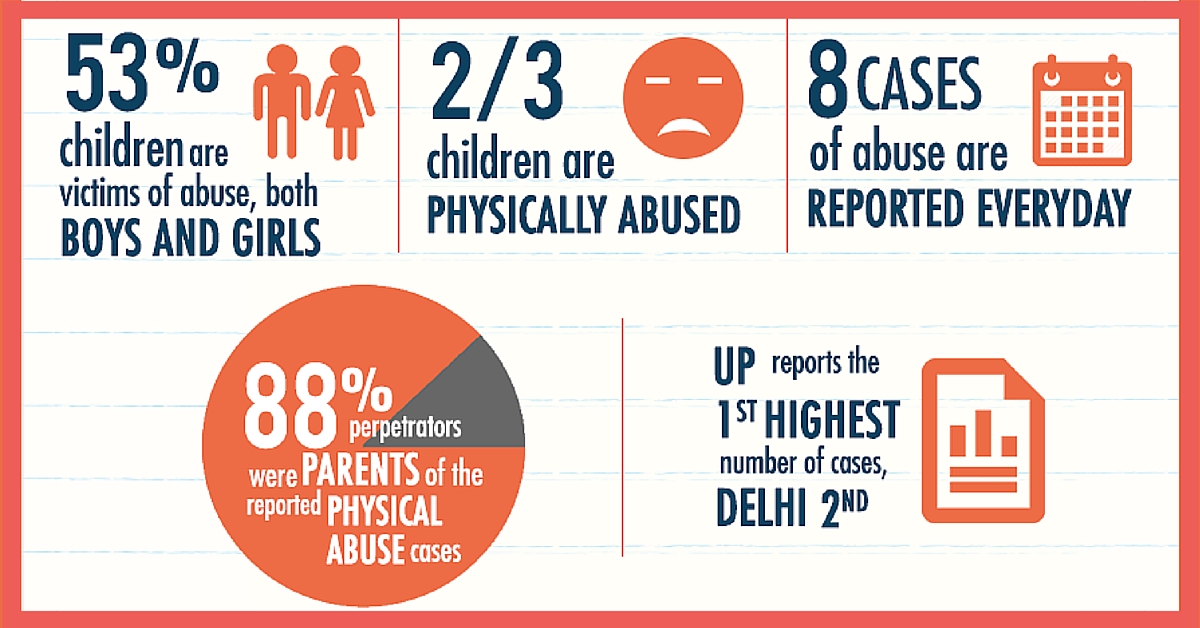 It's time to rethink how parents and teachers and other adults often take children's safety for granted.
Identifying signs of sexual abuse early is important. Parents and teachers especially need to be very vigilant. But it is also incumbent on all of us – as neighbours, caretakers and members of a civilized society – to watch out for and report child abuse cases. Here are a few things we need to keep in mind:
Abusers don't just pick on the quiet ones: An outgoing, friendly child is also at risk. The level of vulnerability does not depend on age, gender or perceived maturity level. The risk level remains high for everyone – from toddlers to teens. Children are vulnerable in every section of society. So, while we keep our eyes open for the children on the streets, we also need to sit up and take notice of children in our midst – in our schools, families and neighbourhoods.
Being aware of a child abuse case and not reporting it is illegal: As per Section 19 and 21 (1) of the Protection of Children from Sexual Offences Act, it is mandatory to report cases, not just for those being abused, but also those who are aware of the incidence of abuse. This extends to people working in media houses, hotels, clubs, studios, photographic facilities, and hospitals. Schools in Maharashtra are mandated to report cases of sexual abuse.
As an adult who knows of a crime against a child or the potential for one, failure to report can get you jailed for six months.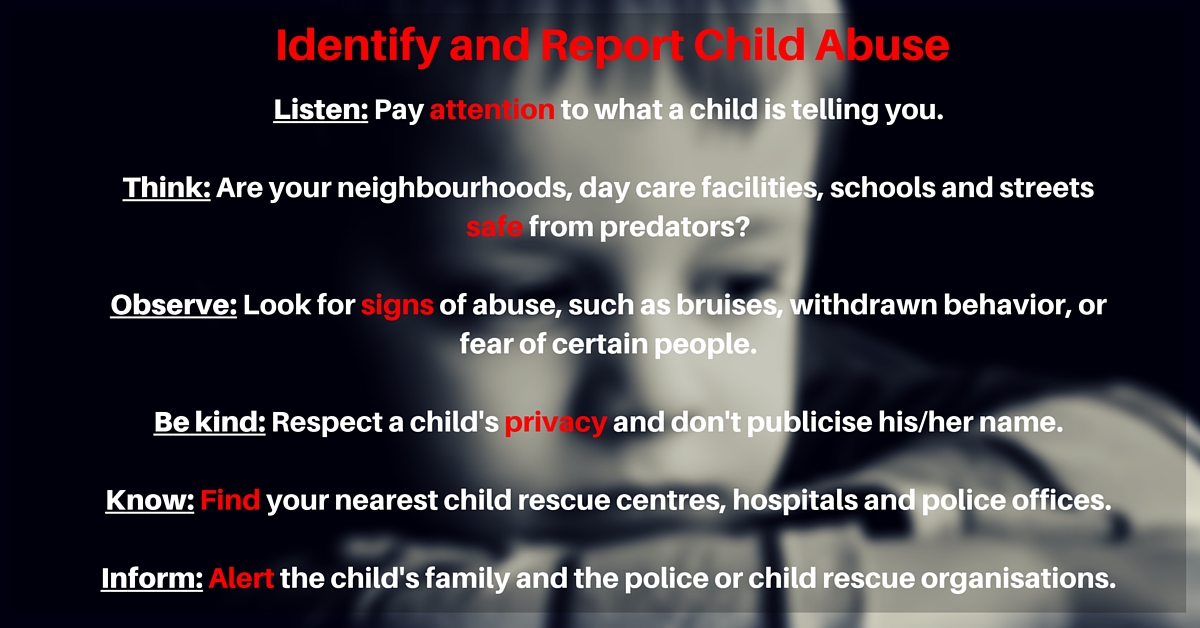 The process of attaining justice has sped up: After  (POCSO) Act came into effect in 2012, there has been an increase in the number of cases that come to court for trial. Right after lodging a complaint with the police, an investigation is conducted within three months. A special court works on the case within a month after that, reaching a decision in less than two months.
In most cases, the abuser turns out to be someone the child trusts: A recent study by RAHAT reported that in Mumbai, 91% of cases involved a parent as the perpetrator of long term sex abuse. Examining the environment and the people around them is essential. Pay particular attention to families with a reputation for domestic violence, alcoholic parents, and children living in unsafe environments such as brothels, on the streets or orphanages. Educational institutions also need to ensure that their students are safe. In a police-led investigation in Bengaluru in 2014, 10% schoolchildren were abused by their teachers.
Beware of the 'groomers': Tulir, a Chennai-based NGO working against child abuse, noted in a report that abusers use trickery, making the child feel special and blackmail to lure children. The report states,"This process is known as 'grooming', and refers to a series of steps an abuser takes, such as gaining access to the child, developing a relationship with the child, making the child feel special by providing extra attention and gifts, to gradually beginning to touch the child." This manipulation is why children find it difficult to say no.
Look for sudden changes in the child's behaviour around people: Depending on the age, behavioural manifestations of sexual abuse include sudden withdrawal from socialising, aggression, inappropriate sexual behaviour, and sleep and eating disorders. In many cases for younger children, an unusual fear of certain places (such as closed or dark spaces) or of certain people could be a telling sign. But most behavioral changes are subtle.
The important thing to do here is to let them take their time to trust you enough to talk about what is troubling them.
Not all bruises are from playing: While children are prone to cuts and bruises from playing rough, it's important to identify and examine marks that are in unusual places, such as thighs, torso, neck, or in and around genital areas. You can identify a child who is routinely physically abused by wounds that are in varying stages of healing.
Many cases of abuse come to light when the injured child is brought to hospital: In Mumbai, the Multidisciplinary Child Protection Centre, an initiative of Nair Hospital and UNICEF, works on the rationale of identifying signs of child abuse when the child is brought to the hospital. The centre consists of a team of doctors and social workers, and follows through the entire process of the case, from involving parents to working with the police and the legal system.
You need to get consent from the child before reporting: In most cases, you don't need to wait for evidence before you report. But it is extremely important to get consent. Mumbai-based NGO Arpan published a report, Mandatory Reporting, which analysed the motivations and deterrents of reporting child abuse cases. The study found that abuse survivors felt betrayed when the person they trusted had reported without their consent. "The decision to report is contextual and almost entirely based on the environment, both immediate and social, of the survivor," the report says.
Call the national child relief helpline, 1098: Besides filing a report with the police, you can also contact child rescue organisations that are present in nearly every state and city. For instance, Mumbai-based Arpan works entirely on CSA cases, while Save The Child has centres all over the country. There's Bosco in Bengaluru, Rahi in Delhi, El-Shaddai in Goa, Tulir in Chennai, amongst many others. These rescue centres will assist the child and the family. A national helpline number, 1098, set up by the Childline Foundation has a team of volunteers in many cities and districts of the country, who also partner with over 700 NGOs and the police.
Featured image source: publicdomainpictures.net
Like this story? Or have something to share? Write to us: contact@thebetterindia.com, or connect with us on Facebook and Twitter (@thebetterindia).
Tell Us More
We bring stories straight from the heart of India, to inspire millions and create a wave of impact. Our positive movement is growing bigger everyday, and we would love for you to join it.
Please contribute whatever you can, every little penny helps our team in bringing you more stories that support dreams and spread hope.