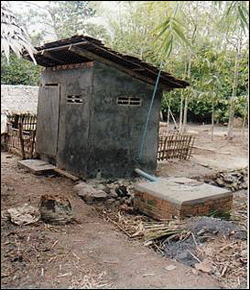 Sanitation and clean drinking water are serious issues. And what better way to convey such a serious message than with the help of humorous plays? This is exactly what the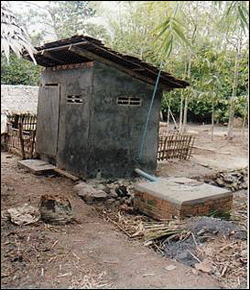 Sanitation and clean drinking water are serious issues. And what better way to convey such a serious message than with the help of humorous plays? This is exactly what the Public Health Engineering Department (PHED) in Assam has undertaken to spread awareness about their programs and involve the intended beneficiaries.
These plays do not have a written script and adapt to the place where they are staged. They are also enacted with the help of local talent at the particular venue, so as to connect better with the people. Robin Chandra Das, an assistant executive engineer with PHED has conducted several such plays, and talks of its success to Teresa Rehman of Tehelka:
"We have few other staff members who assist me in staging the play. And in any locality, we often go hunting for local talent a few hours before the play is actually staged. We urge the women and children to participate in the play and once it is over, we hold an interactive session on sanitation. The humour in the play manages to strike the right emotional chord," says Das.

The play also incorporates local dialects and even a few Assamese songs with the sanitation theme keeping the audience hooked. Another scene has a mother walking in with a boy who plays truant. The mother complains, "Earlier he used to skip school complaining of stomachache. But now that I have built a toilet at home with my savings, he cannot play around with the same excuse. Today, I heard something move. I thought that our neighbours had come out to defecate in the open but, instead, I saw my son perched on a tree near the bamboo grove." She then explains to Jadu's mother on the benefits of having a toilet at home and how it helps keep flies away.
The plays are a part of Total Sanitation Campaign (TSC) – a comprehensive program to introduce proper sanitation facilities in all rural areas with the broader goal of eliminating open defecation practice. In Assam, PHED is responsible for enforcing TSC and ensuring hygienic practices are followed, along with safe drinking water in all schools in rural areas. The government of India has been active in encouraging as well as recognizing their efforts.
The main goal of the GOI is to eradicate the practice of open defecation by 2010. To give fillip to this endeavour, GOI has launched Nirmal Gram Puraskar to recognise the efforts in terms of cash awards for fully covered PRI (Panchayat Raj Instituitions), and those individuals and institutions who have contributed significantly in ensuring total sanitary practices in their area of operation.

In the past two years, Assam has bagged eighteen Nirmal Gram Puraskars. Nareswar Kakati, Secretary, PHED, Assam told TEHELKA, "Our main target is to initiate behavioural change in the people using innovative means, paying special attention to whether they belong to the hilly terrain or the plains" The play is a small step in this direction but the sanitation campaign in Assam still has a long way to go.
The joint efforts of the state and central governments have given a tremendous boost to the sanitation program in Assam, and its results are plain to see. We hope that this serves as a lesson on how co-operation and initiative can help governments and men in power to clean up the country's act.
Read the complete article here.
Image Courtesy: Ministry of Rural Development