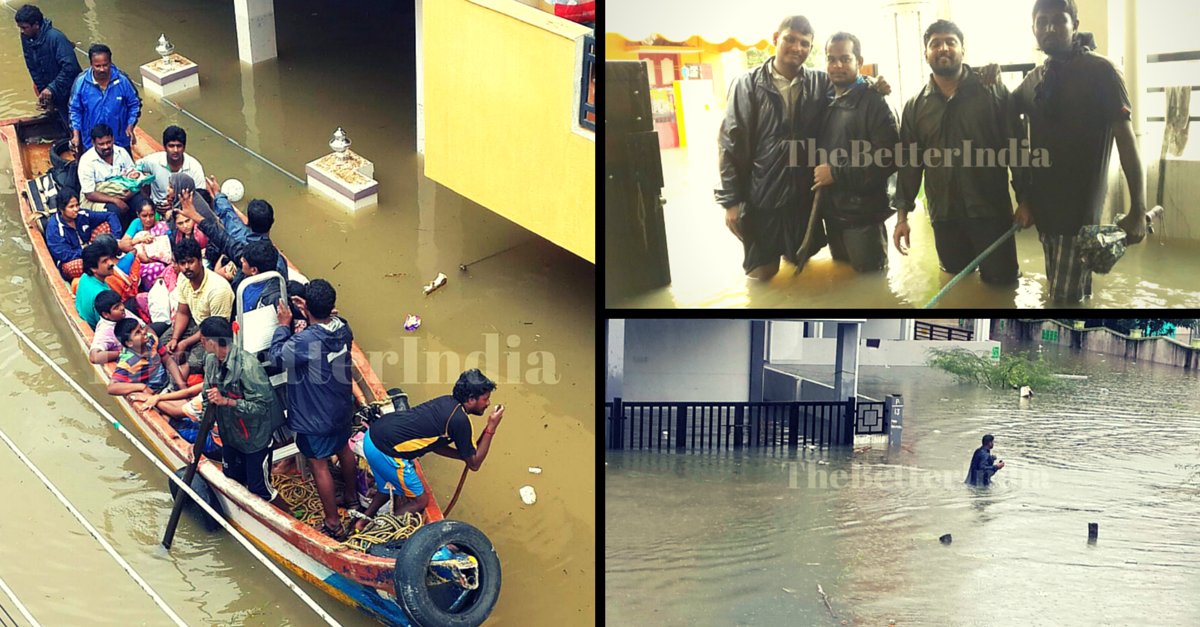 Our home was destroyed. We were stranded. But wave upon wave of humanity kept our spirits high and our belief in the Indian people afloat.
---
In the MY STORY section, we present some of the most compelling and pertinent stories and experiences shared with us by our readers. Do you have something to share? Write to us: contact@thebetterindia.com with "MY STORY" in the subject line.
---
Our home was destroyed. We were stranded. But wave upon wave of humanity kept our spirits high and our belief in the Indian people afloat.
It was Tuesday morning. I woke up at 6 am, made breakfast and bid goodbye to my husband who left for office at 7:15 am. I was still trying to get my house back in order since the first wave of floods had hit us the week before. The cleaning and washing seemed to be never ending. I started the washing machine and lay down next to my 5-year-old daughter, checking to see if there was anything about the incessant rains in the news. There was nothing – the media seemed to be obsessed with how Aamir Khan had the right to be afraid of living in India, and the twists in the Sheena Bora case.
The rain was still at its peak. At 8 am, I looked outside. The water level had reached the main gate. I knew my maid wouldn't come now, so I thought I'd clean the dishes first. I had barely done two dishes when I felt the urge to look out again.
The water had touched the porch now.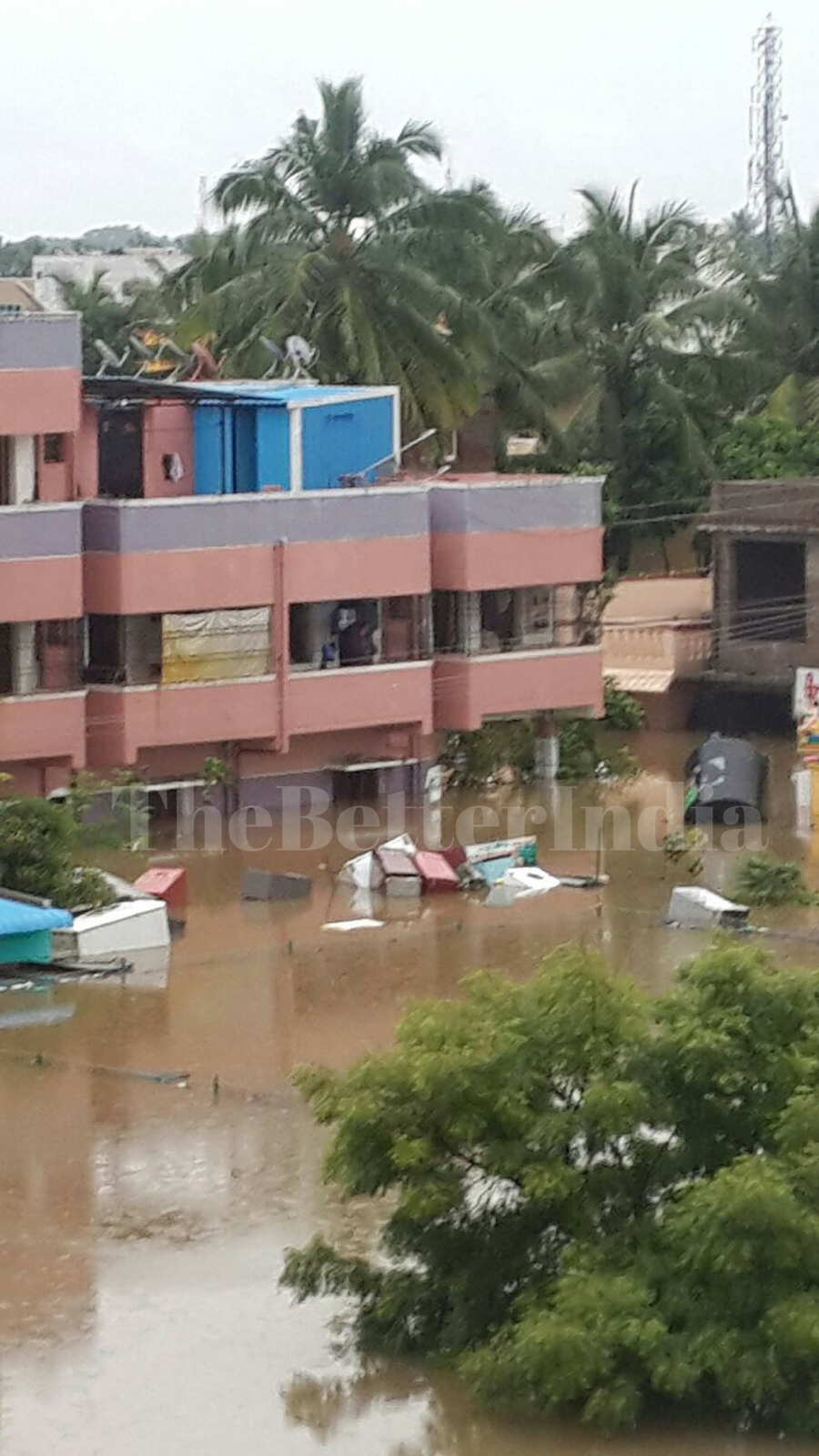 I left the dishes and started putting our clothes in a travel bag. Thankfully, I had the keys to an empty second floor flat. I went upstairs and left our clothes there, then packed the induction cook top, electric kettle, a few utensils, my laptop, a couple of rice and daal packets, and biscuits. After carrying this bag upstairs, I thought I'd wake up my baby and give her breakfast. But by the time I came back to the ground floor, water had started entering the verandah. I woke up my kid, took six bottles of water and her brush and toothpaste, and rushed her to the second floor.
After settling her there, I came back and tried to put as many of our belongings as I could on the beds and on the top shelves of the cupboards. By this time the water was about to enter the house. I thought I'd drag a mattress and a few blankets upstairs but suddenly the power went off. I got worried that my daughter would get scared in the dark, so I just picked up three blankets and rushed to the second floor. Around this time my husband called and said he was leaving office to come back home. His office is an hour away so I was praying that he would reach us safely.
I kept trying to call for help. Taxi services were busy. Rescue teams assured me that they would send help. But none was forthcoming as yet.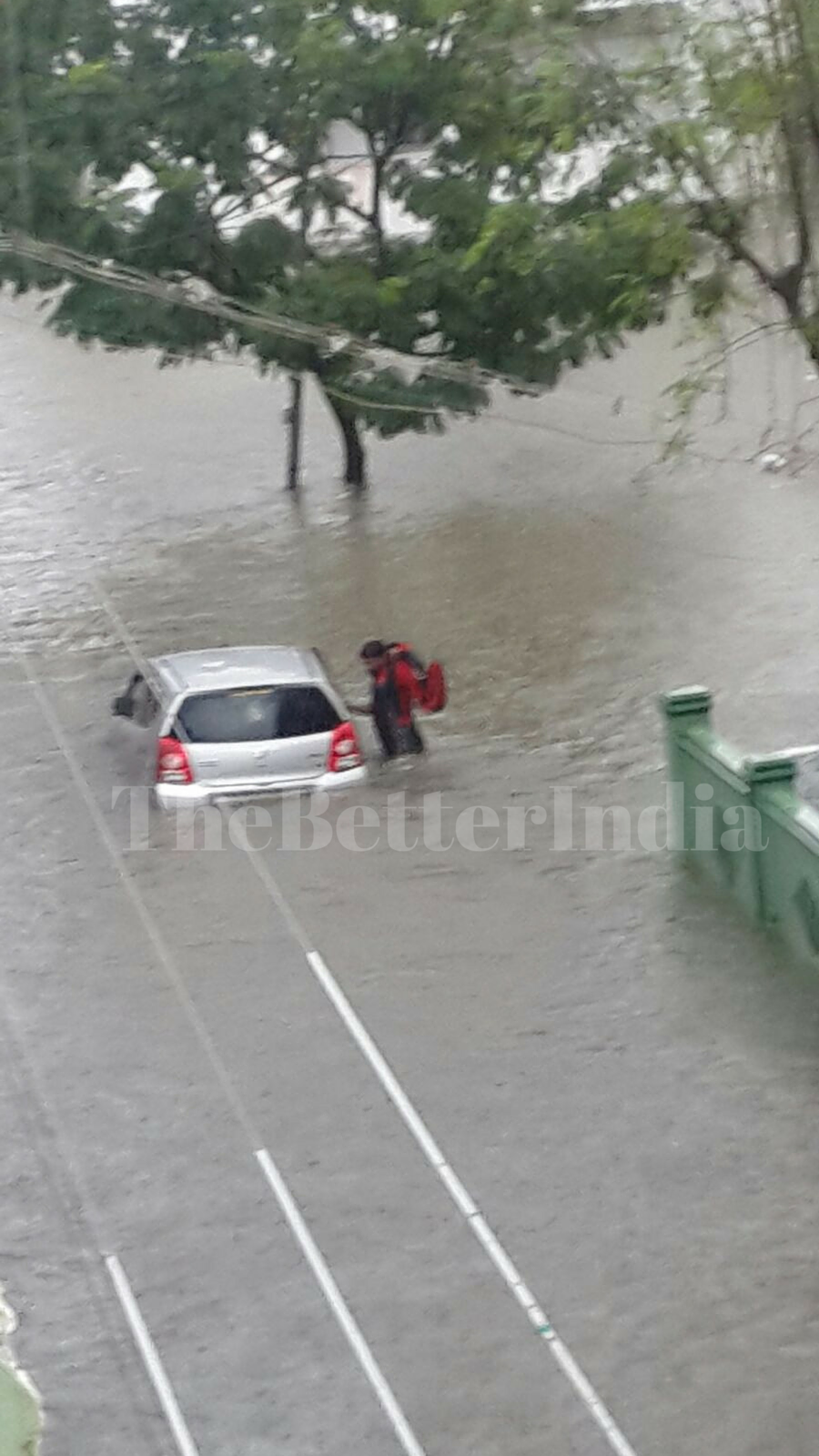 My daughter was hungry by now. I had raw food but no resources to cook it. I kept standing near the window, waiting for my husband. Suddenly, I saw four young men going through the water on the other side of the road. I thought they were the rescue people sent for me. I called out for help. At first they did not hear me but when they passed by a second time they did. I asked if they were from the rescue team.
"We are not a rescue team ma'am but we will help. Tell us what you want," said one of them.
These were four unknown boys. I was not sure if I was doing the right thing but I called them in. My husband was stuck in a water wave in the lane next to our house. His phone was not reachable now.
The boys came in. I asked if they could get the gas stove and cylinder to the second floor. Without wasting a second, they started helping me.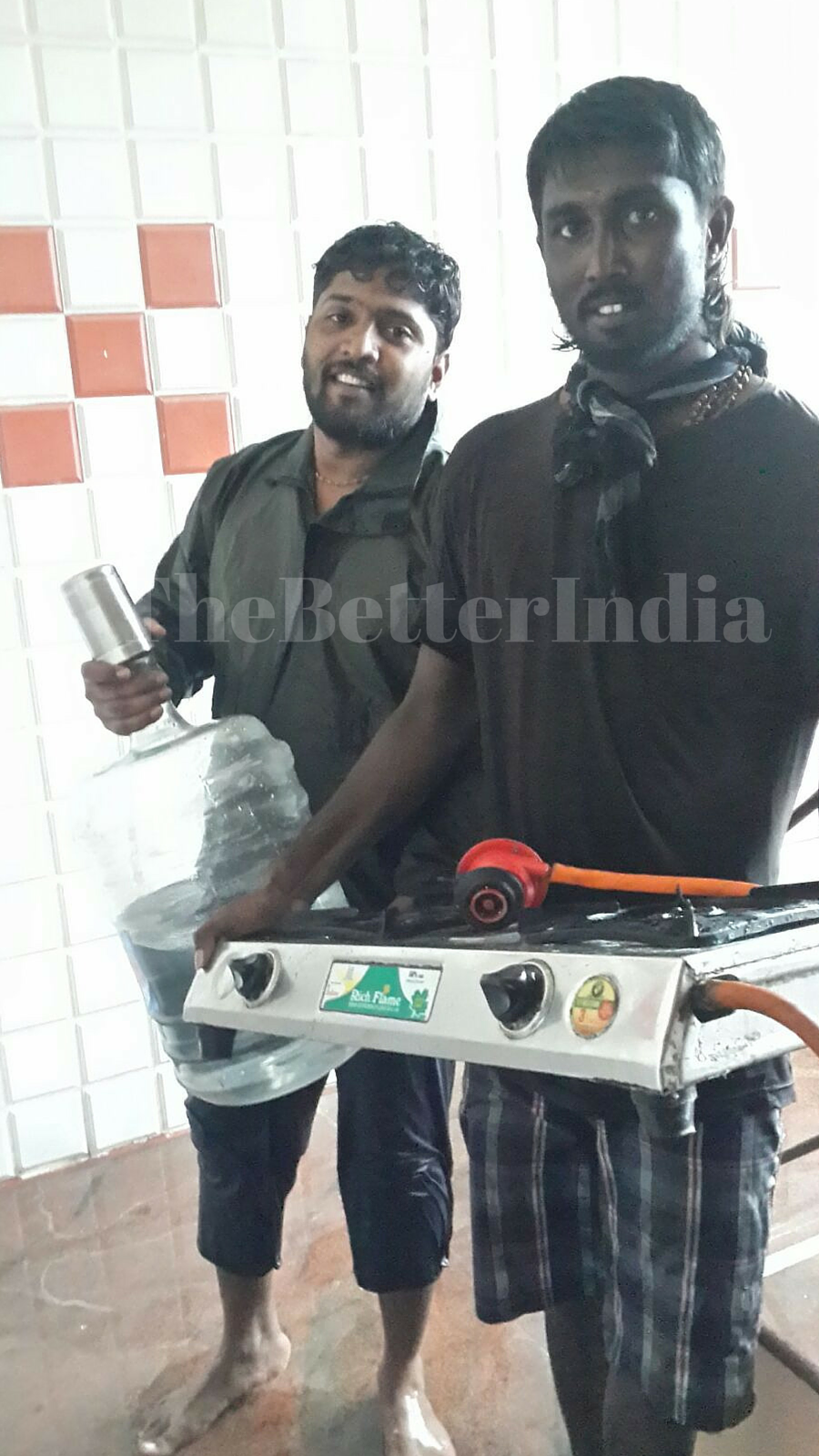 I gathered more food while they were trying to take the stove upstairs. They also helped me get the drinking water can to the second floor.
After ensuring that my daughter and I were alright, they left, smiling and giggling.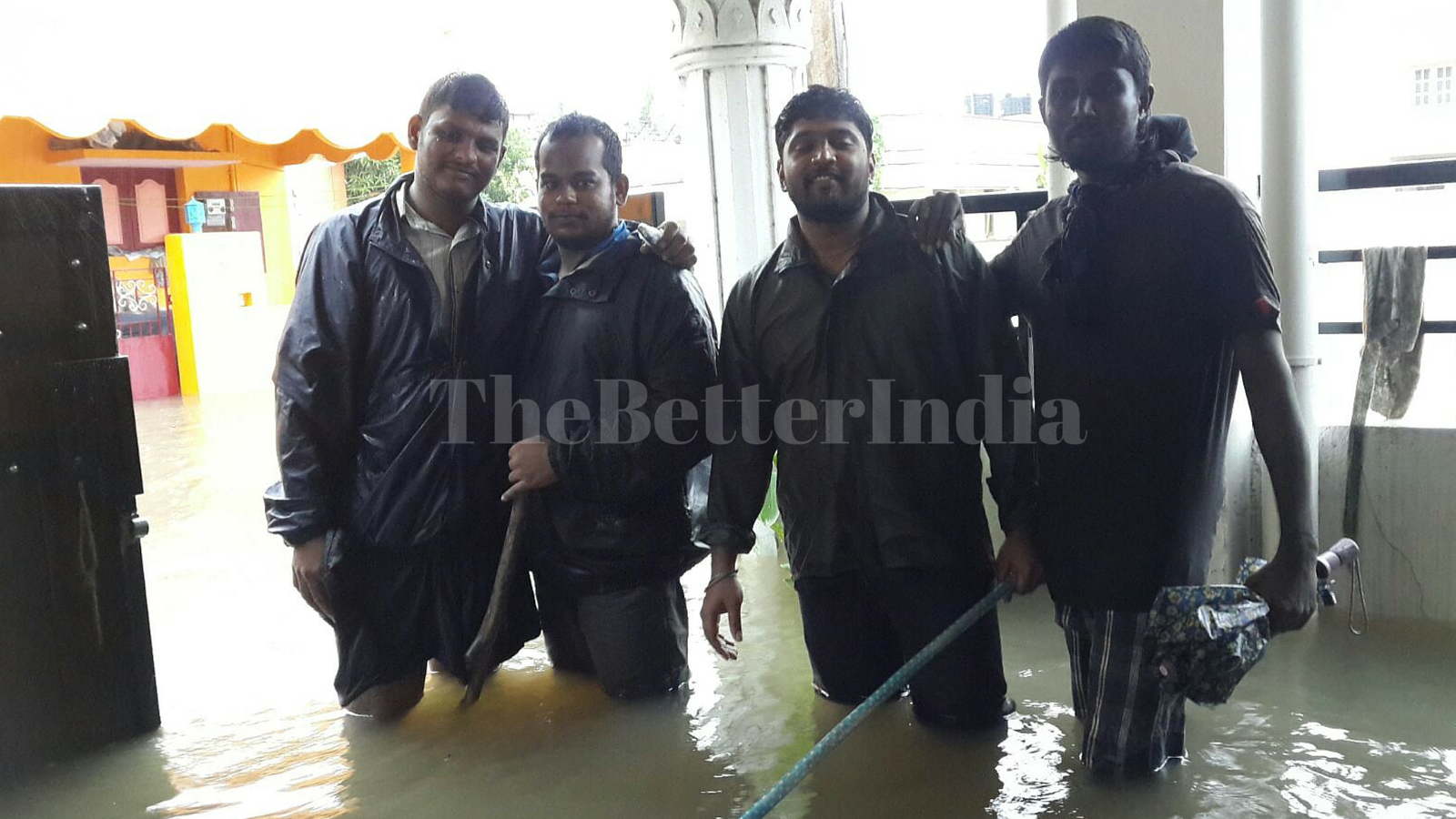 The water was rising so fast, that by this time it had reached knee level inside my house. Thankfully, my husband reached home by 2 pm and started rescuing as many of our belongings as he could. Things like the fridge, washing machine, sofa and bed had started floating.
By 5:30 pm, it was so dark that it was impossible to see anything inside the house. We went back up to the second floor, waiting for the rain to stop. But it kept raining…
Next morning.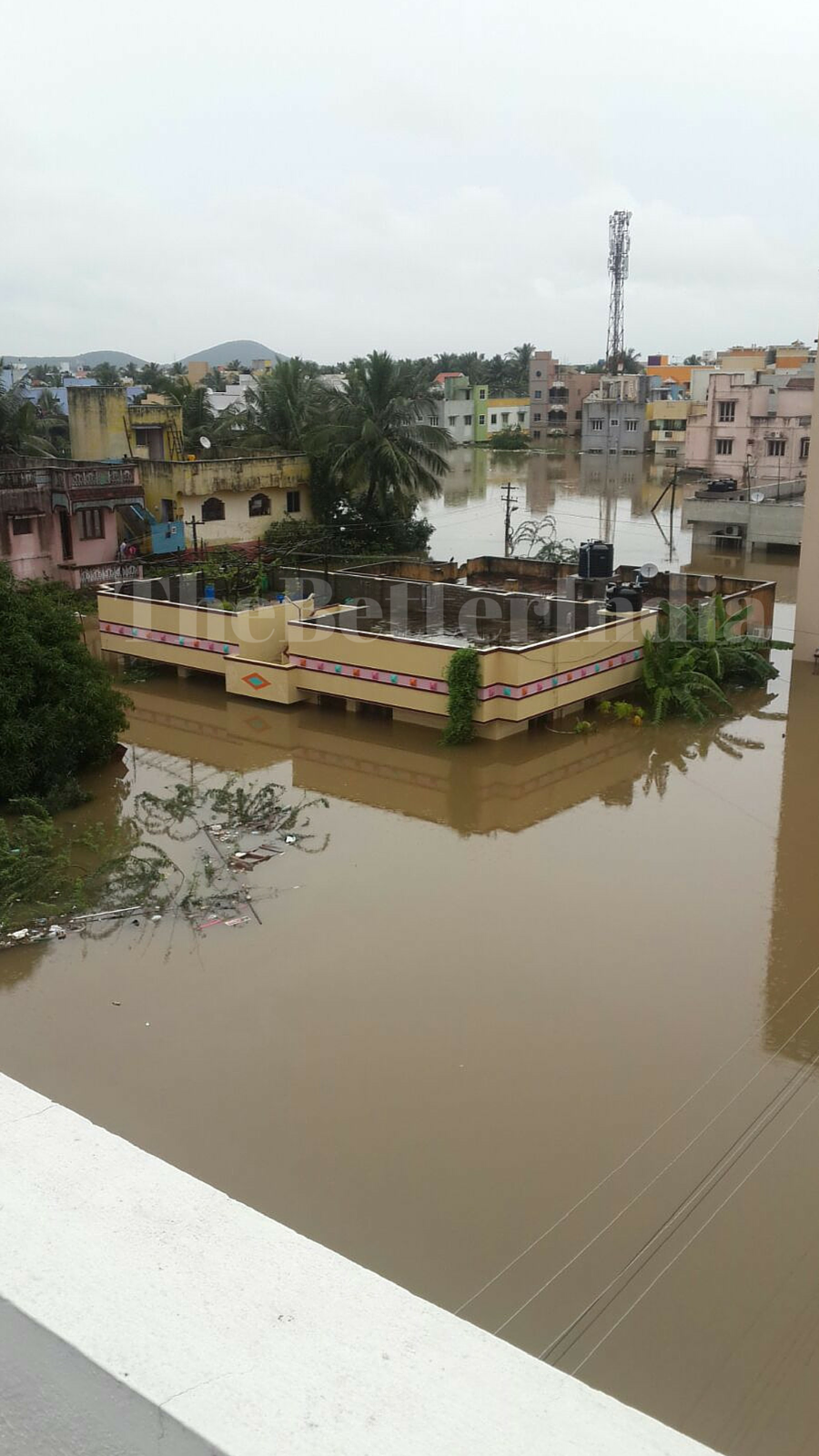 The entire ground floor was under water!
A few families from the ground floor flats had shifted to their neighbours' homes on the first floor. But this morning they just wanted to get out of there. It was only a matter of a few hours before the water would reach this floor too.
We finally saw a boat at the entrance of our area at 9 am. The boat rescued just one family and went away. People kept whistling, clapping and calling out for help. Later on, I came to know that it was the family of the municipality head of our area. No helplines were working. The next boat came at 1 pm. It did not stop anywhere else but only at a house next to our flats. The family was rescued. We pleaded with the boatman to come back, and he said he would, but never did!
I could see from our terrace that a couple on the terrace behind ours was desperate to leave. I asked them if they were alright and they said they had climbed up to the first floor without any food or water. We started sharing food with them. But water was too limited!
By 5:30 pm it was almost dark and we lost hope of getting any help now. Several helicopters had flown by during the day but food and water had not yet been distributed.
Next morning.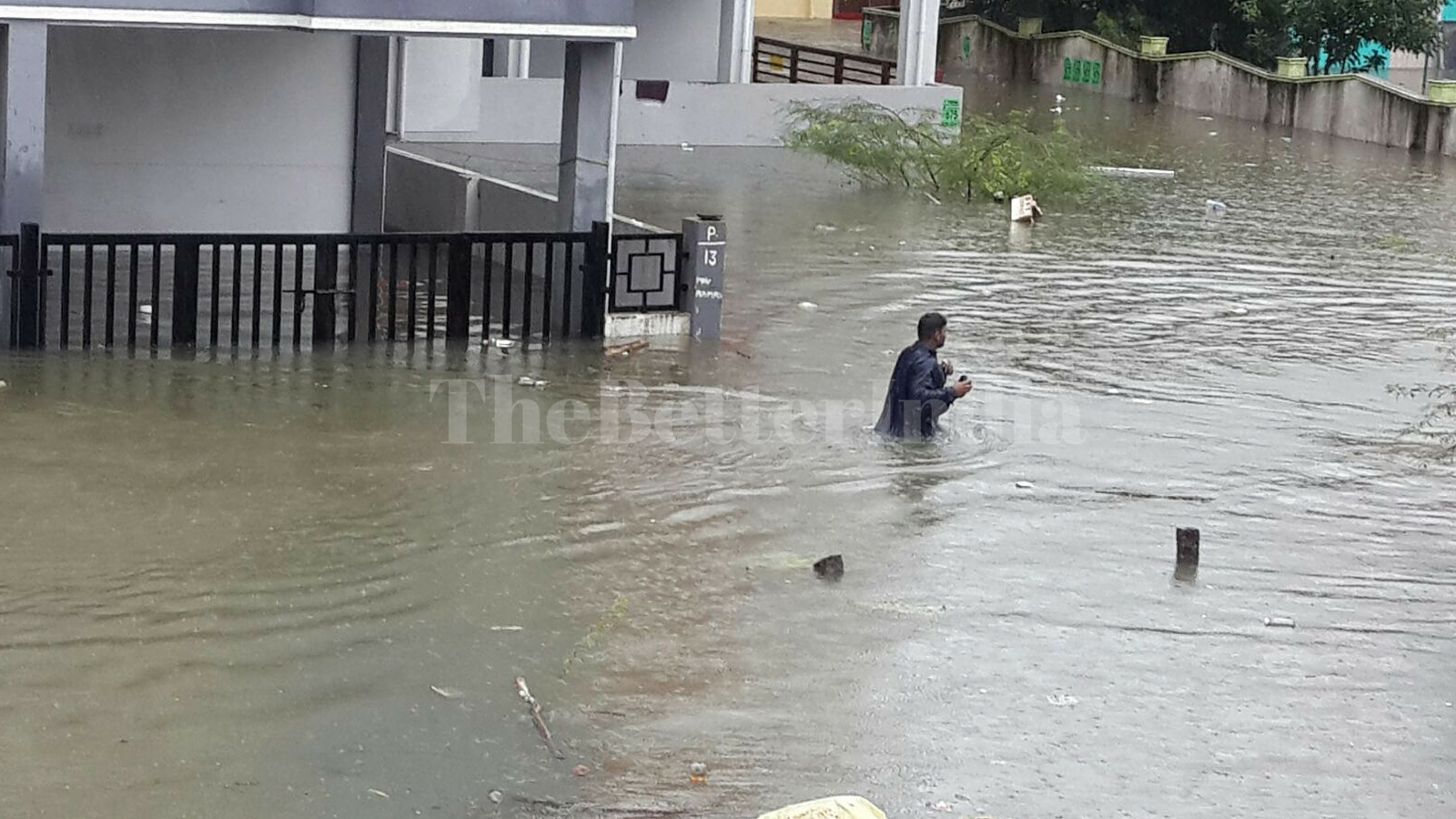 The water level was going down. We could see the boundary walls of the ground floor houses now. Our neighbours decided to walk through the water once it came down to hip level. We were in a dilemma whether to do the same but finally decided to go ahead. We were about to leave when a small boat carrying two elderly ladies passed us from the backyard. We called out for help. When we told them that we have a kid with us, they allowed us to get in.
The boat left us till the main road where an ambulance was ready to take people to a government school. All this was being done by an organization called TMMK.
When we asked them where we should go, one of them offered us his own home.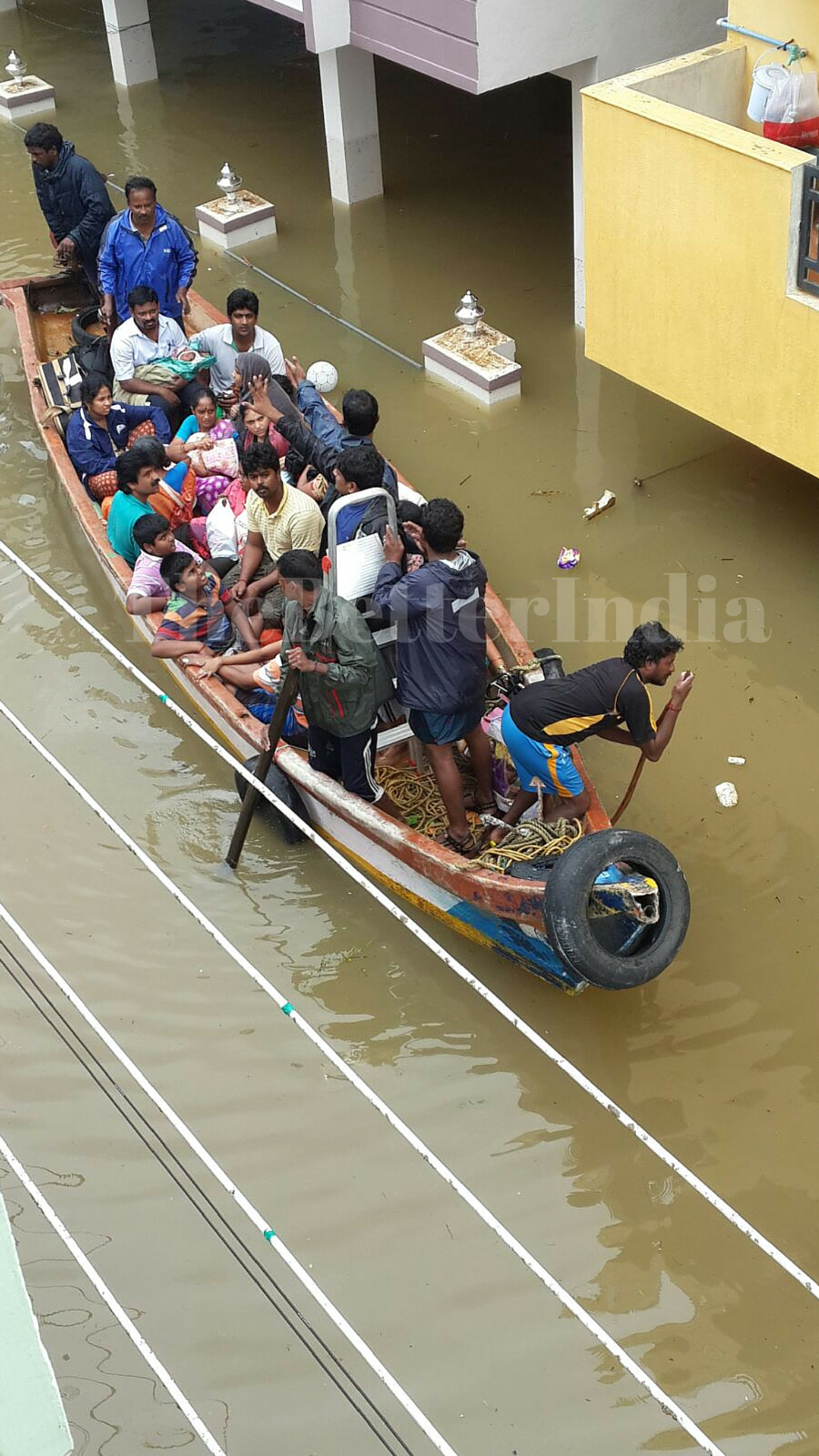 We kept looking for hotels and finally got a room in one. Once our family was safe, my husband went back to our area to help others.
In the meantime, my friends were using social media to the fullest extent possible to help me. Some had tagged as many as they could on Twitter. Others had posted my address on Facebook. One friend had even arranged for us to join her relative in his hotel room.
There were friends who kept calling helpline numbers and sending me the same too. My employers ordered food for us, called up the disaster management team, and managed to speak to a boat guy to come rescue us.
All this time, I don't know why, but I was pretty relaxed. We were happy about all the positive things that were happening with us amongst all the chaos.
Here are 7 lessons I learnt: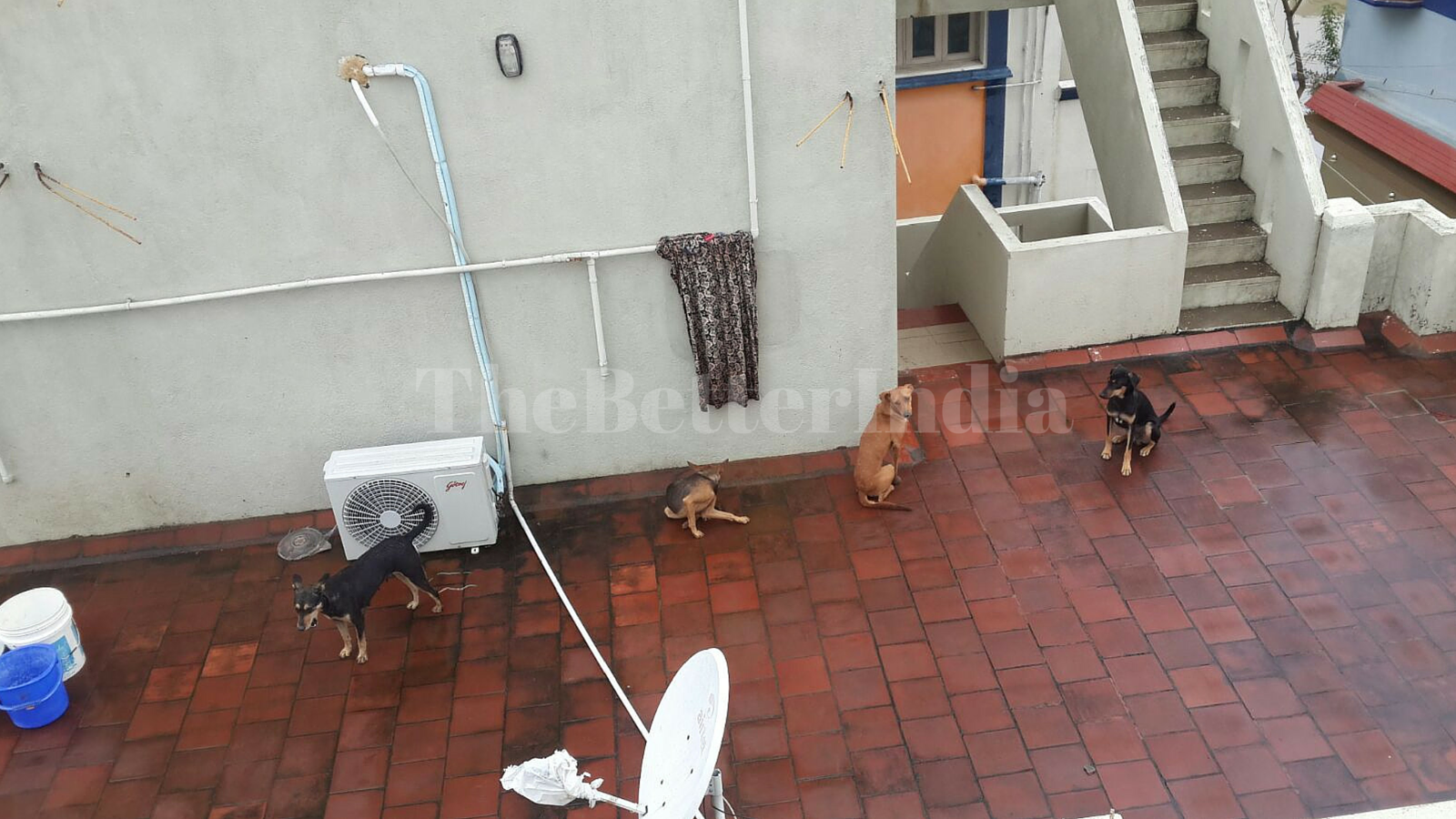 1. The water level in our area rose so suddenly, not due to rain, but because the canal water had to be opened by the government. We don't know why this decision was made but perhaps we could have been alerted.
2. When the lady from the balcony opposite ours came out and saw me on the second floor, she exclaimed: "Thank God, you are safe." She is Tamilian and I am North Indian (as she knows). Yes, Tamilians and North Indians feel happy when they see each other safe!
3. The four young boys who helped me did not know my name, status or religion. Yes, young boys are good people too. And there are still people who will help without expecting anything in return.
4. My husband risked his life to reach us and kept struggling till the end to save our belongings. Yes, though men don't show their emotions, they can go to any extent to save their families.
5. I have always understood the plight of farmers and tried to help them. But this time, when my house was sinking with all the little things inside it that my husband and I had put together through our efforts in the past seven years, I could feel the pain that a farmer goes through every year his crop is destroyed.
6. When government boats decided to rescue only important people, a common man's organization came forward to help the needy. Do you know what TMMK stands for? Tamil Nadu Muslim Munnetra Kazagham. They did not ask if we were Hindus or Muslims or Christians. So this whole debate about India being intolerant is just a news and social media creation. During the three days, whenever I switched on my phone to check for important messages, all I saw was that my Hindu, Muslim and Christian friends were equally concerned about me. I did not see any intolerance anywhere.
When actors say they don't feel safe in our country… I just pity their thinking.
7. Last, but not the least, I always see Indians giving examples of how foreigners are so professional and punctual. But there is something that is far more important than these qualities — ethics and humanity. And my Indian employers (The Better India) proved that they are way superior to the foreigners in these two areas by being with me during this tough time just like a family.
Jai Hind!
Like this story? Or have something to share? Write to us: contact@thebetterindia.com, or connect with us on Facebook and Twitter (@thebetterindia).
We bring stories straight from the heart of India, to inspire millions and create a wave of impact. Our positive movement is growing bigger everyday, and we would love for you to join it.
Please contribute whatever you can, every little penny helps our team in bringing you more stories that support dreams and spread hope.