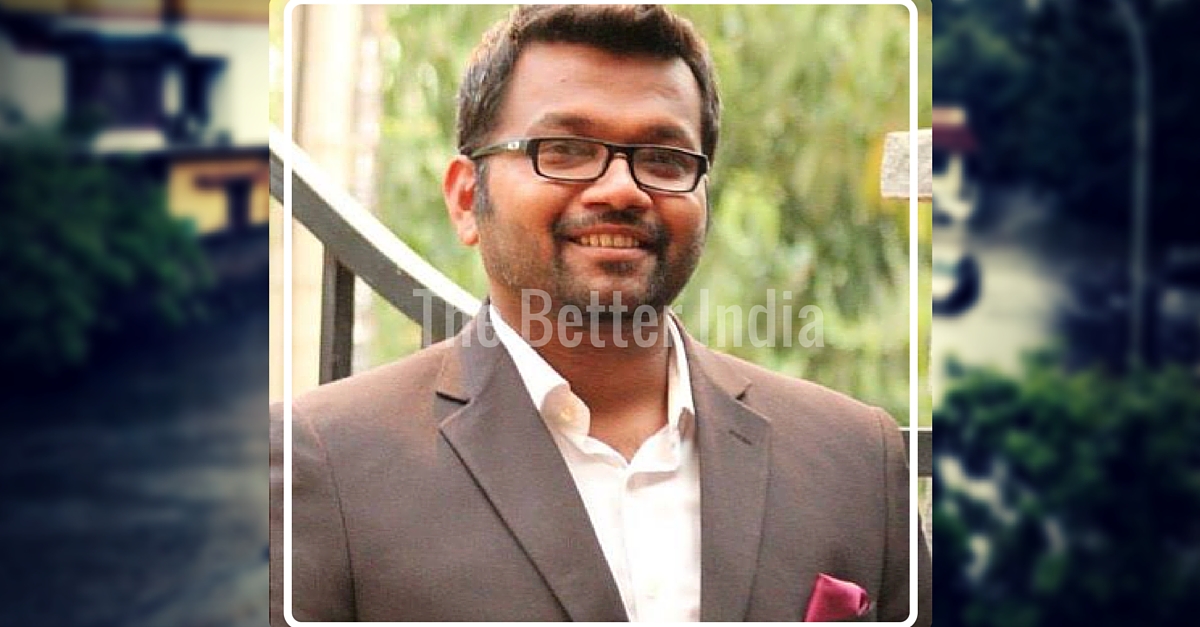 We sometimes hear of NRIs who leave their lucrative jobs in foreign lands and return to India to serve the needy. But have you heard of anyone who cancelled his green card process, left a full-fledged career as general manager of an international hotel chain in the US, studied again to make a new beginning, and returned to India with a new mission in mind? Meet Hari Balaji, US-returned hotelier turned humanitarian, who wants to create a 'disaster resilient India.'
We sometimes hear of NRIs who leave their lucrative jobs in foreign lands and return to India to serve the needy. But have you heard of anyone who cancelled his green card process, left a full-fledged career as general manager of an international hotel chain in the US, studied again to make a new beginning, and returned to India with a new mission in mind? Meet Hari Balaji, US-returned hotelier turned humanitarian, who wants to create a 'disaster resilient India.'
On September 11, 2001, one of the biggest man-made disasters in recent times hit the World Trade Centre in New York City. Hari was on a flight from Zurich to Atlanta on the same day that terrorists struck at the heart of the US, flying two jetliners into the twin trade towers and killing nearly 3,000 people. Hari's flight was instructed to return to Zurich, without even having touched down in the US. Nobody knew what had happened.
When Hari reached his hotel room in Zurich, he came to know about the WTC twin tower attack. This was the first time that he was experiencing a man-made disaster.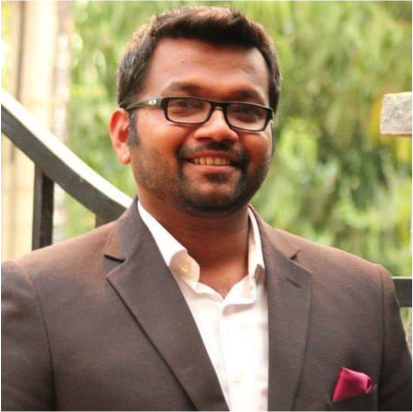 Airspace in the US was shut within minutes of this event and Hari's flight was not allowed into US airspace. Even the flights within the US were instructed to land immediately. When, a year later, Hari attended a 'Get Motivated' workshop in Georgia Dome, Atlanta, one of the speakers there was Rudy Giuliani, the Mayor of New York on the fateful day of 9/11. Giuliani talked about how New York City had control over the entire situation within an hour of the incident. Hari was very impressed on learning all these facts about disaster preparedness in the US.
Hari is originally from Chennai, India. He is an alumnus of the Swiss Hotel Management School, Switzerland, and has held management positions in pre-opening, renovation and re-branding phases with the world's most prominent brands in India, Switzerland, US, and Kuwait.
His work in the US revolved around project management of hotels. Whenever a new property was built or purchased or revamped, he was deployed there to work with code enforcement. One of the properties he worked with was located in Louisiana and had been badly affected by Hurricane Katrina. This was his second exposure to disaster and this time it was a natural disaster.
The US has a clear cut, almost clinical, approach when it comes to handling disasters. Community level awareness of what to do and not to do during a disaster is high and was notched up after 9/11. However, in India, it was only after the Indian Ocean earthquake and tsunami of 2004 that a centralized body for disaster management was formed and the Disaster Management Act came into existence in 2005.
Hari sensed that he was needed more in his own country than in the US.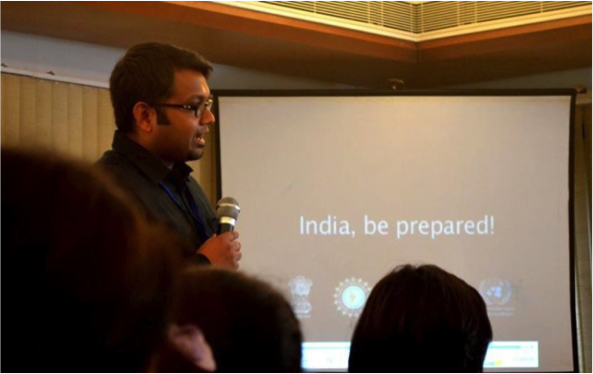 There are five major departments that come together and coordinate closely during a disaster. They are: healthcare/medical; police; fire and rescue; revenue administration; and municipality. Hari decided he wanted to become an independent consultant/trainer for government projects in the field of disaster management. And for this purpose, he chose the healthcare vertical. Then, with the support of his family, he cancelled his green card process and moved to India, after a short stint in Kuwait acquiring practical knowledge in 'hospital preparedness in case of disaster.'
In order to gain formal education in healthcare, he did a second post graduation degree, an MBA in Hospital and Health Systems Management, from the College of Management, Sri Ramachandra University, Chennai. As a part of the course, he studied 'Hazard Vulnerability Assessment of Major Hospitals in Chennai and Bangalore Region.' During his MBA, he served as an Executive Committee Member in Chennai Emergency Management Exercise 2011, United Nations Development Program/ National Disaster Management Authority assignment in Chennai.
After completing his MBA, based on his project work in disaster management and his active participation in the Chennai Emergency Management Exercise, he was deployed by the National Disaster Management Authority, Government of India, through United Nations Children's Fund in Assam to coordinate Guwahati Emergency Management Exercise 2012.
Hari soon started to conduct independent workshops in disaster management. Disaster management training had been done before in India but never had the public been consistently involved.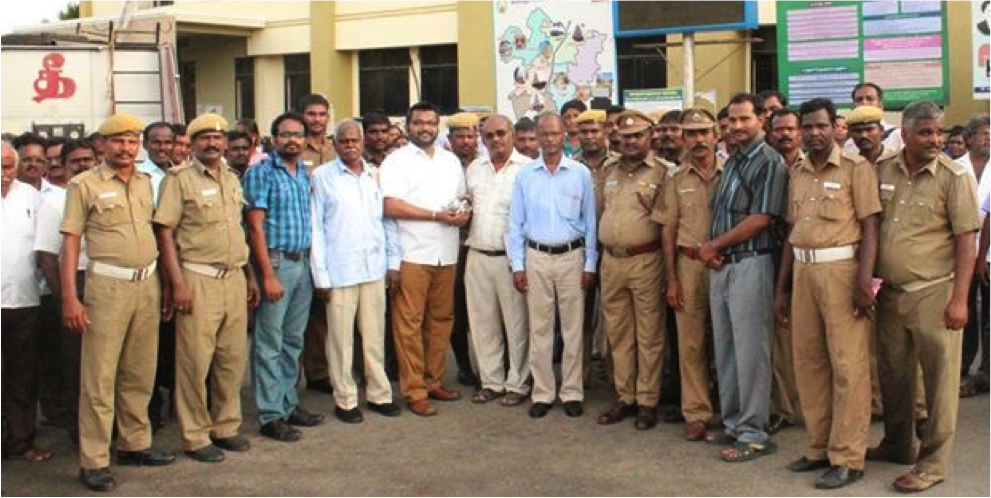 Even the various emergency support functions such as healthcare/medical, police, fire and rescue, revenue department, ambulance, and municipality, which are involved in managing disasters, had never been trained together under one roof. Training them separately helped them work individually, but during a disaster they were supposed to work with each other in a cohesive manner to ensure minimal loss of lives.
Role-playing in Hari's workshops focuses on strategies to deploy in fire accidents, road traffic accidents, and dilapidated building collapse.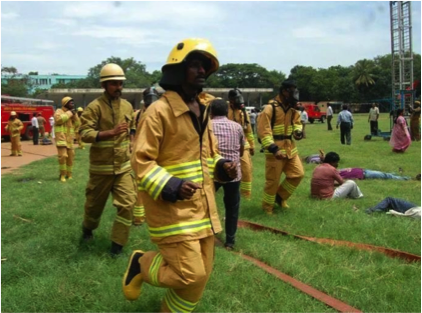 Hari also provides training in psychological management during a disaster. The rescuers often focus only on the victims who are physically injured; however there are victims who are mental sufferers too. People who lose everything overnight need a lot of moral support. They need to find work soon or they go into depression, which can be dangerous.
There are other areas to be addressed during disaster management. For example, three to four percent of women are pregnant at any given point of time and they are present during disasters as well. A safe place for delivery needs to be earmarked and identified in safe zones.
Usually, anti-social elements get active post disaster. The police have to be well trained to identify the menace and curb it in time.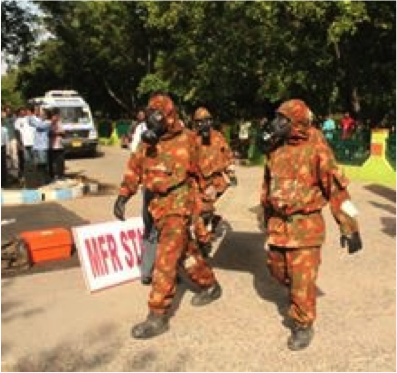 Also, human trafficking is an issue since women and adolescent/teenage girls are highly vulnerable when they are away from family and staying in evacuation camps. Gender-based violence also increases during a disaster. Providing proper and separate restrooms with locks, 24×7 electricity, and safety/security are important challenges.
Different statements by different sources might make a disaster situation even worse. So communicating with media through a well-organized press meet and leveraging their support during and post disaster is also a subject covered in Hari's sessions.
Hari, apart from rendering his disaster preparedness consulting service to non-governmental organizations such as Sphere India and Red R for their UNICEF, UNFPA projects, also conducts his workshops in various educational institutions.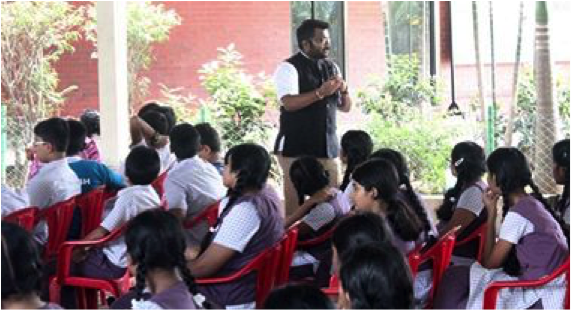 He also visits places and makes individual reports for different disaster-prone areas. A manual is prepared, which includes details of infrastructure, total number of people in that property, nearby hospitals, number of beds in those hospitals, blood storage information, and the hazard/disaster vulnerability of that particular area, with personnel to be contacted when disaster strikes. After this, a core team called a Rapid Response Team is formed and trained to rescue people by taking the lead in the unlikely event of a disaster.
His workshops teach how to handle sexual and gender-based violence too. For example, all the members are trained on how to handle a rape case and maintain the safety and confidentiality of the survivor.
Hari has recently finished conducting a 'Strengthening Emergency Response System in Hospitals' workshop in all thirty-two districts of Tamil Nadu. This was an assignment by the Directorate of Public Health and Preventive Medicine, Government of Tamil Nadu.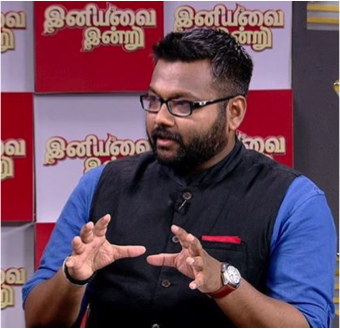 Hari's aim is to make every citizen of India mentally and physically ready to confront a disaster. He guides authorities in setting up disaster management cells in schools/colleges and conducts intensive disaster management courses customized for each institution. He envisions India to be the global leader in the arena of disaster management and mitigation.
To support the 'Disaster Resilient India' initiative or increase the disaster preparedness level of your organization, visit his website www.haribalaji.com
Also check out his 13-point plan to stay safe during heavy rains and floods like the ones that Chennai and the east coast of the country is witnessing currently.
Like this story? Or have something to share? Write to us: contact@thebetterindia.com, or connect with us on Facebook and Twitter (@thebetterindia).
Inputs from Nishi Malhotra.
Tell Us More
We bring stories straight from the heart of India, to inspire millions and create a wave of impact. Our positive movement is growing bigger everyday, and we would love for you to join it.
Please contribute whatever you can, every little penny helps our team in bringing you more stories that support dreams and spread hope.