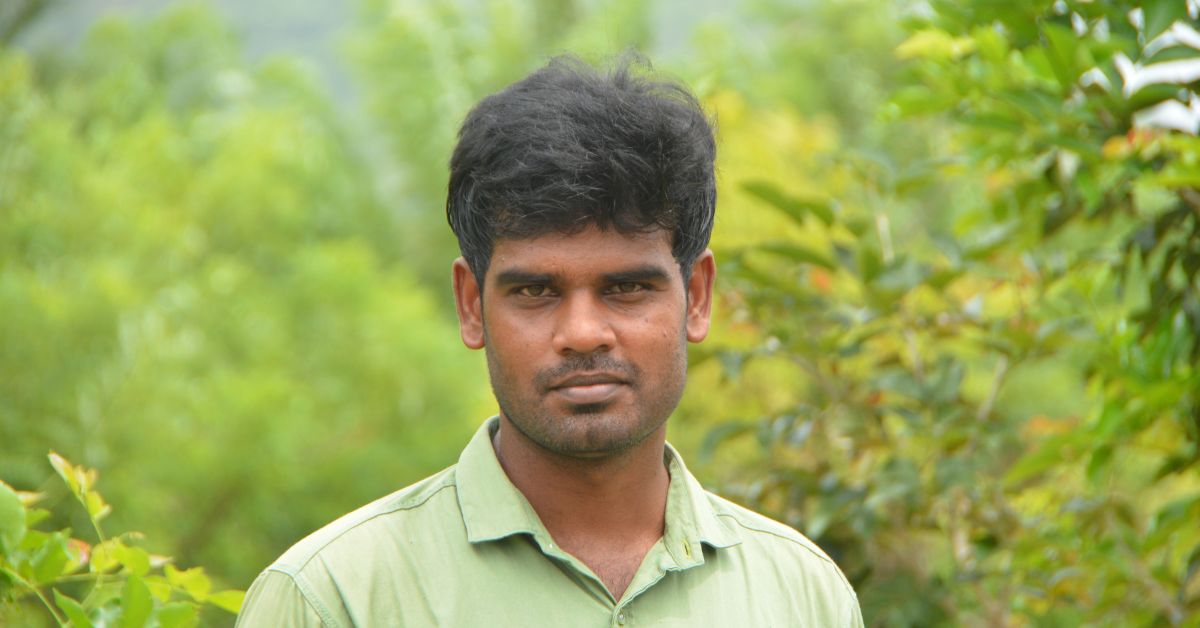 Braving threats from the real estate mafia, G Srikanth from Tamil Nadu singlehandedly grew a forest on a 25-acre land near the Palar river.
Growing up in Gudiyatham in Vellore, Tamil Nadu, G Srikanth grew up in the lap of nature. He would walk to school, passing a forest on the way, and would enjoy listening to the chirping birds and insects. After an idyllic childhood, he moved to Chennai and worked as an assistant director in the movies. He recalls coming home from the 'concrete jungle' to take a whiff of fresh air.
Over the years, every visit to Gudiyatham felt different. Srikanth saw the green cover reduce slowly; all but vanishing in front of his eyes. He felt disheartened that his hometown was also becoming like a big city, devoid of its natural beauty.
In 2017, a tragic incident changed the trajectory of the computer science graduate's life. His older brother, Sridhar, died in an accident, leaving Srikanth to move back home. He started working in the fields with his father, a farmer. At the same time, he worked on his dream, to increase the green cover of his hometown.
Starting by planting 1,000 trees in 2018, today the 34-year-old has planted over 15,000 trees in Vellore, creating three forests. On the way, he has faced threats by the land mafia and politicians, had his trees cut, been beaten, but nothing has shaken him. He stands firmly on his resolve that he is giving back to Mother Nature, and will continue to do so, come what may.
Transforming a 25-acre barren land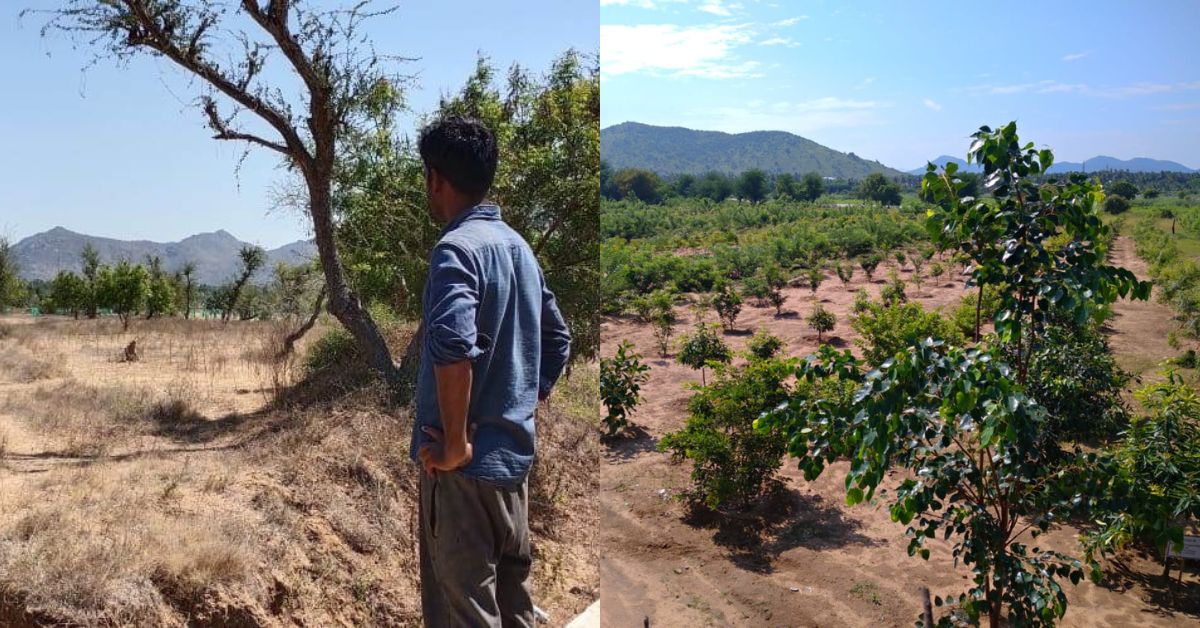 In August 2018, Srikanth started planting 1,000 trees on the roadside of Ulli village in Gudiyatham. He also took responsibility for maintaining the trees, and in six short months, they grew well.
"There used to be a social forest on the banks of the Palar river, that I would cross on my way to school every day. It was slowly taken over by the land mafia and all the trees were cut. It became a barren wasteland which was just used for sand. I wanted to restore and recreate that forest, which was home to so many birds, insects and monkeys. I would keep giving petitions to the district collector every week, but to no avail," Srikanth tells The Better India.
The concept of social forestry is to involve locals of the region in the afforestation of unused wastelands, and to also protect and preserve them from rapid deforestation. "In a social forest, people can come and go unlike a reserved forest, where no one is allowed," explains Srikanth.
He also saw many monkeys getting hurt on the roads, which bothered him greatly. "Many birds and monkeys would be wounded. They had no place to go to," he adds.
When the 1,000 trees that he planted grew well, his efforts were noticed by the local authorities and reached the attention of then collector, A Shanmuga Sundaram. Srikanth recalls that Sundaram offered him help.
He asked Sundaram to help him build a social forest on the Palar riverbed, and restore it to its yesteryear glory. The collector gave him 2 acres of that land. Srikanth worked hard and planted 500 trees in that area, all at his own expense. However, the land mafia was not happy. They threatened Srikanth verbally and physically, and slapped a case on him.
"They would cut or uproot the trees the evening we planted them. Almost 800 trees were cut off by this mafia. They would threaten me over the phone, call me to their office to intimidate me, and offer me money to stay away from this land. When I was clearing the land, they threw sand on me, as the entire village watched. They even threatened my family," adds Srikanth.
Through this entire ordeal, Srikanth remained calm and said he didn't fight back, as he knew that what he was doing was for the greater good.
When the collector saw what was happening, he decided to help Srikanth recover the land and build a forest. Srikanth got back the encroached 25-acre land, cleaned it and planted 7,000 trees in the area. He spent more than Rs 1.5 lakh for this.
"The collector gave me 25 Mahatma Gandhi National Rural Employment Guarantee Act (MGNREGA) workers to help me with the work. In a year, the forest grew well and became home to many birds and animals," says Srikanth.
He planted native trees and fruits in the forest, like jamun, peepal, fig, and more.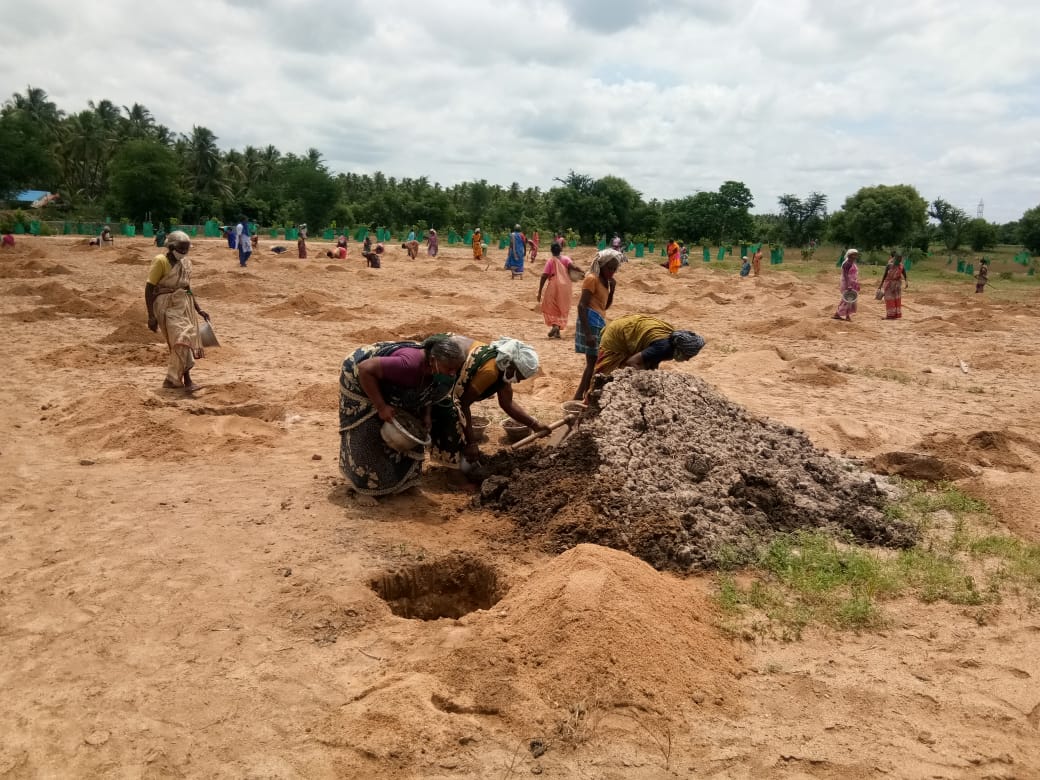 This social forest, built on the riverbed, can help prevent soil erosion, according to environmental scientist Praveen Kumar.
"When there is, say 100 acres of land under paddy cultivation, people would build a small forest in between, to help cross pollination. The birds and snakes in the forest would keep rats and insects away from the crops. The forest that Srikanth has created will prevent soil erosion. It has also become a hub for birds, with over 55 species habiting the land," says Praveen.
He also says that had Srikanth not taken the efforts to create this forest, it would have become a sand quarry.
After the success of this forest, Srikanth has created a Miyawaki forest in a 1-acre land and another forest in Pernambut. He has also planted fruit trees in villages across Vellore, which would help villagers get an income too.
His goal is to create social forests in wastelands across Tamil Nadu.
"We are all busy earning assets for our next generation. I believe that increasing the green cover and building such forests is the biggest asset we can leave for them," says Srikanth.
Edited by Padmashree Pande
Tell Us More
We bring stories straight from the heart of India, to inspire millions and create a wave of impact. Our positive movement is growing bigger everyday, and we would love for you to join it.
Please contribute whatever you can, every little penny helps our team in bringing you more stories that support dreams and spread hope.