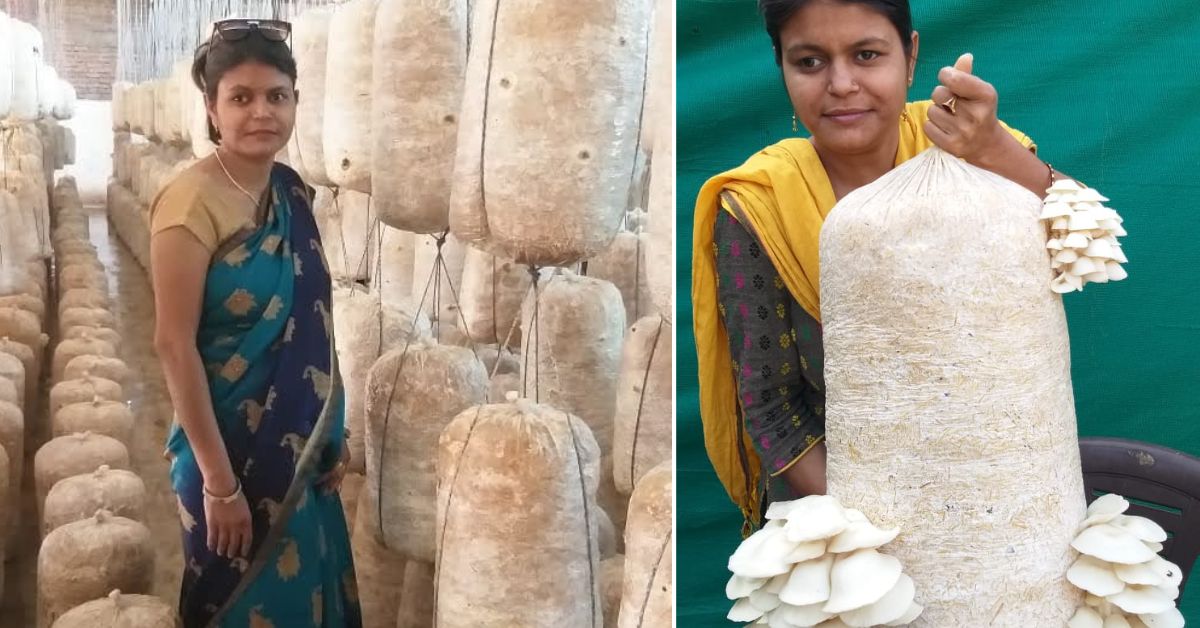 After the college where she taught was reduced to ruins, Professor Nidhi Katare decided to venture into entrepreneurship. She set up a lab to produce mushroom spawns and expanded her business that now earns her Rs 1.5 lakh per month.
Back in 2016, like any usual day, Professor Nidhi Katare left to give a lecture at her college in Gwalior. But, as soon as she reached there, she got to know that the premises would soon be demolished. This came as a huge, unexpected shock to her.
"When this college was being built, I was entrusted with setting up the science laboratories from scratch. Every lab was constructed under my supervision. But when the authorities got good money for the land on which the college was built, they had it demolished," the 38-year-old recalls in a conversation with The Better India.
"I taught in that college for almost 10 years. The campus was reduced to ruins in front of me. It was so heartbreaking. It seemed like a decade of my work was wasted. This is when I decided to invest my time and energy in something that I can call my own," she adds.
Although she got many offers from other colleges, the MSc graduate in microbiology decided to venture into entrepreneurship and started a business in mushroom farming that earns her up to Rs 1.5 lakh per month today.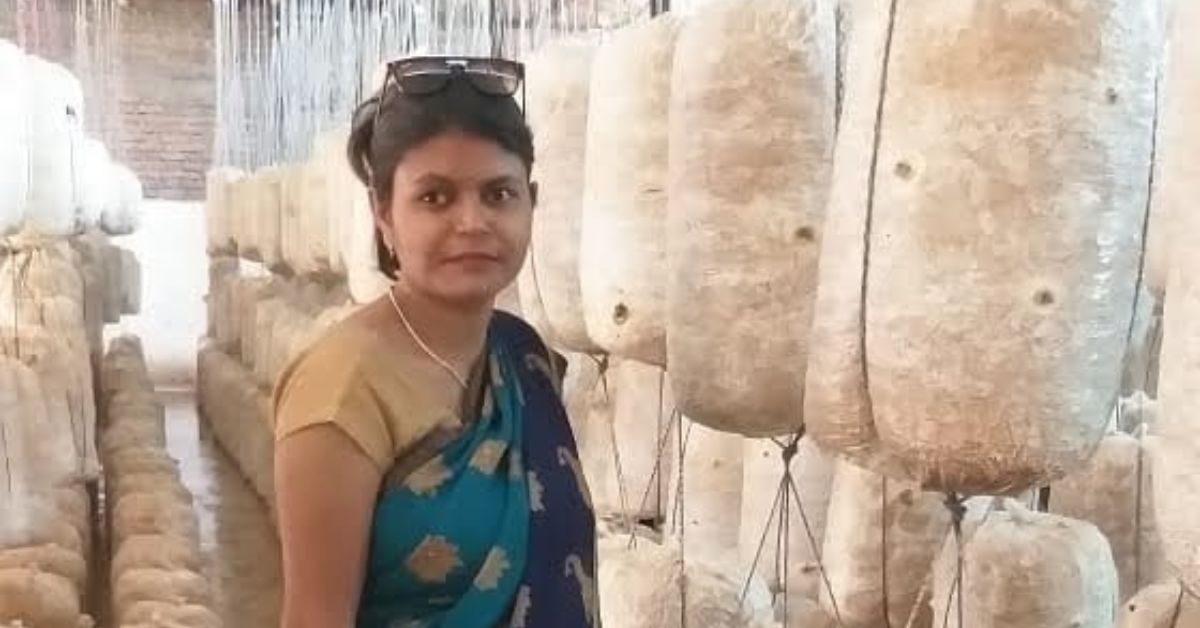 Mushrooming the college syllabus into business
Born and raised in Farukhadbad, Uttar Pradesh, Nidhi completed her master's from Jiwaji University of Gwalior, Madhya Pradesh. A year later in 2007, she started teaching at a private college in the Gwalior city.
As part of the syllabus, she would teach mushroom cultivation to her students. However, she never knew until 2016 that she could build a career in the topic she taught. "Since I studied microbiology, I already knew the nitty-gritty of mushroom cultivation. This seemed a better idea for business," she adds.
So in 2017, she set up her company Natural Bio Impact and Research Pvt Ltd to grow mushrooms. With Rs 3,000, she bought 10 kg of oyster mushroom spawns and cultivated mushrooms in her home in a 10×10 sq ft room. But, in contrast to her expectations, she could not get a good yield.
"For every kg of mushroom spawns, we should have gotten at least 10 kg of mushrooms. That means, in total, we should have gotten 100 kg of produce. But our yield was 30 percent less than anticipated," she says.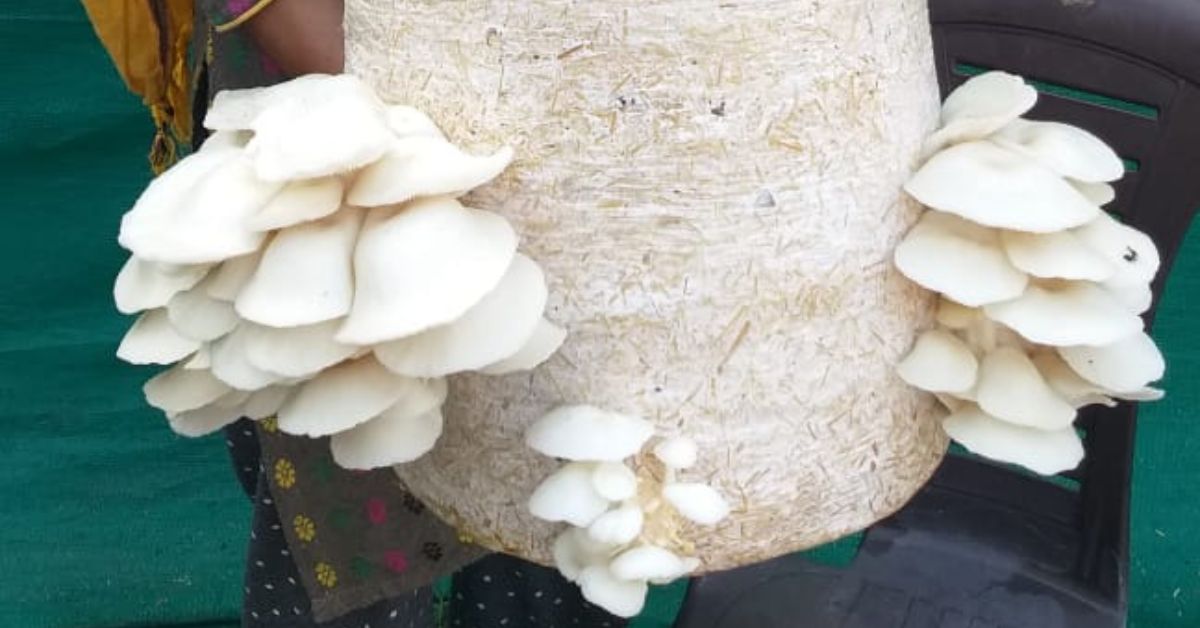 In the initial phase of her business, Nidhi was dependent on cultivators from Agra and Delhi to procure mushroom spawns. She observed that the quality of the spawns she sourced was poor.
"Often, the spawns were delivered crushed as they were packaged in poor-quality gunny sacks. They would also be contaminated with fungus which resulted in a lower yield. It also affected the size and quality of the mushrooms grown," she adds.
The next step, however, helped her expand the business.
A move towards a good yield
The same year, Nidhi used her ancestral house of 1,500 sq ft to set up a lab with dedicated rooms for incubation, inoculation, and pasteurisation.
She had decided to grow mushroom spawns on her own.
Explaining how she grows the spawns, Nidhi says, "First, we boil wheat and barley straws. Then we sterilise them with fungicides. We then pack them into small packets and add them into autoclaves for sterilisation. After incubation using the mother spawn, we store the packets for six to seven days. In the process, a white-coloured fungus gets layered over the wheat grain. That is how spawns are prepared."
Nidhi also highlights the mistakes farmers should avoid while preparing mushroom spawns. She says, "Usually, farmers take shortcuts in preparing spawns. For instance, spawns should be soaked overnight in fungicide and kept aside overnight. They skip these steps to take a shortcut and keep it only for two to three hours."
"They might not observe the damage then, but it would be visible after 10-15 days when a fungus attacks their produce," she adds.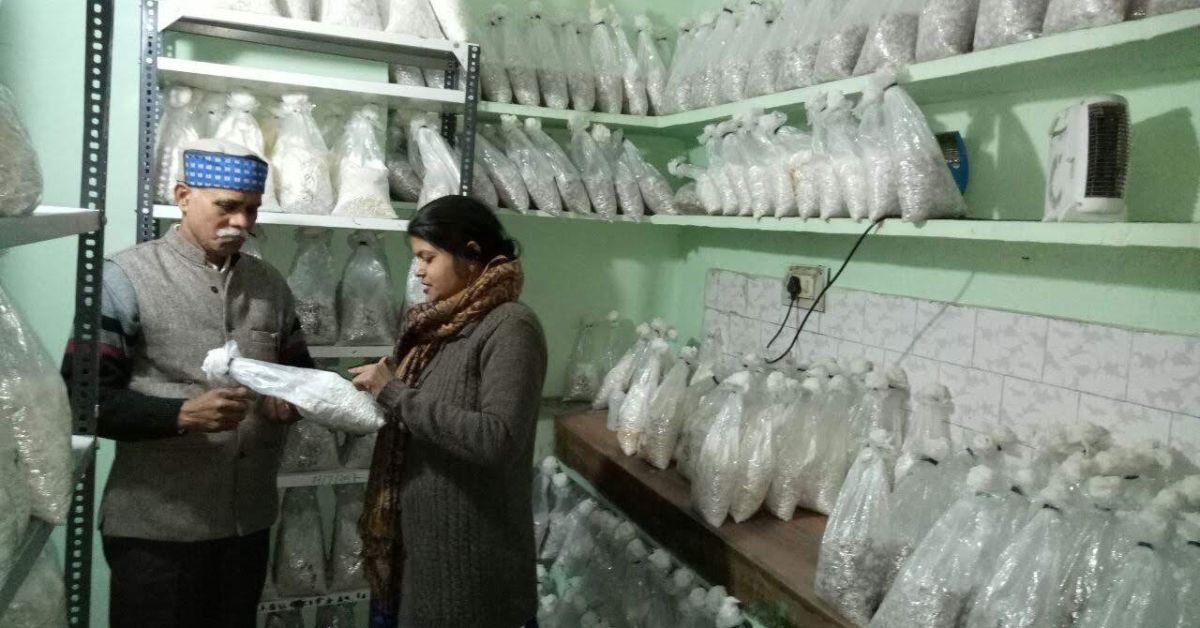 Nidhi uses these spawns to cultivate oyster mushrooms throughout the year. Today, she gets a yield of up to 150 kg of mushrooms every two months. She sells fresh mushrooms for Rs 100 per kg and sun-dried mushrooms for Rs 800 per kg to be used by pharmaceutical companies.
Nidhi uses Pleurotus Florida oyster mushrooms, which are known for their medicinal properties. As per a paper published in the International Journal of Current Pharmaceutical Research, these mushrooms are considered a valuable health food with a high content of protein. "It is demonstrated to possess various valuable biological properties including antioxidant, antimicrobial, anti-inflammatory, antitumor as well as antidiabetic activities," notes the research paper.
Other than this, she is able to produce 1,000 kg of spawns per month, which are sold to at least 150 farmers from across Chhattisgarh, Madhya Pradesh, Uttar Pradesh, and Rajasthan.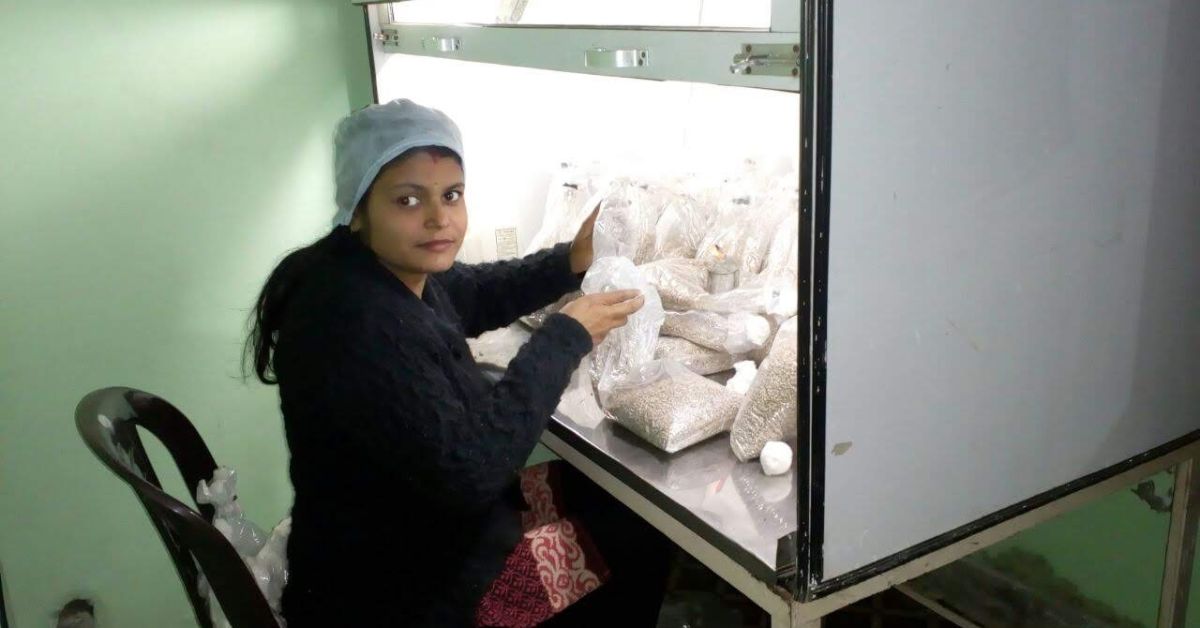 By selling fresh and sun-dried mushrooms, its spawns and other unique products like mushroom papads, pickles, biscuits, and protein powder, Nidhi manages to earn Rs 1.5 lakh per month.
Simultaneously, she also teaches biology to Class 11 and 12 students. "I did not quit teaching because I am passionate about it. My husband always motivated me in this journey. There have been times when I lost hope, but he always encouraged me. He even quit his job at Reliance as a branch manager to support me in marketing and expanding the business," she adds.
Her husband, Sanjay Katare, tells The Better India, "We started from scratch. We knew that these mushrooms were in great demand by pharmaceutical companies, but we did not know how to market the products to the right people."
He goes on, "There was a time when I even went door-to-door to sell our oyster mushrooms to traders in the Delhi market. Today, we sell our products across India to Bengaluru, Pune, Mumbai, Surat and Kutch among other cities."
Commenting on his decision to quit the job to support his wife's business, he says, "It was a very risky decision as we both did not have jobs, and we had a small son to take care of. There were even times when we thought of quitting this business and returning to our private jobs as we were not getting good profits because of low yields."
However, their perseverance paid off in the long run. "We got a good boost in the first phase of the COVID-19 pandemic when the demand for oyster mushrooms in pharmaceutical companies grew. This also motivated us as we could survive at a time when others were losing their jobs," Sanjay adds.
Meanwhile, for Nidhi, the business helped her feel empowered. "Today, I am not dependent on any private institute. I teach for my passion and earn a living through business. I have been able to establish something for myself. And this is something that I can pass on to future generations," she adds.
Source:
Edited by Padmashree Pande; All photos: Nidhi Katare.
We bring stories straight from the heart of India, to inspire millions and create a wave of impact. Our positive movement is growing bigger everyday, and we would love for you to join it.
Please contribute whatever you can, every little penny helps our team in bringing you more stories that support dreams and spread hope.