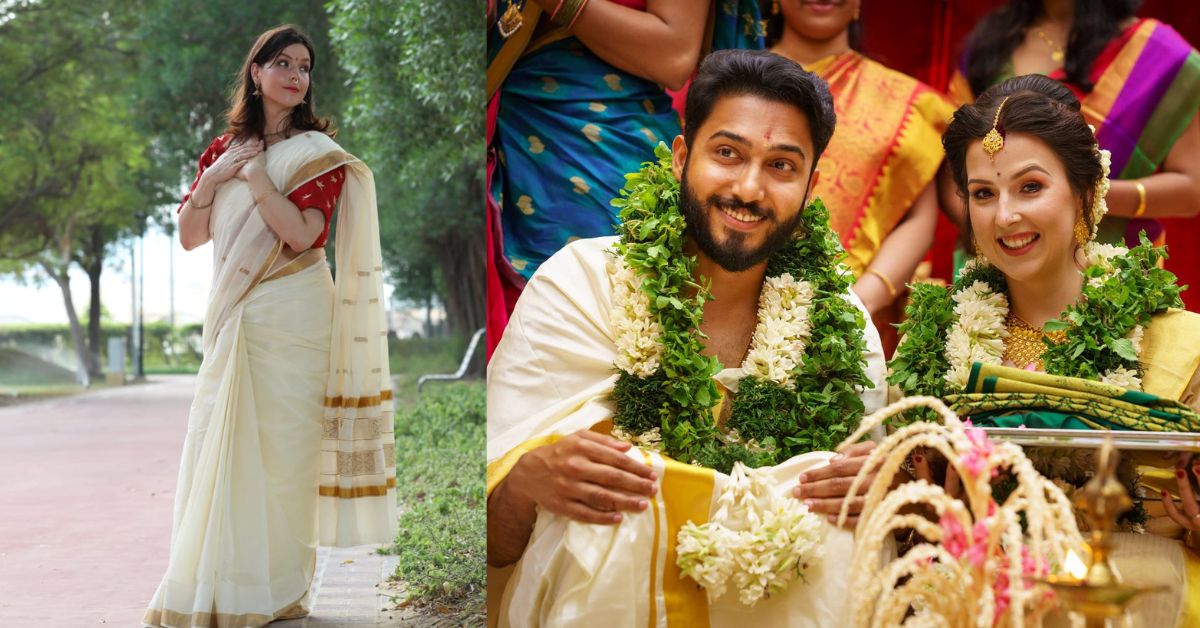 Elizabeth Keyton, originally from Georgia, USA, married Arjun, a Malayali. She wanted to learn his mother tongue to strengthen their family bond. In the process, she created an Instagram page called 'eli.kutty' through which she now teaches Malayalam to thousands of people.
Elizabeth grew up in Georgia, USA, where both English and Serbian were spoken at her home because her stepmother came from former Yugoslavia. Surprisingly, Elizabeth's father showed no interest in learning his wife's language, leading to her younger brother not learning his mother tongue.
So as she grew older, she decided that if her future partner spoke a different language, she would make the effort to learn it.
"I always loved hearing people speak different languages. But when my stepfamily spoke Serbian at home, instead of learning it, my dad would leave the room. That's when I decided that if I met someone from a different culture, I would try to learn their language, which would be good for us and our family too," says Elizabeth Marie Keyton to The Better India.
The linguaphile started her career as an English teacher in South Korea when she was 21. She travelled to countries like UAE and Vietnam teaching English as a second language (ESL). It was in the UAE that she had her first brush with Malayalam, thanks to the large number of Malayalis there.
Sometime in 2017, she met her now husband Arjun, a Malayali, in Dubai. This eventually birthed her venture 'Elikutty' — a Malayalam teaching platform.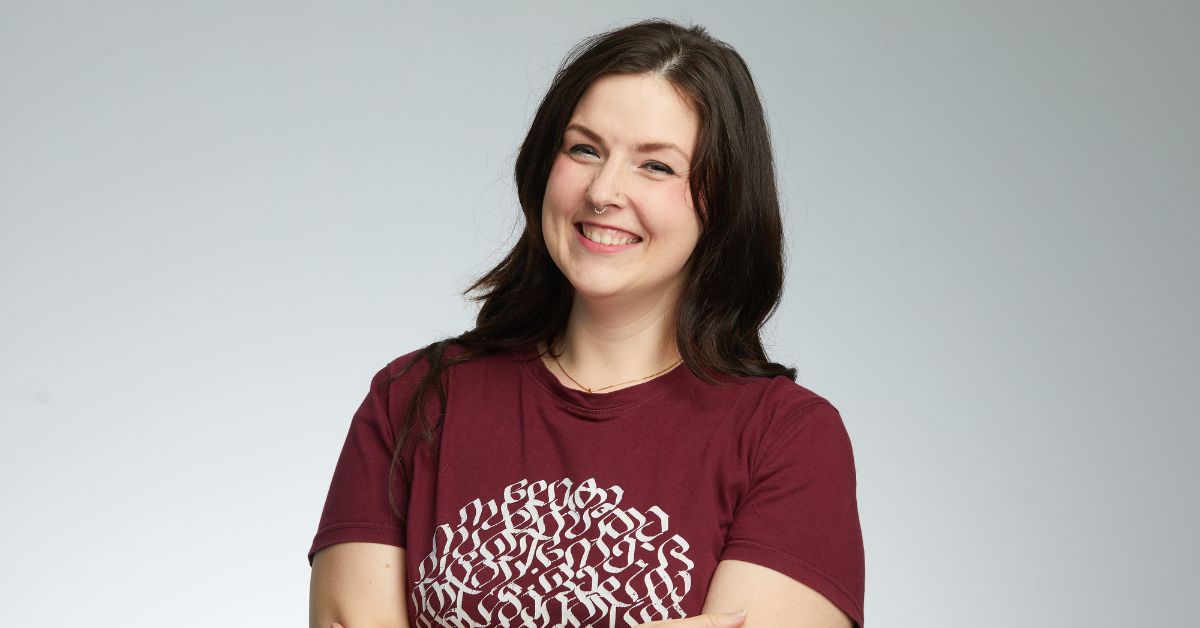 "When our relationship started looking serious, I decided to learn Malayalam. However, I found that there weren't enough resources to learn the language. Most books available were outdated or made for children. Whatever material was available was too difficult for casual language learners like me," says the 35-year-old.
She found an online tutor from Kozhikode through a platform called Italki and started taking lessons from him once a week. As luck would have it, the UAE banned Skype in 2017, which put an end to her classes and brought Elizabeth back to square one.
"Considering the number of Malayalis in the UAE, I struggled to find a tutor suited to my needs. Through online research, I found some grammar resources by Dr Ravi Sankar Nair and a textbook by Dr Moag," adds the polyglot.
Learning the language through doodles
As an English teacher, Elizabeth used her teaching skills to learn Malayalam. She wrote notes and made doodles to learn the alphabet. "For me, the best way to learn is by explaining it to someone else. So I made an Instagram page in 2018 to share my notes and small drawings," she says.
Called 'eli.kutty', the bio on the page reads 'Let's learn Malayalam together'.
The name was conceived as a joke because 'eli', short for Elizabeth, means rat in Malayalam and 'kutty' is a term of endearment used for children and adults. Through the Instagram page, Elizabeth now shares tips, resources and videos to help people learn the language.
She also embarked on a three-week solo trip across Kerala to familiarise herself with Malayalam.
"Studying the language and speaking it are two different things. Kerala has so many dialects and different accents. I went across the state and spoke to people to understand the language and people better. I also enrolled in a class during the lockdown to practise conversing in the language twice a week. This helped me develop vocabulary, fluency and confidence," she adds.
Starting out with 1,000 followers in 2018, her Instagram page has over 70,000 followers today. She also has a YouTube channel and Discord server to teach the language. Her goal is to make learning Malayalam fun, accessible and easy while catering to the many Malayalis who are living abroad.
"There are a lot of Malayalis who live abroad and most of the younger generation don't know the language well. There is a pride that people associate with speaking English, which unfortunately results in the mother tongue getting sidelined. My page is a safe space for people to ask questions," she adds.
'Don't let Malayalam die'
English medium education is becoming more popular in India, causing a decline in knowledge of native languages. According to the National University of Education, Planning and Administration, the number of children studying in English medium schools in India increased by 273% between 2003 and 2011.
"This leads to a lot of children preferring to speak English at home, rather than their mother tongue, Malayalam," says Deepa Manoharan, a Malayalam teacher who runs Muthassi — an online school for the language with her sister Darshana.
"Our students are mostly people staying outside Kerala. All of them study English and don't even speak Malayalam at home. This is happening even within Kerala now and carries a hidden danger of the language being lost. It's great that people like Elizabeth are helping youngsters learn the language," says Deepa.
In fact, the National Education Policy (NEP) 2020 also bats for teaching in the mother tongue. The NEP reads, "Wherever possible, the medium of instruction until at least Grade 5, but preferably till Grade 8 and beyond, is to be the home language/mother tongue/local language/regional language."
Muthassi is one of the schools that Elizabeth promotes as a resource for learning Malayalam. "The hard truth is that there are not good resources available to learn Malayalam. Eliza has done a commendable job learning the language being an American teacher herself," remarks Deepa.
Elizabeth is soon coming out with a children's book called 'Davina Finds Her Vowels', aimed at diaspora Malayalis.
"I have seen what happens when languages are ignored in my own house. My brother doesn't know Serbian, which means his family won't. It's important to know English as it is a global language and helps if you go abroad. But the same respect should be given to native languages. They are the true way to a person's heart," says Elizabeth.
She says that learning the language helped her connect with her husband and in-laws. "Arjun and his parents speak fluent English. Yet, I was able to connect on a deeper level with them because I learned their mother tongue. It really makes a difference," she adds.
Elizabeth gave birth to a baby boy Arivazhakan in June 2023. And just like she envisioned, she says she looks forward to giving her son the knowledge of both his parent's cultures.
If you wish to learn Malayalam, you can follow Elizabeth on Instagram or YouTube.
Edited by Pranita Bhat
We bring stories straight from the heart of India, to inspire millions and create a wave of impact. Our positive movement is growing bigger everyday, and we would love for you to join it.
Please contribute whatever you can, every little penny helps our team in bringing you more stories that support dreams and spread hope.