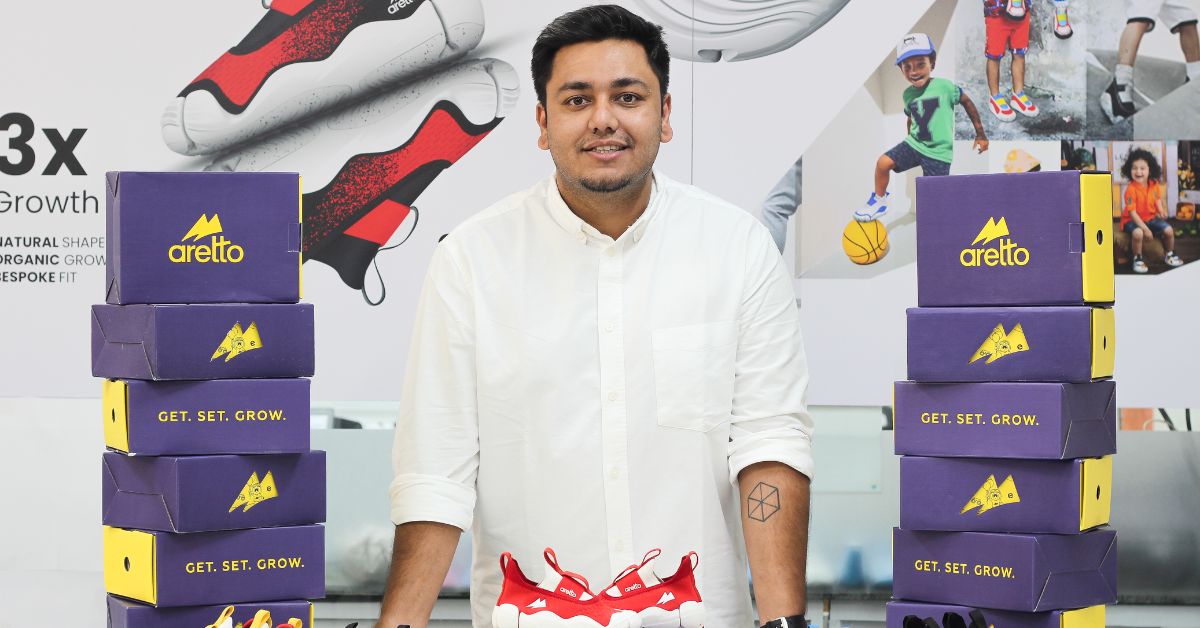 Pune entrepreneur Satyajit Mittal has innovated children's shoes that expand as the child grows, and are flexible and comfortable. Last month, he clocked revenue worth Rs 21 lakh.
As a common practice in Indian households, most parents make their children wear shoes that are either too tight, or too loose. Tempted to get one of a bigger size so their child can grow into it, they remain unaware of the risk of wearing a shoe that does not fit. Studies show that wearing the wrong size of shoe puts children at risk of foot deformities.
Realising the gap, Pune's Satyajit Mittal launched a tech-led footwear startup Aretto that makes shoes that expand as the child grows.
"We are making children wear bigger sizes and this is not just an Indian phenomenon, it is a universal problem," says the 30-year-old, adding that he, too, was among these children while growing up.
"Children do not wear the right shoes for the first ten years of their lives. Between zero and three years of age, children's feet size changes every three months, and you need roughly 15 sizes between zero and nine, before attaining final foot size at 13 years. We figured out the problem that while feet grow, their shoes do not," adds the product designer-turned-entrepreneur.
Adult versus kid footwear
Satyajit also found a gap in children's shoes offered by the Indian footwear industry, which is considered the second-largest producer of shoes in the world. "There is a huge gap between the user and the product offering. Big brands always focus on adult footwear. They simply shrink the adult shoe into a small size for children, without understanding the anatomy of the kid feet which is very different from adult feet," he says.
In 2020, he started researching the anatomy of children's feet by speaking to several podiatrists. "We understood that a child's feet are broader, and the bone structure in the first three years is not fully developed. There are thousands of nerve endings in the feet that have to be simulated in the first six years. If you have a thicker sole, sensorial feedback is taken away," he adds.
After two years of research, Satyajit came up with a one-of-its-kind shoe that expands as the child grows. It not only saves parents from buying shoes multiple times, but also provides comfortable shoes to children, a neglected segment in the footwear industry.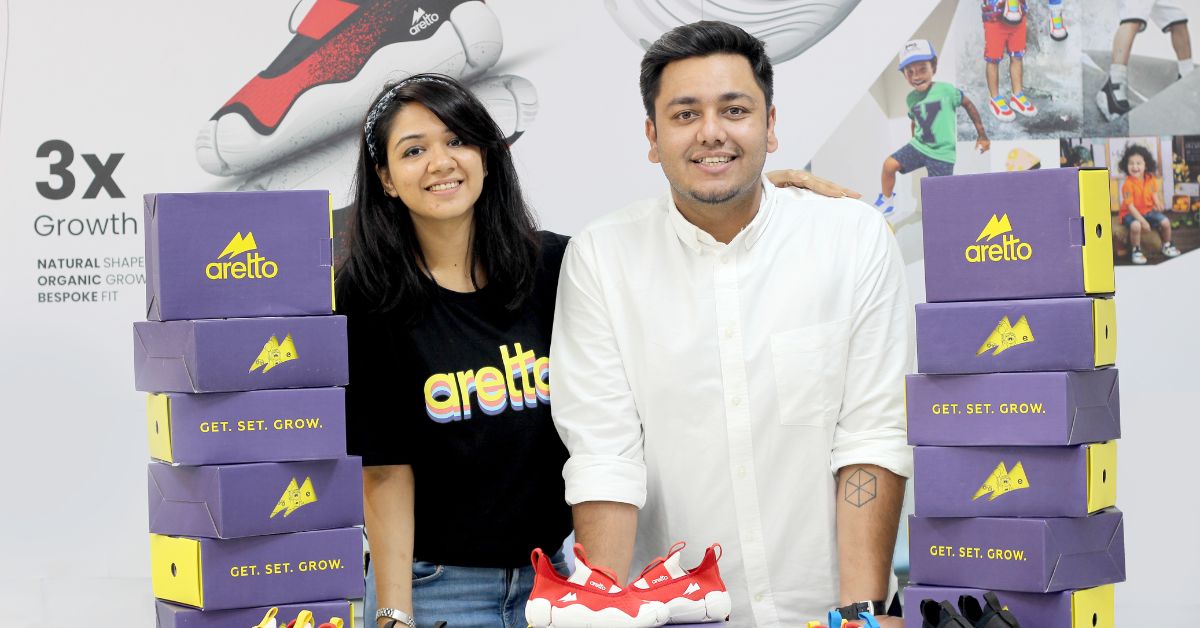 1 shoe = 3 sizes
In 2022, he co-founded Aretto with his childhood friend Krutika Lal, who manages the marketing and sales of the startup, and started marketing the shoe with its patented innovation 3D knit. It is a stretchable and highly durable fabric to fashion shoe uppers. Satyajith says the shoes are approved by podiatrists and are 360-degree flexible, breathable, adaptive in size, and stretch up to three sizes.
"We wanted to give children the right fit for all cycles. We chose one shoe to cover three sizes that allow 18 mm growth. We took inspiration from how a flower blooms from the bud stage to the fully-flowered stage. The transition happens organically every day. We applied this concept to the shoe," he says.
"We started working on a shoe that flexes as per the feet. Simply put, as and when the feet grow either from the front or back or sideways, and when a child wears this shoe, it expands accordingly and takes the shape and contour of their feet. That's why children feel comfortable wearing such shoes," he adds.
The shoes are made using grooves built into the sole that blooms open to fit the natural shape of growing feet, and with a "jelly-soft" memory foam insole to provide comfort and padding to small feet.
The shoes are priced between Rs 1,800 and Rs 2,600. Last month, Satyajit clocked a revenue of Rs 21 lakh and an 80 percent month-on-month growth rate. Most of his customers are from Delhi, Pune, Mumbai, and Bengaluru, as well as the US and UK.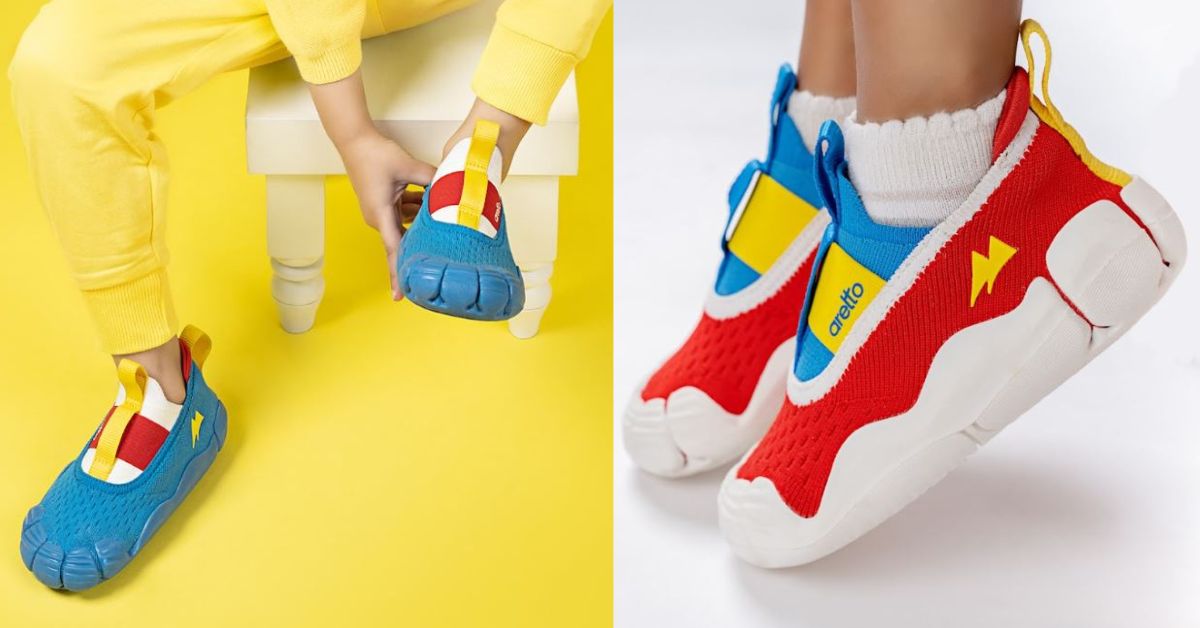 Last October, Shreya Jain from Meerut bought a pair of shoes for her four-and-a-half-year-old son. In a conversation with The Better India, she says, "After I got these Aretto shoes, he has not worn any other pair of shoes at all. In fact, he finds them so comfortable that he has replaced his slippers and wears these new shoes even at home. He wants them in all colours and wants to wear them to his school now."
"Earlier, I would end up buying a new shoe worth Rs 2,500 every other month for him. This is very cost effective and a good option for me as a parent," she adds.
So far, Satyajit has sold over 6,000 pairs of shoes within nine months of the launch of his startup. Like Shreya, thousands of parents have found a better alternative for their child's footwear.
Edited by Divya Sethu