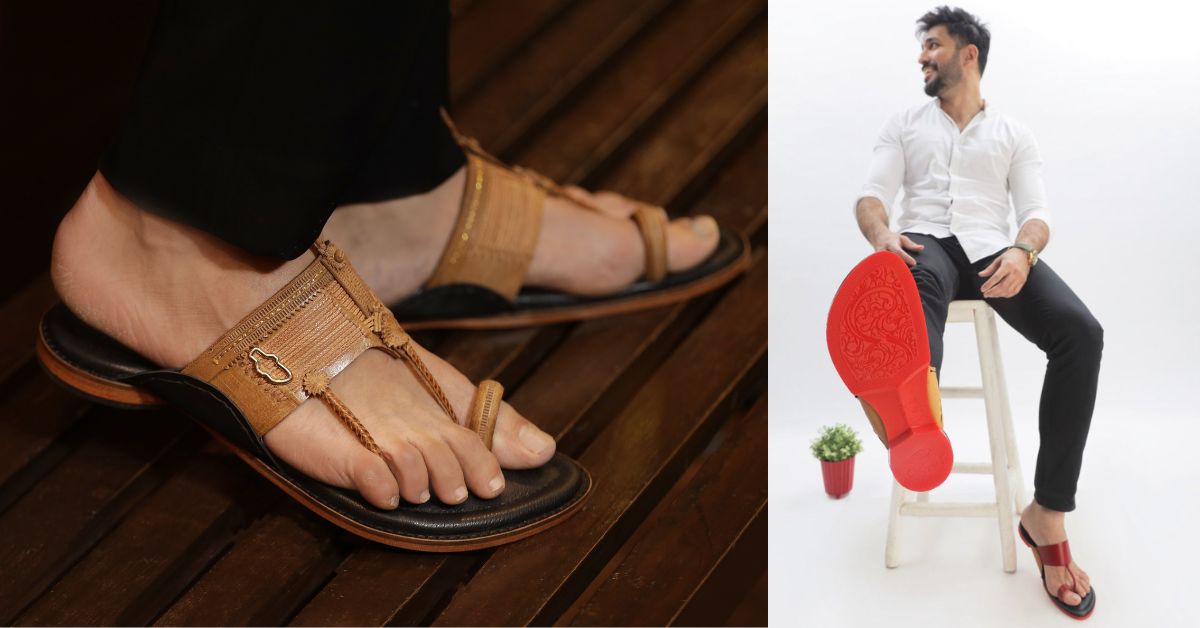 With Chappers, Pune entrepreneur Harshvardhan Patwardhan is giving new and customisable spins to traditional Kolhapuri chappals, selling across US, UK and more, and earning crores.
Harshvardhan Patwardhan recalls that when he was studying in Europe, he'd often find men wearing pink, yellow, and neon green shoes. "In India," he notes, "shoe manufacturers are scared to make anything except black and brown. They manufacture 5 to 6 lakh shoes a month, but all in black and brown."
"I want to break this stereotype," the 31-year-old MBA graduate tells The Better India.
It was during his graduation in Nottingham that Harshvardhan took a fancy to Kolhapuri chappals. "On a traditional day at the college, I wore a kurta with Nike sandals. My brother was very disappointed. So he gave me his Kolhapuri chappals. That was the first time I wore Kolhapuris, and I fell in love with them. I danced wearing those. Since then I could not wear any other footwear. I'd even wear Kolhapuris in the snow, to clubs, everywhere," he recalls.
The origins of Kolhapuri chappals are said to date back sometime during the 12th or 13th century. These are hand-crafted leather slippers that are tanned using vegetable dyes, and hold great significance in the Indian craft heritage.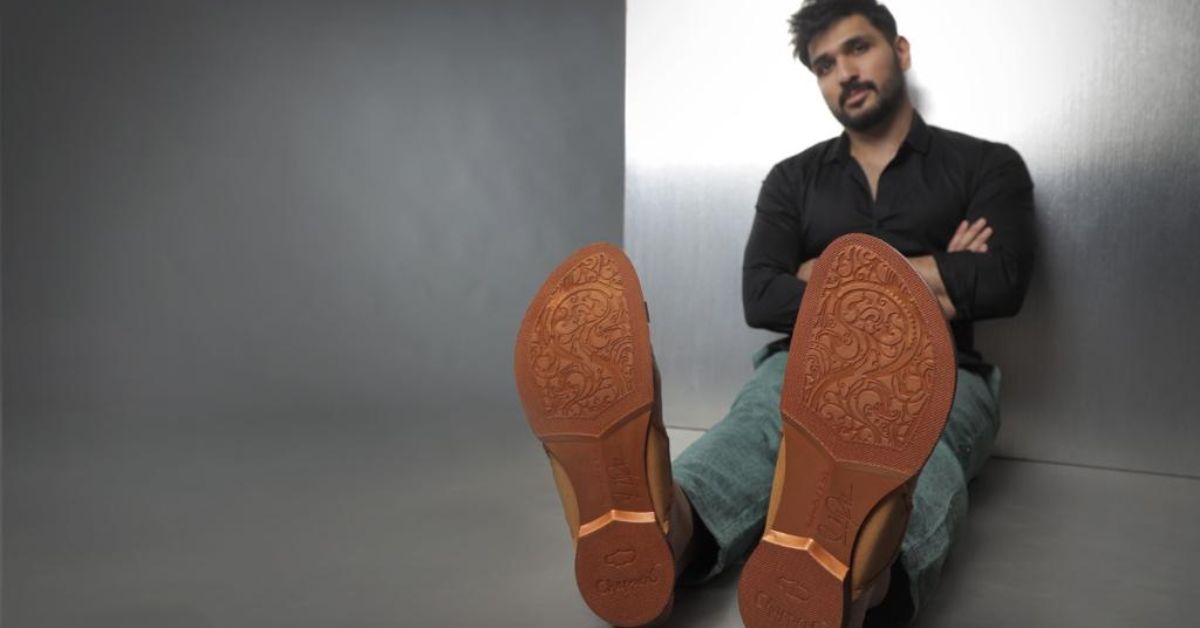 Made predominantly in the Kolhapur district of Maharashtra, these are said to represent among the last remaining handmade footwear traditions in the country. Despite the advent of a vast variety of footwear from across the corners of the world, the Kolhapuri has more or less stood the test of time, as a true testament to its strong heritage and origins.
Harshvardhan aims to bring these traditional chappals worldwide recognition by "westernising" these slippers and giving them a good grip, cool look, and vibrant colours. His fondness for Kolhapuris transformed into a venture when he launched Chappers in 2015 with the vision to bring the classic Kolhapuri chappals to the world, especially new designs for men.
A new spin on a centuries-old art
"One day when I was out with my friends, I was wearing a leather jacket and Kolhapuris. A thought struck me. Both have the same material — leather. But leather jackets are soft, while Kolhapuris are hard. This is why many people do not prefer wearing them. I started wondering if Kolhapuris can be made out of soft leather."
It was then that Harshvardhan started educating himself in understanding leather. He travelled to Agra, Kanpur, Chennai and started visiting and staying in a few tanneries. After about a month, he understood why leather used in jackets is soft.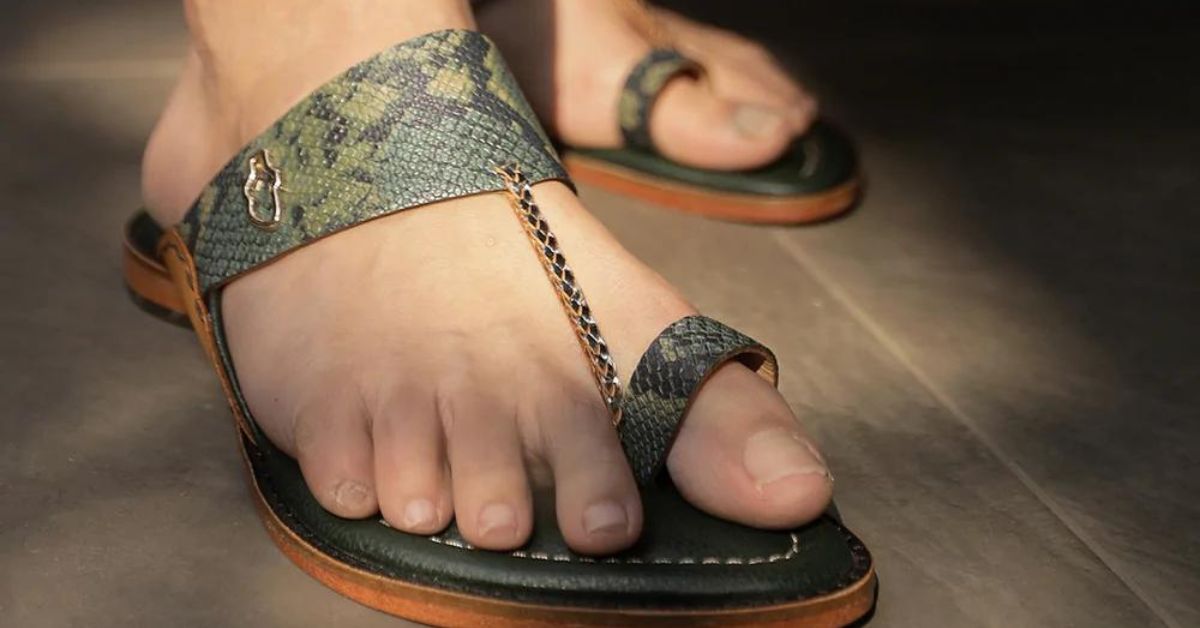 "The raw material is the same, but the processing is very different. Leather in Kolhapuri chappals is made in a very traditional way. The process is called bag tanning. Meanwhile, the most advanced process of tanning is called chrome tanning, which produces soft leather."
After learning about the leather quality, Harshvardhan started sourcing leather sheets and converting them into chappals.
"I used to wake up at 4.30 in the morning to catch a 5.15 public bus to Kolhapur, where I would work with karigars (shoemakers) and make chappals all day long. I'd have lunch at their place. I would stay in their huts. Very few people were interested in working with me because no one took me seriously at all. I looked like a school boy," he laughs.
Thereafter, he started distributing samples among friends and family. He also set up a stall in a Pune mall, where he sold 100 shoes in a day. And soon after, orders started coming in.
With an investment of Rs 5,000, Harshvardhan launched Chappers. Today, his company has a revenue of Rs 3 crore. "We grew as the profits grew," he says.
Customising footwear
But what makes Chappers unique is that it allows customers to personalise footwear to the individual liking of colour, accessories, and material. It claims to be India's first virtual footwear customiser using AR (augmented reality).
"In India, there was no specific niche Kolhapuri brand focusing on customisation of footwear. If you have to customise your footwear, you have only two choices — either you will go to a mochi (cobbler) sitting in a nearby lane, or you will give up the idea of customisation. I want to make customisation an industry standard," says Harshvardhan.
Realising the demand for custom shoes, he started focussing on making Kolhapuris fashionable, comfortable, and customisable on a large scale.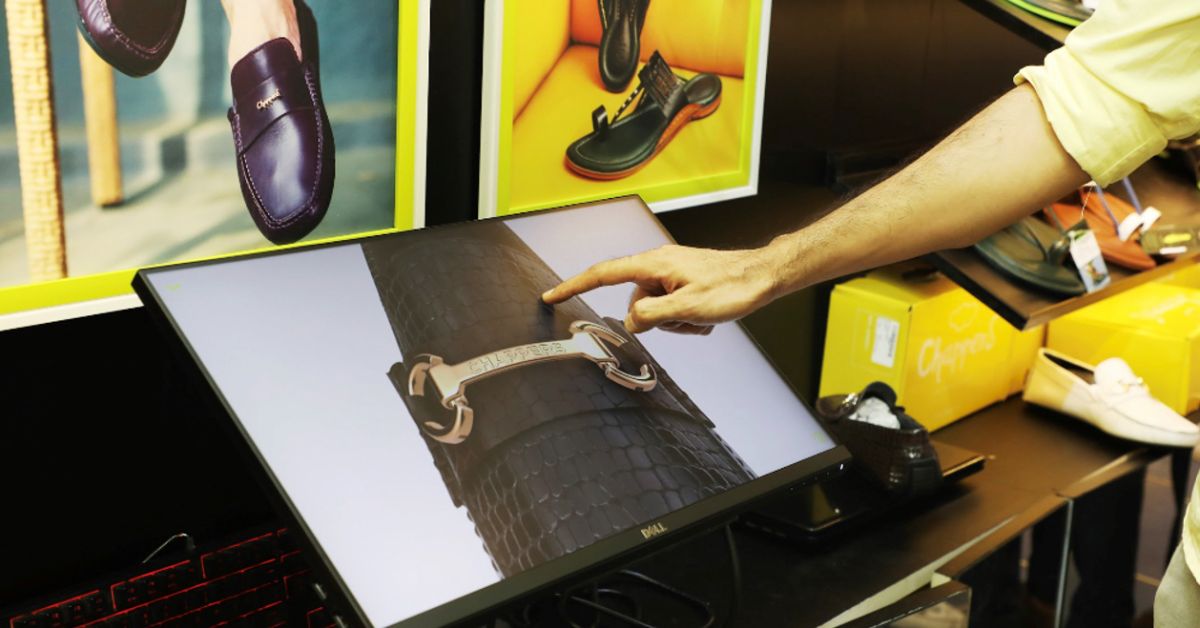 "We have installed touch screens in our stores, using which a customer can personalise footwear for themselves, add accessories, and have it delivered to their homes. You can literally feel the shoe on the screen. You can also customise cool footwear without entering a store, by accessing our website," says the entrepreneur.
The raw material for shoes is sourced from Chennai, while accessories are sourced from Mumbai and Rajasthan, as well as other countries including China, Taiwan, and Korea.
Harshvardhan notes that there is a huge demand for customised footwear. "People want very unique footwear and they are ready to spend a fortune. One of my clients wanted gold coloured shoes, for which we imported leather from Italy and accessories from Korea. He bought shoes worth Rs 50,000 from us."
A win-win
Harshardhan works with a team of 25 people. He manages to get at least 1,500 orders in a month. The price of Chappers footwear starts from Rs 2,500 and goes up to Rs 50,000. Harshvardhan has buyers for these custom footwear across Indian cities of Pune, Hyderabad, Delhi, Bengaluru, Ahmedabad, Surat, Assam as well as across 27 countries including the US and Europe.
As of now, Chappers has retail stores in four malls in Pune City, and the founder aims to expand stores in 350 malls spread across the country. Harshvardhan envisions Chappers to be a global brand.
"There is a fair amount of success in breaking this stereotype in Pune, where we have around 35,000 customers. But there is a long way to go."
The MBA graduate is also an example for the youth who dream of careers in entrepreneurship. "You don't always have to [dream of] becoming an engineer or a doctor, or doing an MBA. You can also be an entrepreneur. It is necessary to follow your heart, go out and explore the world. Turning a passion into business does wonders to your life. While you have fun at work, you earn a good amount. It's a win win. If I could do it, then you too can," he adds.
You can check out the products by Chappers here.
Edited by Divya Sethu. All images: Chappers
We bring stories straight from the heart of India, to inspire millions and create a wave of impact. Our positive movement is growing bigger everyday, and we would love for you to join it.
Please contribute whatever you can, every little penny helps our team in bringing you more stories that support dreams and spread hope.
Tell Us More