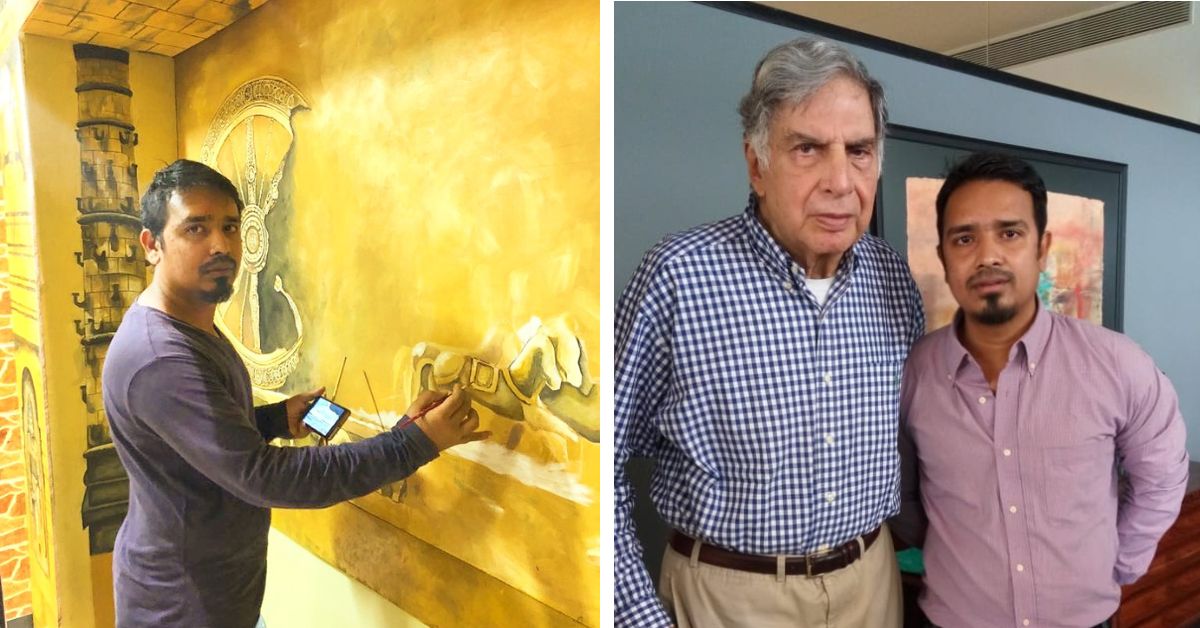 Mumbai resident Nilesh B Mohite's story is something straight out of a storybook — he shares how art got him through the biggest hardships, and how an encounter with Ratan Tata changed his life for good.
Nilesh Mohite's life in Mumbai has been anything but ordinary. The 30-year-old did what every person living in the "city of dreams" does — dream big.
Coming from a humble background, he found solace in art whenever life became too challenging. Born with a natural talent for expressing himself on canvas with colours, Nilesh was once paid Rs 5,500 a month working as an office assistant. Today, his paintings are sold at an average of Rs 50,000 to Rs 1 lakh.
He also recently showcased his collection of 21 paintings at the Taj Art Gallery at the iconic Colaba hotel.
So how did a boy from a small village in the Raigad district of Maharashtra make it here? From an office boy to a waiter to having a solo exhibition, Nilesh narrates his story to The Better India.
'The manager who saw my potential'
When Nilesh was growing up, his mother was the only one providing for the family.
"We moved to Mumbai in 2011 when my sister and I were very young. We moved because my mother had to look for work. While I love my father deeply, he was never present. Alcoholism sabotaged our childhood. He abandoned us when I was 5 and my sister was only a year old. My mother did not have any option but to go out and work," he recalls.
After moving to Mumbai, his mother worked as a domestic worker while raising two children.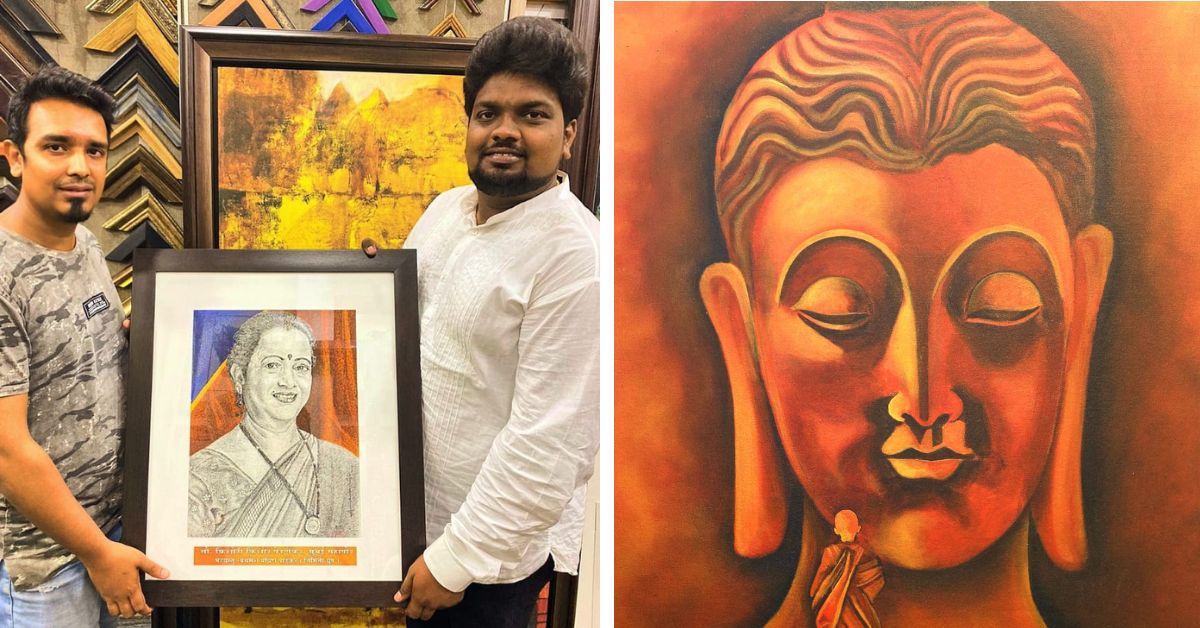 "I was in Class 9 when I had to leave school, as my mother became very ill. The doctor asked her to take a rest. But with no one to provide for us, she did not, and kept on working," he shares.
"Within a month she fell ill again, and this time she was asked to take complete bed rest. I had decided that day that I'll take charge of the finances for now. I took up two jobs and left school — one was as a part-time office boy at Union Bank near Nariman point and another at Jehangir Art Gallery as an office assistant," he adds.
Always interested in art, Nilesh was not able to find an outlet for it.
"Although I had always been passionate about drawing, sketching, and painting, with such a financial crunch, all I could think about was money. I would look at everything from money's perspective. At that time, I was not seeing art as art, but as a source of money. 'Kuch bhi karke paisa aaye' (I'll do whatever I can to get money) was my only way of thinking," he shares.
After working for a good three years, Nilesh moved into the hotel industry, as it paid better.
"I started working as a waiter at Cricket Club of India (CCI) in 2016. My shift at the club started at 3 in the afternoon, so I would spend all my time before painting."
"It was in mid-2016 when my manager caught me sketching an old man. He was sipping tea and stood in a corner and I quietly sketched him. I was scared to death when my manager caught me. I was sure he would scold me and fire me for loitering and wasting time," he recalls.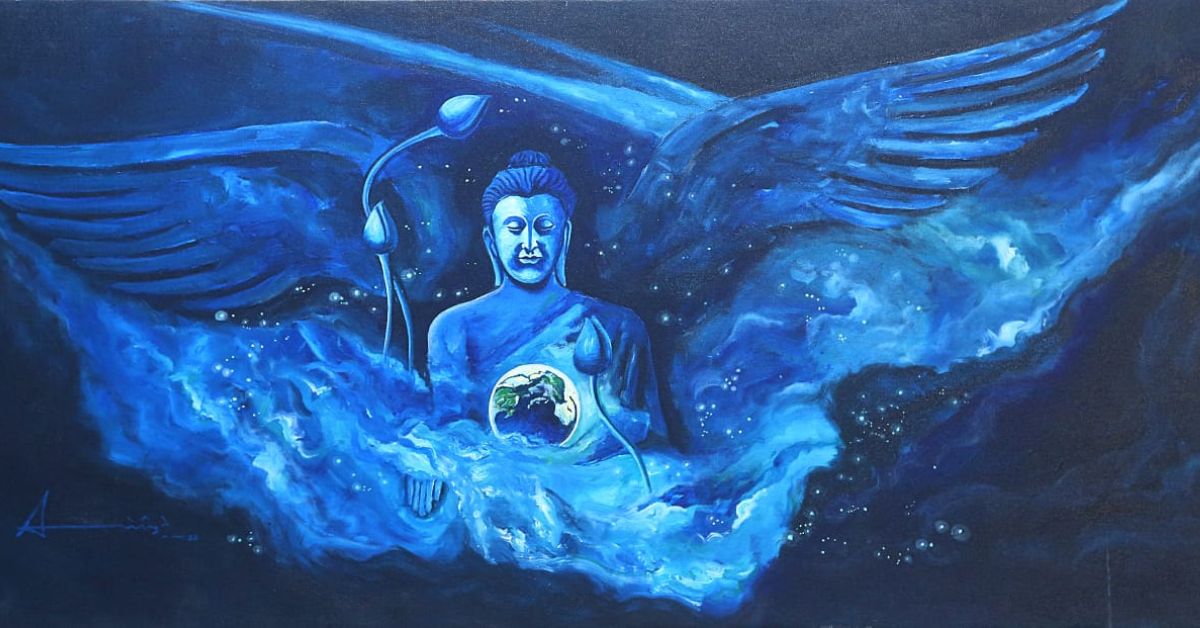 But instead, the man received a warm reception from his manager.
"Instead of scolding me, he saw my sketch and he was delighted. He was very impressed and asked me if I was trained in sketching. I told him I was not, and that the reason why I took this job was the work timings, which allowed me some time to paint. He was moved by my passion and promised me that he would introduce me to people in higher positions who would buy my art," he said.
This gave Nilesh the push he needed to follow his passion.
"I thought maybe I should give it a go and make and sell paintings full-time. I knew it would be hard, but my wife was very supportive of me. It took me some time to take up the profession full-time," he recalls.
The Ratan Tata episode
Growing up, Nilesh had always been a massive admirer of Ratan Tata. "I was very impressed by the way he lives and his successful business journey. He was, in many ways, my idol," he recalls.
"I wanted to meet him and paint something for him. I would wait outside his residence in hopes of meeting him. I had made a painting of him getting off his private jet and wished to give it to him. I would wait for 2-3 hours and watch him come and go like a fan," he adds.
His luck turned one day in 2017 when he met social worker Dada Pawle through his sister, who is also a social worker. Pawle helped give Nilesh's painting to Ratan Tata.
"All I asked for was the painting to reach Tata sir and a picture of him holding it. But to my surprise, a day before Tata sir's birthday, I got a call from Dada and he told me that he wants to meet me. I was head over heels. Sir tapped my shoulder and appreciated me," he shares gleaming.
Impressed by his work, the businessman showed interest in helping NIlesh.
"For his next birthday, I made him a 6.5 feet tall painting, and my house was just 10 by 10. I told sir that I painted the piece in parts because it would not fit in the house in one go. He was so impressed by my dedication and appreciated my work," he recalls.
Nilesh was given an opportunity that seems straight out of a storybook.
"He gave me a cheque for a generous amount and asked me to buy a bigger home. I touched his feet and told him that this painting is a gift. I refused his charity and asked him for work instead," he shares.
"Ratan Tata is a very generous person, but I would always look for avenues for work and not money. He promised me that he would find work for me," he says.
Meanwhile, with the small amount of money he had saved, he opened a Chinese restaurant, both to make ends meet as well as focus more on refining his skill as a painter.
"In 2019, Tata sir informed me that he has spoken to someone for work and he will get it for me. He had to go for surgery after that and then the pandemic struck. I was out of work and my Chinese food stall was also out of business. There was no source of money and hardships were looming, but I had faith in my art and in Tata sir," Nilesh says.
"I started a vegetable shop to sustain. When the situation got better, I contacted Tata sir again. His manager told me that he has spoken to him and Tata sir has organised an exhibition to showcase my painting at Taj Hotel," he says.
"Taj hotel!" he exclaims. "I could not believe it. When I would walk on the footpath near the hotel, I would have this fear in my heart that someone would ask me to go away. My inferiority complex would make me scared to even be near the building, let alone enter it. But now I was about to showcase my work there. I was on cloud 9."
Nilesh was asked to make paintings for the exhibition and was given only 2.5 months to prepare for it.
"The art supplies for an exhibition like this cost lakhs. I could not miss such an opportunity, but at the same time, I did not have the means to buy those supplies. I was in a dilemma. I asked for loans from private individuals and banks, but I was hitting dead ends,"
"My sister helped me during this time. She introduced me to a doctor who loved and appreciated art. He lent me a loan of Rs 4,00,000 and with that money, I purchased the art supplies," he says.
On September 24, 2022, Nilesh made a collection of 21 paintings and showcased his work at the Taj Art Gallery and gathered much appreciation.
"While the proceeds from the exhibition were not as good as I had expected, I am grateful for the chance. A painting of mine called "The Magic Door" has reached the United States of America. For a man from a humble village who has never stepped foot outside the state, my paintings have reached places I can only imagine," he says.
Today Nilesh's paintings sell for amounts starting from Rs 40,000 and go up to lakhs, depending on the size and intricacy of the work.
"I have seen hard times. There were days when we had to fend for food. I would work two jobs just to bring enough food for my family. Whenever I could see no hope, I turned towards my art and it kept me afloat. I want to continue to promote art and help artists like me to thrive," Nilesh says.
Edited by Divya Sethu
We bring stories straight from the heart of India, to inspire millions and create a wave of impact. Our positive movement is growing bigger everyday, and we would love for you to join it.
Please contribute whatever you can, every little penny helps our team in bringing you more stories that support dreams and spread hope.