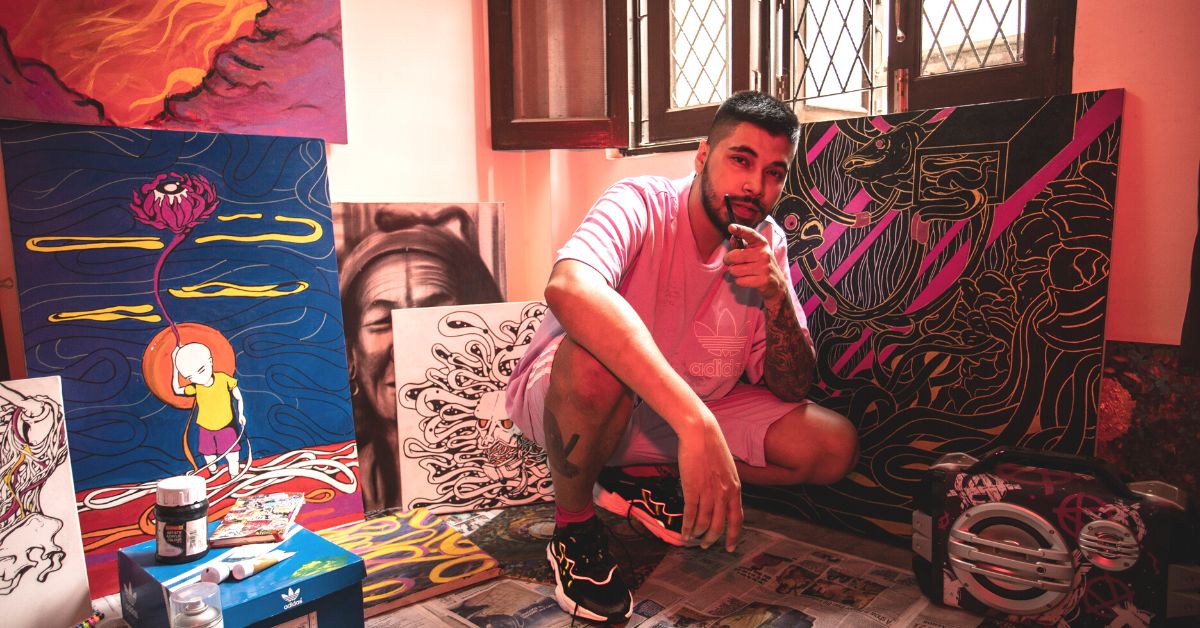 A self-taught doodle artist, Santanu Hazarika quit engineering to fulfil his dreams. Today, he creates intricately detailed illustrations inspired by Japanese Anime, besides live doodling and designing customised sneakers.
Everything changed for Santanu Hazarika in 2014 when he became the first-ever Red Bull World Doodle Art Champion. Staving off more than 32,000 competitors from around the world, the visual artist and illustrator from Guwahati made his mark on the international stage.
Until then, however, life was turning into a series of failures and disillusionments. Santanu hated his life as a mediocre and deeply disinterested student of mechanical engineering. His passion always lay in art, illustrations and design, but societal pressures and compulsions kept him from changing track. After his second year, he began flunking out of courses, suffering from clinical depression and began taking numbing medication.
The only courses that interested him were languages and engineering design, which he believed "brought some discipline" to his art. But for the most part, it was a nightmare.
After becoming Red Bull World Doodle Art Champion, Santanu immediately quit college and embarked on a remarkable journey as a freelance doodle artist and illustrator which has seen him collaborate with renowned recording artists including Raftaar, Ritviz and Divine for their album artwork. The 31-year-old's client roster today also includes brands such as Red Bull International, Adidas, Reebok, Amazon Prime, Converse, NDTV, etc.
A self-taught doodle artist, he creates intricately detailed illustrations inspired by Japanese Anime, exploring themes relating to mythology, philosophy and pop culture. In addition, 'live doodling' and designing customised sneakers are some of his other creative outlets. Working in such a niche framework, Santanu has escaped the drudgery of convention.
View this post on Instagram
Seeking art, acceptance
Born and raised in Guwahati, Santanu grew up in a conventional Assamese middle-class household with his father running a small business and his mother, a homemaker.
"Growing up, I was an introvert and a misfit with few friends. I wasn't good at sports or academics and didn't have access to the resources that my classmates had. But I was blessed with a loving family, which always took care of my younger brother and me. For the most part, I was a loner and initially found it very hard to fit in. What gave me a semblance of acceptance amongst my peers was my ability to draw," recalls Santanu, speaking to The Better India.
Second-hand comic books were the first source of inspiration for his art. Santanu would sketch popular comic book characters like Spiderman, Superman, Spawn and X-Men, and sell his artworks to his friends for extra pocket money. He would use that money to buy more comic books from a local second-hand book store in Guwahati. It was his way of fitting in.
"Most of the comic books that I read were for adults because I didn't have much parental supervision. They thought this was just going to be just a passing hobby and didn't bother me much. There was this second-hand book store, where I would just shuffle through various comic books just looking at their covers. I bought comic books with interesting and detailed covers, got them home and started copying them. Those were my first illustrations," he recalls.
But nothing prepared Santanu for the first Japanese anime he would encounter—Dragon Ball Z.
"Sometime in 2000, these Dragon Ball Z pencil boxes began appearing everywhere. Nobody knew about the anime or their characters, but these illustrations would appear on pencil boxes which were perhaps knock-offs. I used to collect these pencil boxes because they were so different with vibrant characters of different colours. The intermixing of different character designs on these boxes was so unique," he recalls.
Santanu instantly gravitated towards anime even though he couldn't decipher what was happening on these boxes.
"That was the first time I started sketching anime characters, copying them from pencil boxes with Dragon Ball Z illustrations. Back then, I didn't even know what anime meant. However, after months of being introduced to this illustration style, Dragon Ball Z was finally aired on Cartoon Network in 2001. Every day, at around 5.30 pm, they would show Dragon Ball Z on Cartoon Network's Toonami programming block. When I saw it for the first time in Guwahati, I just went mad for anime," he adds.
Watching these cartoons encouraged him to sketch more because all those stories and illustrations that he saw on pencil boxes finally made sense.
With the dawn of the internet, he began watching other anime. Soon Santanu progressed to buying Mangas, the term given to Japanese comic books and graphic novels. Fascinated by the inking style of Mangas, he relentlessly practised the inking style of the great 'Manga Gurus' like Naruto, Berserk, Dragon Ball Z, One Piece, Hellsing, etc. "I would study the Mangas intently and incorporate their inking style in my illustrations," he adds.
'Notebooks filled with doodles'
"By my second year, I was trying to explain to people around me that I don't want to do engineering. I wanted to drop out and study animation, illustration and art and design. However, my family and their investment in the larger social construct around what an 'appropriate career' meant that I couldn't pursue my interests. So, I dragged through my courses and started failing in all my subjects and it was a bad time. It affected my physical and mental health. I was diagnosed with clinical depression and put on heavy medication, which did little to alleviate my problems. For a while, the medication numbed me out and I couldn't draw anymore. In class, I would just sit on the last bench drawing and doodling. My notebooks weren't filled with notes but doodles, drawings and sketches," he recalls.
His interests transitioned to mythology, metaphysics, music and science. Santanu began reading a lot of books and incorporating the concepts, philosophies and stories that he read into his sketches, drawings and doodles. He was unknowingly developing a new style of art with the addition of Japanese anime, Manga inking, and comic book illustrations.
"In my fourth year, I started showing my art to friends and social media happened. I started posting my artwork on Facebook. Most of my friends, who were in metal and rock bands, always needed artwork for their albums, help with their merchandise work and customised gear that they would wear for live performances. Although I wanted to be a musician and be in a band, I couldn't sing or play any instruments. Maybe, if I could make the album artwork or help with designing their merchandise, I could be part of the band or their music," he recalls.
Eventually, word got out that Santanu did illustrations and made artwork for music album covers. Payment often amounted to Rs 500, two-three pints of beer or free entry into their shows. One day, a friend tagged him on a Facebook post asking for entries for the Red Bull Doodle Art competition. With nothing to lose, he decided to participate. After all, he was hating life as an engineering student, under depression and sketching furiously to escape the misery.
He won the national round, he was selected to represent India at the Red Bull Doodle Art Global Gallery in Cape Town, South Africa, and suffice to say, he won the competition.
"Till that point, I was losing and failing in everything that I was doing. It was taking a toll on my mental health and physical health. After winning the international round, I earned my first ever contract with Red Bull International and started working with them. That day I decided to drop out. I didn't care that I was in my fourth year. I finally found the courage to quit engineering and pursue a career in art and design. Three years later in a full circle moment, I was asked to judge the same competition in San Francisco, USA," he recalls.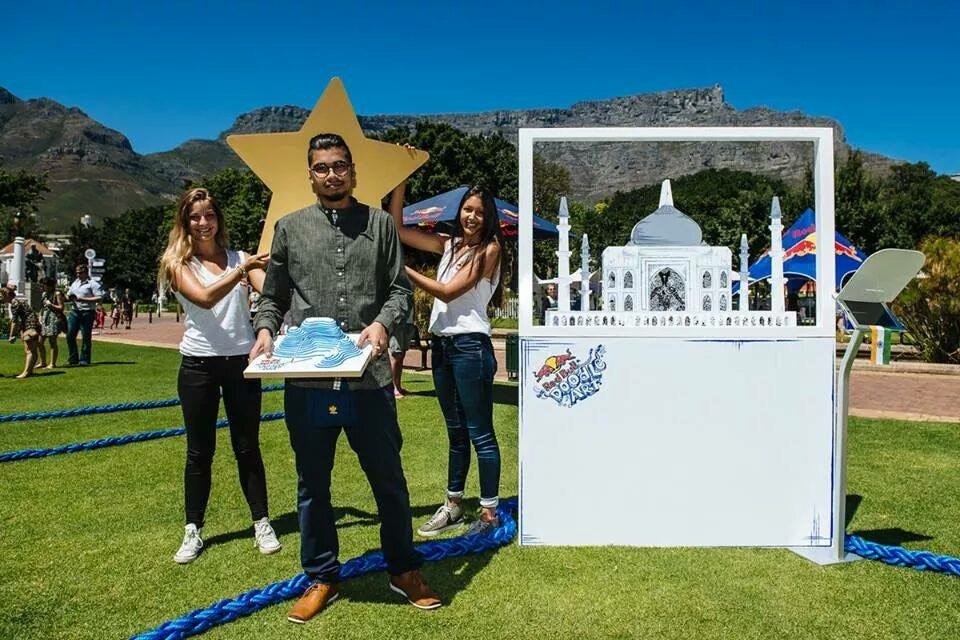 Artistic vision
The piece, which won him the competition, was called 'Inclusion'. At the time, he was reading a lot of books by mythologist Devdutt Patnaik. The artwork and illustration he did on the day, which depicted human consciousness and how it interacts with nature and science, were inspired by the book – 'Seven Secrets of Vishnu'.
"Composing such a deep concept of human existence and executing it in the form of a doodle was ironic and significant. After all, doodles are considered mindless drawings even when they're not. Doodles are born out of our subconscious. I used a medium born out of my subconscious to portray artwork and illustration which depicts consciousness itself," he notes.
Becoming the Red Bull World Doodle Art Champion changed his life. First, he moved to Delhi. Second, his parents, who weren't aware of the career opportunities associated with art and design, finally saw their son succeed. "In India, art and design are expensive pursuits for middle-class families like mine. The only thing you could aspire to was to become an engineer, doctor or an IAS officer. Art and design are considered a luxury career," he adds.
After earning a contract with Red Bull, many opportunities became available to him. And he learnt on the job from drafting an email, creating digital art and designing merchandise to coming up with mood boards. The album artwork he did for popular artists like Rtiviz, Raftar, Divine and other such collaborators remain among his favourite works of art.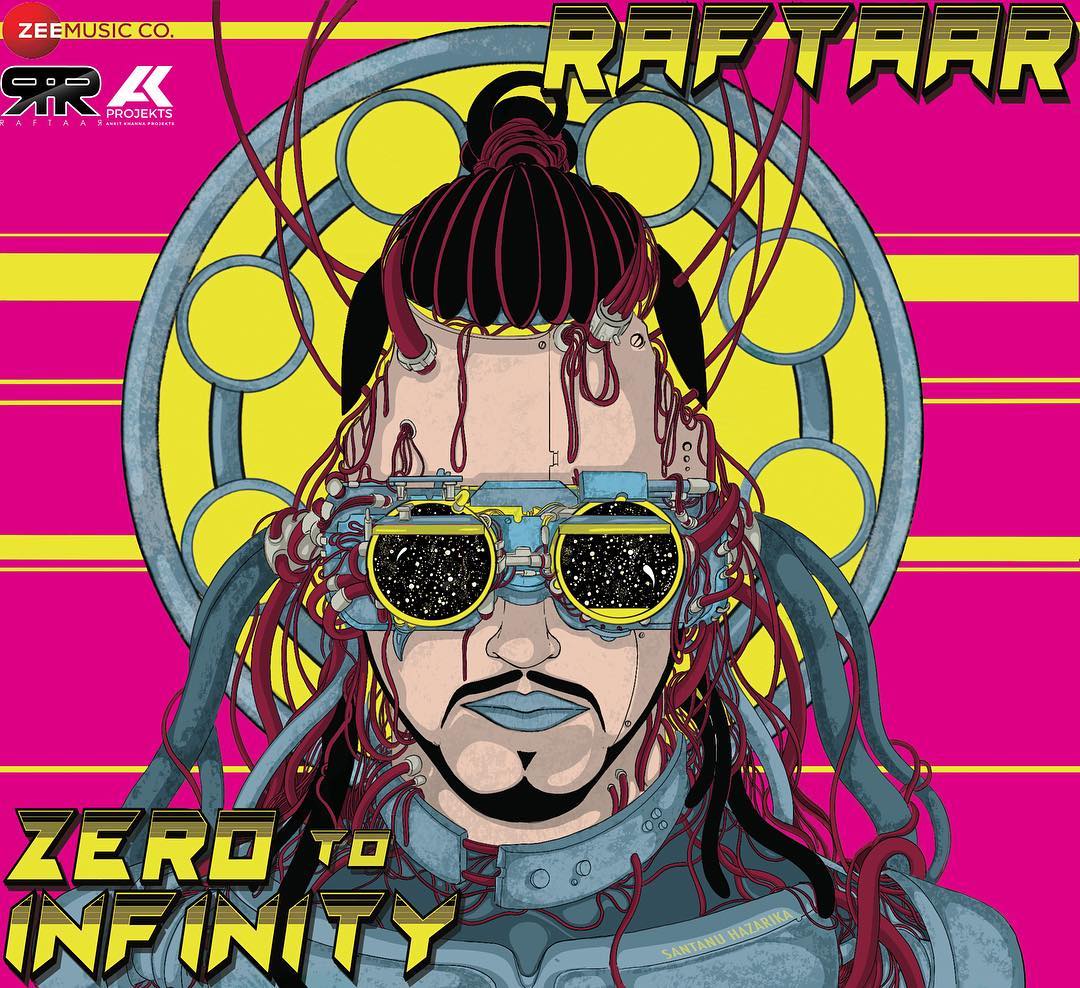 "You decipher, understand and reverse engineer the influences of those musicians and artists, and give it a visual form. Working with these artists also allows me to stay close to music culture. Some of my other personal favourites include the canvas work I'm doing right now. For example, the paintings I did for my first solo show are borne out of sexual curiosity and how I see humour in sexuality. All these phases of my artwork mean a lot to me," he says.
In 2018-19, he shifted base to Mumbai, and now he shuttles back and forth from Delhi.
Santanu also came together with fellow artists from his hometown like Prantar Tamuli (designer, architect), Abhishek Choudhury (illustrator, designer, actor), and Amalendu Kaushik (animator, comic, street artist) to create Gauhati Art Project (GAP) in 2018.
Inspired by the vision of their friend and talented graphic designer, Ajay Chetia, who tragically died in an accident, this collective of artists is working towards not only de-stigmatising a career in the arts but also improving the environment for future generations. The objective is to help younger artists become more prolific and expressive in their artwork, reach greater heights and build a design dialogue that the likes of Santanu never had while growing up.
"Our agenda is to build a design dialogue in the Northeast, particularly Assam, and connect the gaps that exist between the artists in our region with the rest of the world. We do workshops, conduct mentorship programmes, urban sketch jams and meetups. We have a whole network of artists. We exchange ideas, projects, and have a lot of design dialogues and discussions. We also host an annual workshop-based programme where we invite artists from various fields from across the world and do workshops with our indigenous artists," explains Santanu.
View this post on Instagram
Santanu is also a popular name in the NFT (non-fungible tokens) circuit. Last year, he listed his NFT on a popular Indian bitcoin and cryptocurrency exchange and trading platform, which sold in 37 seconds. He is curating a special NFT art exhibit specially targeting artists from the Northeast and giving them an international platform.
Earlier this year in February, Santanu launched his first solo exhibition titled 'BLCK', which was showcased at 'Art and Soul' in Wori, Mumbai. It was received well by art enthusiasts in the city.
But are there days when Santanu feels he should've taken up a more conventional career? "Yes, but it's the freedom that my work affords that keeps me together because I am my own boss. That feeling of freedom is what keeps me going through hard times. I have this superpower of creating. I started from nothing. Even if I lose everything I've built, I can still keep creating art. That helps me overcome moments of doubt," he says.
(Check out Santanu Hazarika's Instagram page for more amazing content. Feature image of Santanu Hazarika, the self-taught, independent artist from Assam who quit engineering to follow his passion)
(Edited by Yoshita Rao)
Like this story? Or have something to share? Write to us: contact@thebetterindia.com, or connect with us on Facebook and Twitter.
We bring stories straight from the heart of India, to inspire millions and create a wave of impact. Our positive movement is growing bigger everyday, and we would love for you to join it.
Please contribute whatever you can, every little penny helps our team in bringing you more stories that support dreams and spread hope.
Tell Us More